Market Morning Sentiment - July 25th
US stocks finished the week strong on Friday as the S&P500, DJIA and Nasdaq gained 0.46%, 0.29%, and 0.52% to close the week out up 0.6%, 0.3% and 1.4% respectively. The strong performance can be partly attributed to better than expected earnings results.
Several big companies are set to report quarterly results this week including: Coca-Cola Co. ($KO), Alphabet Inc. ($GOOG), Ford Motor Co. ($F), Twitter ($TWTR), McDonald's Corp. ($MCD), Exxon Mobil Corp. ($XOM), Apple ($AAPL), Amazon.com ($AMZN), and Chevron Corp. ($CVX).
Multiple central banks are scheduled to meet this week, the two biggest being the Federal Reserve and the Bank of Japan.
The Fed is expected to leave interest rates unchanged. With the economy still showing signs of shakiness and the threat of a UK recession, investors will be looking for hints about a potential interest rate hike in September or December.
The Bank of Japan on the hand is largely expected to further increase stimulus, either through a rate cut or more asset purchases.
With economic and political uncertainty, a lack of clarity of what will happen next in the UK, and concerns about anemic global growth, social sentiment on the SPY is highly negative.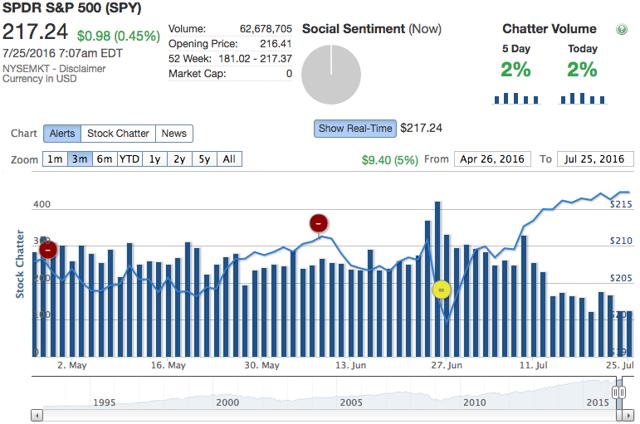 FEATURED COMPANY:$SPHS
$SPHS Social Sentiment and Chatter Volume
90% Strong Buy
Sophiris Bio alerted for upside momentum
$SPHS is a biopharmaceutical company focused on the research, development and commercialization of products that treat urological diseases. It's lead product candidate PRX302 is currently in Phase III trials for the treatment of benign prostatic hyperplasia (BPH or enlarged prostate) as well as Phase IIa proof of concept study for the treatment of localized low to intermediate risk prostate cancer.
$SPHS is up 234% in the last 3 months and 135% in the last month alone as positive results from its Phase IIa proof of concept study of topsalysin in localized prostate cancer drive the stock higher. On June 9 th, $SPHS showed that topsalysin exhibited an ability to ablate tumor cells in 50% of patients (9/18) six months after treatment while showing no serious adverse effects or posing safety concerns. The results support advancing topsalysin to a Phase II study.
The American Cancer Society estimates that in 2016 there will be 180,000 new cases of prostate cancer and about 26,000 deaths. Prostate cancer is the second leading cause of cancer death in American men, behind only lung cancer.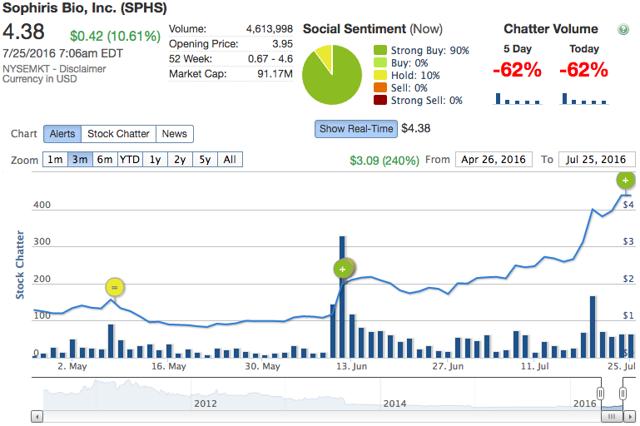 Legal Disclaimer/Disclosure: This is not a solicitation to buy or sell stock. No information contained should be construed as investment advice. A licensed financial advisor should be consulted prior to making any investment decisions. Stock Social Inc, and/or its associates may or may not own securities of the companies mentioned herein. The author makes no guarantee, representation or warranty and accepts no responsibility or liability as to its accuracy or completeness. Expressions of opinion are those of the author only and are subject to change without notice. No warranty, liability or guarantee for the current relevance, correctness or completeness of any information provided within this report and will not be held liable for the consequence of reliance upon any opinion or statement contained herein or any omission. Furthermore, we assume no liability for any direct or indirect loss or damage or, in particular, for lost profit, which you may incur as a result of the use and existence of the information provided.