Market Morning Sentiment - July 28th
US stocks ended Wednesday on a mixed note as the S&P500 and DJIA lost 0.12%, 0.01%, while the Nasdaq gained 0.58% respectively. Nasdaq closed at its highest level since December 4 th 2016.
Apple ($AAPL) reported better than expected quarterly results, which helped to stem losses to the DJIA and led the Nasdaq's gains.
After its two day meeting concluded Wednesday, the Fed seem to suggest that a September rate hike could happen. Referencing a stronger labor market and modest expansion in economic activity since its June meeting, the Fed said, "near term risks to the economic outlook have been diminished". Conversely, the central bank also noted that business investment remains "soft". Investors however, remain somewhat skeptical of a rate hike before the end of the year given the current level of uncertainty in global markets.
The US Dollar Index fell 0.36 to settle at 96.81 as the pound and euro gained against the greenback for the second day in a row.
A disappointing reading from the Department of Energy's weekly inventory report showed a surprise increase in crude oil inventories (+1.67 million barrels; expected; -2.25 million barrels). WTI crude oil lost 2.4% to finish at $41.90/bbl.
Economic data showed that new home sales in June rose to a 7-year high, while the Case-Shiller home price index also ticked up in May.
With economic and political uncertainty, a lack of clarity of what will happen next in the UK, concerns about anemic global growth, and equities at all-time highs, social sentiment on the SPY is highly negative.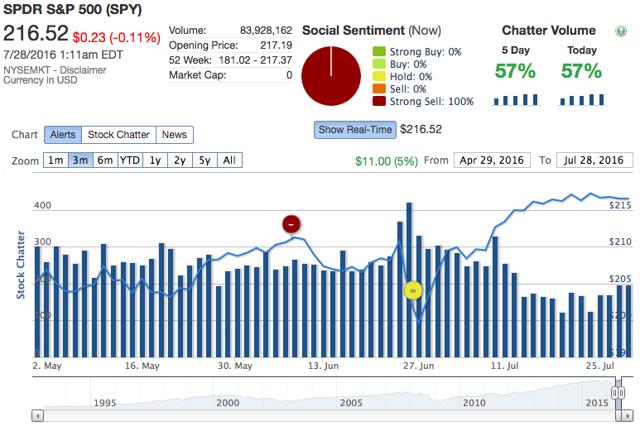 FEATURED COMPANY:$CLF
Social Sentiment and Chatter Volume
70% Strong Buy
Cliff Natural Resources positive sentiment ahead of earnings
$CLF is a mining and natural resources company that produces and supplies iron ore. It is the largest producer of iron ore in North America and one of the lowest cost producers in the world.
Positive sentiment has been building leading up to its quarterly earnings report later today. While analysts are predicting a decline in revenue year over year, they are also predicting that$CLF will report a profit compared to a loss last year.
Further driving sentiment is the fact that one of its main competitors, Essar Steel Minnesota (Essar), filed for Chapter 11 bankruptcy on July 10 th. Essar is a victim of a decline in iron ore spot prices since 2011 largely due to growth in the Chinese steel industry that didn't meet expectations and ramped up production by larger iron ore producers.
Lourenco Goncalves, the CEO of$CLF has expressed a strong interest in acquiring Essar's existing project as long as$CLF is able to obtain the state mining leases to the project site.
Shares of $CLF are up nearly 400% YTD and have a large short interest. Positive sentiment points to a potential earnings beat, while a miss could lead to a reversal.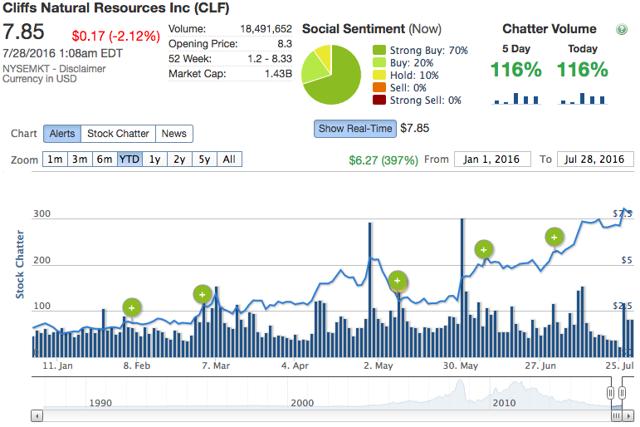 Legal Disclaimer/Disclosure: This is not a solicitation to buy or sell stock. No information contained should be construed as investment advice. A licensed financial advisor should be consulted prior to making any investment decisions. Stock Social Inc, and/or its associates may or may not own securities of the companies mentioned herein. The author makes no guarantee, representation or warranty and accepts no responsibility or liability as to its accuracy or completeness. Expressions of opinion are those of the author only and are subject to change without notice. No warranty, liability or guarantee for the current relevance, correctness or completeness of any information provided within this report and will not be held liable for the consequence of reliance upon any opinion or statement contained herein or any omission. Furthermore, we assume no liability for any direct or indirect loss or damage or, in particular, for lost profit, which you may incur as a result of the use and existence of the information provided.