Market Morning Sentiment - Aug 2nd
US stocks started the week on a mixed note as the S&P500 and DJIA lost 0.13%, 0.15% respectively,while the Nasdaq gained 0.43%.
Crude oil re-entered a bear market as its closed lower by 3.5% to $40.09/bbl, marking a decline of 21.8% from its peak of $51.23/bbl reached in early June. A drop of at least 20% from a recent peak signifies a bear market.
Monday's economic data included the July ISM manufacturing index and construction spending for June.
The ISM manufacturing Index stumbled to 52.6 in July from 53.2. While that signals a slowdown in growth, a reading above 50 still reflects and expansion in manufacturing activity. It's the fifth straight month of expansion for the manufacturing sector at a national level.
Construction spending declined at a seasonally adjusted annual rate of 0.6% in June, well below the consensus estimate of a 0.7% increase.
The weak ISM and construction data combined with oil re-entering a bear market weighed on sentiment Monday.
With economic and political uncertainty, a lack of clarity of what will happen next in the UK, concerns about anemic global growth, and equities at all-time highs, social sentiment on the SPY is highly negative.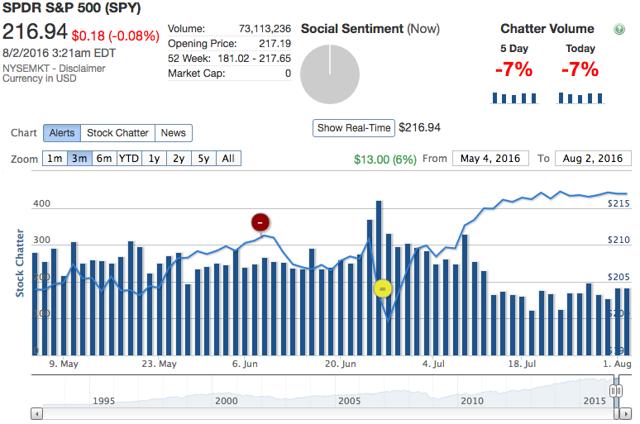 FEATURED COMPANY:$IONS
Ionis Pharmaceuticals shares and chatter volume spike
$IONS is a biopharmaceutcal company on the cutting edge of the discovery and development of RNA targeted drugs using their proprietary antisense technology.$IONS has 38 drugs currently in development to treat conditions such as diabetes, severe bacterial infections, multiple sclerosis, Hep C, Hep B, prostate/lung cancer, spinal muscular atrophy and many more.
Yesterday,$IONS shares jumped 30% on positive Phase III clinical data for its spinal muscular atrophy (NYSE:SMA) drug called Nusinersen. Due to the results of the pre-specified interim analysis, the randomized double-blind study was stopped so that participants could transition to a open label study in which all patients could receive the drug.
SMA is a severe motor neuron disease and is the leading genetic cause of infant death worldwide. Approximately 35,000 infants around the world are both with SMA.
Analysts have pegged the potential value of Nusinersen's franchise at $2 billion.
Based on the study results, Biogen($BIIB) excercised its option to develop and commercialize Nusinersen and paid a $75 million licensing fee to$IONS. Additionally,$IONS will receive royalties and could also see $150 million in milestone payments from $BIIB .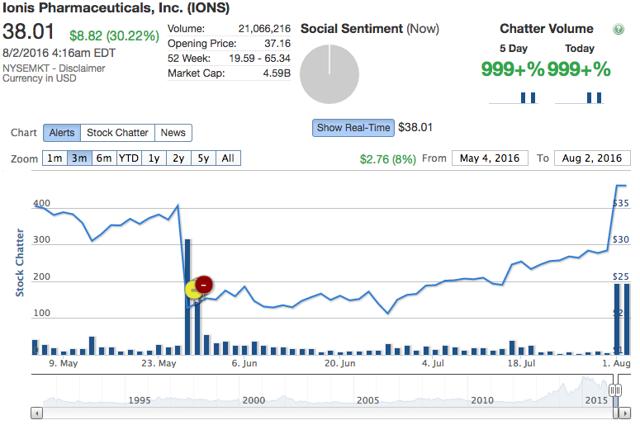 Legal Disclaimer/Disclosure: This is not a solicitation to buy or sell stock. No information contained should be construed as investment advice. A licensed financial advisor should be consulted prior to making any investment decisions. Stock Social Inc, and/or its associates may or may not own securities of the companies mentioned herein. The author makes no guarantee, representation or warranty and accepts no responsibility or liability as to its accuracy or completeness. Expressions of opinion are those of the author only and are subject to change without notice. No warranty, liability or guarantee for the current relevance, correctness or completeness of any information provided within this report and will not be held liable for the consequence of reliance upon any opinion or statement contained herein or any omission. Furthermore, we assume no liability for any direct or indirect loss or damage or, in particular, for lost profit, which you may incur as a result of the use and existence of the information provided.