Market Morning Sentiment - Aug 4th
The major averages were relatively flat Wednesday, but finished the day modestly higher as the S&P500, DJIA and Nasdaq gained 0.31%, 0.23% and 0.43% respectively. Relatively healthy economic data and firmer oil prices pushed markets higher.
With few catalysts present in yesterday's session, investors remained glued to the release of the Bank of England's policy statement to be released today, and the highly anticipated official jobs report on Friday.
The UK's July Services PMI (47.4; previously 52.3) ignited growth concerns ahead of the BOE's policy statement. The BOE is largely expected to add to its easing program after holding off in July.
The ADP's report on US private employment beat expectations as private sector hiring rose to 179,000 in July, compared to the consensus estimate of 165,000. The reading is a positive precursor to Friday's release of the July nonfarm payrolls report as the ADP figure generally sets the tone.
After re-entering a bear market on Monday, crude oil rose for the first time and broke past the $40.00 mark as it ended the day up 3.4% at $40.82/bbl.
The US Dollar index rose 0.49 to 95.55 as the buck gained against the yen, pound and euro.
With economic and political uncertainty, a lack of clarity of what will happen next in the UK, concerns about anemic global growth, and equities at all-time highs, social sentiment on the SPY is highly negative.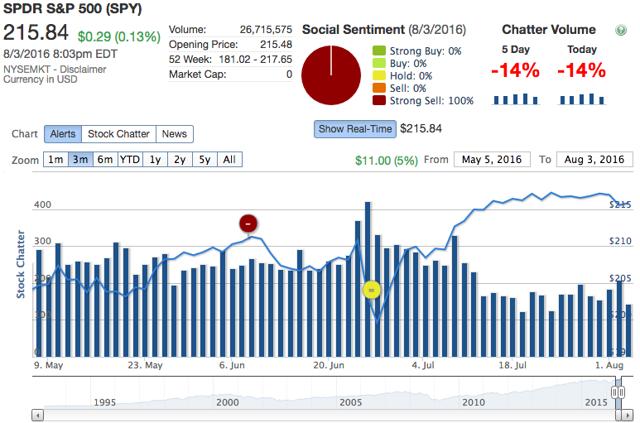 FEATURED COMPANY: $FIT
Fitbit shares jump after earnings beat and positive guidance
$FIT, formerly known as the smart watch company, is a health and wellness company whose platform includes wearable connected health and fitness trackers. The wrist based and clippable devices have a range of functions and automatically track users daily steps, calories burned, distance traveled, and active minutes and display real-time feedback. The devices can also monitor users sleep duration and quality and heart rate.
The wearable device maker reported earnings of 12 cents per share versus analysts expectations of 11 cents per share. Second quarters earnings rose 46% year over year (YOY) with strong growth and adoption coming from Europe, Middle East and Africa as revenue grew 150% YOY there as a group.
$FIT's new products, Alta and Blaze, were reported showed a strong consumer response and comprised 54% of Q216 revenue.
$FIT could be in for a strong holiday season as its products continue to penetrate markets and exhibit strong growth. However, despite historically strong growth, shares of $FIT have taken a beating falling 49% YTD.
"We continue to lead the wearables category we helped to create and see substantial runway ahead. I'm so confident that I will not sell any stock till the end of the year. Joining me in that commitment are co-founder and CTO Eric Friedman and CFO Bill Zerella." - James Park, Fitbit Co-Founder and CEO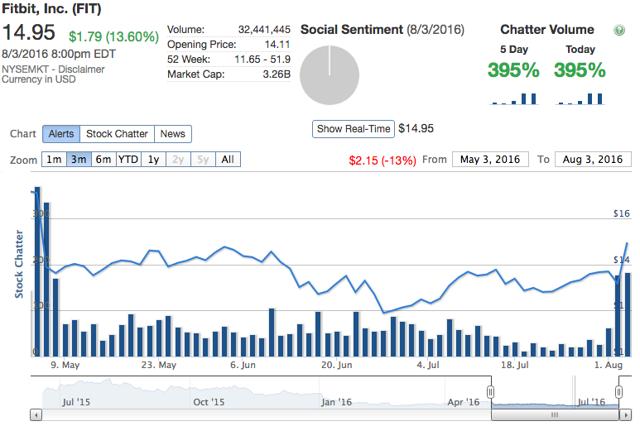 Legal Disclaimer/Disclosure: This is not a solicitation to buy or sell stock. No information contained should be construed as investment advice. A licensed financial advisor should be consulted prior to making any investment decisions. Stock Social Inc, and/or its associates may or may not own securities of the companies mentioned herein. The author makes no guarantee, representation or warranty and accepts no responsibility or liability as to its accuracy or completeness. Expressions of opinion are those of the author only and are subject to change without notice. No warranty, liability or guarantee for the current relevance, correctness or completeness of any information provided within this report and will not be held liable for the consequence of reliance upon any opinion or statement contained herein or any omission. Furthermore, we assume no liability for any direct or indirect loss or damage or, in particular, for lost profit, which you may incur as a result of the use and existence of the information provided.