Market Morning Sentiment - Aug 5th
The major averages had an unexpectedly dull Thursday as the S&P500 and Nasdaq gained 0.02% and 0.13% respectively while the DJIA lost 0.02%. It was a surprisingly boring session given the fact that the Bank of England shook things up Thursday morning with monetary stimulus that was more aggressive than expected.
The BOE announced a 25 basis point cut in its bank rate to a record-low of 0.25% in addition to purchasing up to GBP10 billion of UK corporate bonds and GBP60 billion of UK government bonds to bring its total stock of asset purchases to GBP435 billion.
Typically, an announcement of such a robust stimulus package would be exhibited enthusiastically in the stock market. Yesterdays mellow behavior is a potential signal that market participants believe monetary policy actions are ineffective. Investors were also cognizant of this morning's release of the closely watched Employment Situation Report for July.
Friday's job report is attracting particular attention following a surprisingly strong June release showing 287,000 jobs created and miserable May reading of only 11,000 created jobs. Economists are projecting the US economy to have added 185,000 jobs in July.
The British Pound dropped nearly 2% against the USD to 1.313. The US Dollar Index gained 0.21 to finish at 95.77.
WTI crude oil rose 2.7% to finish the day at $41.93/bbl amid an unexpectedly large drop in gasoline supplies.
With economic and political uncertainty, a lack of clarity of what will happen next in the UK, concerns about anemic global growth, and equities at all-time highs, social sentiment on the SPY is highly negative.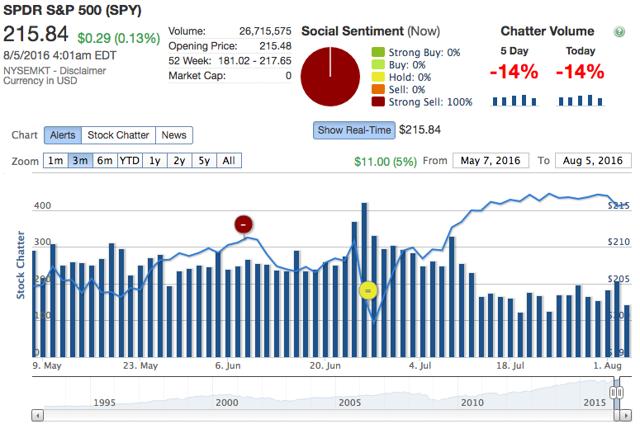 FEATURED COMPANY:$GERN
Gern Corporation
$GERN is a clinical stage biopharmaceutical company focused on the development of a telomerase inhibitor, imetelstat, in hematologic myeloid malignancies.
On Aug 4 th,$GERN posted an earnings beat with a narrower than expected loss in the quarter.$GERN reported a net loss of $8.6 million, or $0.05 per share compared to $9.4 million, or $0.06 per share.
$GERN's stock rose 1.1% on the news and is showing at 100% buy indication according to social sentiment. It is unclear at this point in time what the future of this drug is - we will be watching it moving forward.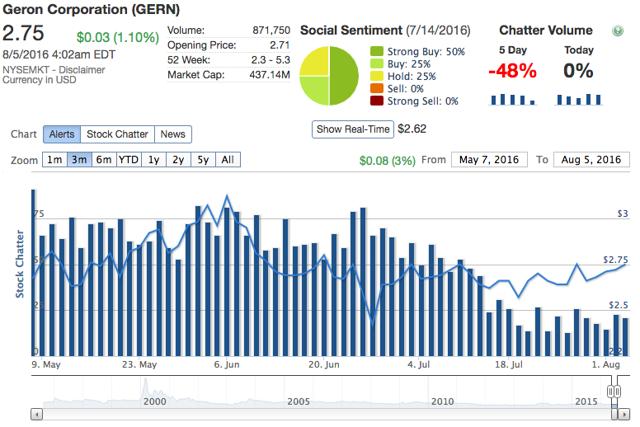 Legal Disclaimer/Disclosure: This is not a solicitation to buy or sell stock. No information contained should be construed as investment advice. A licensed financial advisor should be consulted prior to making any investment decisions. Stock Social Inc, and/or its associates may or may not own securities of the companies mentioned herein. The author makes no guarantee, representation or warranty and accepts no responsibility or liability as to its accuracy or completeness. Expressions of opinion are those of the author only and are subject to change without notice. No warranty, liability or guarantee for the current relevance, correctness or completeness of any information provided within this report and will not be held liable for the consequence of reliance upon any opinion or statement contained herein or any omission. Furthermore, we assume no liability for any direct or indirect loss or damage or, in particular, for lost profit, which you may incur as a result of the use and existence of the information provided.