A Quick Intro
ProNAi Therapeutics is a company that recently failed its clinical trial for its lead product PNT2258. It's strong cash position is why I chose to get into the stock. Some would say that a biotech stock that fails is dead in the water, but they are only half right. A strong cash position will allow a stock to at least doggy paddle its way back to the spot light. That is what I saw in ProNAi when I did my first analysis after its spectacular PNT2258 drug failure. In that analysis, I saw a moderately strong cash position and the potential for it to rebound from its failure. Shortly after my initial analysis, my suspicion was confirmed by the acquisition of its new drug PNT737.
Quick Financials
DNAI currently holds $122 million in cash as of September, 2016. I suspect a great deal of this cash will go toward researching its checkpoint inhibitor PNT141 (a Cdc7 checkpoint inhibitor) and its recently acquired and current lead candidate PNT737. I anticipate that this will be enough to advance both drugs into mid phase II clinical trials. The beauty of this company is that it is trading under cash and thus, has the potential to close the gap with broader investments in building its drug portfolio (very possible) and/or continued investment in R&D. Considering that DNAI's average operating expenses total $(3,376,000) for the past five quarters, I suspect that DNAI will have enough cash to get to 2019.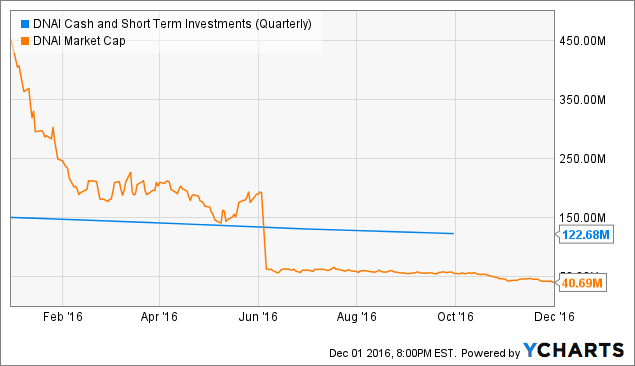 Q3-2016 Performance
DNAI saw its stock perform dismally in Q3 - 2016 when compared to IBB. I attribute this entirely to its communication regarding the WOLVERINE Trial - any communication of a drugs discontinuation will have a negative impact on a stock's price.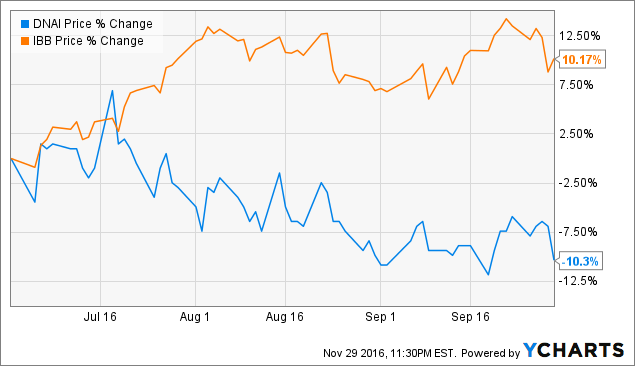 The Products
PNT737 - Although many are excited about this drug, I am not. A checkpoint inhibitor will add value to DNAI's drug portfolio, but it is something that has been studied in greater extent by a number of scientists in big pharma and a number of smaller competitors. Thus, although PNT737 is DNAI's lead candidate drug, I suspect that it will fare no differently than the many competitor formulas that are currently being evaluated in clinical trials.
PNT141 - A cell death cycle 7 inhibitor, PNT141 is suspected to cause p53 independent apoptosis (cell death) or abnormal mitosis (cell division), which eventually leads to a process similar to necrosis (different form of cell death).
A Combo? - "Inhibiting both Chk1 and Cdc7 simultaneously may be advantageous and presents the potential for novel proprietary combination strategies for PNT737 and PNT141." This is where I think they have the potential to make a difference.
Brief Discussion
ProNai Therapeutics plans to file an IND for PNT141 sometime in the second half of 2017. PNT141 sounds like the blockbuster drug because cdc7 inhibition has been shown to have an impact on a big killer, pancreatic cancer. However, being able to target a variety of cancers is the holy grail of cancer therapy. Thus, we suspect that a successful combination will help set DNAI apart. However, investors would be wise to keep up on cancer immunotherapy drugs such as SRNE and NK as they have the potential to crush companies such as DNAI if they are able to show strong success in their respective therapy programs - something that NK has already shown in its recent data release. While I have personally chosen to get into DNAI because I see the potential for long-term value and it fits within my investment charter. I request that you do your own due diligence before you even consider investing in (DNAI).
Disclosure: I am/we are long DNAI, SRNE.
Additional disclosure: My opinions here are my own. Please do your own DD.