New Display Modules Can Finally Make The Apple Glasses A Reality
Please Note: Blog posts are not selected, edited or screened by Seeking Alpha editors.
Summary
The most important thing Apple places on products is design and functionality. Smart Glasses should probably look like normal glasses from Apple's point of view.
For Smart Glasses, probably iGlasses for Apple, functionality is probably not a major problem because they are similar to smartphones.
However, Apple has probably not yet succeeded in developing hardware that allows a design like normal glasses, probably due to the display. Otherwise they would already be on the market.
Now, new display modules that allow a design like normal glasses have been introduced at the CES 2020 as well as a few days ago.
These modules have been overlooked so far, although they enable slim and light smart glasses for the first time. Apple could use them.
It is no secret that Apple (AAPL) is working on augmented reality (AR) products. While there are already applications for iPhones and iPads, the right hardware is still missing. It would be easier if information could be displayed right in front of your eyes instead of always having to look at an iPhone. It is to be expected that Apple will initially concentrate on information and games that can be displayed two-dimensionally and only later on will be able to display holographic objects, as Microsoft (MSFT) already does with Hololens 2. Apple is focused on end customers. For years there has therefore been speculation about Apple Glasses, possibly also referred to as iGlasses. These were first used as accessories for iPhones. The wait is currently a bit like "Waiting for Godot". Speculated release dates are constantly being postponed further into the future. This could be due to the display. To meet Apple's design demands, it probably wouldn't have to be particularly high-resolution at all, but above all small and light, so that it could be integrated almost invisibly into the frame of the glasses. To look chic. Are not heavy. So, like chic sunglasses with technology. These displays do not seem to have existed before, otherwise the glasses would probably already be on the market. This year, at the CES 2020 as well as a few days ago, two different display modules were presented. Unnoticed by the public. Until now. This article should draw attention to them, because they would allow exactly such glasses from Apple and it is not unlikely that Apple could use one of them. If the competition, e.g. Microsoft, does not beat Apple to it. In addition, Apple shareholders could also make a direct investment in one of the two suppliers, who also probably holds patents for the second solution.
According to Apple in January 2020, smart glasses are the "next big thing":
"I'm excited about AR," Cook said. "My view is it's the next big thing, and it will pervade our entire lives."
But where are they?
A detailed overview of the status of Apple Glasses and their ever-changing expectations and constantly postponed release dates provide, for example:
This quote gives a good indication of what is expected:
Will Apple push the bleeding edge of realistic holographic AR, or aim for style, a few key functions and build up from there? Undoubtedly, the latter. The first Apple Watch was feature-packed but still lacked some key things other watches had, like GPS and cellular connectivity. So did the first iPhone, which had neither an app store, 3G or GPS. Apple tends to market its new products at doing a few key things exceedingly well.

High-end mixed reality headsets like HoloLens 2 and Magic Leap, that show advanced 3D effects, are heavy. Smaller, more normal smart glasses like North Focals or Vuzix Blade are more like Google Glass used to be; they present bits of heads-up info in a flat 2D screen.
It seems unlikely that Apple will be able to shrink a HoloLens 2 to normal glasses dimensions.
So, it seems more likely that Apple Glasses look more like North's. A company that Google just bought out for$180 million a few weeks ago. However, North's glasses required an elaborate measurement of the future wearer and individual production. This is unthinkable for Apple products. That's why google stopped the production immediately.
However, there are now two display modules that could well overcome these disadvantages and thus make Apple smart glasses possible as early as 2021.
In addition, one of them comes from a long-time supplier of Apple, Bosch (private company):
As one research firm put it last year: "Bosch completely crushed the competition." The German car parts maker won a contract to supply Apple with motion sensors, the semicoductor chips that detect whether a device is held horizontally or vertically and sense movements. The Bosch semiconductors are now part of Apple's iPhone X and enable people to play mobile games and use augmented reality.

The Apple contract, a defeat for Silicon Valley-based InvenSense, crowned Bosche's rise as a leading chip maker. The foundation-owned company already operates two chip factories in Germany, which produce the technology to control airbags, park your car automatically and measure how many miles you've jogged. More than half of all smartphones worldwide contain sensors made by the Bosch subsidiary Sensortech.
These are supplied to Apple by Bosch Sensortec (wrong spelling in the quote above).
Bosch has won many orders from Apple largely unnoticed by the public, e.g. in 2017 according to "Another Apple supplier set to lose business as motion sensor orders placed with Bosch". See also Bloomberg.
This makes Bosch an important supplier for Apple.
At the beginning of the year, Bosch presented a new display module for smart glasses at the CES 2020 trade fair, which can be integrated almost invisibly into the frame of glasses. No special glasses are needed for this, as it projects directly into the eyes.
Bosch will certainly have presented the display module to Apple. Apple shareholders should also hear about it. So here it is, the "Smart Glasses Light Drive"from Bosch Sensortec: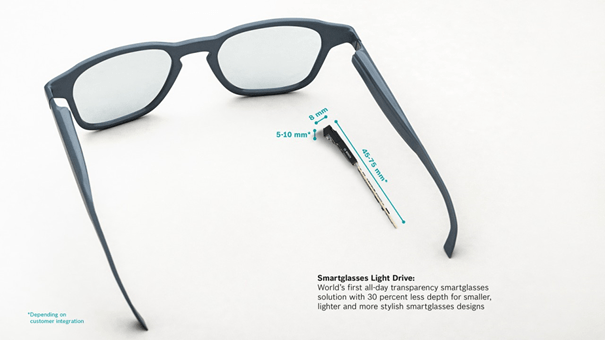 Source: Bosch Sensortec
At first glance it is obvious that it can be integrated almost invisibly into the frame of glasses. In addition, as also evident, the display allows the glasses to be folded up. This is not a matter of course but almost a "must have", because who wants to have glasses that cannot be folded? How should they be transported without breaking quickly? Almost all currently available smart glasses equipped with OLED or MicroLED projectors are not foldable.
Bosch on the other hand uses a laser-based MEMS projector to achieve this size. The projection is directly into the eye, so no special glasses are required. Therefore, they are also 100% transparent:
Summary of the features (Bosch Sensortec):

Source: Bosch Sensortec
Further details:
The solution is also compatible with curved and corrective lenses.

privacy, for your eyes only, invisible to others
Press release from Bosch on CES 2020:
World's first all-day transparency smartglasses solution 

Smallest Light Drive on the market: 30 percent less depth

Highly efficient, lightweight system, weighing less than 10 grams

Delivers high quality, bright images, even in direct sunlight

The Bosch Smartglasses Light Drive module is a sole source, all-in-one technology stack consisting of MEMS mirrors, optical elements, sensors, and onboard processing. This integrated solution delivers a clean visual experience with bright images that are always in focus – even in direct sunlight.

The Smartglasses Light Drive system is the smallest and lightest product on the market today and is, therefore, able to turn almost any regular spectacles into smartglasses.

The disruptive Bosch Light Drive technology revolutionizes all-day wearables with perceived total transparency for the user, and with radical social acceptance because it is nearly invisible to others.

There is no externally visible display or integrated camera, the two pitfalls that have alienated users of other smartglasses technologies

Smallest Smartglasses Light Drive solution on the market

The new complete turnkey Light Drive system is the smallest comparable solution available on the market, delivering a depth reduction of 30 percent compared to existing solutions. It measures approximately 45-75 mm x 5-10 mm x 8 mm (L x H x W, depending on customer integration) and weighs less than 10 grams.
The solution seems to be made for Apple (and of course other smart glasses manufacturers).
Europe's largest magazine for IT technology has already found this, while in the USA it has probably gone unnoticed so far: "Tried: Bosch Light Drive turns normal glasses into an invisible display".
the Bosch module is not only intended to produce a larger image, but also enable smaller designs. And who knows: Maybe this is the approach that Apple is taking with its data glasses, which has been speculated about for a long time.
It thus stands out from competing solutions, such as those offered by Vuzix (VUZI), which are completely unsuitable for the mass market in all essential and for consumers, here the example of the Vuzix Blade: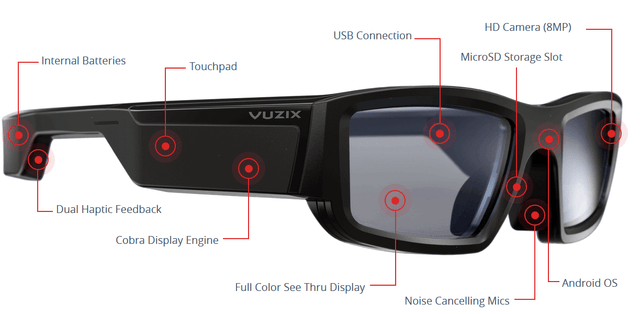 Source: Vuzix
The glasses are relatively thick, heavy and (for the author) ugly looking. It seems for the author inconceivable that Apple would put such glasses on the market.
Here OLED or MicroLED projectors are coupled with a waveguide. The projector used by Vuzix, which is called "Cobra Display Engine" in the illustration, can be found here.
Probably because the previous solution was unsuitable for consumers, the company recently announced a new generation of Smart Glasses:
Next Gen Smart Glasses

Introducing Vuzix's next generation smart glasses technology.

Already a world leader in Smart Glasses, Vuzix's next generation brings the perfect combination of style and function. Enhanced fully wireless connectivity made even more dynamic. With completely see-through advanced waveguide optics and revolutionary micro-LED display engines that can be used indoors or outside, Vuzix deliveries the future in smart glasses coming in 2021.

Source: Vuzix

STYLE AND COMFORT

A sleek exterior leads to a tech-rich interior, delivering style and substance with a trendy, comfortable design, combining easy wearability with even greater utility, for an enhanced connected mobile experience. Source: Vuzix
It will be based on MicroLEDs. However, the company does not give any information about resolution, size, weight etc. Therefore, this solution is still in development (compare before). So, there is practically nothing known about it:
VUZIX ADVANCED OPTICS

Ultra-slim, binocular Waveguides powered by a pair of tiny, highly efficient micro-LED projectors, one for each eye, generating crisp video with contextual information. At 1 micron in size, the micro-LED's have one of the highest density pixel arrays available with both monochrome and full color solutions in development. Source: Vuzix
The Bosch module projects directly into the eyes, making normal lenses possible. It can therefore also be integrated into sunglasses.
Apple Glasses with Waveguides
If Apple does not want this, there are two possibilities:
Using Bosch Light Drive with Waveguides

Display module from

Microvision

(

MVIS

)
Alternatively, the Bosch solution can also be combined with waveguides, so that a projection is not into eyes but into the lenses. Bosch explains
Additionally, the technology can also be applied to optimize performance of waveguide systems for which integration packages are in development.
The information provided by Bosch
Smallest Light Drive on the market: 30 percent less depth
was true for CES 2020 and until a few days ago.
However, since a few days there is another solution that allows even lighter and smaller glasses.
The company Microvision surprisingly presented a projector weighing only 4.4 grams a few days ago. The module is therefore only half as heavy as the one from Bosch.
This module, which could also be produced very cheaply for probably $50 due to the prices for projectors from Microvision, enables smart glasses for the mass market, just like the one from Bosch.
It is now to be the world's smallest and lightest display module for smart glasses, which would continue to make glasses look like glasses.
Source: Video "Augmented Reality Micro-Display modules" on youtube
Apple would only have to develop a suitable hinge to make the frame foldable:

Source: Video "Augmented Reality Micro-Display modules" on youtube
Exploded view of the very small display module embedded in the frame: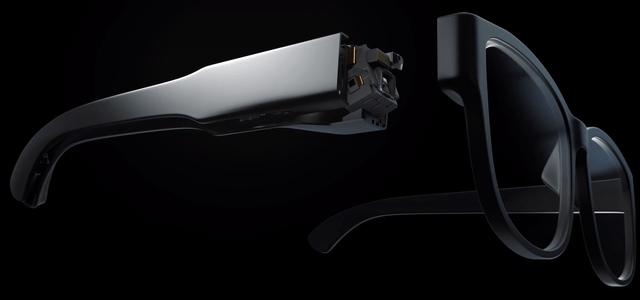 Source: Video "Augmented Reality Micro-Display modules" on youtube
The technology of the glasses is not a new development, but is based on projectors already proven in practice. The following MEMS with 720p resolution was already installed by Sony, so it is a mature technology: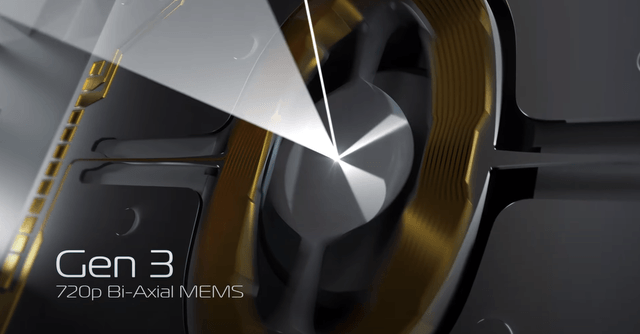 Source: Video "Augmented Reality Micro-Display modules" on youtube
The somewhat larger Gen 4 version is currently used by Microsoft in HoloLens 2 (compare before):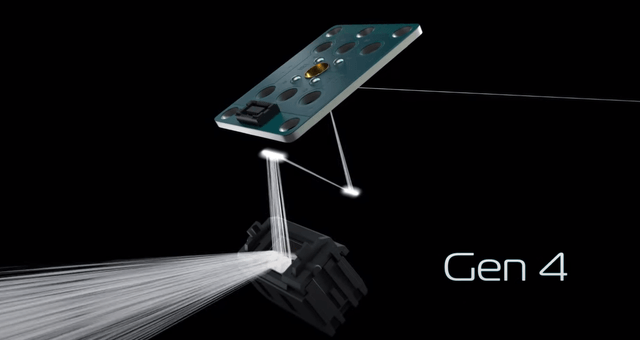 Source: Video "Augmented Reality Micro-Display modules" on youtube
As you can see at first glance, there are worlds between these glasses (and those of Bosch) and those of Vuzix. Both are the first display modules that enable almost invisible projectors in spectacle frames.
The module even offers a 720 p resolution - even videos could be played: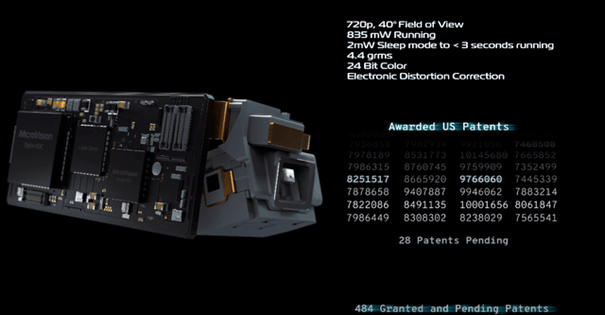 Source: Video "Augmented Reality Micro-Display modules" on youtube
So, in contrast to Vuzix, Microvision supplies concrete specifications (as well as Bosch).
Since this year, Dr. Mark B. Spitzer, who previously worked for Google X as "Director of Operations for Glass" as well as for the google VR team, has been a member of the supervisory board at Microvision. He has certainly examined the market opportunities and practical suitability of the module.
The Microvision CEO explained this a few days ago in the conference call Q2 2020:
In the MicroVision Augmented Reality video, for example, we share a potential module design using our existing MEMS technology platform that could offer the lightest, smallest in volume, low power module with up to 40 degrees field of view packaged into eye wear that resembles frames currently accepted in the market. I believe one could see how our module in the design example would be compelling for a mass-market product. Our module illustrated in the video is based on existing design model files that are part of our intellectual property and body of work.
This display module would therefore also be suitable for Apple Glasses
Bosch is an important supplier to Apple, one of the largest automotive suppliers in the world, and more than half of all smartphones, including the Apple iPhone X, contain chips from Bosch. Probably also in the iPhone 11, which means Bosch could also supply millions of units.
Microvision is currently for sale, either as a whole or in individual divisions. Since Microvision supplies the projectors for the Microsoft HoloLens 2 and also has STM as a manufacturing partner, Microvision could also deliver millions of units immediately.
Thus, Apple could buy both display modules immediately or even purchase Microvision.
According to the author, only Bosch or Microvision modules for Apple Glasses are currently considered if they are to look like normal glasses. These are the smallest modules on the market.
Resolution, field of view, etc. are important, but they take a back seat to the necessary everyday suitability and design. Just like Apple always does. Design first. No one wants to watch videos in glasses, but rather stylish, lightweight glasses that convey information or enable games like Pokémon Go.
They are also both available at short notice. This means that Apple Glasses are now really within reach and could be on the market from next year (2021).
All other modules required for such glasses are standard technology, which Apple has built into the iPhone or Apple Watch in this or a similar way and should be available in the required size.
It is likely that both the Bosch Light Drive display module and the Microvision display module for smart glasses have already been presented to Apple
Surely Bosch, as one of the important suppliers, should have already been to Apple with its display module, probably to the CEO himself.
The same should apply to Microvision. Although most Apple shareholders should not be aware of Microvision's products, the author was certainly not the first to come up with the idea that Microvision would be a perfect fit for Apple. Microvision has approached over 100 companies through a consulting firm. It can be assumed that Apple was one of them.
The Microvision CEO has now mentioned in a conversation with shareholders that a request for discussion from Microvision has never been rejected by a large company in the last four years, even though Microvision is only a small company. It is known that Microvision is the technological leader in its business areas. This means that it can be assumed that Microvision was already with Apple. And Apple could be among the bidders for Microvision technology at the moment.
Another interesting tidbit, was Sumit talking about how respected and acknowledged MVIS is in the tech world amongst the big boys. (…) But his point was, and he's only been there about four years, is how remarkable and unusual it is for a tiny engineering tech start-up that when they contact the whales and say "We have something we think you will want to see". . . they GET THAT MEETING EVERY TIME. That just doesn't happen for most tiny tech engineering houses. But it does with MVIS. That lead into just a general description about how NONE of these big dogs dispute that MVIS tech, in its core competencies (i.e. LBS), is years ahead of the competition. None of them.
Opportunities for Apple shareholders
Probably everyone who wants to use retinal projection like Bosch needs licenses from Microvision.
As shown in the Microvision video above, Microvision holds nearly 500 patents for the MEMS projection used by Bosch. It is very likely that at least one of them will be infringed by Bosch and therefore royalties will be due to Microvision - either by Bosch or e.g. Apple.
If Apple does decide to go for the Microvision solution, it is likely that Apple will buy the smart glasses division or the whole company: With the purchase of Microvision, Apple would also have bought the best, smallest and cheapest LiDAR module for cars (see my other articles that are coming soon or have already been published).
Smart glasses will probably become a mass market. With only $5 royalties or profit per display module and 100 million pieces, that would be $500 million profit for Microvision.
Microvision is currently one of the most innovative and exciting companies for sale due to the consequences of the COVID 19 pandemic.
The outstanding technology of Microvision seems to be accordingly in demand.
According to a report by "MergerMarket", there is strong interest from "top tier"companies in Microvision's AR division. Excerpt from the report dated August 4, 2020:
MicroVision attracts auto and augmented reality bidders for potential sale, CEO says

August 4, 2020

MicroVision, a Redmond, Washington-based laser sensing technology company, is seeing strong interest from bidders in the automotive and augmented reality space, said CEO Sumit Sharma.

The USD 336m market cap company announced in April that it had engaged Craig Hallum to sell all or part of the company, which holds IP and technology for laser sensing and scanning in four segments: automotive, augmented reality, consumer and interactive display.
As discussed in parallel articles on Alphabet, Tesla and Microvision itself, Microvision stock seems to be already spot cheap in the Automotive LiDAR segment compared to the valuations of other companies, such as Velodyne LiDAR (GRAF).
Velodyne LiDAR was valued at $1.8 billion a few days ago in early July 2020:
Pursuant to the business combination, GRAF will acquire Velodyne through a reverse merger in which Velodyne is ascribed an enterprise value of approximately $1.6 billion and equity value of approximately $1.8 billion.
The LiDAR competitor Luminar was even valuated at $2.9 billion some days ago, too. Luminar (LAZR), which also develops exclusively LiDAR systems, was previously valued at $900 million in November 2019:
To go with this news, Luminar said it has closed its latest round of funding, bringing it to $250 million raised (and a $900 million valuation) to help it boost manufacturing capacity at its Orlando factory.
This rating has just been drastically increased to $2.9 billion: "Luminar, the Global Leader in Lidar Autonomous Driving Technology, to Be Listed on Nasdaq Through Merger With Gores Metropoulos"
However, the Microvision LiDAR system has seven times the resolution and should be worth even more.
There are less than 150 million Microvision shares. A valuation as for Velodyne would therefore result in a share price of $13.
Including the other businesses, such as smart glasses and AR, it could also be $20 per share.
Finally, LiDAR, AR and smart glasses are the big future issues for the next few years and companies are likely to pay a high purchase price.
Regardless of whether Apple, Microsoft, google or whatever company buys these divisions.
Conclusion
Apple Glasses may now arrive soon. Display modules are now available. Apple shareholder can invest in Microvision to likely profit directly.
Analyst's Disclosure: I am/we are long MVIS.
Seeking Alpha's Disclosure: Past performance is no guarantee of future results. No recommendation or advice is being given as to whether any investment is suitable for a particular investor. Any views or opinions expressed above may not reflect those of Seeking Alpha as a whole. Seeking Alpha is not a licensed securities dealer, broker or US investment adviser or investment bank. Our analysts are third party authors that include both professional investors and individual investors who may not be licensed or certified by any institute or regulatory body.