Technically Incompetent Short Seller Hindenburg Makes False Statements About MicroVision
Please Note: Blog posts are not selected, edited or screened by Seeking Alpha editors.
Summary
Hindenburg Research is already known for making misleading or false statements in its own "reports", such as on Bosch in connection with Nikola.
Hindenburg now repeats this with tweets about MicroVision. Hindenburg makes such false statements about patents that the suspicion arises that the allegedly interviewed patent attorney does not actually exist.
Hindenburg does not deal with MicroVision's products or technology. It is not evident how Hindenburg derives the alleged enterprise value without their knowledge. Also, Hindenburg does not name sources.
Exceptions: According to a newspaper article, MicroVision should have existed as early as 1996: Known. A Microsoft PR team (!) serves as proof, which companies Microsoft (does not) buy: Embarrassing.
The tweets are a hodgepodge of incompetence and false information. There is no concrete information about products, finances, business prospects. Hindenburg has demonstrably not even read press releases from MicroVision.
MicroVision's (MVIS) stock price had just risen somewhat as shareholders apparently recognized the potential of both the technology for smart glasses and in LiDAR for cars (details at Seeking Alpha here, here and here). Although the share price is still factors below those of comparable companies in LiDAR such as Velodyne (VLDR) and Luminar (LAZR), and AR technology also does not yet appear to be factored into the share price. On December 22, 2020, there were tweets from "Hindenburg Research" . Obviously to drop the share price. This, after Hindenburg had previously sold shares of MicroVision short, according to its own information. Into the recovery of the company burst now on December 22, 2020 "Hindenburg Research" with tweets on Twitter to press obviously the share price after Hindenburg had sold shares of MicroVision short according to own information. In the "analysis" there, which does not deserve this name in terms of content due to lack of analysis, Hindenburg gives false and misleading information about company values and required capital, as is also proven below. This is not the first time. Already in the case of Nikola Corporation (NKLA), the company made false statements, as Bosch confirmed to the press, as also documented below.
Note: I wrote this article before Christmas. I haven't updated the content since then. Since the review process of Seeking Alpha takes too long for me, I publish it now as a blog.
Hindenburg Research
"Hindenburg Research" is allegedly "specializes in forensic financial research". "While we use fundamental analysis to aid our investment decision-making, we believe the most impactful research results from uncovering hard-to-find information from atypical sources."
What Hindenburg Research has published
At MicroVision, Hindenburg Research published only a few tweets instead of an analysis. Sources and evidence for facts do not exist there. Copyrights do not seem to be relevant for Hindenburg Research and are not observed, as a screenshot of an excerpt from a newspaper page without source citation shows. A patent attorney is only quoted anonymously. There would actually be no reason to deal further with such tweets, had it not triggered a share price slide. That is why the misleading and false information must be presented and Hindenburg's incompetence shown.
Hindenburg is already known for false and misleading statements in analyses, when Hindenburg sells shares short, here at the example Bosch at Nikola
"Hindenburg Research" is not a real "research" firm, but a firm that disseminates alleged analysis to depress the share price of companies it has previously sold short. So it is not about independent information about companies, but about the targeted pushing of share prices for their own enrichment. That the analyses then turn out to be correspondingly negative should not come as a surprise. This would also be fine if these analyses were true, documented, did not conceal essential information and did not contain false or misleading information to make companies look worse than they are.
The Bosch case is intended to show that Hindenburg is not so scrupulous about the truth.
Here, false statements were made about Bosch in reports from Hindenburg to Nikola, as is already known. It is about the report "Nikola: How to Parlay An Ocean of Lies Into a Partnership With the Largest Auto OEM in America".
Not only Nikola seems to have "An Ocean of Lies", but according to press reports also Hindenburg himself. At least with regard to Bosch.
Bosch is one of the largest automotive suppliers with more than $90 billion in annual sales, as well as the world's No. 1 manufacturer of MEMS modules of all types, such as those developed and used by MicroVision for projectors and LiDAR systems.
Bosch is a private, non-listed company that does not normally comment on its customers. In the Nikola case, however, the extremely secretive company exceptionally felt compelled to make a statement due to Hindenburg's false claims, according to Bosch.
The press reports on this as follows. The exclusive report (here in the German original) of the "Wirtschaftswoche" has the headline:
Fraud allegation Bosch contradicts Hindenburg accusations about Nikola Motor
The magazine explains among other things (translated from German by google): "... The German Nikola partner Bosch also appears in the report; the auto supplier is named 19 times in it.... "
According to the magazine, Bosch stated (translated):
At the request of WirtschaftsWoche, Bosch now contradicts Hindenburg's descriptions. "We are aware of the Nikola Motor report published yesterday (...) by Hindenburg Research, "the statement said. "Statements in the report that are attributed to a Bosch employee have been taken out of context and are not applicable..."
This exemplifies how Hindenburg misrepresents or misleads facts by taking facts out of context, giving them a different meaning, which is obviously intended unless the company is so intellectually incompetent that it cannot present facts correctly.
Hindenburg Research is not a credible company
The above facts shall not be further elaborated, as this article deals with the company MicroVision. It should only show by way of introduction how credible the company Hindenburg is on the basis of its history of "analyses".
Publications from Hindenburg to MicroVision
On December 22, 2020, Hindenburg posted several tweets about MicroVision, which Seeking Alpha also reported:

Source: "Hindenburg Research" on Twitter
Hindenburg published more tweets. Not all of them shall be discussed. Already the ones shown before are essentially wrong in content and show either Hindenburg's lack of knowledge about MicroVision, its products or even the intentional misinformation about MicroVision to depress the share price and generate own profits.
Hindenburg about the company value of MicroVision
By way of introduction, Hindenburg writes:
We are short $MVIS. In a market gone mad, this $1.2 billion market cap corporate husk with almost no revenue or intellectual property value is a standout.
MicroVision is not a "corporate husk" but a very active company
It is not only disparaging, but factually incorrect for Hindenburg to refer to MicroVision as a "corporate husk." This is not so. The company has always been active in business, has been selling products for years (including to Microsoft for the HoloLens 2), and is actively pursuing the further development of several product lines:
Source: MicroVision on youtube
Source: MicroVision on youtube
Source: "the Gadget Professor MicroVision CES 2020 Interview" on youtube
Source: MicroVision on youtube
Source: MicroVision on youtube
Source: MicroVision on youtube
A company that develops so many products is not a "corporate husk". This would otherwise apply equally to LiDAR competitors such as Velodyne and Luminar, which each have only one product line (LiDAR).
MicroVision has relevant sales, compared to Luminar for example, the sales/loss ratio is three times better
Luminar in particular is also selling next to nothing and has an annual loss of $94.7 million according to Reuters. While MicroVision is also currently making almost no sales after failing to win a contract at the start of 2020, it had only a quarter of Luminar's annual loss in 2019. Luminar:
For 2019, Luminar had revenue of $12.6 million and a net loss of $94.7 million.
Hindenburg writes
almost no revenue
Thus, Luminar's revenue/loss ratio is significantly worse than MicroVision's:
MicroVision in the same period (2019):
Revenue for full year 2019 was $8.9 million (...) MicroVision's net loss for full year 2019 was $26.5 million
However, concrete figures do not seem to be important for Hindenburg, as they are not given. Only sweeping claims are made and purely subjective and one-sided assessments are made from the point of view of a short seller.
Accordingly, Luminar only has a sales/loss ratio of approx. 1:9 and MicroVision a much better ratio of approx. 1:3. The same is likely to continue in 2020, the figures are of course not yet available. It is true that MicroVision's sales should decrease. At the same time, however, costs should also fall due to the reduced workforce.
Hindenburg demonstrates complete technical incompetence with regard to the application of LiDAR
When Hindenburg elaborates
It has risen 5,000% from lows this year on misguided retail euphoria over its LiDAR IP portfolio amid a broad EV bubble
Hindenburg does not explain what the connection between LiDAR and EV should be. There is none.
Of course, LiDAR systems generally require electricity to operate - just like headlights, for example. However, like headlights, gasoline or diesel cars also supply this power via the vehicle electrical system. There is no other connection.
No one would even think that camera chips, e.g. for a rear view camera, are dependent on the type of drive. These can be gasoline, diesel, fuel cell or battery vehicles.
Apparently, Hindenburg doesn't even know what LiDAR is actually for or what its function is. LiDAR in cars is used to prevent accidents by recognizing the surroundings and to enable a car to find a path by providing as detailed a three-dimensional image of the surroundings as possible. The analysis is then done in other systems that other companies are developing, such as Waymo or Tesla. There is no connection to EV cars here. This applies to all car models regardless of engine type. Just as cameras and radar are used in all types of cars, LiDAR can be used in all types.
Thus, the entry into the alleged analysis on the part of Hindenburg is already technically unsuccessful.
LiDAR has no relation to EV cars and thus there can be no relation to an "EV bubble"
Since the average shareholder surely knows this - why should only an EV car be able to have a self-driving mode? - here can of course be no connection with an "EV bubble".
Has a connection ever been made between camera chips and EV? The author is not aware of this.
If this execution is not already unmasking enough for the technical incompetence of Hindenburg in the field of LiDAR, it only gets more abstruse in the further tweets.
MicroVision has a lot of patents for future technologies
For Hindenburg continues to write:
almost no (...) intellectual property value
is wrong or unsubstantiated. Why do MicroVision's patents have no value? Hindenburg does not prove that.
Misleading/false statements by Hindenburg regarding the number of patents held by MicroVision
Instead, Hindenburg claims in another tweet below:
Retail investors have latched onto the company's portfolio of 250+ active patents,
This is ultimately factually misleading and thus incorrect, as MicroVision has approximately 480 patents in the US alone. It is true that "250+" also includes 480. However, this would also be included in "1+". Thus, it is obvious that Hindenburg intentionally understates the number of patents by about 50% in order to mislead the public.
Because if someone publishes an analysis on a company, he should at least have watched/read the releases, annual reports and transcripts of the conference calls as well as the product videos.
Among other things, the August 2020 Automotive LiDAR video states unequivocally:
484 Granted and pending patents
Of these, only 28 patents were "pending", i.e. under examination, as of 08/03/2020. Since then, further patents have been granted by MicroVision (compare later). However, this also means that 456 patents must already have been granted in August 2020.
For this purpose, the video even lists the patent numbers.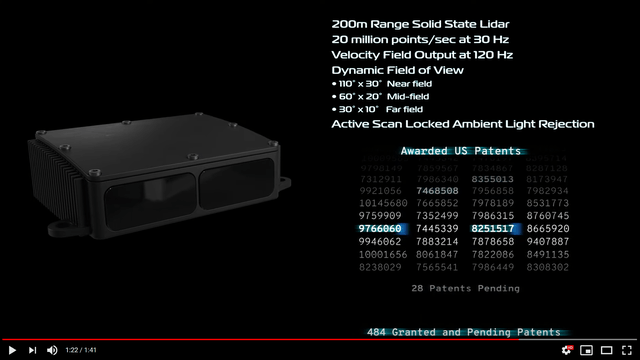 Source: Video "MicroVision's Automotive LiDAR module" on youtube (1:41 min)
The number of active patents is not known to the author. However, it is likely to be the most, since patents have a term of twenty years since the filing date and the MicroVision company has only existed for about 25 years at all.
In addition it is significant that Hindenburg probably does not know that also currently only applied patents can have a (high) value or even often establish companies, since a patent represents a value from the filing date on if a grant is probable with sufficient prospect, since it can already then protect against copies of products.
Thus, many products available on the market have a patent number indicated with the addition "pend." - e. applied for, not yet granted but also not rejected.
This means that MicroVision currently has just under 500 patents - almost twice the number stated by Hindenburg.
It would have been good if Hindenburg had studied the "Patent Basics" at the US PatentOffice beforehand.
Number of patents not decisive
If Hindenburg had even a minimal knowledge of patents, he should already know that it is good to have many patents, but that the number of patents says nothing about their value. One patent can have a higher value than a thousand others together. Thousands can be worthless. But a single one can be worth billions of dollars. The more patents someone has, the higher is only the probability that such a valuable patent is among them.
It should be noted in passing that the above figure only shows the number of patents in the USA. However, patents are only valid in the country in which they were granted. If an idea has only been registered in the USA, but not in China or Europe, the idea can be copied free of charge outside the USA and the patent has no value outside the USA, since it does not exist there. Since there are much larger markets than the USA, for example China or the European Union, protection in China and in the largest countries of the EU is of utmost service, otherwise the value of an idea is reduced to 1/3 or less.
Therefore, when evaluating patents, it is also important in which countries they exist. MicroVision has filed many in the most important markets. Hindenburg does not take this into account either.
The content and scope of protection of a patent do not depend on a particular word
Instead, Hindenburg condescends to the following. This indicates that much is fictitious, as it is inconceivable that a recognized and reputable patent attorney would make such findings:
but an IP attorney we engaged found that only ~10 $MVIS issued patents even mention LiDAR.

Of those, many are oriented toward consumer/non-automotive use.
According to this statement, the author does not believe that a patent attorney was actually interviewed.
This is already indicated by the fact that the name of the attorney is not mentioned. This is already unusual because naming the patent attorney would give more weight to the statement than an anonymous citation.
What does Hindenburg want to say with this? Obviously, that MicroVision should have almost no patents in the field of LiDAR.
To this end, the alleged patent attorney apparently searched the patents for the word "LiDAR" and then found only about ten - whether there are only ten that contain the word LiDAR or whether he simply could not search properly or did not search at all remains to be seen. In any case, the statement suggested here is of course wrong.
It is also astonishing that Hindenburg cannot even state exactly whether the patent attorney's search yielded 9, 10, or 11 results, but only "~10". How can that be?
At the same time it exposes Hindenburg that Hindenburg obviously did not consult a patent attorney, but probably made this amateurish "analysis" himself. Because every serious patent attorney would say that it is the content of a patent that matters, not a certain keyword for which it is questionable whether the author of the patent has used it.
Proof: Just a few days ago, MicroVision was granted this patent: "Scanning 3D imaging device with power control using multiple wave lengths". Already from the title with the word "scanning" it follows that this is a patent from the field of "LiDAR" - although this word does not appear in the patent. Also this follows from the abstract, among other things with the sentence "A first time-of-flight distance measurement circuit receives reflected light pulses of a first wavelength and determines distances" as well as from "FIELD The present invention relates generally to distance measurement systems, and more specifically to laser based distance measurement systems." A LiDAR system (abbreviation for "light detection and ranging") does nothing other than measure the distance to objects by means of light.
According to the "analysis" of Hindenburg or his alleged patent attorney, however, this patent would not be a patent from the LiDAR field, because the word "LiDAR" is missing there. The word may not appear that often. The statement that Hindenburg wants to convey, that MicroVision should have almost no patents in the field of LiDAR, does not result from this, however, and is therefore wrong, since there are obviously more patents in the field.
Hindenburg has no idea about the technology of the MicroVision products - probably does not even know which products are involved
Anyone who assumes that only the patents that explicitly concern LiDAR are relevant to automotive LiDAR has obviously not dealt with MicroVision's products. MicroVision products build on each other.
The basic product is the pure projector (Gen 3), as used by Sony back then, for example, or in the smartphones from Ragenthek and Blackview.
The further development (Gen 4) is currently used by Microsoft in the HoloLens 2.
The Gen 3 projector was then expanded to include interactivity, a simple form of a LiDAR system.
The interactive projector was then developed into the consumer LiDAR in parallel or subsequently.
Building on the consumer LiDAR, the automotive LiDAR is currently being developed.
Against this background, the tweet
Of those, many are oriented toward consumer/non-automotive use.
to see. It shows that Hindenburg did not understand anything.
All patents that apply to the pure projectors also protect the interactive projectors. The additional patents for this already protect the consumer LiDAR as well. The consumer LiDAR patents therefore also protect the automotive LiDAR.
There are exceptions, of course. If MicroVision has a patent for color display, it is probably not relevant for the LiDAR systems, since only one laser is used there and not three or five.
Many patents of the underlying other products should also apply to the Automotive LiDAR system. This is because the Automotive LiDAR consists of:
The Gen 3 projector that emits the laser beam.
A receiver from a third-party company for the reflected laser beams.
Firmware
Manufacturing processes for MEMS.
Etc.
So according to the Hindenburg tweet, MicroVision could omit the projector from the automotive LiDAR, since their patents are not supposed to be relevant to automotive LiDAR. But then the receiver would have no light to receive. This shows the technical incompetence of Hindenburg. Hindenburg does not know MicroVision's products at all or cannot understand them due to lack of technical expertise.
MicroVision has also had manufacturing processes for MEMS protected. Without these, the Automotive LiDAR might not even be manufactured, since it is based on the MEMS projector core.
A self-proclaimed analyst like Hindenburg, who does not know what products a company makes and how they are structured and interrelated, cannot properly evaluate that company.
Meaningless assertion about IPR
These patents haven't faced inter partes review (...) challenges yet, significantly reducing their value.
Hindenburg does not specify what an "inter partes review (...)" is.
This is not surprising. It should be made up for here.
The procedure is used when someone wants to declare a patent invalid. An inter partes review (...) is a procedure for challenging the validity of a United States patent before the United States Patent and Trademark Office.
Thus, Hindenburg's reasoning is that any patent already granted for which a third party has not previously attempted to have it declared invalid is worth less.
You have to come up with this abstruse and wrong idea first.
It is exactly the other way around: patents that clearly describe a novelty will probably never be attacked by a third party, because the attempt to have them declared invalid is hopeless from the outset. And nobody likes to do hopeless things.
At the same time, this shows that Hindenburg has no idea about the patent system and has freely invented facts and conclusions, they are factually incorrect and Hindenburg could not possibly have been advised by an official, experienced patent attorney.
Consequently, the following statement based on it is nothing but nonsense and wrong in content:
"No one buys patents these days for any real money unless the patents have been put through the test of at least an IPR," our IP attorney told us.
Hindenburg has no idea how larger companies make corporate acquisitions
Every larger company (not only "Tier 1") has its own patent department. On the one hand, to apply for their own patents. On the other hand to check whether own products could infringe patents of third parties. These are specialized patent attorneys who are supported in technical matters by engineers from the respective departments of the company, for example.
If a larger company intends to buy another company, its own patent department, possibly supported by external experts, will evaluate its patents itself. This has nothing to do with an IPR.
An IPR would not be carried out because the sense is not clear and an IPR is not an evaluation. The department itself already knows whether a patent provides protection and what it applies to, or that it does not apply.
An IPR would at most be carried out if a foreign patent is to be declared invalid, which is also the purpose of an IPR. This would only make sense if the company is not to be bought and the interested company wants to launch a product on the market which would infringe the patent of the company to be bought, should it remain in force.
Misrepresentation of the strategy
One tweet states:
it was trading around $0.20 in April of this year and contemplating sale or liquidation.
This is also wrong. MicroVision always had enough money to keep the business running. Liquidation was never given as a strategy option by management. Hindenburg also does not name any source for the option "liquidation". The fact that a company can go bankrupt if this or that occurs is found in the fine print of almost every company. But it was never an officially conveyed option of the management.
Only negative - nothing positive
Hindenburg only gives negative information, which is also wrong in terms of content. Nothing positive, like
the achievement of milestones in automotive LiDAR,
the achievement of several compliance conditions on Nasdaq, etc.
Of course, there is also no mention of the fact that a reverse split was not necessary and could be averted.
It's also amazing what Hindenburg thinks is bad about MicroVision - Hindenburg could say the same about Luminar, for example. The only difference is that Luminar, with a stock market valuation of about $10 billion, is valued at ten to twenty times that of MicroVision.
Hindenburg does not explain why a company with inferior products (compare here) and fewer business units like Luminar is allowed to have a valuation more than ten times higher or why MicroVision should then be overvalued.
Timing wrong
But EV mania presented an opportunity.

In November, the company put financing documents in place then announced the very next day that it hopes to have a LiDAR demo product by April 2021.
Of course, that is also wrong. The automotive LiDAR has been announced for years. MicroVision has been developing it since 2011 and it can already be found in the oldest investor presentation still available online from April 2018 (page 22-23) and has been a topic in almost every conference call in recent years. Over time, its content has been deepened and progress has been reported.
The same goes for the prototype. However, it was announced for much earlier. It was delayed several times, most recently from the end of 2020 to April 2021. Initially, this was due to the prioritization of development capacities first for the Microsoft HoloLens 2, then for the Interactive Laser Safety Class 1 projector for a smart speaker. Then by the layoff of employees. That was a disappointment for shareholders, nothing positive.
Connection to "EV mania" fictitious
As previously stated, there is no connection from EV car companies and an "EV mania" to LiDAR because, like camera chips, LiDAR is not related to any motor technology and can be used for all cars. LiDAR, on the other hand, is needed for self-driving cars. A significant increase in the share price of, for example, Alphabet because of Waymo is not known. Thus, this is also engineered by Hindenburg.
Business valuation
Adding to this, a chorus of second-tier blogs have pushed the narrative that the company could be acquired by Microsoft or other "tech giants" - an extremely unlikely proposition given the company's astronomical valuation.
This is an opinion that can be held. However, it is again not substantiated by Hindenburg. Hindenburg could have carried out a company valuation on the basis of facts or in comparison with other companies.
Hindenburg has not dealt with MicroVision at all, does not know press releases
We have absolutely no doubt that $MVIS will take advantage of this holiday gift and dilute investors through an equity offering as quickly as it can raise money.

As of September 30, 2020, the company notes it has racked up an accumulated deficit of $582.7 million.
Anyone who claims this has not read the press release of 09 November 2020 or is deliberately concealing it.
This already has the headline, "MicroVision Announces $10 Million At-the-Market Equity Facility."
Thus, MicroVision has already signed a contract with Craig-Hallum Capital Group more than a month ago to sell shares for up to $10 million dollars if needed. The terms of this deal are, incidentally, the best MicroVision has ever been able to negotiate, as virtually all of the proceeds will go to MicroVision. Notably, short selling of shares by Craig-Hallum Capital is prohibited. Craig-Hallum Capital hardly earns anything on this deal (compared to previous companies that did similar things) with a commission of 2.35% (= max $253,000).
Craig-HallumCapital is also serving as a financial advisor on the sale of the company. This also suggests that a sale of the company could be imminent and Craig-Hallum Capital can make enough money from it so that it does not need income from the contract.
Depending on when this takes place, only about 2 to 5 million shares should be required for $10 million due to MicroVision's rather high share price (compared to the beginning of the year). With currently about 150 million shares, the dilution is very small (about 2%) and therefore manageable. Since MicroVision already had about $10 million available at the beginning of the fourth quarter without this sale and this money should last until about April 2021 according to the management in the last conference call, the additional $10 million should last until the end of 2021 and thus there should be no major dilution.
In particular, revenues from Automotive LiDAR as well as smart glasses are expected from 2021 onwards.
To this end, MicroVision is expected to be sold shortly, so there will probably be no further need for financing.
Hindenburg brandishes the sword of Damocles of dilution - either because Hindenberg has not read MicroVision's press releases or to deliberately unsettle shareholders by not mentioning essential information in order to misrepresent MicroVision's financial situation (thus too badly) and to raise fears of further dilution in order to depress the share price.
Hindenburg prefers to read Internet blogs instead of company publications
Instead of reading company publications, Hindenburg obviously prefers to read blogs on the Internet, in this case the one by KarlGuttag. On topics that could not be more ridiculous. Here, that a "PR team" of Microsoft is supposed to have said that Microsoft will not buy MicroVision.
In fact, overzealous $MVIS shareholders had a coup of sorts during a May 12, 2020 Microsoft webinar, in which they forced a Microsoft PR rep to deny that it was buying $MVIS. Regardless, these perpetual buyout rumors are a factor in the stock's meteoric rise.
No serious analyst will ever assume that a "PR team" is aware of Microsoft management's company purchase intentions and announces them. Only Hindenburg finds this half-year old anecdote worth mentioning.
However, Hindenburg does not mention why this should be relevant at all and, moreover, why in relation to LiDAR: Microsoft does not have an automotive business.
Hindenburg also does not explain the impact on the company value. For shareholders, it is of no interest who buys the company. Only the price is interesting.
Besides Microsoft, there are much more likely candidates, such as Tesla or Google, or any large automotive company or automotive supplier. Bosch would also be an obvious candidate, as would Apple after Reuters just reported about a possible car from Apple and that the LiDAR technology is to be purchased for it. Apple could also acquire the technology for smart glasses.
Unfounded price target 80% below value on publication
We assign a short-term price target of $1.50 to $MVIS, representing 80% downside from current levels.
This is just as freely invented and just as not substantiated/calculated with a single word as everything else before.
Summary
After a closer look at just a few tweets by Hindenburg, it now becomes apparent that Hindenburg apparently neither knows which products MicroVision manufactures nor how they build on each other and are interrelated. This results in factually incorrect tweets from Hindenburg.
It is not surprising then that almost every sentence in all of Hindenburg's tweets considered here is wrong in content or at least (probably intentionally) misleading.
It is also proven that Hindenburg has no idea about patenting and LiDAR technology.
The fact that Hindenburg actually wants to have hired a patent attorney, who is not mentioned by name, and to have received the alleged information from him, seems improbable on the basis of the already false statements about patents and the patent system in the tweets. There may be bad patent attorneys. But not so bad ones who do not even understand the meaning of an IPR.
So, did Hindenburg make up the essential content of the tweets to manipulate the stock drop so that Hindenburg could push it for his own profit?
Analyst's Disclosure: I am/we are long MVIS.
Seeking Alpha's Disclosure: Past performance is no guarantee of future results. No recommendation or advice is being given as to whether any investment is suitable for a particular investor. Any views or opinions expressed above may not reflect those of Seeking Alpha as a whole. Seeking Alpha is not a licensed securities dealer, broker or US investment adviser or investment bank. Our analysts are third party authors that include both professional investors and individual investors who may not be licensed or certified by any institute or regulatory body.