Concordia International - Key US Product Donnatal Has Extreme Regulatory Risk - May Put The Business At Risk
Please Note: Blog posts are not selected, edited or screened by Seeking Alpha editors.
Concordia International has a significant regulatory risk brewing in its key US Asset Donnatal. We intend to highlight the following below:
Donnatal is currently under review by the FDA and its marketing privileges may be in danger
The FDA does not likely believe that the product has proven itself to be effective in any clinical trials
The product very well may pose a risk to the public given that it contains Phenobarbital (a barbiturate), thus has abuse potential, and has no clinical data to support a marketing claim
Background:
Concordia International is a specialty pharmaceutical firm based in Canada with a Bermuda tax haven who's business model is to lever up in order to buy older generic product and then raise the price of those generic products to justify the extreme amount of leverage they have taken on. If this sounds like Valiant to you one might want to consider the comments the CEO made on television a few months ago: twitter.com/goladyjustice/status/726591431293460481/video/1
Their price gouging in the UK has been well documented by The London Times and The Financial Times respectively:
While the World awaits the Nationalized Health system in the UK to cut these products from formulary, we have been concentrating on the risks to the US business - mainly their key product Donnatal.
Donnatal Regulatory Correspondence Has Become Concerning
Let's start by establishing that Donnatal - first marketed in the 1930's - has never established clinical efficacy in any indication (according to the FDA). At one point in the 1980's the product was granted an official approval, but the FDA quickly rescinded that approval due to a lack of clinical trail data. it has maintained its ability to be marketed because of a Byzantine set of regulations that left the product on market under what's called a conditional ANDA. Theoretically the company was supposed to prove that the product has some level of medical utility but the FDA dropped the ball and forgot the thing existed - until last year.
In 2015 the exchange between the FDA and Concordia started to heat up in a series of letters:
Feb 2015 - FDA informs the company that they do not require any new additional data in order to rule on whether the product can stay on market - www.regulations.gov/document
March 2015 - Concordia responds looking to delay the process - www.regulations.gov/document
March 2015 - the FDA responds and denies the request for a delay - www.regulations.gov/document
OK so we now know that the product is under review of some sort - however - how can we determine if the FDA thinks the product works?
In April of 2105 JUST ONE MONTH AFTER DENYING THE COMPANY A REQUEST FOR A DELAY we see this presentation from a senior member of the Drug review division: static1.squarespace.com/static/54d3acd2e4b0c945c4d28e05/t/55362efbe4b0da27b553ac87/1429614331005/1.+50th+Anniversary+of+DESI.pdf
We like to start at Slide 25 - where the FDA points out that before clinical trials were required in 1962 Barbiturates (Phenobarbital is the key Active Pharmaceutical Ingredient in Donnatal) were used in crazy indications like Alcohol Addiction.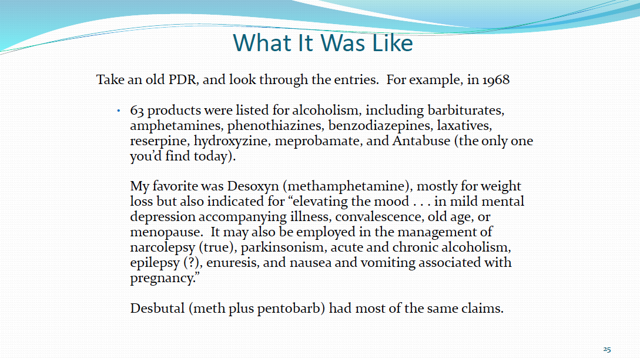 Then we get the kicker on slide 29 - in this slide the FDA specifically calls out Donnatal as a product and then make two sweeping statements:
1. 100% of combination studies failed in IBS Ulcer (WHAT?)
2. Almost 100% of other studies seeking to show a contribution of sedatives to ANYTHING also failed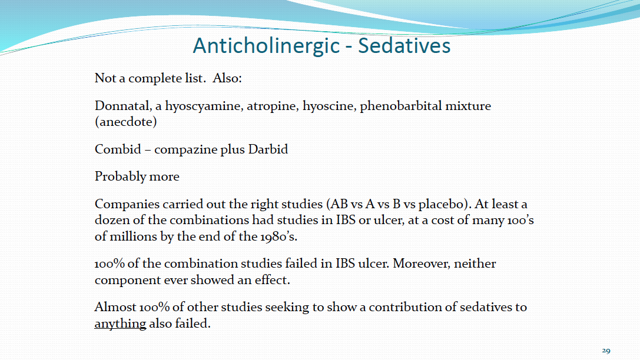 OK so we are confident now that the FDA does NOT think their is any evidence that the product works.
So how do we know if the FDA is still working on the issue?
In March of 2016 the FDA responded to the Energy and Commerce Committee of the US House of Representatives with a letter concerning the DESI or "old drugs" program that is supposed to be working through the backlog of drugs with questionable regulatory history.
Donnatal is #1 on the List!
Conclusion:
Our conclusion is that investors would be wise to factor in the very real possibility that Donnatal will be pulled from the market with little warning.
Additionally we would be very concerned if the FDA removed the conditional tag from the ANDA. That is a signal that the agency does not see this product falling within the DESI process and thus is not afforded the rights of such process (outlined in the Concordia Response to FDA above). This would be well within the FDA's rights legally as the "approval" date for this product pre-dates the DESI process (1942) and would give the Agency the right to pull the product without any appeal from Concordia.
Disclosure: I am/we are short CXR/CXRX.
I wrote this article myself, and it expresses my own opinions. I am not receiving compensation for it (other than from Seeking Alpha). I have no business relationship with any company whose stock is mentioned in this article.
Additional disclosure: I am/we are short CXR/CXRX. All information for this article was derived from publicly available information. Investors are encouraged to conduct their own due diligence into these factors. Additional disclosure: This article represents the opinion of the author as of the date of this article. The information set forth in this article does not constitute a recommendation to buy or sell any security. This article contains certain "forward-looking statements," which may be identified by the use of such words as "believe," "expect," "anticipate," "should," "planned," "estimated," "potential," "outlook," "forecast," "plan" and other similar terms. All are subject to various factors, any or all of which could cause actual events to differ materially from projected events. This article is based upon information reasonably available to the author and obtained from sources the author believes to be reliable; however, such information and sources cannot be guaranteed as to their accuracy or completeness. The author makes no representation as to the accuracy or completeness of the information set forth in this article and undertakes no duty to update its contents. The author may also cover his/her short position at any point in time without providing notice. The author encourages all readers to do their own due diligence.
Disclosure: I am/we are short CXR/CXRX.
Analyst's Disclosure: I am/we are short CXRX.
Seeking Alpha's Disclosure: Past performance is no guarantee of future results. No recommendation or advice is being given as to whether any investment is suitable for a particular investor. Any views or opinions expressed above may not reflect those of Seeking Alpha as a whole. Seeking Alpha is not a licensed securities dealer, broker or US investment adviser or investment bank. Our analysts are third party authors that include both professional investors and individual investors who may not be licensed or certified by any institute or regulatory body.