As the Wall Street Journal points out in a Sunday article there are multiple investigations into alleged price fixing allegations against the generics companies.  The two cases we are most interested in are the Multi-District Litigation (MDL) criminal case being run by the Department of Justice and the Civil case being aggregated by the Connecticut AG. The sell side, predictably, is ignoring the filings and any risks associated with them... to be honest we doubt they even read them. We are principally concerned with MYL and LCI, Heritage pharma is obviously private and already plead guilty. 

Civil Case By The Connecticut AG "Tip Of The Iceberg"
Civil Investigative Demands (CID's) have been issued to nearly every player in the space regarding the complaint made public on October 31st.  The complaint offers a few interesting facts.
The complaint has been brought by the Connecticut AG and has been joined by 45 other states.
Two Heritage pharmaceuticals executives have plead guilty to price fixing and collusion - one was a board member of GPHA (the Generics version of trade organization PhRMA) - and they are cooperating with the investigators.
The information obtained is damaging enough to name MYL president Rajiv Malik: "The anticompetitive conduct -- schemes to fix and maintain prices, allocate markets and otherwise thwart competition – has caused, and continues to cause, significant harm to the United States healthcare system, which is ongoing. Moreover, executives at the highest levels in many of the Defendant companies, including but not limited to Defendants Rajiv Malik and Satish Mehta, conceived and directed many of these schemes."
LCI and Heritage had a very close relationship
The AG does not intend to stop with these 15 drugs, he is very clear in this CNBC clip that this is "the tip of the iceberg" and that the potential fine is into the billions
The Sell Side - Swing and a Miss Once Again
Despite the detail of the compliant, and the assurance of the AG that this is just the beginning the sell side immediately latches on to the best possible news and totally ignores the facts at hand. Lets concentrate on Elliot Wilbur from Raymond James and his assessment of the situation - it is particularly bizarre.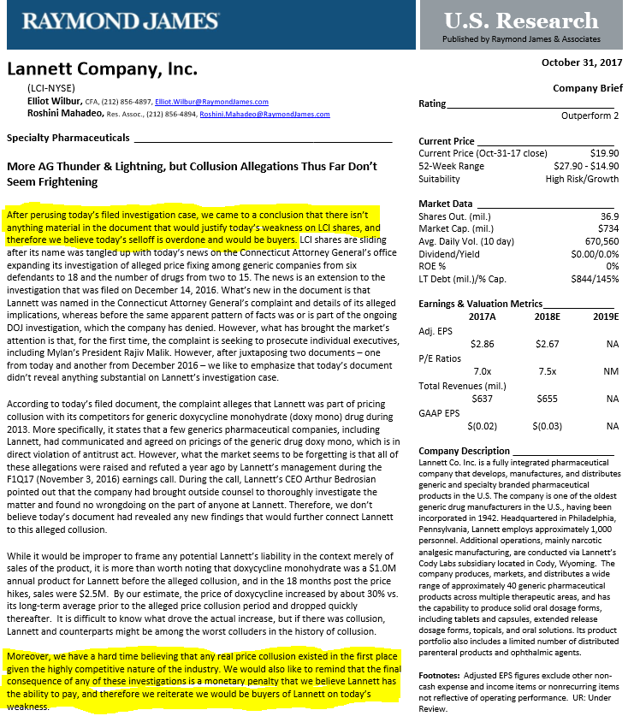 The conclusion is truly amazing... not only is he unable to believe that the AG has any credible case against LCI but he completely dismisses the fact that the AG has clearly indicated these few drugs are just the "tip of the iceberg."
The AG For His Part...
Has established a cooperating witness that has helped the AG come to the following conclusion:
High-level executives of many generic drug manufacturers get together periodically for what some of them refer to as "industry dinners." For example, in January 2014,at a time when the prices of a number of generic drugs were reportedly soaring, at least thirteen(13) high-ranking executives, including CEOs, Presidents and Senior Vice Presidents of various generic drug manufacturers, met at a steakhouse in Bridgewater, New Jersey. Executives from Defendants Actavis, Aurobindo, Dr. Reddy's, Lannett and Sun, among many other generic manufacturers, at tended this particular dinner.
But how well did LCI really know this witness(S)?
Apparently better than anyone else!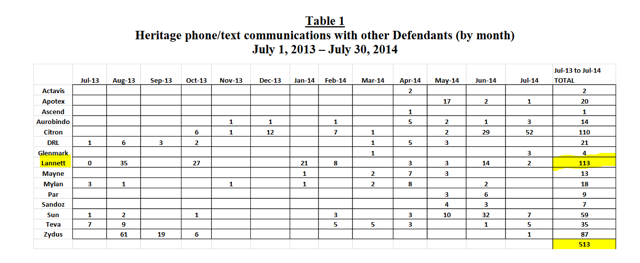 IN FACT A FULL 22% OF THE EVIDENCE COLLECTED FROM SUBPOENAED PHONE RECORDS WAS BETWEEN LCI AND HERITAGE -- IN THIS CASE WE ARE GOING TO TALK ABOUT "DOXY MONO"
Doxycycline Monohydrate ("Doxy Mono"), also known by the brand names Acticlate® and Monodox®, among others, is an oral medication used to treat a wide variety of bacterial infections, including those that cause acne. Doxy Mono is known as a tetracycline antibiotic, and is also used to prevent malaria.
In February 2013, Heritage heard from a customer that there would be asignificant increase in demand for Doxy Mono due to a large price increase that had recently occurred with a different form of Doxycycline as well as supply problems that certain manufacturers were experiencing
Shortly thereafter, Heritage decided to increase the price it charged for DoxyMono. Heritage's competitors at that time were Defendants Lannett, Mylan and Par. In order to ensure a successful increase, Heritage began reaching out to certain competitors.
On March 7, 2013, [REDACTED] spoke to [REDACTED], the [REDACTED] at Lannett, for fourteen (14) minutes.
On March 13, 2013, [REDACTED] sent an email to [REDACTED] at Lannett stating: [REDACTED] They spoke later the same day for five (5) minutes and discussed Heritage's intent to increase Doxy Mono prices.
Ok Great But Where Is The DOJ In All Of This?
Excellent question! the DOJ is currently attempting to "stay" discovery in the civil case while they tie up their criminal case. 
But If The DOJ Wants To Slow Things Down That's A Good Thing Right?
In this case I don't think it is.  In a recently filed motion (Thursday, Nov 9th) the AG's opposed the motion to stay and more interestingly suggested that even more defendants had flipped and turned states evidence... so criminal charges are very likely...AG_opposition_motion.pdf
Specifically:
Several years ago, the DOJ empaneled a grand jury in this District which, based on publicly available information, is known to have issued subpoenas to many generic pharmaceutical companies, including more than half of the Defendants in this MDL. Additionally, two high-level Heritage executives
(including a member of the board of directors of the leading generic pharmaceutical trade association) entered guilty pleas, and admitted they engaged in price fixing, bid rigging, and customer and market allocation with their competitors. They are currently cooperating with the 21 Until transfer, discovery was proceeding in the Propranolol action, and defendants and several non-parties produced substantial documents. One non-party that made only a partial production is ready to complete its production but is waiting until this Court lifts the stay. DOJ and the Plaintiff States, and it has also been reported that at least one corporate Defendant in this MDL is providing cooperation to DOJ in its ongoing investigation. Present and former employees from several generic pharmaceutical companies have been separately subpoenaed (including employees of Defendants Impax (IPXL), Heritage, Lannett (LCI), and Mylan(MYL)), and search warrants have been executed on at least Defendants Citron, Mylan (MYL), and Perrigo (PRGO). The DOJ has repeatedly asserted that "[e]vidence uncovered during the criminal investigation implicates other companies and individuals (including a significant number of the Defendants here and individual employees) in collusion with respect to doxycycline hyclate, glyburide, and other drugs (including a significant number of the drugs at issue here)."
In Conclusion
You are free to side with Elliot Wilbur and ignore the evidence that the DOJ and the AG have presented you with.  However, if this is truly the "tip of the Iceberg" how long will it be before one of these entities looks at the levothyroxine market? As we mentioned in a previous commentary we see extensive evidence of non-economic activity in the space. Levothyroxine is one of the most prescribed drugs in America and - shockingly - no one seems to want to compete for additional market share?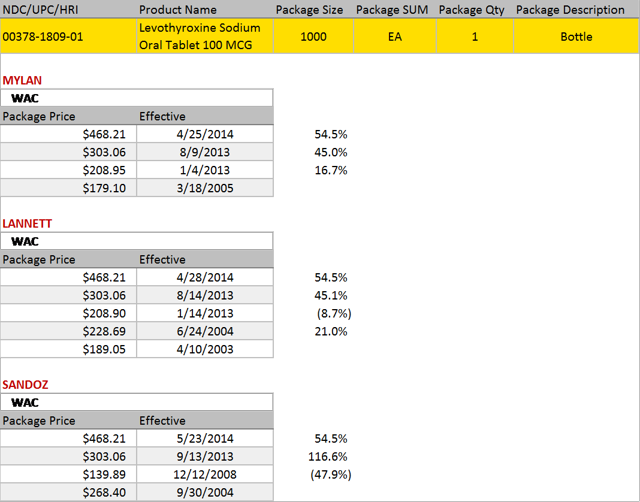 In terms of sales Levothyroxine is the largest generic drug that LCI and MYL sell.  We look froward to seeing this case progress and how one might defend raising prices to the exact same price within days of one another.
Its highly likely that this DOJ case results in criminal charges for executives, on top of the potentially massive civil penalties contemplated by the AG's.  Sherman Act violations generate jail time of up to 3.5 years per infraction and up to a $10m fine per infraction.  The Civil penalty being sought by the AG's is disgorgement of profits and will be layered on top of the DOJ's Sherman Act violations.  Because of all of this - in our minds - this space is toxic.

Disclosure: I am/we are short LCI, MYL.
Additional disclosure: I am/we are short LCI/MYL. All information for this article was derived from publicly available information. Investors are encouraged to conduct their own due diligence into these factors. Additional disclosure: This article represents the opinion of the author as of the date of this article. The information set forth in this article does not constitute a recommendation to buy or sell any security. This article contains certain "forward-looking statements," which may be identified by the use of such words as "believe," "expect," "anticipate," "should," "planned," "estimated," "potential," "outlook," "forecast," "plan" and other similar terms. All are subject to various factors, any or all of which could cause actual events to differ materially from projected events. This article is based upon information reasonably available to the author and obtained from sources the author believes to be reliable; however, such information and sources cannot be guaranteed as to their accuracy or completeness. The author makes no representation as to the accuracy or completeness of the information set forth in this article and undertakes no duty to update its contents. The author may also cover his/her short position at any point in time without providing notice. The author encourages all readers to do their own due diligence.