Health Insurance Innovations (HIIQ) is currently a lead generation business whereby the company spends money on advertisements (like the Joe Namath Medicare Advantage Adds) and then sells the leads to a brokerage firm to complete the sale of insurance. The promise being sold to shareholders is that HIIQ will convert this lead generation business into a brokerage business, whereby the company can directly represent the insurance carriers and thus complete the sale of insurance internally. In order to do this HIIQ will have to prove to insurance carriers that they are responsible enough to handle the insurance products without tripping any state and federal laws (especially applicable to federal programs like Medicare Advantage).
So, in a sense, the future of the company rides on its commitment to compliance and its ability to convince insurance companies that it maintains new corporate culture of adherence to the compliance regime. I have previously highlighted that the very small direct brokerage effort currently undertaken by the company has serious red flags (LINK) in terms of compliance. Having a former Simple Health marketing guru run marketing at your brokerage firm is not consistent with an effort to comply with the laws governing insurance sales.
One questionnable interpretation of compliance is displayed in the last four press releases from HIIQ:
Although three of these releases include financial reporting and/or projections, and one is a settlement with a state regulator, none of them are filed with the SEC as Form 8k's. It would seem that this behavior did not sit well with the professional Investor Relations firm HIIQ hired.
Q3 Financial Report Signed By DeVries and Westwicke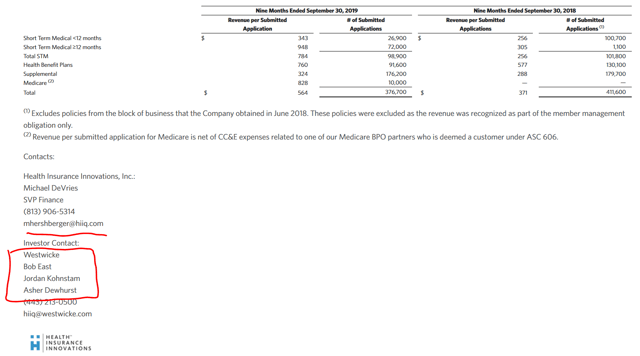 Source:HIIQ Press Release
As you can see above the Q3 release was signed by DeVries (but they gave him the wrong email address) and three people from Westwicke (a large Investor Relations firm).
However if you check the most recent press releases (linked above) Westwicke is no longer signing off on them. Westwicke posted a blog to describe some reasons 8k's would be necessary (LINK).
There is a substantial likelihood that a reasonable investor would consider the information important in making an investment decision.
The quote above is taken from the Westwicke blog, at least one (if not all) of these press releases fall under the broad definition outlined above. The Q3 earnings release and announcement of the CFO leaving the company was the last press releases with Westwicke on the signature line and happen to be the last 8k that the company filed.
What Is Going On At Nationwide Brokers?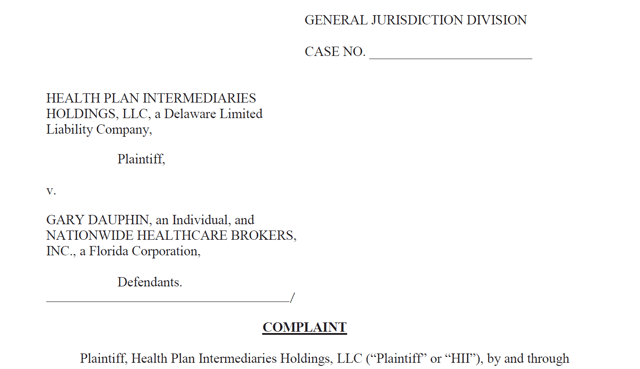 Source: HII complaint against Nationwide Healthcare Brokers
According to the complaint HIIQ was defrauded of roughly $1 million between the summer of 2018 and the summer of 2019 in a scheme.
HIIQ_vs_Nationwide_Healthcare_Brokers__002_.pdf
It should not come as a surprise that "Nationwide" attempted to defraud their customer given the pedigree of the ownership. Although the complaint cites "Gary Dauphin" I would like to highlight the Florida state corporate registration below.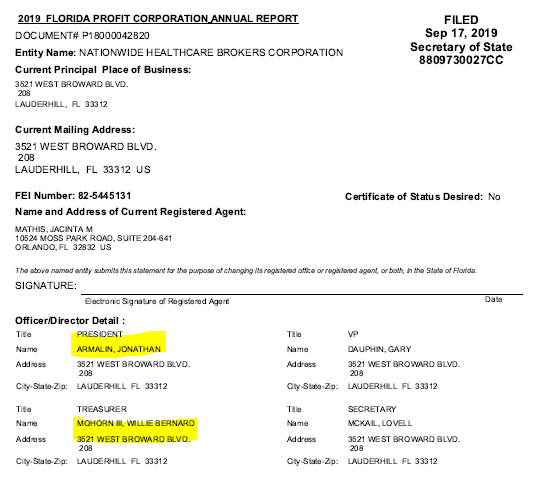 Source: Florida State Corporate Registry
The two individuals highlighted, Johnathan Armalin and Wille Bernard Mohorn III, are registered as President and Treasurer respectively. Each present a potential issue in terms of corporate compliance in that two men with the exact same names were convicted of felonies in the state of Florida.
A one Willie B. Mahorn was sentenced to 51 months in prison for a Racketeering charge.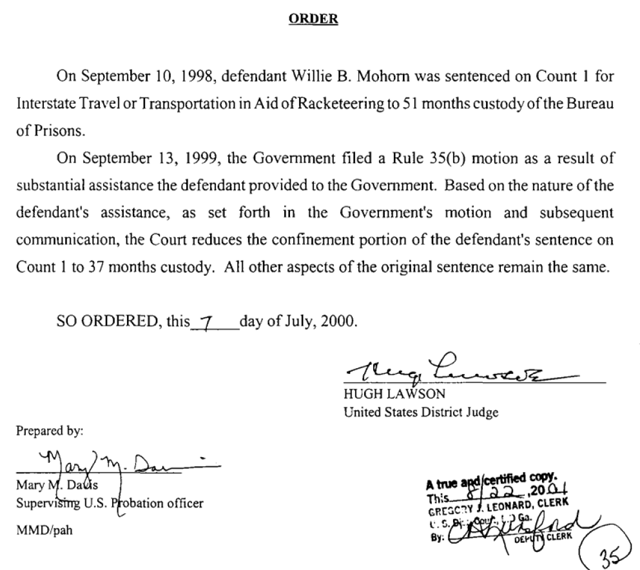 Source: FOIA
And a one Johnathan Armalin plead guilty to "attempting to posses with the intent to distribute 500 grams or more of cocaine"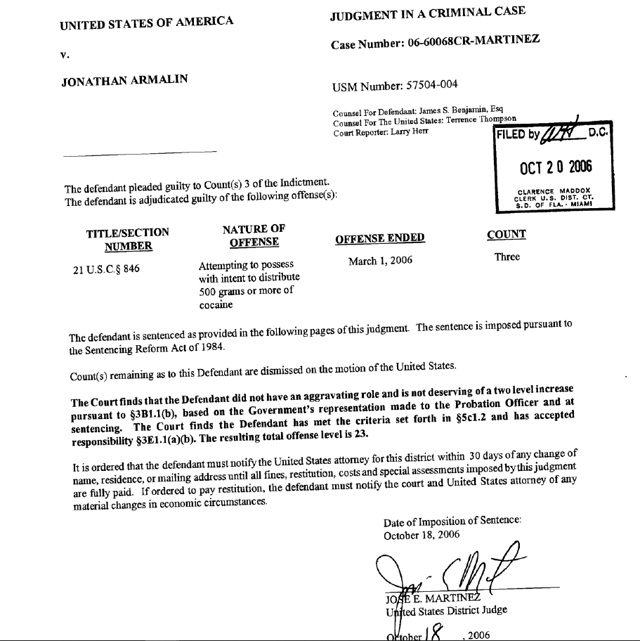 Source: public records
So again - its not that unreasonable to expect that HIIQ will win its case against "Nationwide Healthcare Brokers".
What is Odd is That Domenick DiCicco Signed The Amended Contract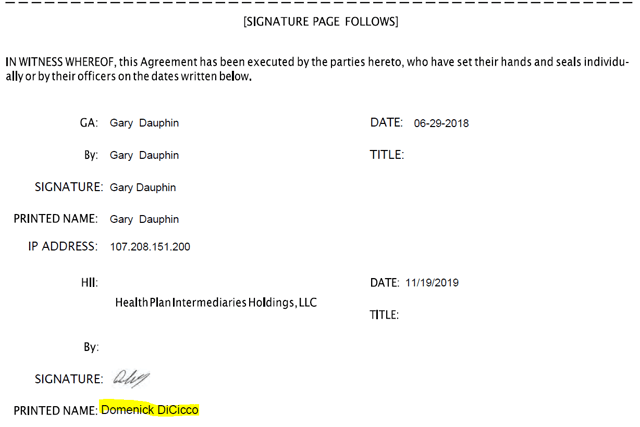 Source: HII vs Nationwide Healthcare Brokers
Dominick DiCicco was lauded by HIIQ as the harbinger of a new era of compliance when he was brought on board in June of 2019. As Chief Compliance Officer DiCicco's role is to vet HIIQ's business practices and partners - just a few months after taking the job it appears he is hood winked by several convicted felons. This may not be conducive to selling one's compliance program to the likes of UNH and HUM or CNC / WCG.
Speaking of Dominick DiCicco, how does the former "Senior Vice President and Global Head of Litigation Management at AIG" not know to perform background checks on his counter-parties? Investors should consider the risk that he is embellishing his resume a touch with that title.
Together Health Also Has A Difficult History
HIIQ bought TogetherHealth on June 6th, 2019. The CEO of TogetherHealth, a man named Robert Eli Gregg, is quoted in the release as saying:
I'm excited about the synergies of our expertise in the over 65 market and HIIQ's exceptional customer service and technology platform. We believe we can quickly leverage their resources to capitalize on this opportunity and continue to build our presence in this market.
TogetherHealth is largely a lead generation business for the Medicare Advantage players. They sell the leads they produce to "GoHealth" or "Tranzact" but do not have a heavy presence in the direct brokerage business. Perhaps that is because of compliance concerns regarding the CEO's past.
According to the compliant below Robert Eli Gregg once worked at a brokerage house named "F.D. Roberts" and was a registered representative (stockbroker) in the Boca Raton, Florida office.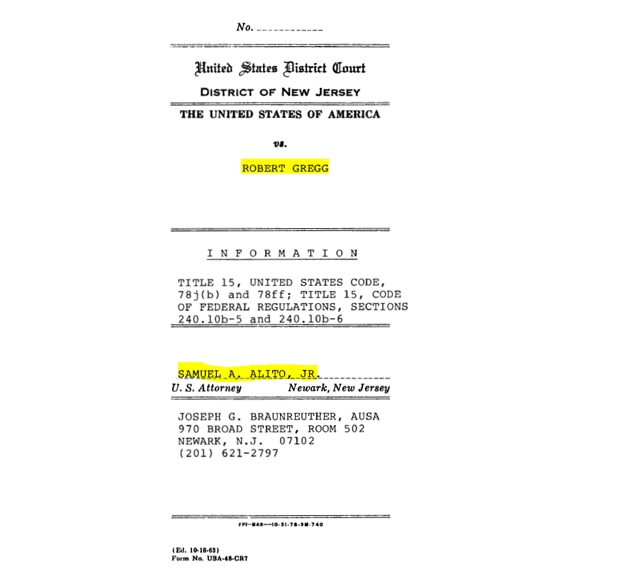 Source: public records
In the end Robert Gregg and the rest of the defendants plead guilty to participating in a "massive stock manipulation scheme" and accepted a permanent bar from the securities industry.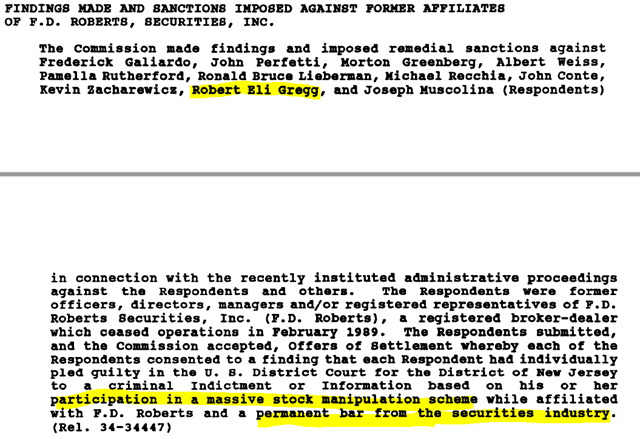 Source: Pubic Records
Upon the purchase of TogetherHealth Robert Gregg was made a "Key Employee" by HIIQ

Source: EDGAR
Conclusion:
In my mind the 8k's are just an example of general disorder within the company. I can only assume that Westwicke either moved away from HIIQ as a client or HIIQ couldn't afford the expensive IR firm anymore. HIIQ's business partners have pasts that may give compliance managers at the major MA players pause when considering doing direct business (greater then lead generation) with the company. The fact that Dominick DiCicco, the newly minted Chief Compliance Officer, singed off on the "Nationwide Healthcare Brokers" deal does not engender a sense of a "new compliance regime" that is dominating the culture of a corporation that worked so closely with Simple Health. Robert Gregg, a man barred from the securities industry, being the CEO of the largest acquisition the company has ever done is a third chink in the armor. I think its time for investors to start looking at the totality of the compliance picture because, in my eyes, it looks as if it lacks organization and or competence. In the eyes of a compliance manager at HUM, UNH, CNC, WCG this might not be worth the headache.
Disclosure: I am/we are short HIIQ.
Additional disclosure: I am/we are short HIIQ. All information for this article was derived from publicly available information. Investors are encouraged to conduct their own due diligence into these factors. Additional disclosure: This article represents the opinion of the author as of the date of this article. The information set forth in this article does not constitute a recommendation to buy or sell any security. This article contains certain "forward-looking statements," which may be identified by the use of such words as "believe," "expect," "anticipate," "should," "planned," "estimated," "potential," "outlook," "forecast," "plan" and other similar terms. All are subject to various factors, any or all of which could cause actual events to differ materially from projected events. This article is based upon information reasonably available to the author and obtained from sources the author believes to be reliable; however, such information and sources cannot be guaranteed as to their accuracy or completeness. The author makes no representation as to the accuracy or completeness of the information set forth in this article and undertakes no duty to update its contents. The author may also cover his/her short position at any point in time without providing notice. The author encourages all readers to do their own due diligence.