Did you ever wonder why the German DAX Performance Index is able to either ignore weakness in his US counterparts, i.e. SPX and INDU for quite a while, or is able to outperform his Amercian counterparts by plus 500% relative Percentage Points or exaggerate up to minus 200% relative Percentage downwards motion?
If you have no clue what I am talking about, because you are unaware of this phenomenon, have a look at this chart: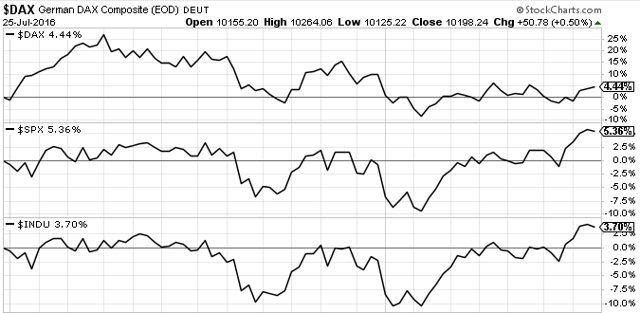 As you can see, whenever in the US there is an absolute plus of say 5% in the SPX and INDU, the German DAX is actually +25% absolute percentage points, 5 x (five times!) as much. On the other hand, when the absolute drop in US Indices is 10%, the relative drop in the DAX is "only" 20%.
"Hmmm...!" you say. If the DAX is always better performing, why not trading DAX-related securities, i.e. shares, options, futures, ETFs. Or maybe even trading a synthetic option spread, i.e. writing SPX and INDU Puts but buying DAX Calls say same moneyness and maturity and about same value? Too easy? Too good to be true???
Unfortunately, yes. HERE follows the secret, that is so simple yet so powerful to understand the intercontinenal relationship between stock indices: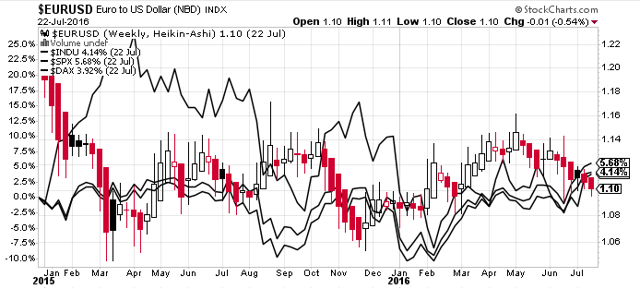 Whenever the US-Dollar is getting stronger and the EUR weaker, not only US-based Dollars but especially Petrostates-based Dollars flow into the Eurozone with Germany`s Dax as favorite investment index.
Looking at the chart makes the relationship clear: whenever the EURUSD falls, happy US-Dollar based buyer come into the market, both as speculators/hedgers in derivatives or investors in German shares.
Right now, the relationship has tightened a bit, but at the time of writing this article the DAX is still about 200 Index Points higher than the relative position of its US counterparts SPX and INDU.
The danger or opportunity, depending on your current positioning and market expectation, is that when the EURUSD leaves it current level of 1.10 and moves up to a 1.20 or 1.30 region, as most investment banks expect over the next 6-12 months, any positive move in US indices would be following just on a 1:1 basis or less, but any negative or even sharp correction in US indices were to be mirrored by most likely double the relative percentage loss as shown in the first chart of this article.
August is historically a month with many sharp corrections or at least significant weakness occuring, therefore have a good look at this third and last chart when contemplating DAX-related trading: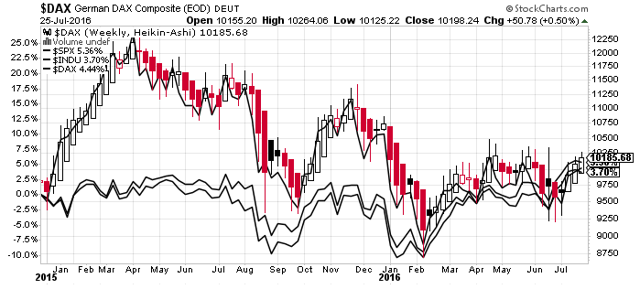 And yes, the author has Put Options up to December on DAX, SPX and INDU. I always put my money where my mouth is! ;)
Disclosure: I am/we are short $DAX, $SPX, $INDU.
Additional disclosure: The author is long Put Options up to December on DAX, SPX and INDU.