Meeting are an important way we transmit information. Photo courtesy of woodleywonderworks
A few weeks ago, I had the opportunity to attend the first annual shareholder meeting for a company that I am currently invested in. Since I live in Toronto now, it was easy for me to take the subway right to the hotel, sit back, and hear about how the company was doing.
In case you're wondering which company it was whose shareholder meeting I attended. It was Dream Office REIT, a company whose common stock investment has been detailed in a previous blog post.
For many of us, shareholder meetings are a mystery. Unless you have a pretty major stake in a publicly-traded corporation, it usually isn't worth it to make any travel arrangements in order to attend a meeting. However, if you have a lot of money invested in a particular company, or maybe are just passing through the area already, attending these meetings might be a worthwhile venture. I thought I would write a short blog post about my experience for the benefit of anyone who (like myself) don't get to attend shareholder meetings under normal circumstances. Enjoy!
The Entrance
Dream's shareholder meeting was smack in downtown Toronto so it was really easy for me to pop in after my workday was finished. When I entered into the hotel where the shareholder meeting was taking place, I was pleased to observe that there was a representative from Dream standing beside the proper elevator, ready to direct me to the meeting. They even had a t-shirt on that had the unique "Dream REIT" logo on it. The logo is very iconic which made it really easy to spot.
Once I had made my way up the elevators, there was a clear sign that pointed me in the right direction of the meeting. A few hallways later and I was directed to a table where three receptionists were waiting to verify my identity. Their purpose, I believe, was to make sure that all of the people entering the shareholder meeting were actually shareholders of Dream REIT.
I had two choices - either I could provide my name and they would confirm my investment in their computers before letting me pass, or I could just give them a business card and walk through without pause. I'm not sure if the business card was for retroactive identification, or for any analysts that were attending on behalf of their companies - if Dream did intend to use the business cards for retroactive shareholder verification, I don't know what they would have done if someone who wasn't a shareholder just waltzed by. They likely wouldn't be able to fit a face with all of the names. A curious phenomenon that I will be sure to ask about next time!
Once I passed reception, I entered into a room with a stage, a red carpet, and lots of fancy-looking chairs. The first few rows of chairs were labelled as "Reserved", which I later discovered was for the board of directors and the company's management. About halfway down the red carpet was a microphone on a stand. This was for shareholders to ask questions after the management had made their presentations.
I was very surprised by the diversity of the dress code of the investors in attendance. Many of them were in business formal attire, particularly the people sitting near the front of the stage. This included obviously the company's management and board of directors, but also lots of analysts and investors. It seemed like the farther you looked back from the stage, the more that people tended to err away from business attire until by the time you reached the back of the room, the attendees looked like they just finished vacation in Florida. It was a hot day outside, and the back of the room was full of people in flowery button-up shirts and khaki shorts.
I eventually found a seat near the middle of the room next to a gentleman who turned out to be a long-time shareholder of Dream, purchasing their stocks before they changed their name from Dundee in 2014. Since he had been following the company for so long, I found his opinions very insightful - for example, he was concerned about a particular aspect of Dream's management structure. He correctly noted that companies typically select the Chairman of their Board of Directors in one of two ways - they use their CEO, or have an independent chair who doesn't work for the company at all. In the case of Dream, neither were true - Michael J. Cooper is both the Chairman of Dream Office REIT's Board of Directors and the President and Chief Responsible Officer of Dream Unlimited Corporation. With Cooper being the only non-independent member of their board, I didn't think he had a lot to worry about, but it was a smart observation nonetheless.
In return to his insights from the perspective of a long-term shareholder, I was able to speak to him about what it's like to work in asset management. He seemed very interested in the methodologies used behind institutional investment vs. personal investment - after all, they are quite different due to scale and capacity issues. For example, liquidity becomes a much greater concern when you are investing $1 million in a bond issue compared to $1000. Since we both had things to contribute to the conversation, this spurred some delightful conservation while we were sitting together.
I got a lot of pleasure sitting next to this man, and referred him to this blog - so if you're reading this, thanks for being such a great companion at the shareholder meeting! He was actually a retired medical doctor, so his interest in finance was encouraging to me. After all, I think everyone should have an interest in finance since it directly effects all of our lives!
Presentations
After a bit of time waiting (I was slightly early), the presentations began. They were pretty much split into three sections. First, the chair of the board of directors presented the voting results. There were no changes on the board of directors, so this was quick and painless.
After that, the CEO of Dream Office REIT made a brief presentation about the past year and the progress they were making on their "three-year-plan" to unlock shareholder value. You may have read in my earlier blog post that Dream was trading at a significant discount to the net asset value per share, so in February the company unveiled a very actionable plan to reduce the difference between their Net Asset Value Per Share (NAVPS) and the stock price. I was very pleased with the progress so far, and I found the CEO's presentation both very informative and extremely easy to follow.
The third (and arguably most important) part of the presentations was the CFO's report of Q1 2016 earnings. They remained stable from Q4 2016 with only a slight drop year-over-year. Depending on who you ask, this was either the consensus estimate or a little better than consensus. Shareholders, myself included, were generally quite pleased. The CFO only joined Dream in summer of 2015 after being poached from Brookfield Asset Management, so he is still proving himself to many of our long-time investors - I think his presentation at the meeting along with the company's continued success has helped him to do so.
Question Period
After the management's presentations, the shareholders in attendances had an opportunity to ask questions directly to the management. I thought this was really cool - I had never really had the opportunity to correspond directly with C-level executives at a company other than the one I currently work at.
What I found, however, was that the only people who came to the microphone to ask questions were old, long-time shareholders who asked questions that were definitely less than insightful. Many of the questions they asked could have EASILY been found in the annual report or the quarterly update if they took the time to do their due diligence.
For example, there was one man who took the microphone seemingly only to complain about the stock price's poor recent performance. Yes, there were some questions hidden inside his complaining, but it seemed like his main reason for taking the microphone was to whine. It was frustrating for me, because I had questions that I was certain could not be answered in the company's documents, but the more senior shareholders stole the microphone for the duration of question period. Luckily, my questions were answered later as you will see.
The "After-Party"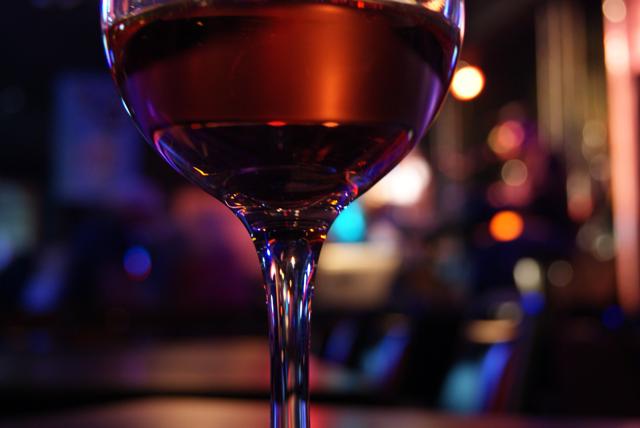 There was wine galore after the meeting. Photo courtesy of Denise Mattox.
After the question period, Dream's management invited us to a different room for a celebration of the year's progress. There was wine, hors d'oeuvres, and a great environment to connect with the other shareholders. Again, I thought this was a really cool opportunity- how many people can say they've had a glass of wine with the CEO of a publicly-traded company?
I was extremely impressed with the management's openness to conversation during this period. I had the opportunity to speak directly with both their CEO and CFO, and even followed up through email with their CEO a few days later to ask a few other questions. As I wrote about in my earlier post Three Books That Have Shaped My Investment Philosophy, Warren Buffett (one of the world's most iconic investors) emphasizes investing in companies whose management are candid with their shareholders. After attending my first Dream annual meeting, I can definitely say that Dream's management fits this criterion.
My first shareholder meeting was a really cool experience. If you are a stock market investor, I strongly recommend attending the annual meeting of one of your holdings if you're interested in a fun, informative experience.
Readers, have you ever had the chance to attend an annual shareholder meeting? If so, what has your experience been like? Let me know in the comments!