Uranium Market Background 
U3O8 spot prices began sliding in March 2011 after meltdowns occurred at Japan's Fukushima Daiichi Nuclear Power Plant. Prolonged reactor shut-downs and subsequent delayed restarts led to utilities carrying excess inventories which has pressured spot prices tremendously. This trend has persisted, leading to lower U3O8 spot prices each year since 2011.
Prices below average industry break-even points has forced primary producers to curtail production and halt investments in new exploration projects. During this period nuclear utilities have increasingly abandoned locking into long-term supply contracts, choosing instead to fulfill required U3O8 demand with spot market purchases, short-term market-based contracts, and relying on existing on-hand inventories. This trend has led to maximum production cuts by primary producers, who currently are producing only enough U3O8 to fill contracted requirements.
Today's abundant spot material satisfies utilities' appetite for low-priced pounds to meet near- to mid-term requirements. As a result, strategic inventories have grown across the industry and the need to sign significant long-term contracts has been deferred.

The Emerging Global Supply Deficit 
The same factors depressing demand and pressuring prices in the near-term are also pushing the uranium market towards an unavoidable global supply deficit beginning sometime between 2020-2023. These factors are:
Expiration of short-term supply contracts in 2020 leaves 23% of existing utilities' demand requirements uncovered.
Utilities' reliance on existing inventories and low replacement ratios will likely cause inventories to shrink 60-70% by 2020-2021.
The proliferation of short-term supply contracts have depressed primary uranium supply, as all primary suppliers are producing to fulfill only minimum contracted requirements.
Additionally, a majority of the 56 reactors currently under construction are scheduled to come online by 2019-2020, at a time when these new operators' uncovered inventory requirements can only be fulfilled at significantly higher prices necessary to incentivize producers and restore equilibrium. 
This combination of producers likely needing to curtail further and the reliance of utilities on inventories will lead to a point where the latter runs out and the former needs one to two years to ramp production back up. During this period, we believe there will be a scramble to secure whatever source of uranium is left at rapidly higher prices.

Source: Cantor Fitzgerald, Quarterly Commodity Outlook, 10-27-17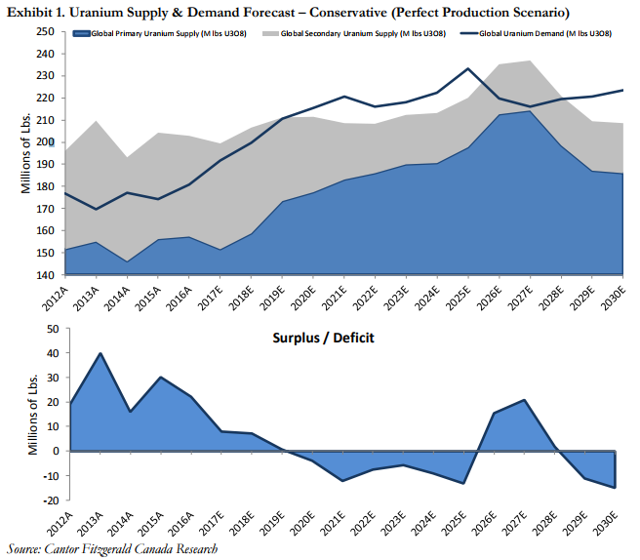 In order for uranium demand to be met in 2020-2021, violent price increases are necessary to incentivize sufficient supply by secondary producers. As primary producers ramp-up production to sustain higher levels of long-term demand, I expect normalization within the uranium market to occur, leading to a rebound in long-term supply contracts and equilibrium prices in the range of $70-$80/lb.
We expect a combination of robust demand and weak supply to push prices to $65 per pound by 2019 in order to incentivize enough new supply.

Source: Morningstar Analyst Report (NYSE:CCJ)
Our long-term price remains at US$80/lb, which begins in 2025, as we continue to believe that the supply and demand fundamentals of uranium will lead to a violent price increase, albeit further into the future than initially expected.


Source: Cantor Fitzgerald, Quarterly Commodity Outlook, 10-27-17
Catalysts for Demand Growth

Morningstar predicts global uranium demand to rise 40% by 2025, reversing the trend of flat/negative demand growth experienced during the past 10+ years. 56 new nuclear reactors are under construction worldwide, most of which are expected to come online within the next 3 years. Continued restarts of Japanese reactors should also provide for the depletion of surplus inventories which their regulatory shut-downs caused. These factors all point towards demand/price-stabilization over the long-term.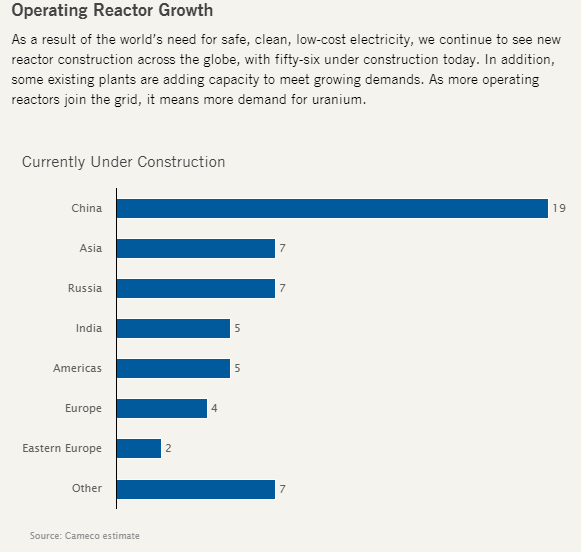 We expect new reactor capacity to drive the strongest uranium demand growth in decades.

Source: Morningstar Analyst Report (CCJ)
The world's rapidly growing energy consumption needs provide further support for long-term demand growth. Nuclear power generation offers unparalleled efficiency and cost effectiveness when compared to any other fuel sources. As policymakers face increasing pressure to increase energy output and decrease pollution by shifting towards renewable energy sources, I expect nuclear power will continue to emerge as the most feasible solution.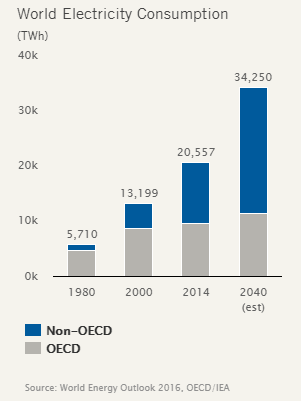 The Case for Cameco
When major markets/sectors experience cyclical contractions or macroeconomic headwinds, entire baskets of companies with perceived exposure to a negative trend will frequently fall victim to mass sell-offs. These declines in stock prices are typically wide-spread and occasionally affect the strongest & weakest companies equally due to the leming-like, uninformed selling of individual investors. Such broad-based discounting without regard for fundamentals allows patient investors to capitalize over the long-term. 
I believe negative sentiment towards Cameco and the uranium industry have reached unwarranted levels. The market is pricing Cameco as if it expects current, historically-weak U3O8 spot price levels to persist over the long-term, but these levels are unsustainable and economically impossible.
This overreaction has provided investors the opportunity to own an industry-leading, fundamentally-superior company at a very attractive price-point.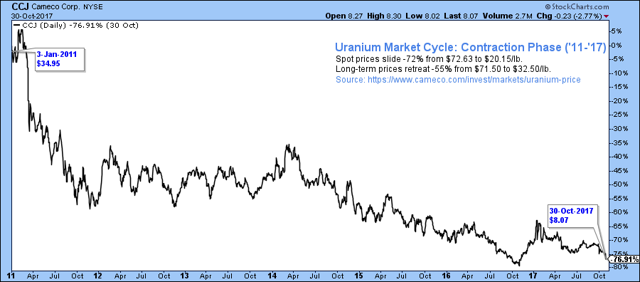 Although CCJ has improved its competitive positioning relative to its peers, expanded production capabilities, slashed administrative costs, and remained cash-flow positive during the prolonged contraction phase, the company has seen its market capitalization decline 76% since the beginning of 2011.
Competitive Advantages. Cameco exhibits the most favorable positioning among publicly traded uranium producers, benefiting from:
"Stellar Ore Grades"
Superior Economies of Scale
Attractive Production Cost Profile
Joint Ventures/Global Partnerships
Long Life of Proven Reserves
In the cyclical mining industry, a firm's production costs are the best means for accurately measuring competitive advantage. Generating excess returns during favorable commodity price environments is achievable for even secondary producers, but sustaining these margins during contractions is only possible for the lowest-cost primary producers.
As one of the largest and lowest-cost producers globally with expansion potential, Cameco should benefit meaningfully from higher uranium prices.

Source: Morningstar Analyst Report (CCJ)

Comparisons to Prior Expansion Cycle. Cameco was unable to fully capitalize during the post-2003 surge in uranium prices due to long-term supply contracts struck during the weak price environment of the early 2000s. The inflexibility of their contract portfolio caused most of Cameco's production capacity to be tied-up at below market rates. Many producers suffered the same misfortune. Notice the significant disconnect between industry average realized prices and prevailing market prices in 2004-2006 on the chart below.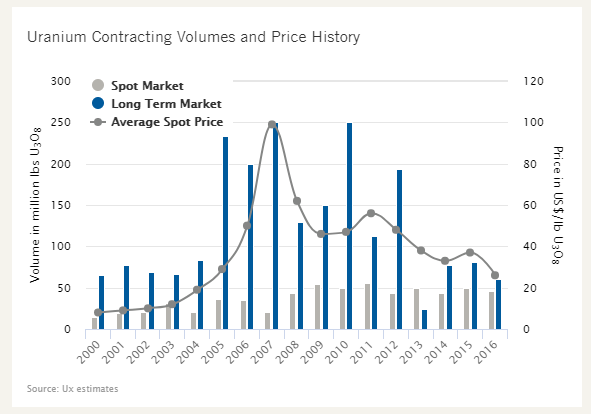 Even though the economic benefits of their superior, low-cost production profile were only partially realized, Cameco shares still managed to rise 917% from 2003-2007 as spot prices increased from $10/lb to $72/lb.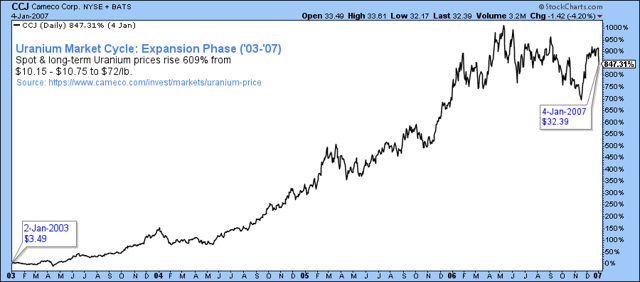 During the prolonged contraction, Cameco took measures to ensure the contract portfolio would exhibit a greater degree of correlation to an increasing spot price environment. Their disciplined approach to contract-mix (60:40 market:fixed) has improved flexibility. Additionally, their focus on increasing low-cost production capabilities of "Tier-1" assets places Cameco in a superior position to ramp up production once the new expansion cycle arrives.
The following table was taken from the company's most recent quarterly investor presentation and illustrates the contract portfolio's expected sensitivity/correlation to increasing spot prices. 
| | | | | | | | |
| --- | --- | --- | --- | --- | --- | --- | --- |
| U3O8 Spot Prices/lb: | $20 | $40 | $60 | $80 | $100 | $120 | $140 |
| 2018 | $36 | $44 | $55 | $65 | $75 | $84 | $91 |
| 2019 | $32 | $42 | $55 | $65 | $74 | $81 | $87 |
| 2020 | $32 | $42 | $55 | $65 | $74 | $81 | $87 |
| 2021 | $30 | $42 | $57 | $67 | $76 | $81 | $92 |
Source: Cameco, Management's Discussion & Analysis of Results Q3 2017
This time around, Cameco should be able to take full advantage of sudden price increases as they occur, and realize the full economic benefit of their low-cost production capabilities.
As a result, I predict that shares of CCJ will experience an even stronger run-up than was seen in 2003-2007. Furthermore, the outlook for increased uranium demand and long-term stabilization is poised to provide a prolonged period of price moderation with equilibrium prices ranging between $70-$80/lb by 2025.

Financial Modelling. Finally, we'll use estimates from multiple sources to arrive at a rough price target while seeking a margin of safety.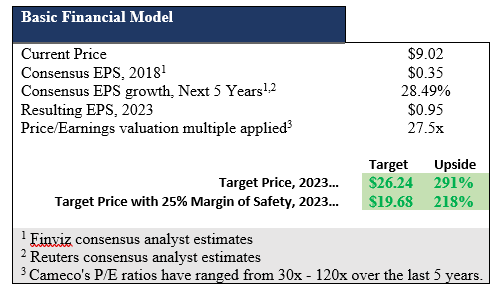 Analyst Coverage & Highlights. In addition to the consensus ratings listed below, Morningstar maintains a 5-star rating for CCJ, indicating they believe the company is "significantly undervalued" relative to Morningstar's fair value estimate (currently $17/share).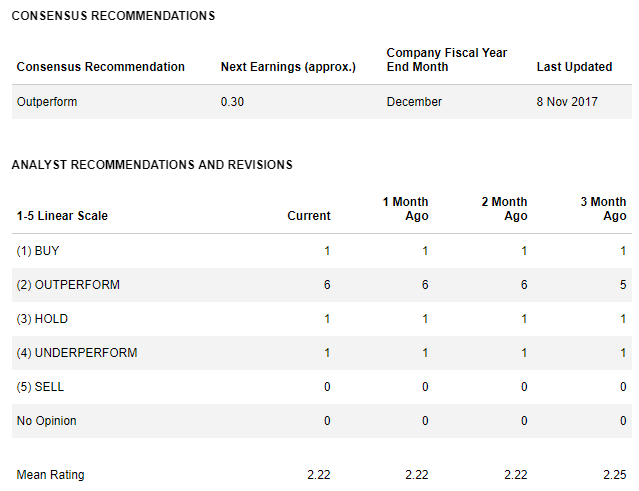 Source: http://www.reuters.com/finance/stocks/analyst/CCJ 

Attached Files:
Reported Earnings and Cash Flow 2001-2016.pdf
Financial Highlights 11-7-2017.pdf
Disclosure: I am/we are long CCJ.
Additional disclosure: I and my clients are long CCJ, we may add to existing positions over the next 72 hours.