Everyone is excited about this news; Longs are enjoying a 10%+ gain in a single day, following a 16%+ increase just a day after the Q2 earnings call. Shorts are again looking for something wrong on this announcement. Now, The question is: what's the best move for investors? Add more to their positions? Sell and leave? Or just watch!
Musk gave promises that he can't simply hold. Several missed deadlines on production milestones, the introduction of new products and so on. That's probably why the stock market was skeptical on this announcement, and stock price didn't reach the previous 52 weeks high of $389.71.
This time may be different
Tesla (TSLA) is scaling up the production fast, starting the hiring process for its new Shanghai office. China is the biggest market for electric cars, and Tesla is planning to manufacture 500,000 vehicles a year within the next two or three years. As Musk mentioned in the latest conference call, Tesla is planning to fund this Giga Factory through local debt.
Tesla goal for 2018 is to manufacture 7,000 cars per week for Q3 as Musk said during the conference call and increased it to 10,000. Assuming 7,000 for the rest of the 2018 and adding the China market beginning in 2020, production capacity looks like this:

Source: Estimated production based on guidance with conservative assumptions
Even with conservative assumptions for growth in production, Tesla can reach annual revenue of over $42 B by 2021.
Musk said:
So with respect to Gigafactory CapEx, I think we learned a tremendous amount with Gigafactory 1, and we're confident that we can do the Gigafactory in China for a lot less. I think it's probably closer to – this is just a guess, but probably closer to $2 billion, and that should be at a higher – and that would be sort of at the 250,000 vehicle per year rate.

Source: 2018 Q2 transcript
Tesla already invested for the Nevada Gigafactory and reached the 5,000 capacity. Musk also added:
our CapEx growing from 5,000 cars a week to 10,000 cars a week is a tiny fraction of the CapEx needed to grow from 0 to 5,000 Model 3s. This is, I think, very good news for capital efficiency of the company. And with (07:43), that it's going inform future mass market vehicles that we produce.

Source: 2018 Q2 transcript
Assuming Musk is right on his assumption for future CapEx required, Tesla probably will not need more Working Capital as the balance sheet for 2018 Q2 shows, Tesla is increasing the balance on Accounts payable faster than accounts receivable and inventory: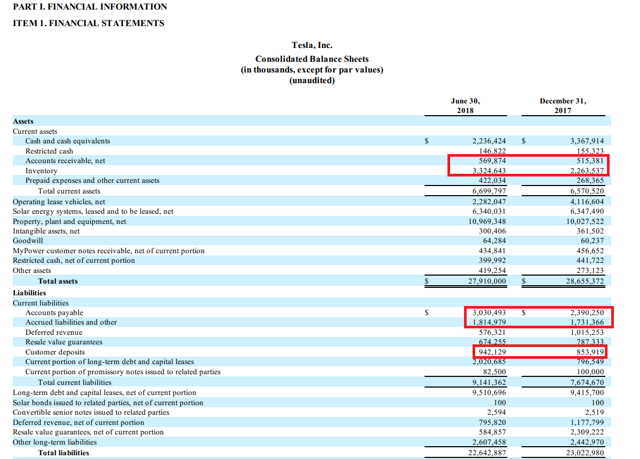 Source: Tesla 2018 10Q - Q2
We can include the customer deposits in current liabilities because Tesla doesn't pay interest on it. Net change in the total working capital is a decreased of $303 million from 12/31/17 to 6/30/18. It's important to note that Tesla more than doubled its production for Q2 2018 compared to Q4 2017:

Source: Tesla announcements, the table prepared by the author
Higher inventory is a short-term effect of this significant production increase and more than offset by the increase in Accounts payable.
With this data in hand, it's easy to extrapolate the production, revenue and future cash flow for the upcoming quarters.
To do so, I made some assumptions:
The average sales price for Model 3: $45,000
The average sales price for Model S & X: $75,000
Revenue from solar products is minimal compared to automotive sales, and I want to focus on this segment. The cost of revenue can safely cancel revenue from energy products for the same segment ($374 Rev. Vs. $330 Cost of Rev.)
 As Musk mentioned, there shouldn't be a large CapEx expenditure for the upcoming quarters. He's planning to raise the fund for Shanghai through debt which doesn't affect our calculation for FCFE.
R&D and SG&A are assumed to be 35% of revenue.
Provision for taxes was less than 1% so far, but assuming positive cash flow, I used 3% of revenue for this line item.
Here's the forecast for future cash flow from automobile production segment:

Source: Author's forecast on future cash flow to Equity holders
As musk mentioned, positive free cash flow is closer than ever. To value the company, I make some more assumptions about the discount rate and terminal growth rate. Here are the assumptions:
Discount Rate: 10%
Terminal Growth Rate: 3%
Discounting cash flows and adding the terminal value, we get $521.00 for intrinsic value:

Summary
$420 proposed by Elon Musk seems to be pretty low compared to the intrinsic value. If the company proceed with the plan to go private, I believe it's to the best interest of the investors to keep their stock rather than selling it. Over the past eight years, investors earned a decent profit on holding their position.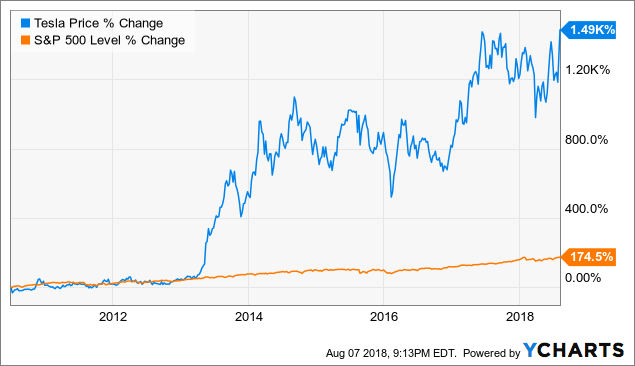 Compared to the IPO time, Tesla has three successful models on the road with high demand for the future productions. Now It's far easier for the company to convince investors and raise capital, production is far more efficient, and the road forward is crystal clear. Missing this opportunity would be costly.
Disclosure: I am/we are long TSLA.
I wrote this article myself, and it expresses my own opinions. I am not receiving compensation for it (other than from Seeking Alpha). I have no business relationship with any company whose stock is mentioned in this article.
Additional disclosure: This article is merely a statement of my personal opinion based on my individual analysis and provided as is, with absolutely no guarantee of the accuracy of any data or information provided. Past performance is not indicative of future results. Investors should do their own due diligence before making any decision. The author is not an independent financial advisor.