Introducing Safe High Yield: The Easy Way To Retire Rich
Please Note: Blog posts are not selected, edited or screened by Seeking Alpha editors.
Summary
I'm a proud co-founder of Wide Moat Research, a rock-star team of some of the best safe income analysts in the world.
10/10 of our model/real-money portfolios are beating their benchmarks. That's because, to quote Warren Buffett, "Our facts and reasoning are right."
Wide Moat is proud to offer a brand-new service called "Safe High Yield" for those seeking maximum safe, growing, and dependable income in all economic and market conditions.
This is a simplified $200 annual service you can get for $160 if you sign up for a 2-week free trial by December 20. Safe High Yield subscribers also get 20% discounts to our premium services, Dividend Kings, and iREIT.
Safe High Yield is run by Nicholas Ward, whose personal portfolio has beaten the S&P 500 for eight years and whose Intelligent Dividend Investor Portfolio has delivered 57% returns since March versus 17% for the dividend aristocrats.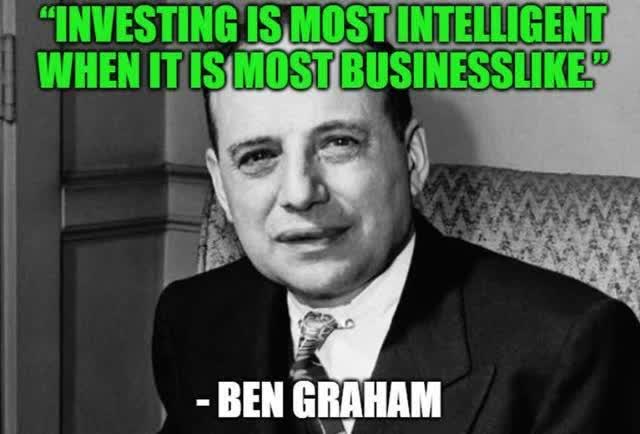 I'm a proud co-founder of Wide Moat Research, a publishing company that specializes in income-oriented research and newsletter products.
It's the parent company of Dividend Kings, iREIT, and The Intelligent Dividend Investor. And its world-class team of skilled, experienced research analysts and asset managers include such names as:
Brad Thomas

Adam Galas (aka Dividend Sensei)

Nicholas Ward

Steven Hester (aka Williams Equity Research)

Chuck Carnevale

Justin Law.
Our team has been hard at work for months working on something that meets an important need our more than 280,000 Seeking Alpha followers have been asking us to fulfill. So we're very excited to be offering this incredible opportunity to get in on the ground floor of what could be a life-changing investment opportunity for you.
Introducing Safe High Yield: The Easy Way to Retire Rich
The Safe High Yield service includes:
A model high-yield portfolio

Weekly portfolio updates

Real-time trade alerts

2 subscriber chat rooms (one for community discussion and one where moderators post relevant high-yield news items).
Its primary goal is to provide simple, easy, straightforward, and efficient access to important investable information. It will stand out from other Wide Moat productions because of its price point at:
$200 a year on the annual plan ($16/month)

$25 per month otherwise.
That's the lowest price Seeking Alpha's Market Place allows, and we did it that way for a very specific reason: to help as many people as possible safely meet their long-term retirement goals.
Yet we didn't stop there. Under Seeking Alpha guidelines, we are allowed to debut it at an even lower price for a limited time.
As such, our introductory offer runs from today until December 20, making Safe High Yield just $160 (a 20% discount) for an annual subscription.
That's $13.33 per month – about the cost of Netflix.
This Holiday Season, Give Yourself the Gift of Generous, Safe, and Growing Lifetime Income
Wide Moat Research already operates two of the most successful services on Seeking Alpha: iREIT and Dividend Kings.
Both provide extremely in-depth research, daily analysis and trades, and a myriad of tools for do-it-yourself investors who are passionate about learning to invest, following the markets, and managing their own portfolios.
Our membership levels have grown tremendously throughout 2020 – and no wonder why when our portfolios are beating their respective benchmarks by impressive amounts. You can see that for yourself in the following array of charts.
Those success stories are thanks to our dedication to quality first, prudent valuation, and sound risk management always.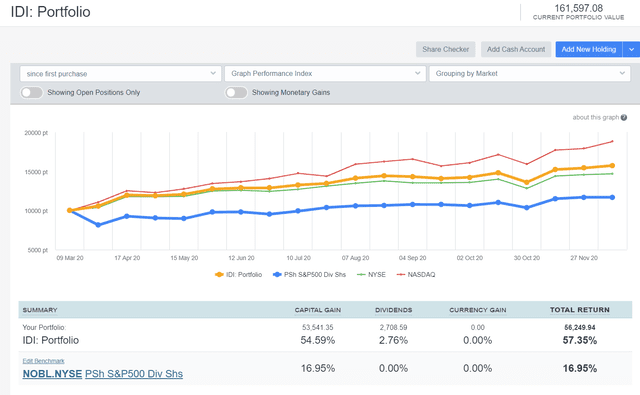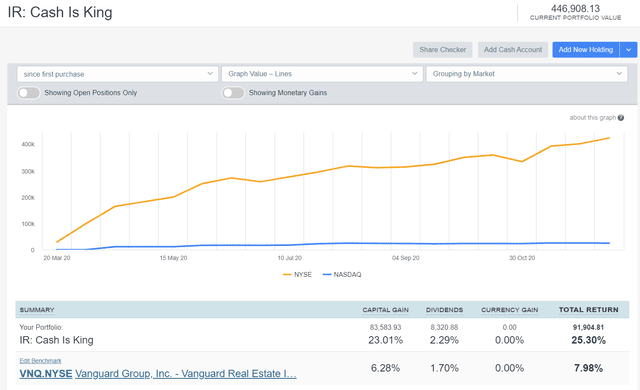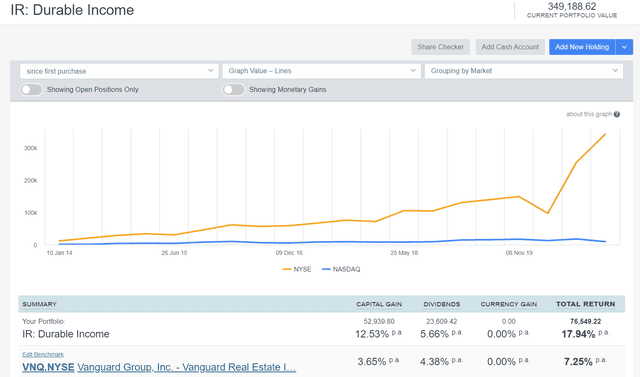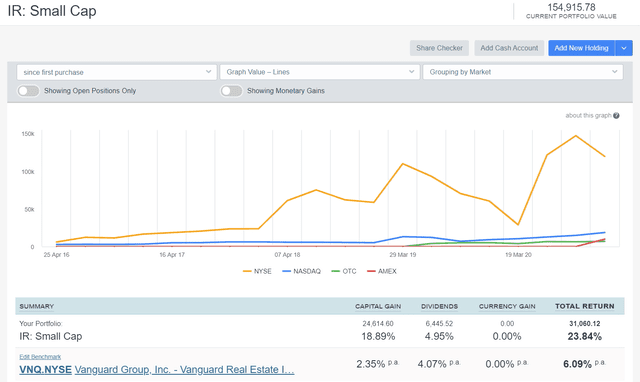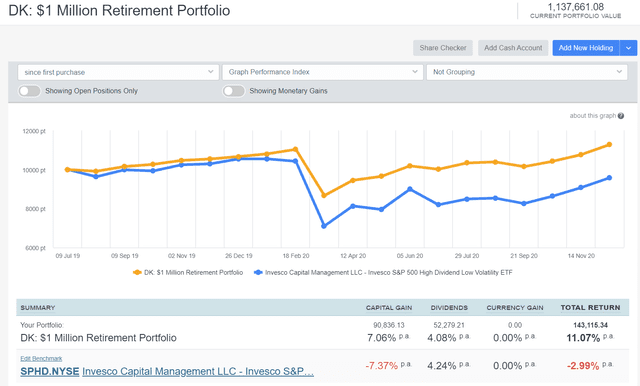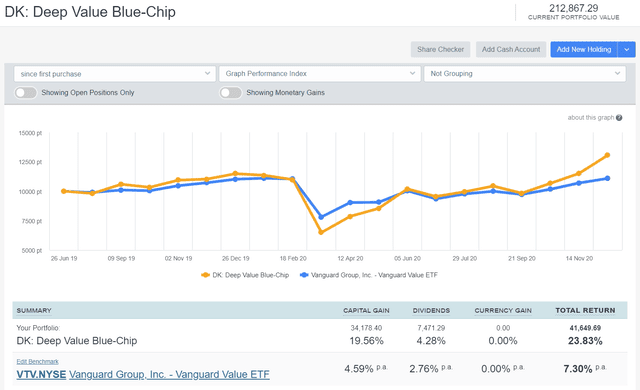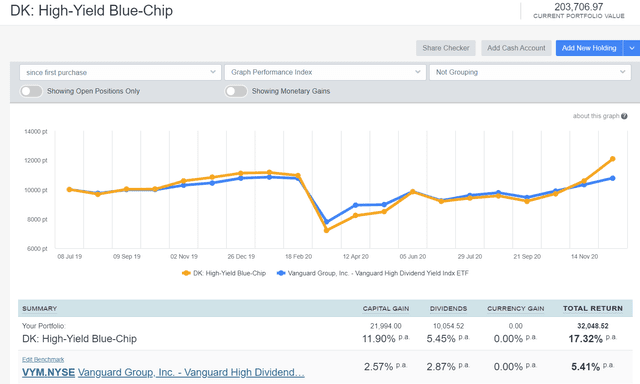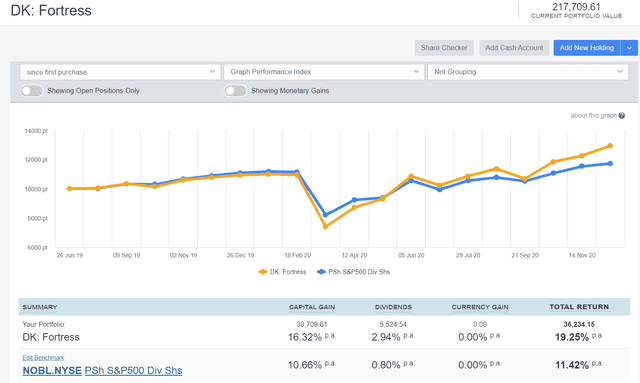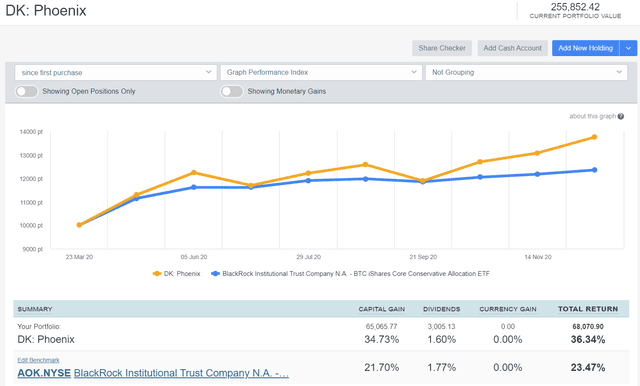 (Souce: Sharesight)
And our Dividend Kings Daily Blue-Chip Deal Video recommendations are similarly crushing the dividend aristocrats' average and S&P 500 since we started them up in June.
DK Video Phoenix Recommendations (100% Real-Money Buys)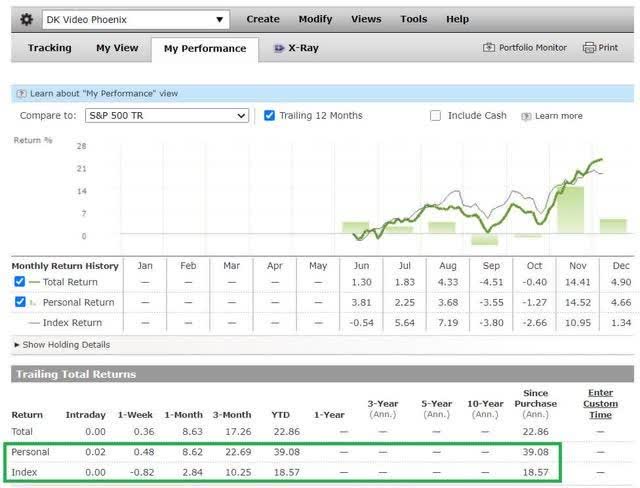 (Source: Morningstar – NOBL, the dividend aristocrats, are up 18.8% since we launched DK Video Phoenix on June 22)
And, for the record, those same time-tested, benchmark-crushing strategies are exactly what we're bringing into our Safe High Yield rollout. Here's why we're so confident it will deliver the goods for subscribers…
All 10 of our model/real-money portfolios have done so, some for as long as six years…
Our world-class team of analysts has an intuitive and well-honed understanding of financial science.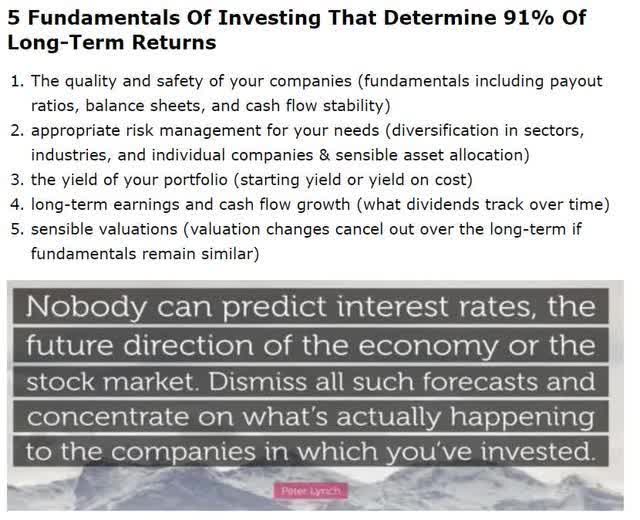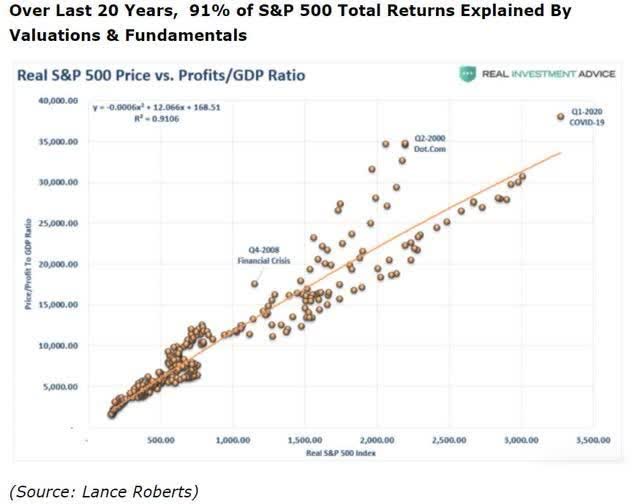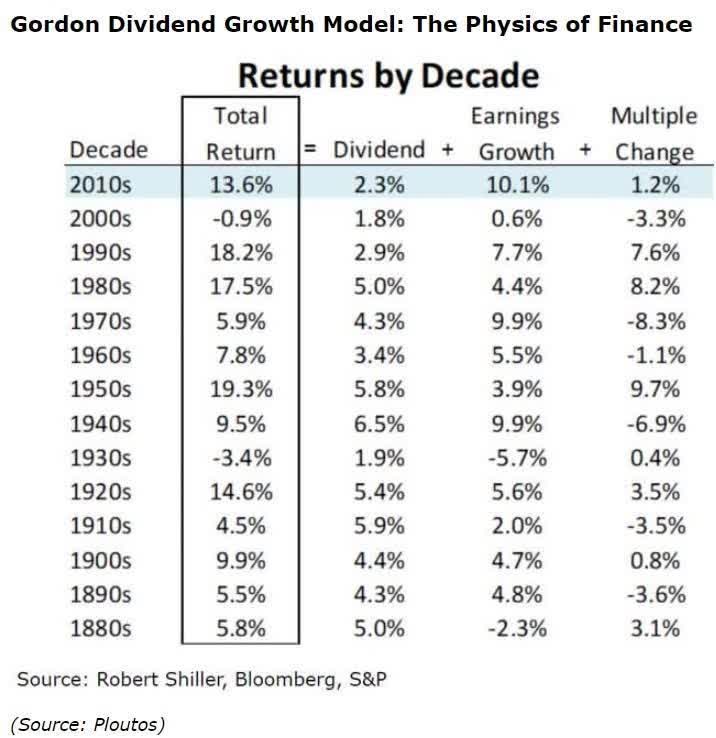 Don't forget that our investment strategies are modeled after the greatest investors in history.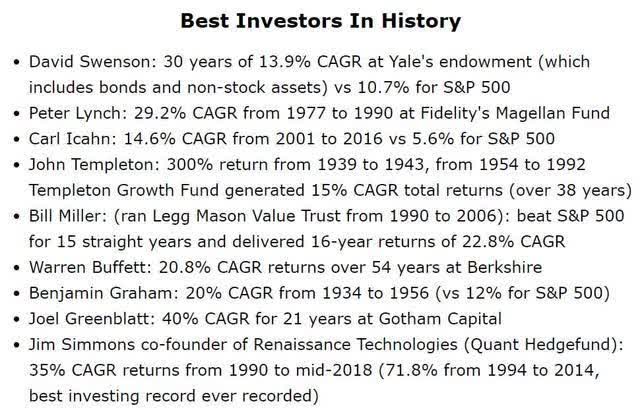 And each of our recommendations combines several proven long-term alpha strategies to stack the deck in your favor.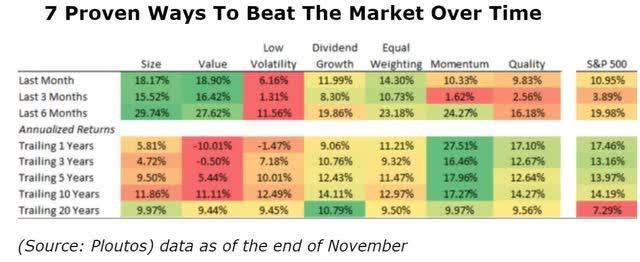 Not surprisingly then, our subscribers are overwhelmingly happy with us, as clearly shown by our 4.6/5-star rating at Dividend Kings and our 4.8/5-star rating at iREIT on Alpha.
The reason why we're expanding our horizons anyway is that we know that type of service with its constant flow of information isn't for everyone. Many of our readers simply don't have the time, energy, or passion necessary to consume that kind of information.
This is especially the case in retirement. Your golden years are meant to be spent enjoying your passions. And if investing isn't your passion, then a "keep it simple, stupid" (KISS) approach is likely the best option for you.
That's why we created Safe High Yield: to cater to those who just want a simple portfolio, a guru's top picks, and brief market updates. That's why, at launch, the Safe High Yield Portfolio will feature an immediate five holdings that yield a very safe 6.7%.
Then, Nicholas Ward and his Wide Moat Research team will add at least one holding to the portfolio until there are 20-25 strong, safe holdings.
Obviously, if there's a major market selloff that creates attractive value opportunities, he'll be right on that. But, over time, the goal is to offer a diversified portfolio full of stocks, preferred equities, REITs, BDCs, MLPs, CEFs, and fixed-income investments that really deliver.
There are other services on Seeking Alpha that promise higher yields. But none match our ability to deliver safe, dependable, and growing income in every market and economic environment.
How do we know our approach works? Because it's proven effective during the two worst recessions of the last 75 years. Consider how our:
Safety ratings are based on historical dividend cuts during every recession since 1945

Recessionary dividend-cut risk is scaled based on the blue-chip economist consensus estimates of how bad any given recession will be relative to the average since 1945 (1.4% peak GDP decline)
Safety models predicted about three out of 165 Phoenix list blue-chips would cut their dividends during the Great Recession.
For the record, four of them did, meaning that we missed out on calling just one correctly. Moreover, our safety model predicted that three Phoenix list blue-chips would cut their dividends this time around…
Yet just one of them has, proving that we're only getting better at predicting pitfalls and profits alike. And consider these facts and figures while you're digesting what we've already provided:
During the Great Recession, the S&P 500 cut its dividend by 25%.

Our Phoenix watchlist saw flat dividends, beating the market by 25%

In 2020, the S&P 500's dividends are down 1%.

In 2020, the Phoenix watchlist's dividends are up almost 8%, beating the market by 9%.

In the worst recessions in 75 years, there were six expected Phoenix dividend cuts versus five actual ones… and average dividend growth of 4% versus -13% for the S&P 500.
This ultimate baptism by fire vindicates our safety and quality models. That's why I'm entrusting 100% of my life savings to Wide Moat's proven safety and quality-focused approach.
Other services can recommend yield traps that look good in the short-term. But Wide Moat services recommend quality safe yields that actually deliver long-term results with rich retirements stamped all over them.
Introducing Nicholas Ward: Chief Investment Strategist for Safe High Yield
Let's hear straight from Safe High Yield's Nicholas Ward for a while now. The rest of this segment comes straight from him…
At launch, the average yield of the portfolio's five holdings is roughly 6.8%. Moving forward in today's economic environment, I believe I can safely generate a continuing 6-7% range. However, to be clear – and I mean EXTREMELY clear – I will not be chasing yield here. My number one priority here is to provide safe and reliable income.
I firmly believe that a dividend's yield is only as good as its safety. The same thing can also be said of yields provided by fixed income and alternative assets.
A high yield doesn't do anybody a bit of good if the dividend gets abruptly cut. Dividend cuts not only result in a smaller passive income stream but also significant damage to the size of one's nest egg, more often than not. So, needless to say, avoiding dividend/distribution cuts will be at the top of my mind as I'm building this portfolio.
Actually, I am happy to take this safe and reliable income stance another step forward. Not only will I be working my hardest to avoid unsafe and unsustainable yields… I plan to also generate annual passive income growth across the entire Safe High Yield portfolio that exceeds the rate of inflation. In short, I'll be using our dividend growth to protect our passive-income-stream purchasing power from being eroded over time.
But perhaps I've gotten a bit ahead of myself. In which case, forgive me. I'm just so excited about this new service launch and what we can accomplish through it. So let me stop and introduce myself to those of you who aren't already familiar with my work.
Along with being the editor-in-chief of The Intelligent Investor newsletter, I'm a senior investment analyst at Wide Moat Research. That's how I got the privilege of overseeing Safe High Yield as well.
Admittedly, I took a different road than many to these kinds of titles. For starters, I studied liberal arts at the University of Virginia, majoring in English with a minor in studio art. I didn't actually discover my love of the stock market until after graduation, which meant I had to use the creative and critical thinking skills I earned to forge my own path in the financial industry from there.
Honestly though? I wouldn't trade that journey for the world. My collective experience has made me the investor I am today. And my self-made-man, entrepreneurial passion for the markets has translated into a lot of success.
I've managed my own profitable dividend growth portfolio for years now, where I've managed to beat the broad markets on a regular basis. As for the Intelligent Dividend Investor portfolio, which I manage professionally, it's up over 57% since Wide Moat Research launched it on March 1.
See why we put him in this newest position as head of Safe High Yield?
Bottom Line: If You Want to Maximize Safe Income With No Fuss, Safe High Yield Is for You
To quickly recap, here's what we're offering with Wide Moat Research's newest product, Safe High Yield:
A high-yield portfolio actively managed by a highly respected income-oriented investor with a strict focus on safe, reliable yields

A simple and easy service to follow

Weekly portfolio updates

Weekly Q&A mailbag sessions

Real-time trade alerts

100% exclusive research

A community chat room

A read-only chat room where moderators will write noteworthy news items.
But Wait! There's More!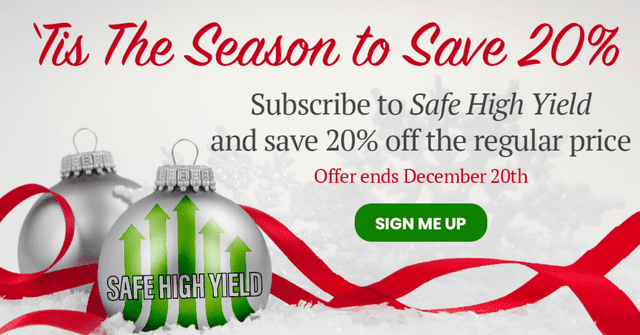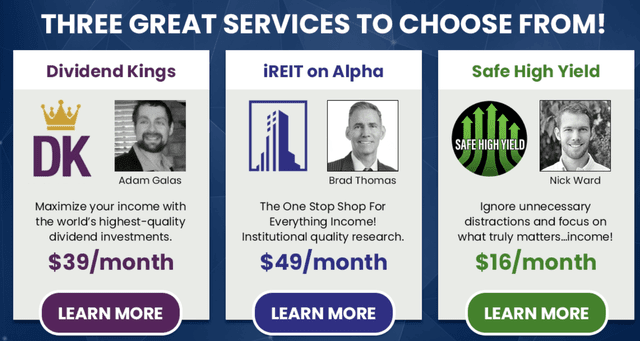 Members of Safe High Yield get a 20% discount to both Dividend Kings and iREIT – the premier sources of invaluable investing tools and analysis from the Wide Moat Research team.
And…
If you sign up for Safe High Yield by December 20, you get this incredible value for just $160, or $13.33/month.

If you sign up for Dividend Kings by February 28, you lock in our current price forever (the price goes up to $50/year otherwise).

Safe High Yield subscribers can get DK and iREIT for $31.2 per month and $39.2 per month, respectively.

Those prices are locked in forever, and existing DK members will get a free permanent upgrade to DK Pro, our super-premium service scheduled to take the markets by storm in 2021 or 2022 (that will cost thousands of dollars annually).
In short, give yourself the gift of maximum safe and growing long-term income this holiday season so that you can enjoy the retirement you deserve.
Try Dividend Kings Free for 2 Weeks, and Lock in the Incredible Value We Offer Before Our Price Goes Up $50 per year on March 1st

Dividend Kings helps you determine the best safe dividend stocks to buy via our Safety & Quality Tool, Automated Investment Decision Tool, and Research Terminal.
Membership also includes:
Our company screening tool

Access to our five model portfolios

Daily Blue-Chip Deal Videos

50% discount to iREIT

50 exclusive articles per month

Our weekly podcast

20% discount to FAST Graphs

Real-time chatroom support

Exclusive daily updates to all my retirement portfolio trades

Access to numerous valuable investing tools.
Click here for a two-week free trial so we can help you achieve your financial goals… all while sleeping well at night in all market and economic conditions.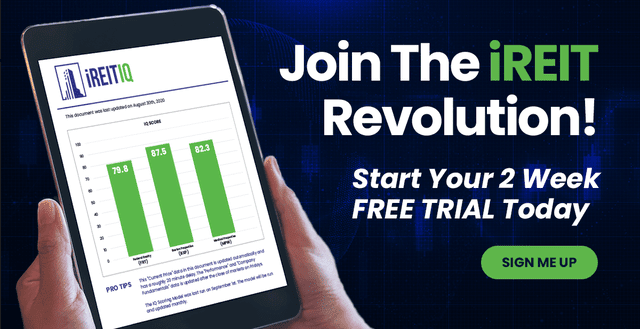 * Listen to our Ground Up Podcast * 2-week free trial * free REIT book *
Seeking Alpha's Disclosure: Past performance is no guarantee of future results. No recommendation or advice is being given as to whether any investment is suitable for a particular investor. Any views or opinions expressed above may not reflect those of Seeking Alpha as a whole. Seeking Alpha is not a licensed securities dealer, broker or US investment adviser or investment bank. Our analysts are third party authors that include both professional investors and individual investors who may not be licensed or certified by any institute or regulatory body.