The Best Way To Cash In On One Of The Greatest Market Rallies In History
Please Note: Blog posts are not selected, edited or screened by Seeking Alpha editors.
Summary
It's been a great start for undervalued blue-chips in 2021. And analysts think we could be at the start of one of the greatest value rallies in history.
Take JPMorgan, which thinks value stocks could rally 25%-50%, driven by the strongest economic growth in 20-50 years and the end of the pandemic.
Dividend Kings' portfolios are smashing their benchmarks and the broader market thanks to their focus on superior fundamentals – performance likely to continue for the rest of the year and.
We continue to improve our tools and overall service, expanding our team to 16 members, and counting. In 2022 and beyond, we'll be launching a super-premium service unlike anything available in the world.
Our price goes up $50 per year on March 1. But if you join now, you can lock in our current $449 price forever and get a free permanent upgrade to DK Pro as well. Don't miss out on the chance to maximize safe income and market-smashing returns to achieve the rich retirement you deserve.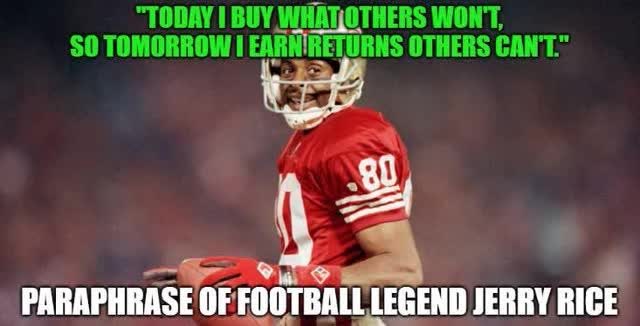 2021 is off to a strong start for stocks, with the S&P 500 and Nasdaq up more than 1% in the first two weeks of the year.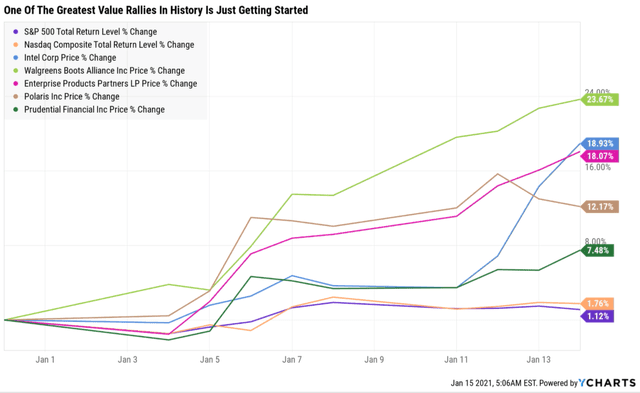 Yet it's a far better year for undervalued blue-chips. In fact, analysts expect they could be set for one of the best 12-month rallies in market history.
JPMorgan thinks value stocks could soar 25%-50% in 2020 due to a potent combination of record-breaking stimulus and the end of the pandemic. This could potentially create the best economic growth in 20-50 years!
Many of the blue-chips Dividend Kings has been recommending for months now are rising like a Phoenix from the ashes of this recession to soar to new heights:
It's been just two weeks since the year began, yet many of our highest-conviction Phoenix recs from 2020 are already up double-digits.
11 are up 10% or more.

26 are up 5% or more... with 256% CAGR capital gains not even counting the average 4% YOC!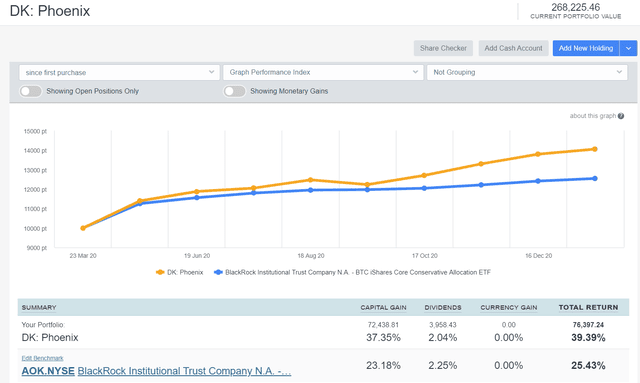 (Source: Sharesight)
Clearly then, this portfolio is off to a great start. And it's up almost 40% since we began it in March.
Plus, thanks to Dividend Kings' focus on quality first, prudent valuation, and sound risk management always, our fundamentals are likely to result in very impressive future returns.
Phoenix Portfolio Fundamentals (81% Dividend Stocks and 19% Growth Stocks)
Here's some more data worth noting… and taking advantage of:
Average quality: 10.7/12 SWAN versus 10.9 for the average aristocrat

Average safety score: 4.8/5 very safe versus 4.7 for the average aristocrat

Average credit rating: A- stable for both, which means a 2.5% 30-year bankruptcy risk

Yield on cost: 4%

Current yield: 3.1% versus 1.5% for the S&P, 2.1% for dividend aristocrats (our equity benchmark), and 1.8% a 60/40 stock/bond portfolio

Morningstar long-term growth forecast: 12.9% CAGR versus 6.4% for the S&P 500 and 8% for dividend aristocrats

Weighted average forward P/E: 16.2 versus 16.7 historical norm versus 22.7 for the S&P 500

Average discount to fair value (Morningstar estimate): 3% versus -37% for the S&P 500 and -16% for aristocrats

5-year analyst consensus total return potential: 3.1% yield + 13.1% CAGR long-term growth + 0.6% CAGR valuation boost = 16.6% CAGR versus 3.8% for the S&P 500

Risk-adjusted expected return: 12.2% CAGR versus 2.9% for the S&P 500 (4.3X market's expected return).
Superior yield + superior growth + superior valuation + superior quality/safety = superior long-term results.
That's not just my opinion. It's proven financial science.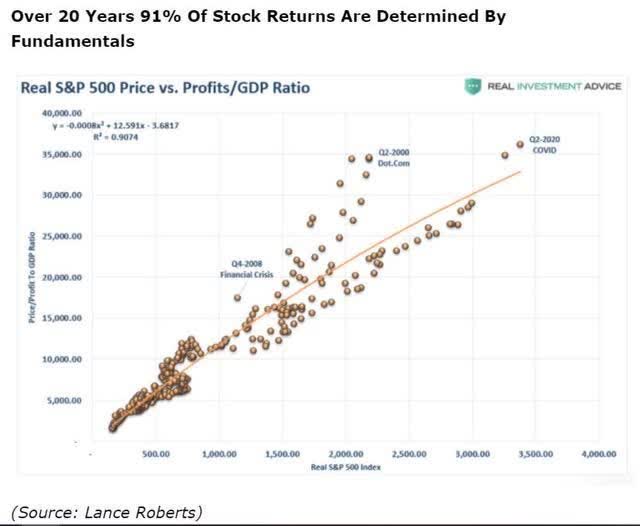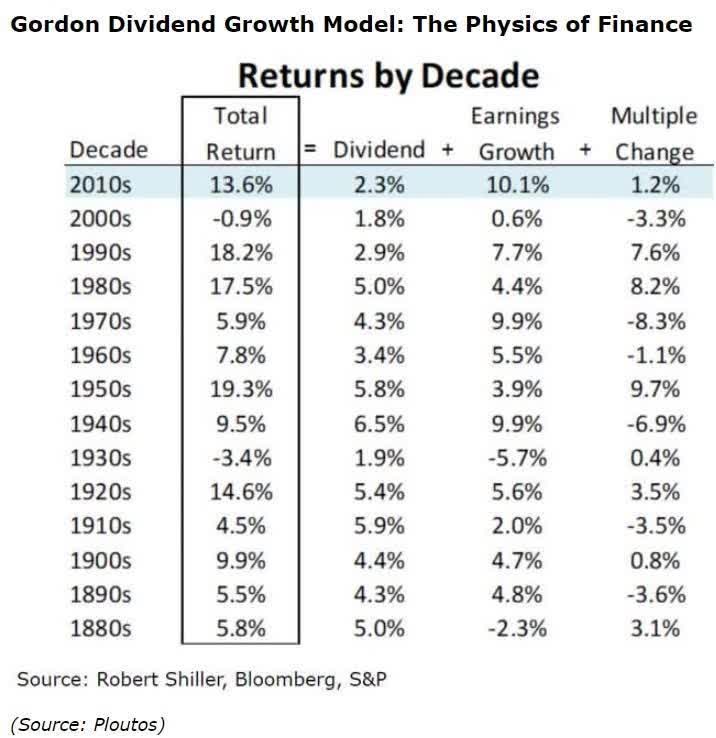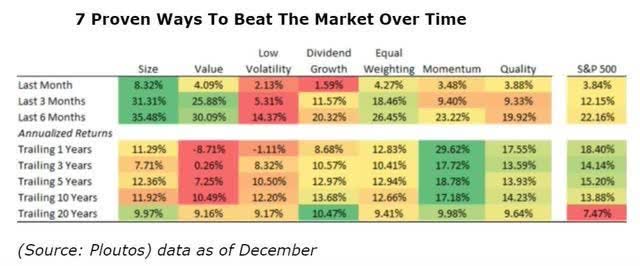 Our Real Money DK Video Phoenix Portfolio is also crushing it, for the record.
Dividend Kings Video Phoenix Portfolio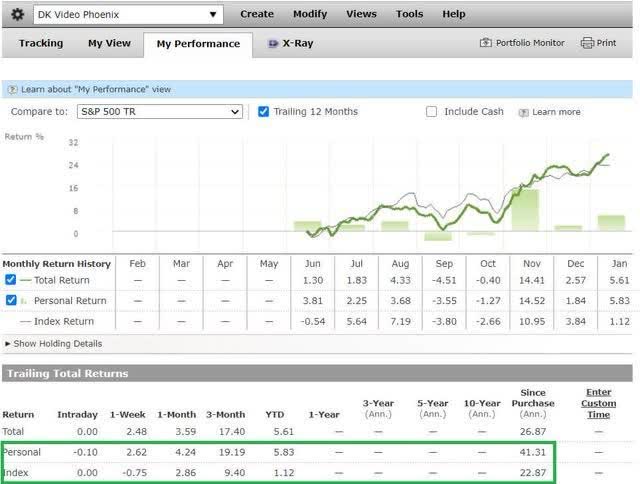 (Source: Morningstar)
Since June 2020, our 181 blue-chip video recommendations have almost doubled the S&P 500's annualized total returns. In fact, all Dividend Kings' portfolios are significantly outperforming their benchmarks.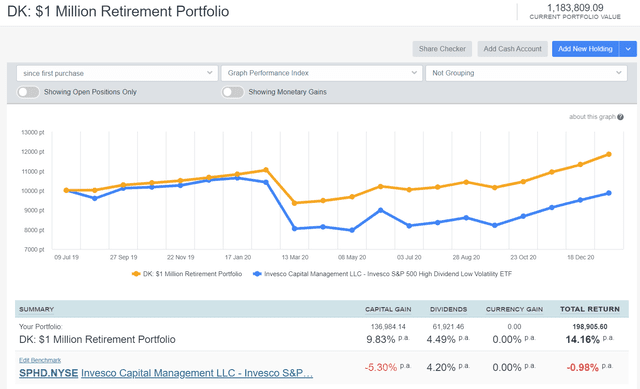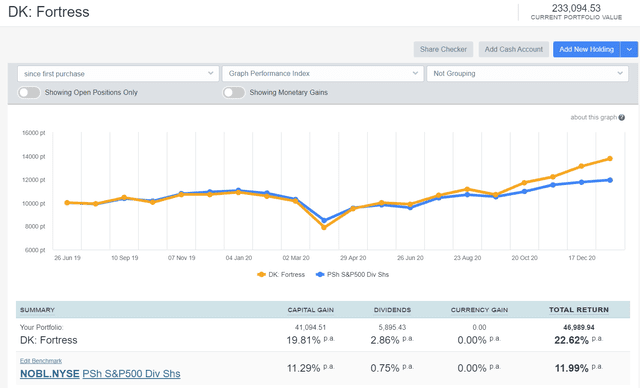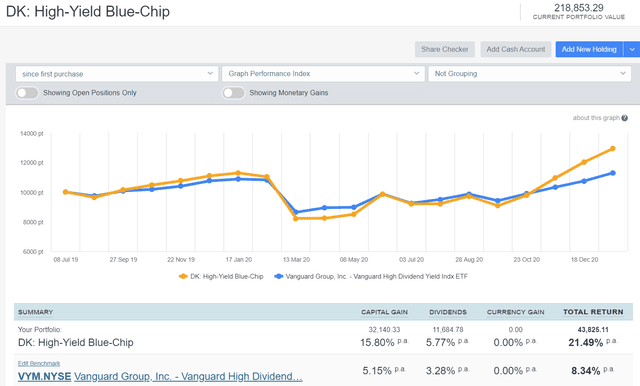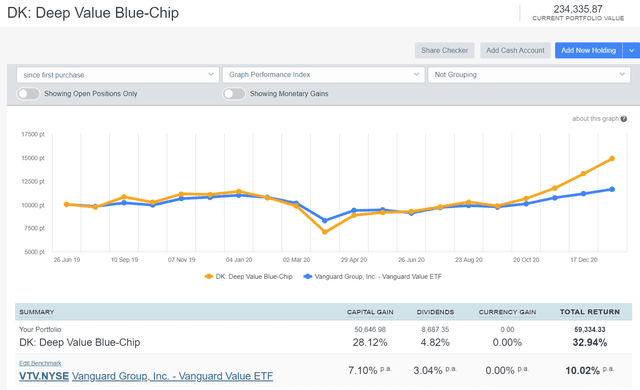 (Source: Sharesight)
Combined with our many valuable investing tools and dedication to strong customer service… is it any wonder that our members are thrilled to be a part of the Dividend Kings family?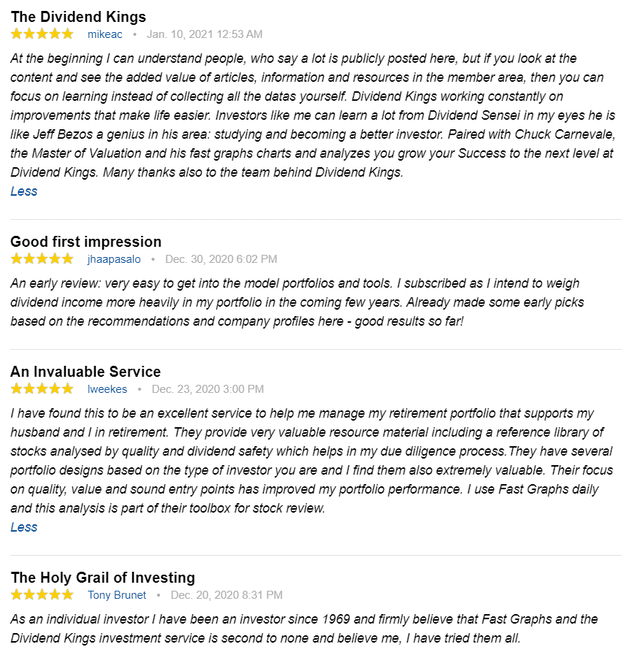 What We're Doing to Help You Achieve Maximum Safe Income and Returns in 2021... and Beyond
This year, we'll be upgrading our Research Terminal with:
14 new metrics, including historical short, long-term bankruptcy, and accounting fraud risk

International dividend stocks (including the European dividend aristocrats) 

7 new safety-screening criteria in our DK screening tool for a total of 20

2 new specialty watchlists, including foreign dividend stocks.
We'll also keep expanding our back office, which is now up to 16 people! This includes our head of customer service who built the entire Seeking Alpha customer service department. In other words, he knows how all SA systems work together and how to fix any issues that might come up. 
Then, in a few months, we'll be adding more companies to the Dividend Kings Master List to create the DK 500. This will involve:
The highest-quality companies worth buying at the right prices

Every dividend aristocrat

Every dividend champion

Every dividend king

Every European dividend aristocrat

(Source: Future DK 500 Master List Companies Tool)
Via our DK member request form, our members get to nominate other potential additions, of which I analyze five per week. This collection is constantly evolving, with lower-quality companies getting replaced with higher-quality ones until our 500-company universe is far superior to the S&P.
Going beyond 2021, we plan to introduce a super-premium version of DK called DK Pro. It will be a fully automated research terminal designed for investing professionals.
Our goal is to make this the best safe income-focused tool in the world. You'll be able to type in the ticker for any U.S.-traded company and instantly get its:
Safety score and rating

Long-term dependability score and rating

Overall quality score and rating

Valuation

Long-term total return potential

Investment decision score.
Plus, you'll see how it compares to its major industry peers on all the above criteria. Basically, DK Pro will be the ultimate one-stop-shop for your investing needs.
With one click and in one minute, you'll be able to perform the same due diligence that new investors would spend 24 hours doing – assuming they even knew which fundamentals were important.
This ambitious growth plan isn't cheap. DK is already spending over $40,000 per month on our world-class investment research platform. And we're going to have to spend a lot more to improve our service this year and beyond, including expanding our team significantly.
As such, another change does have to be made to ensure the best possible tools and quality to help you get rich.
Price Is Going Up by $50 per year on March 1... So Lock in the Current Price and Your Free DK Pro Upgrade Now
We believe in loyalty. So all existing DK members are permanently grandfathered into their original price.
As our service improves, our price will have to steadily rise. Our future DK Pro service alone will cost us thousands of dollars per year to operate.
Yet existing DK members will always pay their original price. Better yet, they'll get a free DK Pro upgrade when it comes about.
Some of our members tell us they're making their annual subscription back… every single week!
That's because we provide incredible value in helping you achieve your long-term financial goals. That value will only increase over time as our world-class team of safe-income experts guides you down the road to the rich retirement you deserve.
Try Dividend Kings Free for 2 Weeks, and Lock in the Incredible Value We Offer Before Our Price Goes Up $50 per year on March 1.

Dividend Kings helps you determine the best safe dividend stocks to buy via our Safety & Quality Tool, Automated Investment Decision Tool, and Research Terminal.
Membership also includes:
Our company screening tool

Access to our five model portfolios

Daily Blue-Chip Deal Videos

50% discount to iREIT on Alpha

50 exclusive articles per month

Our weekly podcast

20% discount to FAST Graphs

Real-time chatroom support

Exclusive daily updates to all my personal retirement portfolio trades

Access to numerous valuable investing tools.
Click here for a two-week free trial so we can help you achieve your financial goals… all while you sleep well at night in all market and economic conditions.
Analyst's Disclosure: I am/we are long AMAT, APOG, PII, WBA, EPD, INTC, PBA.
Dividend Kings own AMAT, APOG, PII, WBA, EPD, INTC, and PBA in our portfolios.
Seeking Alpha's Disclosure: Past performance is no guarantee of future results. No recommendation or advice is being given as to whether any investment is suitable for a particular investor. Any views or opinions expressed above may not reflect those of Seeking Alpha as a whole. Seeking Alpha is not a licensed securities dealer, broker or US investment adviser or investment bank. Our analysts are third party authors that include both professional investors and individual investors who may not be licensed or certified by any institute or regulatory body.