As Tesla's (TSLA) Model 3 begins to hit showrooms around the country and get delivered to eager customers across the country, it is becoming apparent that people don't see a Model 3 as an automobile, something that once used to be one of the largest purchases Americans made in their lifetimes, but as something symbolic of a utopian future that Musk makes sure to pitch at every one of his major appearances. The lines outside Tesla's showrooms to just get a glance at a Model 3 are reminiscent of a not so distant past of Apple fans storming their local stores to get their hands on what they then saw as the future.
            The problem is Musk has a much more difficult task than the turtleneck wearing Steve Jobs of 2009 faced. The automotive industry is a much more difficult beast to overcome than the mobile phone market of the mid-2000's. The biggest problem Musk currently faces is the basic principle of economies of scale. Automotive giants, like General Motors, Ford and Daimler, have spent the better part of the twentieth century developing and refining their supply chains due to the simple fact that building cars at a mass scale requires billions of dollars of infrastructure, infrastructure that Tesla simply doesn't have. And as Tesla attempts to build the supply chain that is so severely needed for Model 3 production, members of the old guard are just beginning to churn out cars rivaling or even surpassing those of Tesla from their international infrastructure. And in an industry as crowded and competitive as that of Tesla's, it wouldn't be surprising for Tesla's market share to plummet as competitors begin to hit the market.
            News of another round of capital raising from Wall Street and underwhelming – to say the least – Model 3 delivery rates should be making it clear that Tesla is undeserving of its current valuation. With the Q4 earnings call coming up later this week, Tesla is bound to be hit with a major correction and none of the antics that we have become used to Musk performing can force us to ignore that.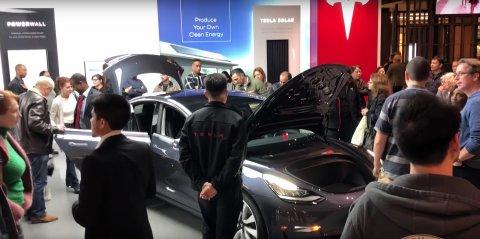 DATA SOURCE: Business Insider article. image shows droves of Tesla fans lining up at Tesla store to get a look at the model 3.
Ignoring the Distractions           
            Tesla has been burning through its cash at rapid rates that can no longer be ignored. Posting a loss of over $500 Million in the third quarter of 2017, Musk and his PR team have attempted to throw distraction after distraction at the public in an attempt to lessen the blow. But just let that sink in. $500 Million lost in a single quarter, over $2 Billion this past year. Even Amazon was making smaller losses this far into its history.
            Tesla's most recent attempt at funding is just another signal about how quickly the company is running out of money and how reliant it has become on capital markets and Wall Street. Filings with the SEC have indicated that Tesla is planning on utilizing the asset-backed securitization market, a popular financing method in the automotive industry. Tesla will be receiving a sum of approximately $546 Million, leveraged from future payments on Model S and X lease payments.
            Though there are issues with the nuances of the deal, that is not the main issue the company is facing. The filing with the SEC is an example of Tesla turning to Wall Street to keep afloat as they face rising costs in a period of growth. And Tesla's tremendous quarterly losses show no sign of stopping any time soon and that means that they will have to continue to turn to the capital markets as their need for cash continues. This increased reliance on Wall Street for money is exactly what Tesla investors should be worried about. A recession is coming and the timing of it may be debatable but it is indisputable that we will see a bear market in the near future. And a bear market would destroy any opportunity for companies like Tesla to get any more money out of capital markets. Tesla needs to be making a profit or find an alternative source of funding before the capital markets shut their doors.
            An argument could be made that the spending and constant losses are justified for a company like Tesla that is going through rapid growth as it gets its most consequential car into customers' hands. However, Tesla isn't even able to accomplish that. The production ramp for the Model 3 already got off to a slow start this past fall as several setbacks occurred. In fact, Tesla issued a statement earlier this year stating that they were pushing back Model 3 production expectations back an entire quarter due to "bottlenecks" in the manufacturing process. Tesla's most consequential product is floundering and little can be done to fix it.
            Investors also need to be wary of Musk's constant antics when it comes to raising the public's confidence in his several companies and their prospects. The most recent example is Musk's twitter page blowing up over his new flamethrower. Yes, you heard me right. Elon Musk release a Boring Company flamethrower. Presumably so, diehard fans could have something to complement their Boring Company hats. Elon Musk is a very amiable person and the public loves him but emotion should not get in the way of evaluating Tesla's present situation.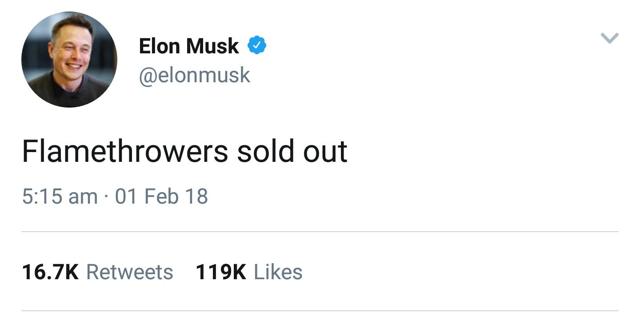 Musk has even utilized these tactics when dealing with Tesla directly. The "release" of the second-generation Tesla Roadster in November of 2017 was a blatant attempt to distract the public from a disappointing third quarter. Tesla's "hype" was slowing and Musk had to do something about it. In fact, the debut could be seen as another fundraising event for Tesla as well, with each car fetching a $50 Thousand reservation fee and limited founder series cars costing a quarter of a million dollars. Elon Musk has been successful in building a fan base that rivals that of Steve Jobs. And although this is a tremendous asset to Tesla, especially in times of financial strife, investors must be wary not to succumb to the same tricks that the average teenage fanboy would swoon over.
Tesla's Competition
            The Old Guard of the automotive industry is late to the game and there's no doubt about it, but they have billions of dollars to spend and a supply chains spanning several continents to make sure that they don't continue to lose their precious market share. Of the old guard, GM and Daimler are currently the most appealing as they both have rolled out comprehensive plans for electrification and have a head start in comparison to their slower competitors. The biggest issue with these companies and Tesla is the massive discrepancies their market caps. Tesla boasts a market cap of $57 Billion while its much older competitors GM and Daimler have market caps of $58 Billion and $94 Billion. And this is all despite the fact that Daimler as a comparable luxury automaker produces over 2 million vehicles a year and GM produced a record 10 million cars in 2017, while Tesla struggles to get 100,000 cars off the line each year. And although it can be argued that Tesla's valuation is due to investors' faith in Musk and the company's future prospects, the same can now be argued for these century old giants.
            The two companies also have clear advantages in areas of tremendous importance in the automotive industry. While Tesla burns through cash and turns to Wall Street to raise capital, GM and Daimler have massive cash reserves that can be utilized to accelerate development of a new fleet of EVs. Both GM and Daimler also have a massive existing infrastructure of manufacturing centers located around the world, solving the problem of economies of scale, while Tesla is still attempting to finish construction on its first Gigafactory and produce more than just a couple thousand Model 3's each quarter.
            In October of last year, GM announced that it would reveal 2 new EVs that would be built on the Bolt's platform in the next 18 months and that there would be an additional rollout of 18 EVs by 2023. This ambitious beginning to GM's electrification allows them to get a head start over the rest of the industry giants that are still stuck in their complacent mentalities. GM's recent sales and exits of money-losing European operations further demonstrates the extent to which GM is invested into EVs. In fact, Mary Barra, Chairman and CEO of GM, has claimed that GM will be making a profit on its electric cars as early as 2021, while Tesla is still losing over $500 Million a quarter.
            GM has already proven themselves with the massive success the Bolt has had over the past year that it has been on sale. For comparison, in the third quarter of 2017, Tesla had its best quarter in terms of production, delivering 26,150 vehicles. Optimistic full-year estimates for 2017 indicate Tesla will have delivered 100,000 cars for the year, a 31% jump over 2016. But these sales numbers pale by comparison to the Chevy Bolt, Tesla's most comparable competitor at the moment.  In November 2017, the Bolt achieved record sales of 2,987 while sales across the entire Tesla lineup totaled 3,555 vehicles. And the Bolt hasn't yet become fully available throughout the US. This comparison alone shows how Tesla's astronomical stock valuation is built mostly on Elon Musk's word and his cult following.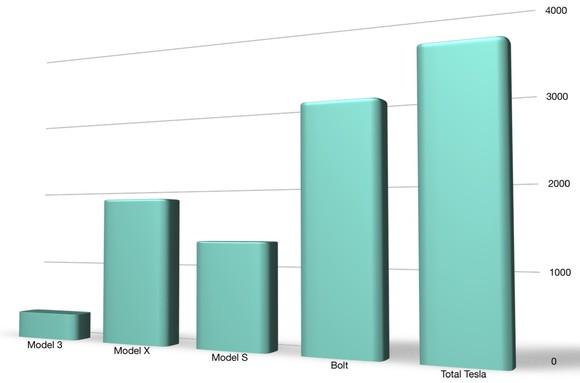 DATA SOURCE: INSIDEEVS AND GENERAL MOTORS. CHART SHOWS INSIDEEVS' ESTIMATES FOR U.S. SALES OF EACH OF THE THREE TESLA MODELS IN NOVEMBER, AND THE OFFICIAL GM SALES TOTAL FOR THE BOLT. 
            Daimler went a different route, rolling out a new sub-brand under the name EQ, similarly structured to its other sub-brands, AMG and Maybach. Daimler has also set plans for 10 production EVs by 2025 while pouring in over $10 Billion into EV development. But Daimler has also planned to attack the EV challenge through a new form of hybridization for its performance oriented AMGs under a new engine platform. The new hybridized engine platform has provided Daimler an opportunity to test new battery technology without having to take the full leap.
            Daimler, being a mass-producing luxury brand, is also considered more of a direct competitor to Tesla even as the Model 3, a car Elon Musk touts as mass market and affordable, hits the streets. The fact of the matter is that Tesla is still and could potentially always be a luxury brand. Even as Model 3 production ramps up Tesla is still appealing to luxury car buyers; with a base price of $35,000, the majority of orders will be in the high forties and low fifties. People considering buying a Model 3 don't consider a Toyota Camry as their alternative; they look at Mercedes's C-Class. And as of now Mercedes is the king of mass production luxury. With a lineup ranging from the low thirty thousands to some six figure cars, Mercedes will make it difficult for Tesla to get any more share of the luxury car segment.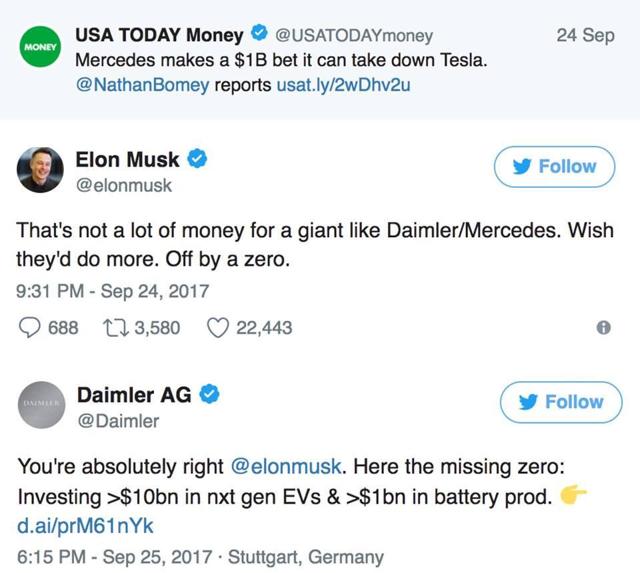 These two giants of the automotive industry are just what Tesla investors should be wary of. They are a testament to the fact that Tesla has no real competitive advantage over its rivals. It is ignorant to believe that Tesla can maintain a monopoly in the premium EV space. Executives at the established automakers are not sitting around watching what Elon will do next. They're utilizing all of the billions of dollars of resources their companies have spread out around the globe to crush the little pest that Tesla is to them. 
The Bottom Line 
            Tesla is burning through whatever cash it has while posting constant losses of over $500 Million each quarter. All this is happening while production setbacks occur with what is arguably Tesla's most significant product. Bottlenecks in the supply chain and manufacturing of the Model 3 are showing no sign of stopping and the timing of this could not be worse for Tesla since this is all occurring just as the established automotive giants are beginning to introduce competitive alternatives.
            The recent asset-backed securitization Tesla has taken part in is a signal of an age where Tesla will have to keep turning to Wall Street in order to stay afloat in a period of massive growth. This unhealthy reliance on the banks means that Tesla's success could be completely contingent on the continued support of Wall Street. And with a bear market being an eventuality, the window is closing for Tesla to start making some money before the banks become unwilling to finance Musk any longer.
            There are dozens of established automakers lining up to take back their lost market share and I've just presented two examples. It is simply naïve to assume, that just because Tesla is a glamorous new start up out of Silicon Valley with a celebrity CEO at its helm, it will destroy its old and boring competition all while reinvented a century old industry and saving the world from carbon emissions. Elon Musk may be a genius by all means but that doesn't mean that the executives leading the old guard are a bunch of idiots; they are all seasoned professionals with decades worth of experience that Tesla just doesn't have. The automotive industry is one with a long history of young upstarts that have all had to overcome similar barriers. The only difference between those veteran companies from 100 years ago and Tesla is just that: they waited 100 years to get their $50 Billion valuations.
Disclosure: I am/we are long GM.