First of all, I would like to thank SeekingAlpha invite me to write article and this is a great opportunity for me to communicate with the different investors.
China Economy
I am a Chinese with 6 year investment experience and spent 23 years in China. Nowadays, we can see China is not doing a great job in economy, especially in stock market. The SSE Composite Index fall to 2659.37 from 3413.57 in one year, almost 30% down and the down trend will continue at least 3 months.

Source:TradingEconomic
The consumers also afraid the uncertainty in the future and this start to crash their confidence in early 2018.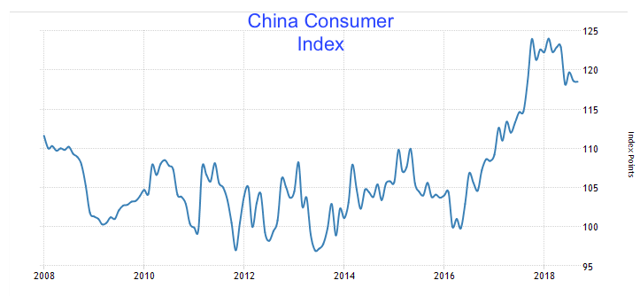 Source:TradingEconomic
Since China is transforming its economy structure, someone may said maybe it's time to let the capital flow freely, but there are 3 major challenges China has to encounter.
At first, China's economy is largely relying on investment overseas and exports, which means China's national demands are not strong enough. Under this circumstance, free capital flows will let plenty of capital outflow and seek for higher return in US or the other countries, causing RMB depreciate seriously and make the capital outflow more serve. According to the data released by China's State Administration of Foreign Exchange, there are $700 billions capital outflow between 2015-2016, causing China's Foreign Exchange Reserves decrease for the first time.
Secondly, the Household Debt Ratio in 2017 is 58% due to the extreme bubble in China's housing market, the 2017 Average House Price-to-Average House Income in Shenzhen, Beijing, Shanghai are 40x, 28x, 26x, respectively. If the capital become free flow, large amount of capital outflow not only will increase the money that trapped in the housing market to cash out and seek for alternative investment oversea but also will force Chinese government to rise the interest rate to attract the capital inflow, which will worsen the mortgage and household can't pay their debts and have to give up their house to banks. When the banks sell the house in the market try to cover their loans they made, the housing price will drop quickly, just like to 2008 financial crisis.
Last but not least, the Trade War is seriously hurting China's economy, China have to implement the open market operations to let RMB to depreciate to offset the negative effect of the tariffs. So we can see  China's Foreign Exchange Reserves declined $70000 million in order to offset the tariffs and keep the RMB stable.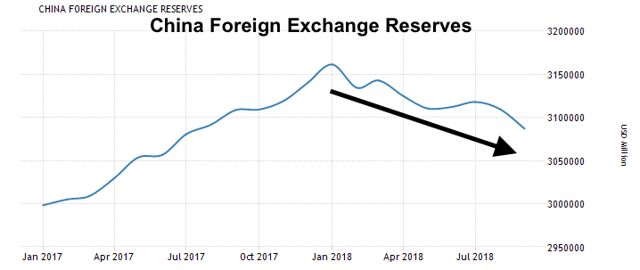 Source:TradingEconimic
As the impossible Trinity shown, if China decides to allow free capital flows, it has to undertake the consequence that it can no longer control the exchange rate.
In conclusion, I think there are much more challenge in the way, such as society and market stabilization. But China will gradually open its capital market and let capital free flows, it may take 30 years or longer to achieve that I guess.
U.S. Economy
In terms of the U.S., the economy is doing so great at past 10 years, it created the longest bull market in the history. But for now, this seems like too good to be true. We noticed that the spread between 10-years treasury and 3-months treasury is going down for a long time and now is lower than 1%.

Source:Fed
As we see the shade areas on the graph, which mean the recessions. The negative spread between 10-years treasury and 3-months treasury predicted all the recessions, at least for now.
Secondly, the total amounts of debts in U.S. increased sharply, the high amounts of debts are very easy to trigger the another crisis.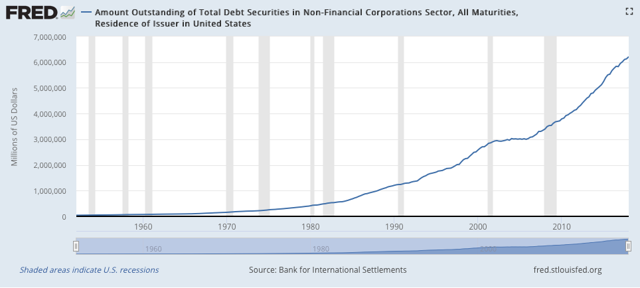 Source:FedWhen? Let't look at the U.S. Corporate Rated Debt Maturing Schedule provided by Standard & Poor.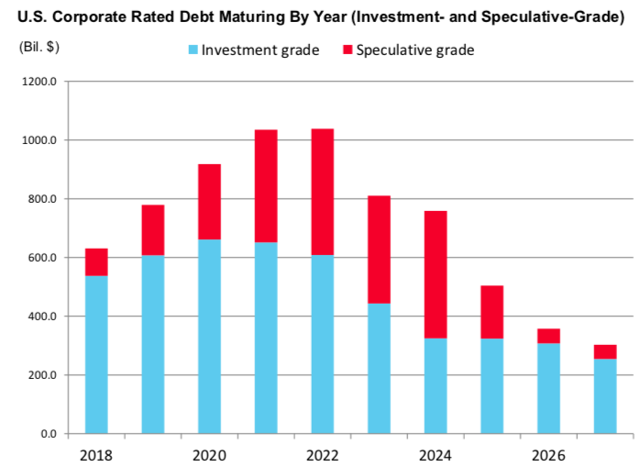 Source: S&P Global Rating
It has the high probabilities for large amount of debts to default in 2020-2022. So I forecast the next bear market will in this period.
Starbucks in Today's China
Starbucks(SBUX) is not only the my most favorite coffee brand but also the most attractive stock in my portfolio.
This year, Starbucks didn't has too much breakthroughs until the Q4 Earning released.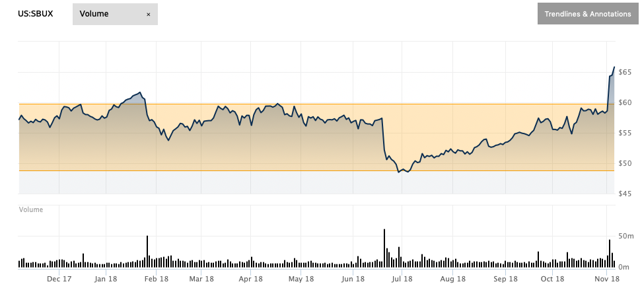 Source: WSJ
Q4 Consolidated Net Revenues Up 11% to Record $6.3 Billion
Q4 Comparable Store Sales Up 3% Globally Driven by 4% Growth in the U.S.
China Comparable Store Sales Up 1% in Q4, Improved from -2% Reported in Q3
GAAP EPS of $0.56; Non-GAAP EPS of $0.62, Up 13% Year-Over-Year
Active Starbucks (SBUX) RewardsTM Membership in the U.S. Increases 15% Year-Over-Year to 15.3 Million
China is still an undervalue market for Starbucks, the annual consumption on coffee per middle class in china is less than 1 but the annual coffee consumption per capita is 300. Using the middle class to compare the total population in U.S. deducted the financial constrain.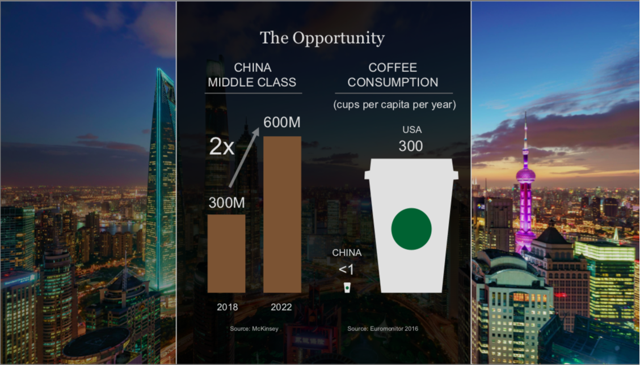 Source: Investor presentation
Since Starbucks cooperate with Alibaba(BABA) to deliver its coffee in different online platforms, this will increase the convenience for customers and take back some market share from some Deliver coffee brand like Luckin.
One thing I want to mention is that the Total debt to Free cash flow for Starbucks is only 0.95x, which provide great cushion from financial aspect.
I will keep long the Starbucks(SBUX) until the EV/EBITDA reach 20x, my target price is $85, then it's a new stage for Starbucks and we need to evaluate it again.
I will write some articles to cover Twitter(TWTR),Apple(AAPL) and the other stocks in my portfolio.
Disclosure: I am/we are long SBUX.
I wrote this article myself, and it expresses my own opinions. I am not receiving compensation for it (other than from Seeking Alpha). I have no business relationship with any company whose stock is mentioned in this article.