YouTube rivals cable TV
Google (NASDAQ: GOOGL) has recently stepped into the fight against cable TV with its YouTube TV subscription service. This is a paid subscription service that can stream broadcasts and cable networks to all of your technological devices.
Google is offering packages known as "skinny bundles" to its users. A skinny bundle is an assortment of television programs that includes only the channels that the user really wants. This means that the consumer pays less ($35/month) to get access to the channels that they actually watch. Media giants like CNN and MTV have not yet gotten on board but this has not stopped YouTube from reeling in CBS, ABC, NBC, and Fox. It seems like YouTube has caught the big fish already, but many users will wait to ditch their traditional cable packages until the auxiliary channels are also included in YouTube's package.
If you are a fan of football, this deal might not appeal to you due to the NFL's deal with Verizon which disallows NFL streaming to your mobile device. Regardless, this service gives you access to 40 other providers, including ESPN, with a cloud DVR of unlimited storage. With competition growing from the likes of the Sony PlayStation Vue, AT&T's DirectNow, and a new product coming from Hulu, YouTube and their parent company will have some work to do to stay ahead of the game. To raise money for the future of the subscription service, Google will sell ads on YouTube TV.
These ads will hopefully continue to drive revenue growth. As Forbes reported in October of 2017, 1.5 billion monthly viewers on YouTube watch 60 minutes of videos each day on their phones and tablets. This is a large step from where the company was in 2012. In 2012 the company stated that it streamed 100 million hours of video each day. 5 years later, Google CEO Sundar Pichai shared with investors in an earnings call that it now sees more than 1 billion hours of watch time across all devices each day.
100 million hours of that daily 1-billion-hour figure comes from views in family living rooms. With YouTube now stepping into the TV-game, that figure will only continue to grow. YouTube plans to bring a YouTube TV app to Apple TV and Roku by Q1 of 2018.
There could be enough value in YouTube's long term growth to warrant buying Google at its current price. As the internet continues to spread across the globe, internet companies will continue to profit.
Globalization of the Internet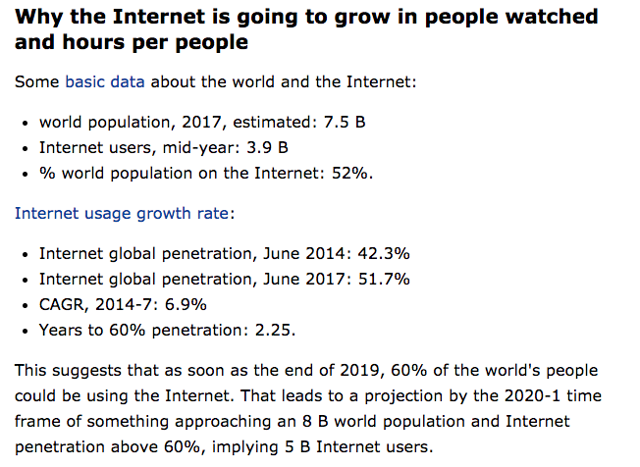 Source: DoctoRx
YouTube, the #1 website in minutes spent per visit, will undoubtedly reap benefits as the global community gravitates toward the internet. If YouTube was a company itself, rather than a subsidiary, it would be an attractive buy. Nonetheless, it can prove to be a strong growth driver for Google as it continues to deliver more products and grow its platform. Google has only recently attempted to monetize the platform but the company has done so rather successfully. In regards to ad revenue, YouTube has a 95% ad viability rate, compared to an average 60% across the industry.
Moving forward, YouTube has a lot of exciting growth opportunities. If the platform can successfully fight back against recent atrocities by online predators on their website, then YouTube will have a sound financial future. The first quarter of 2018 will be a big one for Google and its subsidiary as new products roll out and YouTube's successes continues to be monetized.
YouTube as its own stock
If YouTube was selling shares on an exchange, Aegis Capital analyst Victor Anthony argues that it would be worth at least $75 billion. Its growing success in emerging markets is a main source of growth for Google itself.
Analysts predict a rocky 2018 for Google on account of the recent fines issued to the company. The EU fined Google $2.7 billion for giving its platform preference over its competitors in regards to online shopping. These antitrust fines are not expected to be over soon.
In spite of this, the stock is up over 30% on the year, and if the new tax plan decreasing corporate taxes is approved, growth will likely continue. Back in October when Alphabet released earnings, the company beat estimates on both EPS and revenue. Thomson Reuters had predicted an $8.33 adjusted EPS and revenue of $27.2 billion. Alphabet beat EPS with $9.57 per share and posted a revenue of $27.7 billion. These numbers were phenomenal considering Alphabet's situation a year prior with adjusted earnings of $7.25 a share and a revenue of $22.45 billion.
Anita Balakrishnan of CNBC writes that a majority of this revenue came from advertisements.
"Here's how Google's ads performed:
TAC: $5.502 billion vs. $5.24 billion expected by StreetAccount
CPC: decline of 18 percent vs. decline of 16.3 percent expected by StreetAccount
Aggregate paid clicks: rise of 47 percent vs. 46.1 percent expected by StreetAccount"
YouTube has received a fair amount of criticism in the past few months due to its condoning of inappropriate content in videos that ranged from hate to terrorism. Companies like Verizon and Coca-Cola have pulled their advertisements from the platform as a result. Investors originally feared that this situation would have spillover effects onto Google's overall business. Shares fell about 6% in response to the advertisement pull, but YouTube's skinny bundle service has not yet been affected.
Brewing competition with Amazon
The same day that Google announced that it would be pulling YouTube from Amazon products, Amazon released a trademark application for a service cleverly titled "AmazonTube." The two companies are fiercely competing for majority stakes in many technological sectors.
Amazon is aiming to become as omnipresent as possible in 2018 and what they're missing is a platform of original visual and audiovisual content. And the growing rivalry with Google makes sense; the video streaming industry is highly lucrative. While brand advertisers and marketing firms used to look to TV (think Mad Men) when they wanted to reach target demographics, nowadays they are marketing on mobile and computerized devices.
Forrester Research is predicting that by 2025, 50 % of all TV viewers under the age of 32 will no longer subscribe to a traditional cable TV package. About 75% of the population are still in the group that pays for cable television at some level, yet the future remains bleak for cable TV providers. Consumers are demanding more services on computerized devices. The first companies to bring services to these devices will be the most successful in the digital age. This fact explains why Google deemed it necessary to pull its products from Amazon's platforms—as to not give the e-commerce giant any additional footing in this growing battle. The figure below shows how YouTube currently dominates the online video market and explains why Amazon is launching its own platform in hopes of competing.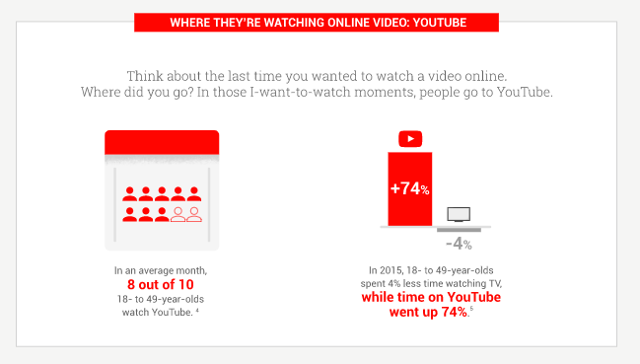 Source: Thinkwithgoogle
YouTube has turned out to be a solid investment for Google. Google originally paid $1.65 billion for YouTube in 2006. Now, YouTube accounts for 6% of Google's ad sales revenue each year. As the platform grows, so will ad revenue. This will propel the growth of Alphabet unless Amazon can gain solid footing to compete in the video streaming marketplace.
The Bottom Line for Alphabet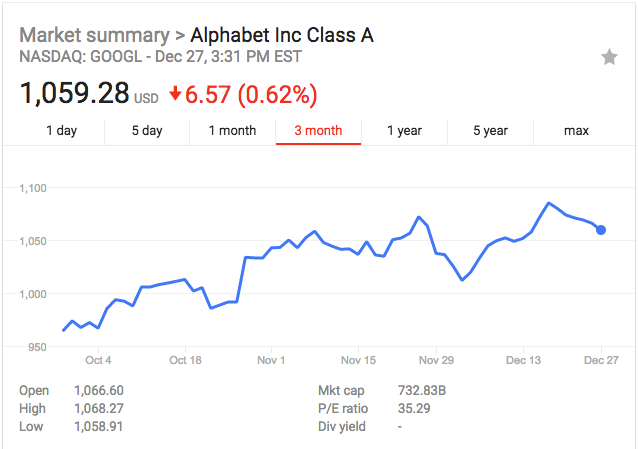 Alphabet closed the year on a steady 3-month climb and will continue to climb into 2018 as a result of the success of its subsidiaries and corporate tax cuts. The future of Alphabet will rely on a steady demand increase for mobile searches. While the globe gravitates toward the internet, this demand will likely continue. Investors have typically been more attracted to FANG stocks that produce tangible content and products like a Facebook (NASDAQ: FB) or Amazon. The recent pushes to create new content on YouTube and generate more ad revenue have appeased investors for now.
The company's market capitalization stands at $730 billion which is up 31% on the year. If Alphabet can maintain even half of that growth in the face of antitrust fines and growing competition, 2018 will be a happy year for both Alphabet and its investors.