In Trading Gold Producers Using GLD Bullion Inventory Levels As A Signal, Feb 9/16, I showed back test results for long/short trading of gold producers using a simple rule based strictly on end-of-day changes in GLD inventory levels. In a nutshell, the trading algorithm was:
Ignore all days where the GLD bullion holdings is unchanged from the previous day.

Go long in a gold producer after two consecutive increases in GLD bullion holdings.

Close long positions after the first decrease in GLD bullion holdings occurs.

Go short in a gold producer after two consecutive deceases in GLD bullion holdings.

Close short positions after the first increase in GLD bullion holdings occurs.

All trades are assumed to be executed at the closing prices on the next trading day after a trading signal was generated so there is zero chance of any look ahead bias.
Back test runs from the inception of the GLD suggested that the simple algorithm outlined above warranted further investigation as it demonstrated a better return than a long term buy and hold strategy for some gold producers over a time period spanning both up and down markets.
In February the gold price trend is looking much stronger than it was at the beginning of the year (Odds Of A Gold Price Uptrend Are Improving, Feb 17/16) and coupled with the greater than $750M increase in GLD bullion holdings on Friday Feb 19/16 (see GoldMinerPulse page for daily signal updates), it is time to look for a trading strategy tuned for a gold bull market run. 3 Reasons Why This Gold Rally Is The Real Deal, Feb 11/16, by Frank Holmes was a very good early call on this latest build up in gold prices.
With the Friday GLD close, a "Go Long" signal was generated for execution at the Monday Feb 22/16 close and will remain in effect until the GLD shows an outflow in bullion holdings. I propose trading this GLD event using near term GDX CALL options.
A Limited GDX Back Test
The last multi-quarter gold price bull run occurred roughly between January 2009 and some time before end of H1/2013. As the plots in Outlook For Gold and Gold Equities in 2016 show, 2008 was a year in which the gold price trend failed - 6Q trend on December 2007 was clearly up while the actual 2008 gold price trend was down.
Over the 2009 to 2013 time frame, a buy and hold on the GDX (assuming a buy on Jan 2/09) returned:
41% if you exited your long position on Jan 2/13

14% if you exited your long position on Mar 28/13

-27% if you exited your long position on Jul 1/13
However, buying GDX using the GLD signal outlined above generated a return of 79% over the Jan 1/09 to Jul 1/13 time period. The last GLD signal generated in that time period was a "Close Long" position signal on Dec12/12 for execution at the close of trading on the next day. No further long signals were generated between Dec 12/12 and Jul 1/13 - a good thing when one looks at the losses the buy and hold investor incurred holding in the Jan 2/13 to Jul 1/13 time period.
Further statistics on the GLD trading signal, applicable to any ETF or stock, in the Jan 1/09 to Jul 1/13 period were:
Number of round trip trades: 42

Average hold period: 5 days

Longest holding period: 34 days

Shortest holding period: 1 day

Distribution of position holding periods is plotted below along with % returns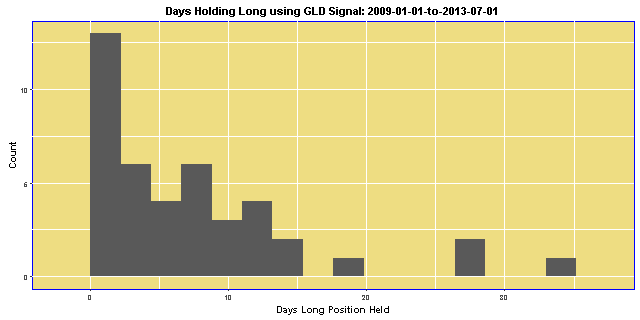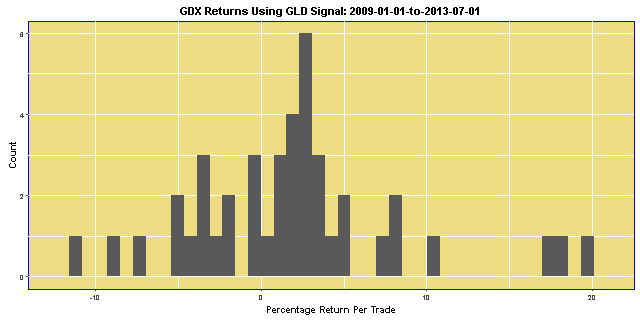 GDX CALL Option Strategy
Although one could trade specific gold producer stocks (the GDX is typically made of the intermediate and major gold producers) using the same GLD signal, I prefer using GDX and more specifically GDX CALL options for the following reasons:
Good individual stocks can have nasty surprises. For example, see Anticipating And Trading The Agnico Eagle Mines (NYSE:AEM) 2015 Full Year Results for the massive sell off in AEM after unexpected news of a mine shut down in 2011. The GDX gives an investor a good basket of producers and guards against individual disasters such as the AEM Goldex event.

Some producers have yet to report full year 2015 results and they or may not surprise investors with unexpected impairment charges. For example, see Anticipating Goldcorp Inc. (NYSE:GG) 2015 Full Year Results. But if GG only has good news, then GG will play some catch with its peer producers. Again, the GDX provides balanced exposure to the upside without excessive down side risks.

Average holding times and maximum holding times based on the GLD signal are relatively short, suggesting that maximum leverage can be obtained using a near the money or in the money near term CALL option (e.g. a March or April Call for the Feb 19/16 Go Long signal) to capture much of the probably upside while limiting down side risk to the cost of the option.

Option pricing formulas for GDX options, at least traditional models, do not include the GLD signal outlined above. Therefore I believe a trade based on the GLD signal is not only actionable but very likely to yield a much better return than trading GLD, GDX or individual gold producers positions. However, I have not back tested this GDX option trading strategy as I do not have access to GDX option price history (but will do so if I find a historical option price data source). Therefore I am proposing a real time forward test to prove out this strategy - I also trust forward test much more than I trust back tests.

I am using closing prices since limited back tests on GDX positions showed slightly better average returns using closing positions rather than opening prices. Of course, picking a price near the high for a sell (or low for a buy) of the day would be best but is also extremely difficult to execute. Closing price is simple to execute and can be measured without ambiguity making it the ideal choice for test purposes.
There are of course many other factors to consider in using an option trading strategy and I am not qualified to provide any such financial advise. If in doubt please consult a qualified investment advisor before using any option trading strategy.
Conclusion
I will post comments to this article to detail specific GDX CALL option buy/sells per the above rules on a going forward basis. If my assumption for this GDX CALL option strategy is valid, then a real time forward looking test is the best means of proving the strategy and will carry more weight than any back test strategy.
In summary, the test strategy is very simple:
Buy a GDX March CALL option at prices available near or at the Feb 22/16 close (choice to be made based on available prices). While an April call would likely cover 100% of all likely holding periods, the time premium costs for the extra month is probably not warranted since the position will likely be closed before the March CALL expires (avg holding period is 5 days).

The balance between using in the money and near the money strike prices requires a yet to be determined judgment call. My up front bias is to use near the money options to maximize returns on the likely big wins while limiting losses on the more frequent short term holding periods. Again, more experience would be useful in making this trade-off.

Close the CALL option the day after the GLD shows an bullion out flow event, again using the end of day GDX option price.

Repeat above steps the next time a GLD shows two consecutive increases in bullion holdings.

Value of this the GLD signal for trading GDX options will be self evident in the course of 2016.
I look forward to all comments and discussions.
Disclosure: I/we have no positions in any stocks mentioned, but may initiate a long position in GDX over the next 72 hours.