We recently discovered this article written by Lawrence Zack Galler while looking for background information surrounding Prospect Capital's valuations.
Galler demonstrates that the company increased the valuation of its portfolio relative to the range provided by its third-party valuation firms.
We decided to take a closer look, and publish an updated analysis.
We note that in the filings leading up to Galler's analysis, Prospect Capital increased the value of its portfolio relative to the mid-point for 10 consecutive quarters. This has the effect of mitigating losses in net asset value.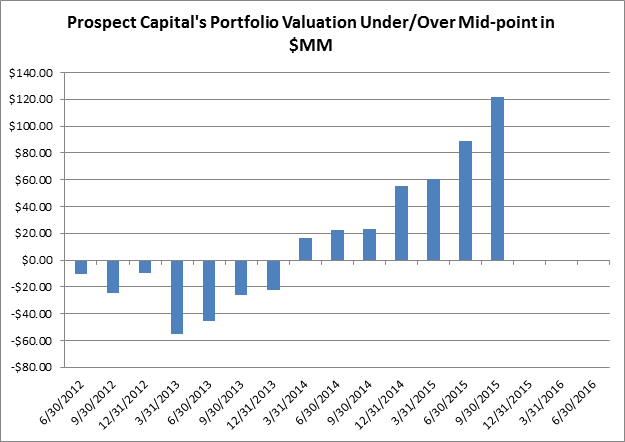 We wanted to continue this analysis for the three quarters following Galler's article. However, we found that Prospect Capital no longer provides the necessary data in its financial reports.
This information was provided in financial reports leading up to the filing for the period ended 12/30/2015. In prior filings, Prospect disclosed a range (low to high) of estimates provided by its valuation consultants.
We question why Prospect would stop providing disclosure about the valuation of its portfolio companies. Prospect removed this disclosure from its filings immediately after it was used to show Prospect's marks were increasing relative to a range provided by third parties.
Shareholders silenced
Shareholders do not have means to show their discontent with the company's portfolio valuation.
Prior to the 2014 proxy, shareholders were asked to ratify the selection of its auditor. Starting in 2014 and continuing through 2016, Prospect did not ask shareholders to ratify its selection of its auditor.
A study published in the 2012 found that companies which allow a vote on auditors:
Are less likely to issue restatements of financials
Show fewer abnormal accruals in financial results
The study concludes that "shareholder involvement in auditor selection strengthens the power of the auditor in any negotiations with management and increases the 'pressure to perform' on the auditor.'"
"If there is a shareholder vote, then questions will be raised if an auditor who routinely gets 98 percent ratification drops down to 95 or 90 percent support from shareholders."
We note that increases in the value of the portfolio were most pronounced after shareholders lost the privilege to ratify the selection of its auditor.
Conclusion: We believe companies that respond to unflattering analyses of their financial results by removing disclosure are doing so to hide problems from shareholders. We believe that Prospect Capital is overstating the value of its portfolio companies, and sweeping the evidence under the rug.
Disclosure: I/we have no positions in any stocks mentioned, and no plans to initiate any positions within the next 72 hours.