Sadly, Rite Aid's (RAD) stock has continued to test multi-year lows, dipping as low as $0.98/share on October 23rd. We previously provided our views on how shareholders can vote to change RAD's failing status quo at the October 30th annual meeting (see our article from last Friday entitled "Rite Aid - Vote 'Em Out On October 30th"). With just a few days remaining before the meeting, RAD shareholders must realize that their leverage to effect change at the company will soon evaporate for another year (i.e., until the 2019 annual meeting). Thus, it is imperative that RAD shareholders act now and demand desperately overdue reform at next Tuesday's meeting, namely, by voting against all incumbent directors (Proposal No. 1), voting against approval of RAD's executive compensation system (Proposal No. 3) and voting in favor of the stockholder proposal to separate the board chairman and CEO positions (Proposal No. 4).
The Case For Governance Reform (Continued)
Believe it or not, since penning our last (admittedly lengthy) article we have come up with even more reasons to vote against the status quo at Rite Aid. We list these as briefly as possible, as follows:
1. Broken Compensation System: We went through all of RAD's proxy statements from 2000 to the present in order to reconstruct a comprehensive picture of incumbent CEO Standley's compensation since first entering the RAD C-suite in December 1999, in light of the fact that RAD states on page 26 of the annual meeting proxy statement that "the Company's compensation programs for its Named Executive Officers have been effective at...appropriately aligning pay and performance" and on page 38 of the proxy that "[w]e believe strongly that pay should align with performance and this focus is reflected in our executive compensation programs". Below is a table with Standley's yearly executive position and realized pay and benefits, along with a comparison showing how RAD's shareholders have fared (in terms of RAD's stock price and dividends paid; all amounts below in $):
| | | | | | | | |
| --- | --- | --- | --- | --- | --- | --- | --- |
| Fiscal Year | Standley Executive Position | Base Salary | Cash Bonus | Total Annual Cash Pay | Perquisites & Other | Stock Price | Dividends Paid |
| 2000 | CFO | 135,385 | 0 | 135,385 | 0 | 8.25 | 0.00 |
| 2001 | CFO | 675,769 | 528,317 | 1,204,086 | 85,708 | 6.50 | 0.00 |
| 2002 | CFO | 720,000 | 150,000 | 870,000 | 56,162 | 6.09 | 0.00 |
| 2003 | CAO/CFO | 803,077 | 750,000 | 1,553,077 | 626 | 3.02 | 0.00 |
| 2004 | CAO/CFO | 805,000 | 702,263 | 1,507,263 | 609 | 2.42 | 0.00 |
| 2005 | CAO/CFO | 830,000 | 0 | 830,000 | 73,126 | 5.66 | 0.00 |
| 2006 | CAO/CFO | 464,115 | 0 | 464,115 | 41,920 | 3.83 | 0.00 |
| 2009 | Pres&COO | 373,846 | 96,750 | 470,596 | 72,840 | 1.59 | 0.00 |
| 2010 | Pres&COO | 900,000 | 0 | 900,000 | 361948 | 0.24 | 0.00 |
| 2011 | Pres&CEO | 966,539 | 0 | 966,539 | 346,963 | 1.53 | 0.00 |
| 2012 | Pres&CEO | 1,019,231 | 4,485,559 | 5,504,790 | 318,669 | 1.29 | 0.00 |
| 2013 | CEO/Chairman | 1,000,000 | 4,654,700 | 5,654,700 | 365,251 | 1.67 | 0.00 |
| 2014 | CEO/Chairman | 1,035,000 | 4,200,000 | 5,235,000 | 513,836 | 1.68 | 0.00 |
| 2015 | CEO/Chairman | 1,150,000 | 2,991,291 | 4,141,291 | 419,633 | 6.58 | 0.00 |
| 2016 | CEO/Chairman | 1,150,000 | 4,705,038 | 5,855,038 | 304,923 | 8.10 | 0.00 |
| 2017 | CEO/Chairman | 1,184,500 | 0 | 1,184,500 | 792,334 | 7.97 | 0.00 |
| 2018 | CEO/Chairman | 1,219,857 | 1,825,943 | 3,045,800 | 634,419 | 5.45 | 0.00 |
| 2019 YTD | CEO/Chairman | 813,238 | 3,000,000 | 3,813,238 | 422,946 | 1.06 | 0.00 |
| | TOTALS | 15,245,557 | 28,089,861 | 43,335,418 | 4,811,913 | -87.2% | 0.00 |
(Please note that for FY 2019 year-to-date numbers for base salary and perquisites, we have pro-rated against FY 2018 levels, assuming no increase; in addition, we have included the $3 million "retention payment" that Standley received in August 2018 (as per page 51 of the proxy) in the "cash bonus" column. The listed stock prices correspond to the beginning of each respective fiscal year, except for (1) FY 2000, where we used the stock price immediately prior to Standley's appointment as CFO, (2) FY 2009, where we have used the stock price as of June 30, 2008, the date we estimate Standley became an advisor to then RAD CEO Sammons (see disclosure in this Form 8-K), and (3) FY 2019, where we have used the stock price as of October 25, 2018. Finally, although $0.35/share in dividends were paid out in FY 2000, no dividends were paid after Standley joined the C-suite in Q4 of that fiscal year, per page 16 of the FY 2000 Form 10-K, so the amount listed in our table for this year is zero.)
From the above, we see that since FY 2000, Standley in his various capacities at RAD has received a grand total of $43.3 million in total cash compensation (base salary plus annual cash bonuses), plus an additional $4.8 million in perquisites and other compensation. Moreover, in 2003 and 2014 Standley exercised stock options and sold a total of 1.33 million RAD shares, netting him an additional $6.8 million in cash proceeds (see here and here). Thus, Standley has realized a grand total of $54.9 million in immediately available cash compensation and benefits over the past 19 years (during which he was only out of RAD's C-suite for approximately three years), while RAD's stockholders have suffered a total shareholder return of -87% (with zero dividends paid) during that period. Is this evidence of the "alignment of pay and performance" the proxy claims the company demands, or are these just empty words? Moreover, the foregoing analysis completely excludes the significant value attributable to the unexercised stock grants Standley has accumulated over the years. On this point, page 71 of the proxy states that Standley currently has economic exposure to over 16.2 million RAD shares (including 11.9 million shares which may be acquired within 60 days by exercising stock options).
Note that the incumbent compensation committee directors cannot (and should not be allowed to) evade responsibility for foregoing, given the following: (1) the current chair of this committee, Marcy Syms, has been on the board since 2005 (and has been a compensation committee member since 2010); (2) director Michael Regan has been a RAD director since 2007 (and has been a compensation committee member since 2014), and (3) the newly-appointed Board Chairman Bruce Bodaken has been on the compensation committee since 2014 (source: RAD proxy filings, 2010-2018). In our view, the most exorbitant compensation levels for Standley have been approved during their respective tenures on the committee, which is probably why Egan Jones has (so we understand) recommended that shareholders withhold their votes from these directors. It is also probably a major reason the Teamsters have urged shareholders to vote against RAD's "Say-on-Pay Proposal" at the annual meeting.
2. RAD's independent directors have virtually no skin in the game. If RAD's leadership honestly has a "commitment to align Rite Aid's interests with those of our stockholders" (as stated on the cover page of the proxy), shouldn't the independent directors be willing to put their money where their collective mouths are by buying meaningful amounts of stock with their own money, just as the shareholders have to do? Below is a table showing how much "skin in the game" the current slate of independent directors has (sources: page 71 of proxy and SEC list of RAD insider transactions):
Director
# of Common Shares
Beneficially Owned
# of Common Shares
paid for with own money
RSUs Vesting by 10/30/18
# of Common Shares
owned outright
Year Joined BoD
Joseph B. Anderson, Jr.
395,288
0
355,288
40,000
2005
Bruce G. Bodaken
129,276
0
31,250
98,026
2013
Robert E. Knowling, Jr.
0
0
0
0
2018
Kevin E. Lofton
114,074
0
11,048
103,026
2013
Louis P. Miramontes
0
0
0
0
2018
Arun Nayar
0
0
0
0
2018
Michael N. Regan
395,288
0
355,288
40,000
2007
Marcy Syms
395,288
0
355,288
40,000
2005
TOTAL
1,429,214
0
1,108,162
321,052
% of O/S Shares
0.13%
0.00%
0.10%
0.03%
From the above, we see that as a group the eight nominated independent directors have economic exposure to 1.43 million shares, or about 1/8th of 1% of the aggregate outstanding share count of 1.06 billion shares. Moreover, these same directors currently own outright a measly 321,052 shares, or 1/33rd of 1% of the total RAD shares. And as a group they have bought exactly ZERO SHARES on the open market(!). Alignment of interests? Hardly.
3. The three newly nominated directors are over-boarded - Pages 13-14 of the proxy statement disclose that RAD's three newly nominated independent directors, Knowling, Miramontes and Nayar, are already over-boarded, with Knowling currently serving on three company boards (Convergys Corporation, K12 Inc and Roper Technologies Inc), Miramontes on two (Lithia Motors, Inc and Oportun, Inc) and Nayar on two (Bemis Company, Inc. and TFI International Inc). Notably, none of these eight companies have anything to do with RAD's lines of business. Are these individuals really coming on the RAD board out of a deep passion for the drug store and pharmacy industry or are they simply looking for additional generous paychecks for part-time work? Frankly, we think the odds are minimal that any of these three will be willing to rock the RAD boat and demand further corporate governance reforms, which would likely result in them being stigmatized as "troublemakers" on not just the RAD board, but also on their other company boards (thereby jeopardizing their lucrative director fees).
4. Bruce Bodaken is the wrong choice for RAD board chairman - Director Bodaken is, in our opinion, an extremely poor choice for board chairman at RAD. Not only has Bodaken been complicit in perpetuating RAD's dysfunctional senior executive compensation system (as stated above, he has been a member of the compensation committee since 2014), but Bodaken has also been on the audit committee at Wage Works (WAGE) since 2006 (and was head of that committee from May 2009 to November 2014) (see page 7 of WAGE's 2017 proxy statement). And, you guessed it, WAGE has been engulfed in an accounting scandal since April of this year (see news coverage here and here). Finally, Bodaken has been on RAD's board for over 5 years and until the belated changes made in late September had apparently done little to rectify the company's poor corporate governance practices. Is this really the right person to lead RAD's board into the future?
5. Is anybody minding the store at RAD? - Finally, we note several troubling incidents regarding Rite Aid recently that call into question whether anybody on the board or in the C-suite is properly minding the store. First, just last month there was the $5.7 million kick-back scheme indictment of RAD's former VP of advertising, which allegedly continued undetected for 22 years(!) from 1995 to 2017: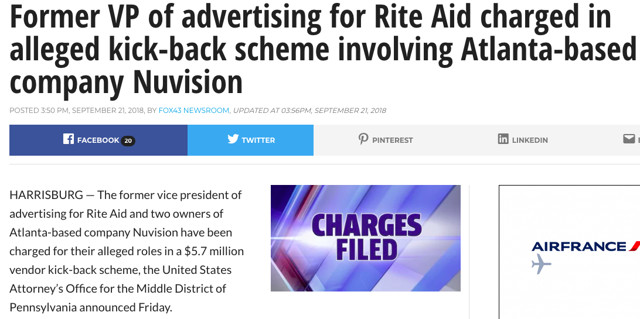 Next we note that on June 27, 2018, Rite Aid re-affirmed its FY 2019 guidance of adjusted net income per share of between $0.02 and $0.06 (see here), only to reverse itself just 40 days later, on August 6th, and lower guidance to a range of $(0.04) and $(0.00) (see here). It is also interesting in this respect that, according to Black Enterprise magazine, RAD's current COO Kermit Crawford (basically the number two executive at RAD, under CEO Standley) was asked to leave his former employer, Walgreens Boots Alliance (WBA), in August 2014 after that company drastically and unexpectedly reduced its guidance for FY 2016 (source here):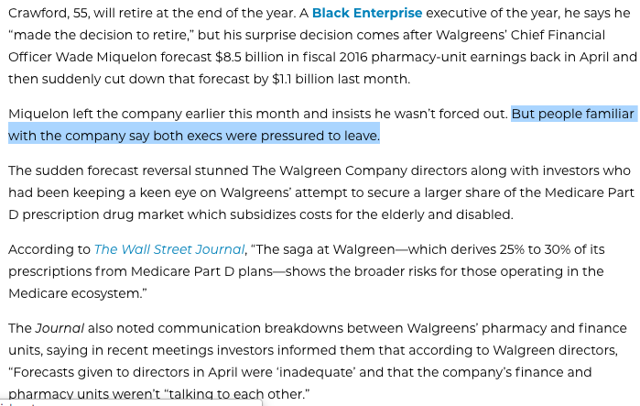 In addition, investors should recall the following rather embarrassing admission of error from pages 120-121 of the RAD-Albertsons merger proxy filing:
In connection with the preparation of this proxy statement/prospectus, it was determined that Rite Aid management's operating cash flow calculations had not included an addback of LIFO charges of approximately $30 million annually, [as a consequence of which its advisor Citi concluded] that the implied [RAD] equity value per share...would have been approximately $1.92-$3.08 per share...in the case of the discounted cash flow analysis (vs. approximately $1.83-$2.96 per share [as previously calculated]).... The Rite Aid board of directors concluded that the revision to Rite Aid management's forecasts to reflect the annual LIFO charge addback would not have changed its determination that the merger agreement was in the best interests of the Rite Aid stockholders at the time of such determination.
In light of the foregoing comedy (tragedy?) of errors, one has to wonder whether RAD's current leadership has any firm grasp on understanding or predicting the company's business.
Finally, we note the confession found on page 70 of the proxy statement that RAD "[has] determined that during fiscal year 2018...one Form 4 was filed late for each of Mr. Abelman, Mr. Anderson, Mr. Bodaken, Mr. Donley, Mr. Everett, Mr. Jessick, Mr. Karst, Ms. Konrad, Mr. Lofton, Mr. Martindale, Mr. Montini, Ms. Potter, Mr. Regan, Mr. Savage, Mr. Standley and Ms. Syms, due to an administrative error by the Company...." Moreover, the table on page 71 of the proxy, which lists the number of shares beneficially owned by each director, does not match the amounts set forth on several of the directors' actual Form 4s (for instance, the proxy states that (1) Joseph Anderson owns 395,288 shares, while his most recently filed Form 4 states that he owns just 380,567 shares; (2) Kevin Lofton owns 114,074 shares, while his most recently filed Form 4 states that he owns just 109,074 shares; and (3) Marcy Syms owns 395,288 shares, while her most recently filed Form 4 states that she actually owns 407,234 shares). It seems that attention to detail is not exactly a strong suit in RAD's corporate offices.
Shareholders: Demand Change Now
Next week's annual meeting represents RAD's shareholders' last opportunity for another year to demand sorely needed corporate governance change at the company. If you have already voted in favor of the company's director slate, please note that it is not too late to change your vote. In particular, we recommend that large shareholders (e.g., those holding one million or more shares) immediately contact Rite Aid's board and management and do the following:
Demand a new CEO. It is apparent that, after nearly two decades of failing to deliver value to shareholders despite being a member of RAD's senior executive leadership for the vast majority of that time, CEO Standley should be terminated and replaced with a new CEO from outside the company who actually has entrepreneurial skills. Standley has had his opportunity (and then some) and it simply hasn't worked--he needs to go. If not now, when?
Demand a new board chairman. Chairman Bodaken is part of the legacy group of RAD directors that has failed to take the necessary action to turn the company's operations around. RAD needs a new board chairman who actually thinks like, and stands in the shoes of, the shareholders. Logically, this person should be a representative of a major shareholder.
Demand that the three new RAD directors each drop one of their existing directorships. Being a director at our company is a privilege, not a right. If they desire to join the RAD board, each of the three newly nominated independent directors should pledge to retire from one of their existing directorships at the end of their current terms, so as not to be over-boarded once they join RAD's board.
Demand skin in the game from RAD's CEO and directors. To truly stand in the shoes of the shareholders, our CEO needs to put a significant amount of his own personal liquid net worth (in our opinion in Standley's case, at least $15 million) into buying RAD stock on the open market. If he is not willing to put his own money at risk betting on himself as CEO, why should the shareholders do the same? In addition, each of RAD's independent directors should buy a meaningful amount (as a percentage of such person's individual net worth) of Rite Aid shares on the open market.
Demand that RAD's senior executive compensation system be completely revised and replaced. The company's compensation system for senior executives needs to be immediately scrapped and replaced with a system that actually rewards performance that translates into shareholder value and penalizes performance that destroys it. In other words, we can't maintain the current broken system of "heads the shareholders and management win", but "tails the shareholders lose, yet management still wins". The current compensation system has proven to be an abject failure (at least, in creating long-term value for shareholders).
Demand a new compensation committee. If any of the current members of the compensation committee happen to be re-elected next Tuesday, they should no longer serve on RAD's compensation committee, which should be composed entirely of new directors. In addition, the company needs to hire a new compensation consultant ASAP.
Demand M&A accountability. If any potential acquirers approach the company in the future regarding an M&A transaction, CEO Standley (should he then be chief executive), as well any director who actively participated in the Albertsons negotiations, must be recused. In addition, the company should (1) refrain from instituting any so-called "tax benefits preservation plan" and (2) retain a different financial advisor than Citigroup. If the company's board decides to put RAD up for sale, it must run an open and fair auction to the highest bidder, not handpick an acquirer willing to guarantee the CEO and/or various board members future employment.
Demand permanent separation of the board chairman and CEO roles. RAD's certificate of incorporation and bylaws must be amended such that the positions of chairman and CEO will always remain separate. This is the only way to ensure that the CEO is properly supervised by the board. If the CEO is also the board chairman, then he or she is effectively their own boss, which is unacceptable corporate governance.
Demand a RAD investor day. RAD management should immediately schedule an all-day investor day event in New York City, allowing significant shareholders to attend in person and ask questions (this event should also be made available for viewing on the internet, to accommodate investors who cannot make it to NYC), to be held no later than the end of calendar 2018. All RAD senior executives need to (1) publicly take ownership of the company operations under their respective supervision and (2) announce to the world what they intend to achieve for shareholders over the coming year.
We believe that any fund manager holding a meaningful amount of RAD stock has a moral obligation (regardless of whether an actual fiduciary duty exists) to protect his or her investors by demanding all of the foregoing and, if RAD's management and board proves intransigent and resistant to change, by withholding their votes from the incumbent directors. But the clock is ticking. Any leverage to effect change at RAD will disappear in a just few days. The time to act is now.