Summary
A relative slow but healthy sales of Nuplazid launch will continue to be expected.
Acadia has clinical development programs underway in multiple studies.
Nuplazid could become a blockbuster drug
Acadia Pharmaceuticals is a biotechnology company (NSADAQ: ACAD) focused on the development of innovative medicines to address the unmet needs in central nervous systems (NYSE:CNS) disorders. Its novel drug, Nuplazid (pimavanserin) was first and only approved drug by FDA to treat hallucination and delusions associated with Parkinson's disease psychosis. Additionally, the company's pipeline ( Figure 1) includes multiple CNS indications that are explored in clinical development.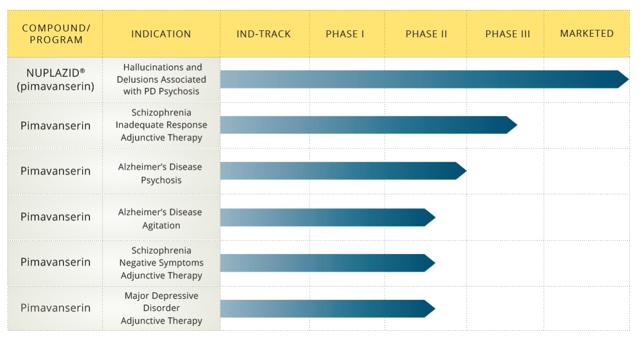 Figure 1: Acadia Pharmaceuticals Pipeline (source: Acadia Pharmaceuticals)
Nuplazid (pimavanserin), an achiral small molecule compound, is a selective serotonin inverse agonist preferentially targeting 5-HT 2A receptors. With its receptor selectivity, pimavanserin has been developed to confer antipsychotic benefits without compromising the safety and tolerability. In the Phase 3 study, patients with Parkinson's disease psychosis (NASDAQ:PDP) who received once-daily pimavanserin has a 37% SAPS-PD score improvement from baseline compared with 14% for placebo (p=0.014). Nuplazid (pimavanserin) was the first approved drug for hallucination and delusions associated with PDP.
When Nuplazid was launched for prescription in 2016, the drug price was set $24K per year and as part of the early launch strategy 30-day supply samples were distributed. Acadia Pharmaceuticals commercialized the drug on its own sales force with experienced neuroscience specialty. The team was expanding to 155 representatives that continues to bring the awareness and education to both patients and physicians. According to Q4 2016 earning call, the brand awareness increased from 62% in September to 74% in December and aided awareness was also increasing to 88%.
The first reported Q3 2016 net sales post Nuplazid approval were $5.3 million and have exceeded the $2.9 million analyst consensus. With the strong introduction and the recognition, the Q4 2016 net product sales had a solid uptake in full quarter commercialization of $12 million, which again exceeded the $9 million estimates. The opportunity for Nuplazid is substantial. With the wide open market ahead of Nuplazid, the sales would boost in 2017. I expect the sales in full year of 2017 will be around 96 million with 5% market penetration and will again beat the forecast.
One of the major concerns associated with the new approved drug is the penetration. The widely used off-label antipsychotic drugs could pose resistance to Nuplazid. The switches from the off-label drugs to Nuplazid could face competitive headwind. Although Nuplazid is the only drug approved to treat PDP, doctors may still have limited experience with Nuplazid thus far and continue their prescribing habits. The titration process could take some time from zero market share to combination of Nuplazid and other antipsychotic drug to major market shares. A lot of factors such as sales force field efforts, monitored safety data, and decrease use of off-label antipsychotic drugs could facilitate this process. The other concern is that the company has not updated the Marketing Authorization Application (NYSE:MAA) status in Europe, although the agreements and approval on the Pediatric Investigational Plan (PIP, a development plan required for drugs targeting a pediatric population). I anticipated the product launch in Europe would be in 2018 at the latest.
Multiple Clinical Studies
Currently, Acadia Pharmaceuticals is expanding pimavanserin for different CNS indications, including Alzheimer's disease, depression and Schizophrenia. In December 2016, the company released top-line data of Phase 2 exploratory study of pimavanserin for Alzheimer's Disease Psychosis (NASDAQ:ADP). The double-blind and placebo-controlled exploratory trial evaluating the efficacy and safety of pimavanserin in ADP patients met the primary endpoint at week 6 dosing but no additional significant improvement at week 12. Pimavanserin demonstrated clinical efficacy on the primary endpoint by reducing psychosis compared with placebo (3.76 versus 1.93 point improvement in psychosis) at week 6 in this 181 patients study. This data showed a statistically significant treatment improvement (p=0.0451) in the Neuropsychiatric Inventory - Nursing Home (NPI-NH) psychosis score, a questionnaire scored by the professional caregivers based on a standardized interview. Although there was no separation from placebo at week 12 on the secondary endpoint indicating that there might be placebo effect in the control group, the company is expecting to advance the program into Phase 3 study in Q2 2017.
Currently, there is no FDA approved drug for the treatment of ADP. Pharmacotherapies have limited efficacy, tolerated and safety available for treatment of ADP. The approaches rely mainly on off-label use of current antipsychotic drugs. These antipsychotic drugs show consistent superiority over placebo with measured ADP related behavior scale, but not reflect the improvement of psychosis. Furthermore, these drugs are limited because of severe side effects related to sedation, hypotension, and even increased mortality in elderly patients. The market to treat ADP is much bigger than PDP. An estimated of 5.4 million patients in the US have Alzheimer's disease and approximately 30 - 50% of them are affected by psychotic symptoms. The top-line results released in Phase 2 study were positive for the indication to improve the psychosis related to Alzheimer's disease, but the inconsistent data from week 6 and week 12 may raise concerns from investors about how to execute the Phase 3 study and future product development.
Four other clinical trials are also ongoing. A Phase 2 SERENE study was initiated to examine the safety and efficacy of pimavanserin for the treatment of agitation and aggression in Alzheimer's disease. The Alzheimer's disease agitation afflicts 40-50% of the diagnosed patients and no FDA drug was approved for Alzheimer's disease agitation. It is a 12-week, randomized, double-blind, placebo-controlled, multi-center outpatient study. Two experimental groups (pimavanserin 34 mg and 20 mg) were assigned as well as control arm. The primary endpoint is the change from baseline to week 12 in the Cohen-Mansfield Agitation Inventory (CMAI) total score. The estimated primary completion date is in June 2019.
Other adjunctive therapies such as Schizophrenia- Inadequate response, Schizophrenia - Negative symptoms and Major Depressive Disorder (Phase 2 CLARITY) are also exploring the development program for pimavanserin. Phase 3 ENHANCE is a 6-week, randomized, double-blind, placebo-controlled and multi-center adjunctive therapy study. It is designed to examine the efficacy and safety of pimavanserin in patients who have an inadequate response to current antipsychotic treatment. The primary endpoint is the change from baseline to week 6 on Positive and Negative Syndrome Scale total score (PANSS). Also, an efficacy of adjunctive pimavanserin compared with adjunctive placebo in the treatment of schizophrenia measured with Positive and Negative Syndrome Scale (PANSS).
Phase 2 ADVANCE study is a 26-week, randomized, double-blind, placebo-controlled, multi-center outpatient study for the alternative treatment of patients with negative symptoms of Schizophrenia. The primary end point is to evaluate the change from baseline to week 26 on Negative Symptom Assessment -16 (NSA-16). The daily dose of pimavanserin could be 10 mg, 20 mg or 34 mg in experimental group and the estimated completion date is May 2019. Phase 2 CLARITY study, initiated in December 2016, is a 10-week, double-blinded and placebo-controlled study to allow pimavanserin to adjunctively treat the patients with Major Depressive Disorder (NYSEARCA:MDD). The primary endpoint of the 10-wee and double-blind study is the change from baseline on Hamilton Depression Rating Scale (HAM-D).
Although no studies have been initiated for the efficacy in patients with Dementia with Lewy Bodies (NYSE:DLB), pimavanserin is prescribed as off-label drug. The DLB is the third most common cause of dementia after Alzheimer's disease and vascular dementia, accounting for 10- 25% of the cases. Given nearly 12-month period post approval of Nuplazid, the efficacy should be collected by prescribers with this off-label drug that is monitored with DLB patients. I expect the company or key opinion leaders will release the type of efficacy information to treat DLB patients. The revenues from the off-label prescription could also be realized for this huge market if the efficacy and safety data turn out to be positive.
Conclusion
Acadia Pharmaceuticals is currently trading at $32.21 with a 52-week low at $20.68 and high at $42.49. The market cap is close to $3.95 billion. By the end of 2016, Acadia still has $529 million in cash and investment securities on their balance sheet. This should be enough to carry out these expanding studies without regaining the capital from the market. Acadia will continue to hold worldwide commercialization rights to pimavanserin and believe that this drug will become blockbuster drug and have the potential to address the unmet medical needs in neurological and psychiatric disorders in addition to PDP.
Disclosure: I am/we are long ACAD.
Additional disclosure: I wrote this article myself, and it expresses my own opinions. I am not receiving compensation for it (other than from Seeking Alpha). I have no business relationship with any company whose stock is mentioned in this article.