Industry Overview
Medical vs. Recreational Cannabis
Medical marijuana has gained increasing popularity as it has proven useful in the treatment of epileptic seizures, glaucoma, multiple sclerosis, and many other illnesses. Medical marijuana is legal in 15 countries and 27 nations are currently debating cannabis legislation.
Although medical marijuana is gaining acceptance, many governments continue to reject recreational marijuana. Marijuana remains illegal in many countries; however, international enforcement is becoming increasingly lenient and many nations have begun decriminalizing possession of the drug.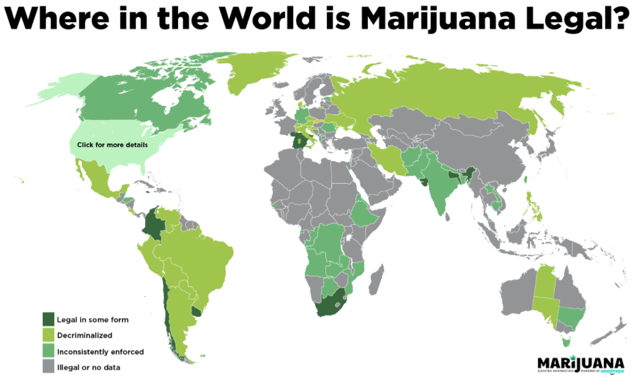 North American Recreational and Medical Cannabis
The North American cannabis industry, which includes legal marijuana, is valued at $6.9B (USD unless indicated otherwise) and accounts for 90% of the world's demand. Currently, nine states and the District of Columbia permit the use of recreational marijuana and 30 allow the drug for medical use. In the next three years, the North American marijuana industry is expected to triple to almost $22B.

International Medical Cannabis
The global recreational cannabis industry is almost non-existent outside of North America. However, the global medical cannabis market is valued at $7.7B, forecast to grow to $31.4B by 2021 and $55.8B by 2025. This hockey-stick growth is fueled by the expectation that more countries and U.S. states will relax marijuana legislation.
Canadian Companies Dominate the International Cannabis Industry
As demand for marijuana grows, few international countries have the capacity to satisfy demand. Thus, only the U.S. rivals Canada's marijuana production. However, Canadian companies will still dominate for several reasons:
First-Mover Advantage
In 2001, Canada was the first country to legalize medical marijuana nation-wide which resulted in the emergence of major players: Aurora Cannabis in 2006, Aphria in 2011, and Canopy Growth Corporation in 2014. Meanwhile, other countries continue to deliberate the adoption of marijuana. This hesitation has widened the gap between Canadian and international cannabis companies, ultimately allowing Canadian companies to exploit a 16-year head-start on some competitors -- an enviable first-mover advantage.
Consolidation
Consolidation gives major Canadian players a significant edge over competitors as only large, consolidated companies can enter the lucrative international cannabis market.
Over 80 cannabis companies are listed on Canadian stock exchanges and approximately 208 companies are in the final stages of review. Despite new entrants, the Canadian cannabis industry is dominated by a small handful of players. These major companies leverage their size to expand, obtain capacity, and reduce production costs -- all key success factors (KSFs) as first-movers in the industry.
Although consolidation is progressing, U.S. cannabis companies remain highly fragmented. This leads to high growing costs, poor pricing power, and slow expansion.
Tax Advantage
U.S. tax legislation could make it difficult for U.S. businesses to compete against the plentiful supply of black-market cannabis.
In many U.S. states, taxes are considerably higher for both businesses and consumers. For example, some areas in California can pass along a nearly 45% tax rate to cannabis consumers. Additionally, expenses related to selling cannabis products are not tax-exempt, resulting in tax rates that are 70% or higher. The table below illustrates a simplified tax structure of a normal business compared to a cannabis business.

Conversely, Canada has a CAD$0.78-per-gram tax on marijuana sales and a flat 10% tax on more expensive products. This relatively low tax rate is an incentive to drive out black-market growers and promote legal channels by being as price-competitive as possible.
Political Advantage
Canada has had relatively lenient legislation around marijuana. This is reflected by the country's plans to legalize recreational marijuana nation-wide in the summer of 2018. The stark political differences between Canada and the U.S. demonstrates Canadian companies' significant political advantage over U.S. competitors.
Although 30 states allow marijuana for medical use, the U.S. nationally categorizes all cannabis as a Schedule I drug: drugs with no accepted medical use and a high potential for abuse such as LSD, heroin, and ecstasy. Thus, the Trump Administration is expected to launch a major crackdown on marijuana businesses.
The Trump Administrations actions, however, seem to only have strengthened the resolve of pro-legalization forces. Over 90% of Americans support medical marijuana and 61% approve of recreational legalization marijuana -- up from 57% a year earlier and nearly double the support in 2000.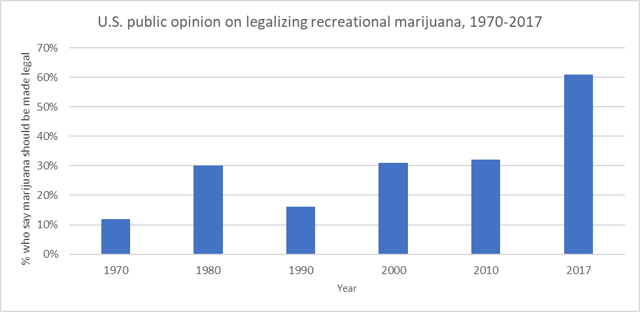 Despite federal threats, California legalized recreational marijuana at the beginning of 2018. Eventually, it seems likely that the U.S. will legalize marijuana nation-wide in the coming years.
Key risks
Questionable Medical Benefits
The medical benefits of cannabis, especially the long-term effects, are still being tested. This has led many to criticize cannabis' harmful effects on consumer health. If further research yields unfavourable concrete results, the cannabis industry could lose an arm -- or its head.
The Black-Market
Legal marijuana allows producers to leverage capital to grow marijuana at lower costs, ultimately passing those costs to consumers. However, despite potentially cheaper marijuana, consumers may still favour black markets channels due to loyalty, superior marijuana quality, etc.
Two months after Minnesota began selling medical marijuana legally, they found that 20% of their 491 registered patients hadn't repurchased marijuana in subsequent months. While there could be many reasons why patients did not return, it is possible to discern that a considerable portion of estimated revenues were lost to the black-market. The same could happen in Canada.
If countries want to legalize marijuana, it is up to their governments to mitigate this black-market risk. Governments could offer a lower tax rate, convenient online ordering, and other incentives. If governments fail to supply their populations with high-quality, affordable and accessible marijuana, estimated growth projections will be wildly unrealistic.
Potential Buy Candidate
Valuations
Given the industry's infancy, it is difficult to fundamentally discern the attractiveness of the industry. Shares of Aurora Cannabis are trading at 619x P/E and shares of MedReleaf are trading at 868x P/E. Furthermore, many cannabis companies are not even profitable. These questionable valuations suggests that investors currently entering the industry are exposing themselves to considerable risk.
Canopy Growth Corporation
This company has grown like a weed. Canopy Growth Corporation (Ticker: WEED), which operates in seven countries, has established itself as the market leader in both market capitalization and revenue. WEED is a monster, recently doubling quarterly revenue YoY (year-over-year) and capturing almost double the revenues of the next largest competitor:

WEED's competitive advantages:
1) Production Capabilities
2) Product Differentiation
Currently, marijuana companies cannot supply enough cannabis to satisfy global demand. Therefore, the company that has the most capacity will capture the most market share. In this regard, WEED is dominating competitors: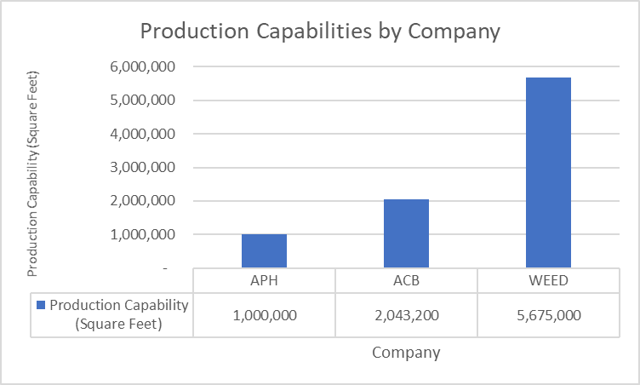 From select companies' financial statements
Unfortunately, not all of WEED's production facilities are developed. However, when these projects are completed (the majority in 2019), it is likely that WEED will slaughter its peers. The company's schedule for Anticipated Project Development Completion can be seen below: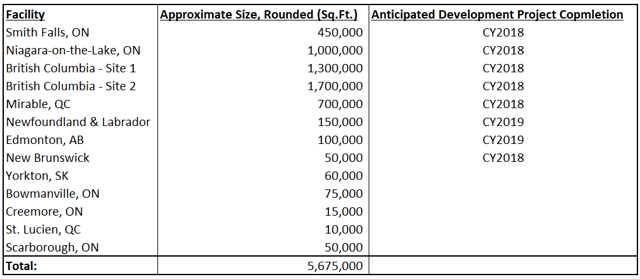 Canopy Growth Corp. MD&A
WEED's other competitive advantage is its product differentiation through its 11 brands. One brand, 'Leafs By Snoop,' includes a licensing deal with the culture icon, Snoop Dogg, one of the most trusted voices in the cannabis world.
WEED's key risk is branding legislation. The Canadian government is pressing for advertising rules that are similar to tobacco: requiring labels to display graphic health warnings, standardizing lettering, etc. This threatens the company's competitive advantage which hinges on brand and product differentiation.
Despite the risk of branding legislation, WEED's product differentiation, international expansion, massive production facilities, and robust sales growth suggest that competitors will be unable to slay this beast.
Aurora Cannabis:
With quarterly YoY revenue growth of 201% and expansions into five countries, Aurora Cannabis (Ticker: ACB) is the fastest growing company in the industry and is a strong candidate to steal WEED's crown as the market leader.
ACB's competitive advantages:
1) High-quality acquisitions
2) Mobile technology
3) Location Advantage
ACB has acquired many established, high-quality companies that specialize in distribution, production, and customer acquisition in international markets. An example of a notable acquisition is Pedanios, Germany's largest cannabis distributor. The $23M acquisition (NYSEARCA:CAD) brought in $2.5M in the most recent quarter, twice the sales of the same quarter YoY. ACB has leveraged its vertical integration with Pedanios to enter new markets at full-speed while increasing margins.
ACB has also developed a sleek mobile app that allows patients to order cannabis products online with ease and convenience. This app is the first of its kind and provides ACB a considerable edge over its peers. The app enables the user to find detailed information about various products and keeps the user engaged through news and product updates. In this way, the app somewhat circumvents potential branding legislation as it would allow brands to maintain their differentiation.
Although Shopify has signed a contract to take over online sales in Ontario, ACB's app will still be essential to capture market share in other provinces and international countries.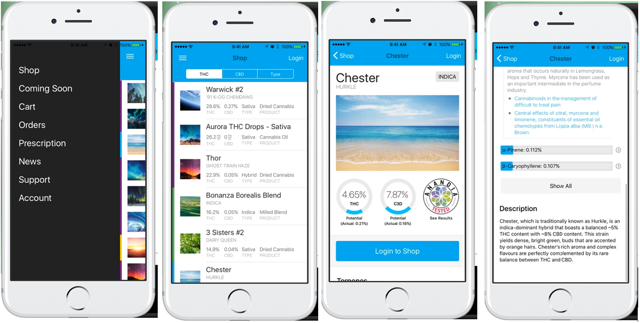 Lastly, the company is located in Alberta which grants the company access to lower energy and tax costs relative to competitors in other provinces.
ACB's stock price will get a boost if they are able to surpass WEED as the market leader. Additionally, ACB may soon be listed on a U.S. stock exchange. When the Cronos Group did this, their stock increased 21.92%. This, along with industry catalysts such as upcoming legalization legislation, could make ACB an attractive short-term buy candidate.
There are several other major players in the industry which may be of interest:

Final Notes on the Industry
The marijuana industry is changing every day. To survive, companies must acknowledge these trends and look out for potential disruptors.
New legislation and M&As are just the tip of the iceberg -- marijuana itself is evolving. Today, marijuana can be consumed in many forms: edibles, soft-gel capsules, vaporizers, tinctures (alcoholic extract of cannabis), topicals (administered through the skin), etc. New products are constantly developing: a special fridge to grow one's own marijuana plant, cannabis-based beer, various beauty products, etc. Unsurprisingly, cannabis products and treatments are now available to pets.
Disclosure: I/we have no positions in any stocks mentioned, and no plans to initiate any positions within the next 72 hours.
I wrote this article myself, and it expresses my own opinions. I am not receiving compensation for it (other than from Seeking Alpha). I have no business relationship with any company whose stock is mentioned in this article.