While Apple (NASDAQ:AAPL) insiders sold over 103,134 shares in the last two weeks, Berkshire Hathaway (NYSE:BRK.A) quietly increased its holding's to 0.28% of total shares outstanding, buying nearly 5.5 million shares in the last quarter. (Insiders who sold in the last two week were: Arthur Levinson 70,000; Bruce Sewell 23,305; Chris Kondo 9,829.)
Similarly, over the last quarter, Norges Bank bought nearly 50 million shares to take on a brand-new 0.89% stake in AAPL. Norges Bank is Norway's NOK7.3 trillion sovereign fund which invests the proceeds from oil extraction for the day when no more oil is produced. Think of it as Norway's retirement fund. Read more about it here.
Both Berkshire Hathaway and Norges Bank are known for their long-term vision and successful investment strategies.
In fact, 84.6% of analysts are recommending AAPL as a buy; only 5.8% are recommending it be sold. The aggregated 12 month price target is a juicy 13% increase on the prevailing price -- USD124. This is comparable to Samsung (OTC:SSNLF) though it must be said that Jongwook Lee of Samsung Securities is one of the 40 analysts recommending that Samsung Electronics be bought.
Unlike Samsung Electronics, Apple has a credit rating that is better than the Bank of England, the Kingdom of Belgium, or even the People's Republic of China. Nevertheless, both companies' credit default swap-implied default probabilities have been declining lately, though Samsung's has been declining for longer. Compare Apple's one year default probability...

with Samsung's...

...and it is reasonable to assume neither present undue credit risk. As you can see it the charts above, investors in the stock are rewarded when there is lower credit risk!
So how do you choose between the two behemoths of consumer electronics? Perhaps you would like to consider the fundamentals.
Apple's current P/E is almost value-like at 12.85 and it's estimated long-term growth is 10.22%. Samsung has a lower P/E and a higher long-term growth estimate. But look deeper. Below we see the comparison on key metrics for Apple (AAPL US) and Samsung Electronics (005930 KS).
While Samsung seems to have a lower P/E and a higher Free Cash Flow Yield (FCF yield) we can see that Apple has a much greater profit margin and Enterprise Value to Earnings Before Interests, Taxes, Depreciation, and Amortization (EV/EBITDA).
Sure, one can argue the merits of each cash flow yield versus profit margin or P/E versus EV/EBITDA for a lifetime. So why is Apple a good buy -- a better buy than Samsung? Perhaps it is because while Apple is becoming a consumer staple it is heavily investing in research and development. Tim Cook announced on Tuesday a new research center. Apple was granted 55 patents today. But does Samsung spend more than Apple on research? Yes. Per dollar of sales, per dollar of cash flow from operations, and per dollar period. Apple v Samsung patent wars are still fresh in everyone's memories so the question remains: why is Apple a good buy -- a better buy than Samsung?
In the third quarter conference call, Apple's results weren't exactly impressive. Management only gave vague answers to investor questions on growth. Apple management could have been more explicit about its plans to fulfill its virtual reality ambitions. Yet this is the key to understanding why Apple could be a buy. Consider the following: Apple is sitting on over USD200 billion in cash, has good credit, an overwhelming pool of engineering talent, and secrecy was for a long time part of the corporate culture. Virtual and augmented reality is moving ahead by giant leaps. Two of the patents awarded today are for a 3-D user interface, Minority Report-style, for its products. Microsoft's HoloLens is being used by the Isreali military. Facebook is making virtual and augmented reality a key pillar of its strategy. Just because Apple isn't shouting its plans from rooftops doesn't mean they have none!
Below is a chart which shows the number of stories published in English per week and picked up by Bloomberg on virtual or augmented reality, or artificial intelligence for either companies. (That is, the search is such that the company name must be in the headline and any of the following phrases must appear in the first 75 words: "virtual reality", "augmented reality", "artificial intelligence", "ai".)

The top panel is the number of stories and the bottom panel is the difference. This is where Apple begins to emerge as very comparable to Samsung.
It is reasonable to assume that companies with good news are doing well and companies with bad news are not. Below is a chart showing, in the top panel, the average so-called "news sentiment". Natural language processing is used to read news stories and a score from -1 to 1 is given to the tone -- or sentiment -- of the story: positive stories receive positive scores and negative stories receive negative scores. The bottom panel shows the daily difference between the average sentiment for news on Apple and Samsung.

The bottom panel shows that over the last year, Samsung has had better news than Apple. So, what makes Apple a good buy? You could say that the negative feelings in the press about the company and it's low relative P/E (0.62) but strong R&D and financial position make it a good value buy. Samsung, also has strong financials and R&D. It's relative P/E (0.63) is just as low as Apple's and there is the bonus that the press talks about Samsung favourably -- which should be good for its stock price.
If the financial ratios, the new and large stakes taken by long-term visionaries, and Apple's reputation for innovation fail to convince you to buy, consider this: Apple is pretty much like Samsung but Samsung has better news and its stock has had better returns.
This last chart sums up this article. The top panel shows the year-to-date change in stock prices. (Apple in white, Samsung in green.) The middle panel shows the daily average news sentiment for each of the companies. The bottom panel shows each company's relative P/E ratios.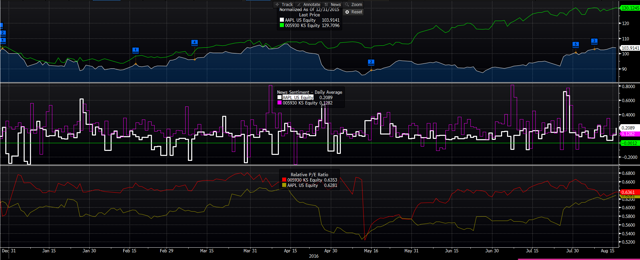 What do you think about Apple's future? Would you buy it over Samsung? Leave your thoughts in the comments below!
Disclosure: I/we have no positions in any stocks mentioned, and no plans to initiate any positions within the next 72 hours.
I wrote this article myself, and it expresses my own opinions. I am not receiving compensation for it (other than from Seeking Alpha). I have no business relationship with any company whose stock is mentioned in this article.