Now that the pieces of the puzzle are starting to come together, its time to go on a fact finding mission.  This blog post is purely speculative.
TIMELINE:
NOV 2016:  TRUMP is elected as 45th POTUS.  5 days before the election,  Stephen Feinberg, CEO of Cerberus, donates a million bucks to the election fund.  But that's not all,  Feinberg is also being considered for other roles in Trump's Whitehouse.
DEC 2016:  The FTC is putting up a fuss about Walgreens buying all of Rite Aid (RAD) for $9/share.  The merger has been waffling about for well over a year and the FTC has made it clear they would need to shed some of the stores in order to win antitrust approval.  They wanted Kroger (KR) to take them but Kroger Balked because they wouldn't be allowed to close stores.  So Walgreens holds an auction and chooses Fred's (FRED).  Other parties in the auction include Cerberus, of which Feinberg is the CEO, among others.
The end result, is that Walgreens awards the auction to Fred's for $950M for 865 stores and shuns Cerberus who had offered more.  The timeline to get the deal approved is extended to End of Jan 2017.
End JAN 2017: Conflicting reports notwithstanding,  The web is awash in reports that the FTC doesn't like Fred's as the acquirer of the divested stores so the original deal is scrapped.  WBA modifies the terms of the deal to 6.50-7.00/share and up to 1300 stores divested.   The merger is extended to End of July 2017
May 2017:  Walgreens & Rite Aid come up with their best and final plan with store divestitures and issue a certified compliance request to the FTC.  This means the companies think they have done all they can do to get the deal approved and gives them 60 days to make a decision.  One of the biggest perceived problems with the proposal is a grocery store deal gone bad between Haggens and Albertsons (a Cerberus owned company) that resulted in bankruptcy.  The 60 day deadline is a few days after both companies report earnings.
End of June 2017:  Walgreens, during a Co-Earnings report with Rite Aid, ends the merger ahead of the certified compliance decision deadline in early July.  The FTC issues a statement concerning the matter which is odd considering they didn't even make a ruling. Rite Aid Stock dropped to under $3.00/share from a January high near $9 and the fortunate SHORT sellers made a fortune on the misfortune.  The merger was replaced with an asset purchase agreement and still required regulatory approval.
Sept 2017:  Walgreens modified the Asset Purchase Agreement.  Rite Aid stock sinks to its lowest level in five years on company reports that the money will be used to pay off debt.  KEEP IN MIND,  The FTC was very concerned with Kroger being allowed to close stores in the same vicinity as Kroger stores in 2016.  However, in an ironic reversal of this policy,  Walgreens is allowed to close 600 stores, a whopping 30% of the amount they are buying, with the new Asset Purchase agreement. 
January 2018:  Rite Aid announces progress in the Asset Purchase Agreement with Walgreens and a poison pill plan to help protect $5B in Net Operating Losses.  The stock tanks.  Again.
February 2018:  Cerberus emerges triumphant and announces a merger of Rite Aid with their Albertsons Grocery Stores wherein, Rite Aid Shareholders can exchange 10 Rite Aid shares for $1.83 of Rite Aid's cash and a 30% stake in Albertsons $12B in debt as they transform themselves from an indebted, unprofitable, and uninvestable grocery store chain into a leader in food, health, and wellness.  The stock price plummets back to the $1.50 level.  With the poison pill in place and effective timing of news releases, any potential suitors looking to make an alternative proposal or hope of the stock price rising were effectively thwarted from doing so.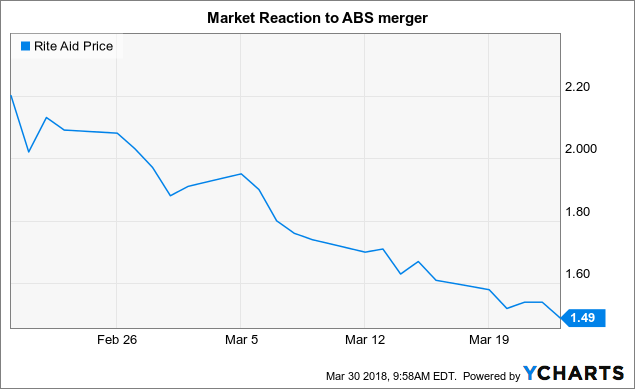 [object HTMLElement]
End March 2018: Rite Aid repeals the poison pill plan for no apparent reason or the same reason it was instituted in the first place which is not apparent. Backlash from shareholders, congress, or others may have pressured management to rescind it. Maybe it was a method to allow Cerberus to purchase enough cheap shares to get the grossly undervalued (from a comparable sales basis) merger approved.
April 2018:  
Disclosure: I am/we are long RAD.