S & P 500 Crash Set Up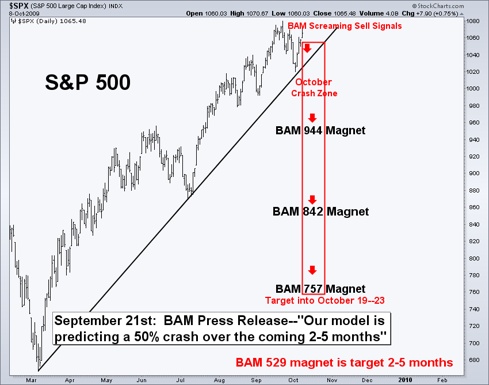 Well, it looks like we're at the moment of truth with respect to the BAM Model's prediction of an imminent stock market crash.  Clients should be well prepared, having been provided ample warning and we've also done our best to warn individual investors who have been following us via our blog, website or Twitter campaign. 
This has certainly been an interesting period for our business launch (to individual investors) and we hope we can assist a few in protecting their hard-earned money.
The catalyst for the expected crash--assuming we get this right--could come from anywhere or nowhere at all, but our best guess is that we'll see USD strength set off a global short-covering stampede in the dollar index. 
Assuming that occurs, that would likely spark a vicious cycle whereby mechanical selling--and buying in markets where Carry Trade money has found a home on the short side--literally unwinds this undiversified single-bet that the masses seem to be clinging on to.
Subscribers will remember that this is the same dynamic the model identified during 2007-2008 vis-a-vis the YEN--and we all know how that ended.  I vividly recall clients telling me the model's very bullish YEN call made no sense at all and that Japan was still many years away from any recovery that could provide the proper fundamental backdrop for strength in their currency.
Don't forget that whatever happens during October, this is only the start of the next leg down according to the model.  We're facing what appears to be a brutal five months ahead of us and our target remains down at SPX 529.
As I said to clients yesterday...the rest is up to Mr. Market.