This is my first post on Seeking Alpha, I am always have a keen interest in sector rotation thus I decided to write this post to seek opinions from experienced investors on Seeking Alpha and to share my 2cents point of view on sector rotation.
Most of the investors on Seeking Alpha focus on US or other larger markets like HK, I am writing my post on the Singapore Stock Index – The Straits Time Index J
I learn most of my investing ideas on investopedia.com, and from investopedia it was stated in the article Sector Rotation: The Essentials by Chris Stone (Link) that Sector rotation is an investment strategy involving the movement of money from one industry sector to another in an attempt to beat the market. Now with job data making new recoveries in the US, while for Singapore expecting higher economy output. (Link)  I was thinking maybe it is time to change my portfolio. I build my past portfolio based on Sector Rotation strategy.
My portfolio consist only the following J
·         Courage Marine (Link)
·         Marcator Lines (Link)
Both of the stocks belongs to the transportation sector, I bought the stocks right after the financial stocks in Singapore starts rebounding because in march 2009 market starts to rebound with heavy buying, many stocks were cheaply price J so it was a good time to get the financial stocks but because I was a student and does not have much funding I miss that boat. However, I read in the article that
"Early Recovery -Finally, things are starting to pick up. Consumer expectations are rising, industrial production is growing, interest rates have bottomed and the yield curve is beginning to get steeper. Historically successful sectors at this stage include:

·         Industrials (near the beginning).

·         Basic materials industry.

·         Energy (near the end)."
 Then I thought maybe I could get shipping stocks because they are still cheaply price and if in the early recovery stage industrials and basic materials are going to grow, there will be a need for transportation services. So there I was getting my transportation shares.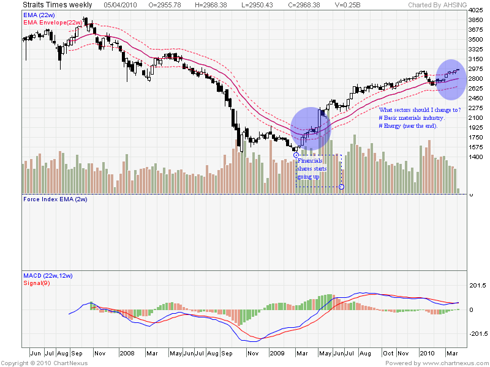 Now that the market has recovered, DOW is going for 11,000 and Our STI going its 3,000. Maybe it is time for me to change my portfolio according to the sector rotation strategy.  With reference to the article,
"Late Recovery, In this stage, interest rates can be rising rapidly, with a flattening yield curve.Consumer expectations are beginning to decline, and industrial production is flat. Here are the historically profitable sectors in this stage:

·

        

Energy

(near the beginning).

·

        

Staples.

·

        

Services (near the end)."
And now we have oil futures hitting US$86 (link) , Singapore MAS stating that will be adjustment to the Singapore currencies, in addition a few Asia countries have started to increase their interest rates. Maybe we are now in the Late Recovery Stage and I am thinking maybe I should be getting staples and services stocks now. What do you think? Or do think that the market is sitll in the early recovery stage.

For me my stand is that the market is now in the late recovery stage :) I would love to hear from fellow members on your thoughs and ideas.
Disclosure:
Long Courage Marine and Marcator Lines