Despite a rocky 2016, Disney (NYSE: DIS) is still magical buy
Both RBC and Evercore recently upgraded Disney from their previous "Hold" positions to "Outperform" and "Buy"
It's returned 234% over the 10-year period through October 2016, more than twice the S&P 500's 96.4% return
Below are a few reasons why I think Disney is ready to regain their magic in 2017.
At the heart of the jitters surrounding Disney is ESPN and its cable business future and the increasing number of people who are dumping their large cable subscriptions. However, there are two factors to look at when evaluating the future of ESPN, how much American's love sports, which will likely never change until an apocalypse, and it being the world's most popular sports channel.
The Star Wars franchise is proving to bring some incredible force with it. Fans from around the world forked over nearly $2.1 billion to see The Force Awakens and Rogue One is now closing in on $1 billion. Keep in mind that this is just from box office sales, and these figures do not include the games or merchandising. Expect every Star Wars movie from this moment forward breaking the $1 billion threshold in global box office sales.
Disney has an unparalleled business model that continues to deliver and work. The company is masterful at turning one hit movies into a series of very profitable ones. Moreover, successful films are leveraged across its empire, providing big opportunities in merchandising, theme park attractions, streaming, live shows, and more.
Mickey is entering China. China's middle class is growing exponentially, providing more people with a higher disposable income. More than 70 million people in China watched the opening ceremony live on television or via digital streaming and its hotel occupancy remains high at a staggering 95% as of October 2016.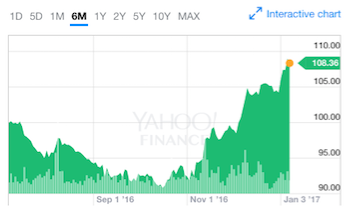 Source: Yahoo Finance
Several analysts, including those at Jefferies Group, have set a price target of Disney to $115 and also set an "outperform" rating on the company. Therefore, one still has time to run with the bulls and generate a bit of cash to begin the new year. The bulls are magically alive and Disney is heading into 2017 with force.
Disclosure: I am/we are long DIS.