NVIDIA (NYSE: NVDA) had an epic rally last year, can it keep up the momentum going forward in 2017?
The graphics-processing chip specialist lies at the heart of several big-ticket growth markets that should transform the future of tech over the next decade
Growth will continue to manifest itself in strong revenue growth in the year ahead, but its expensive valuation is something of a cause for concern as well
NVIDIA's history begins with its creation of graphics processing unit, or GPU, in the late 1990s, which helped fuel the rise of the PC gaming market. It wasn't until recent years, when new high potential applications for NVIDIA's chips emerged, helping ignite its current wave of mass market growth. Today, you can find NVIDIA's semiconductors powering all of the tech trends today including Artificial Intelligence (NYSE:AI), self-driving cars, personal computers and data centers.
NVIDIA will report its next earnings in mid-February 2017. The company reported the earnings of $0.83/share in the last quarter where the estimated EPS by analysts was $0.57/share. Below is the Earnings surprise investors received last quarter expressed as a percentage, 45.6% above estimates.
0.83-0.57 = 0.26/0.57 = 45.6%
This coming quarter though puts a lot of pressure on NVIDIA to surpass their previous earnings of $0.83 EPS, with high estimates of $0.92 and low estimates of $0.79 EPS.
In the future, demand for NVIDIA's products could largely depend on how quickly society embraces AI, autonomous vehicles, drones and data centers. However, currently 85% of NVIDIA's revenue stems from GPU sales. The future of personal computers and gaming is very bright, which as an industry brought in roughly $100 billion globally in 2016. The graph illustrated below shows about a 5% increase every year in the global gaming market, with mobile platforms showing the most promising growth.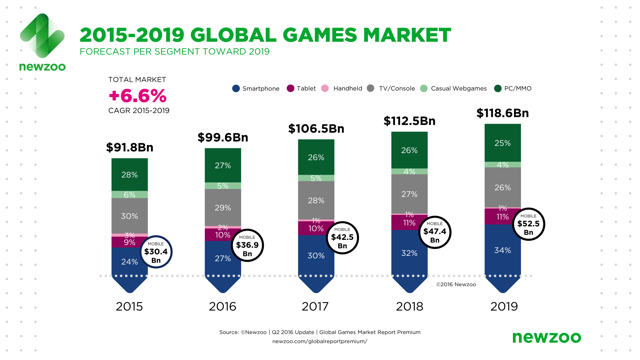 Source: Newzoo
For NVIDIA, this is good news since an astronomical percentage of their sells comes from this evolving and increasing market. However, NVIDIA does not have a significant market share in mobile or tablets which could be a missed opportunity. What is not a missed opportunity is NVIDIA's agreement with Tesla to supply chips for its Autopilot system, accounting for hundreds of millions of dollars. With the Model 3 coming to a street near you soon, Tesla hopes to build 500K/per year, creating an increasing demand for NVIDIA's technology.
Disclosure: I am/we are long NVDA.