I recently looked at several leading US companies to see how their share counts have been changing over the years. The table below shows the results of the stocks I looked at (IBM, HD, MCD, WMT,INTC, LMT, MSFT, CSCO, DIS, KO, COST, GIS, AAPL).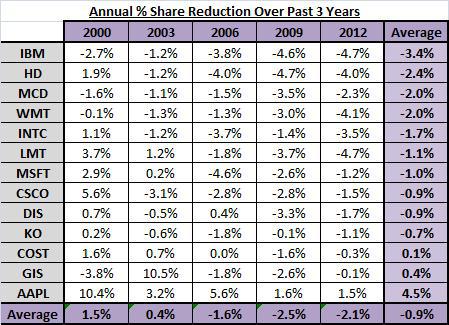 This says that on average, IBM has been reducing share count by almost 3.5% (more like 4.5% recently). On top of the 1.75% dividend yield available today, that means a 6%+ return of cash to shareholders.
In contrast, Apple sticks out in a bad way, diluting shares significantly for all of the periods, although the average is heavily affected by the 2000-2003 period.
As I've written about in an earlier article (bit.ly/12JH1ud), there is a strong case for buying US stocks today, which is bolstered by this widespread buyback activity. In the last 3 years, the average reduction is in the 2% range. For the S&P 500 (NYSEARCA:SPY), the dividend yield is also 2%, meaning you are getting a return of cash equal to about 4% of your purchase price. This leaves another 2% to be re-invested in the businesses (typically at 12-14% return!).
Contrast this to a long government bond, which today pays ~1.5% interest and gets no re-investment option, and it's hard to see how bonds are a sensible place to invest for the next few years.