In this article, I want to expose some logical flaws residing in several most "popular" views about JD.com, both optimistic and pessimistic. I will argue that the recent drop in stock price because of the rape scandal and fear of e-commerce growth slowdown in China is a market overreaction and creates a great buying opportunity. More importantly, I will lay out my investment thesis of this currently undervalued company through dissecting the competitive advantage as well as the growth potential of JD.com.
Why I think JD.com's competitive advantage cannot be easily jeopardized -- through an anecdote told by Richard himself
A Chinese investor as well as the father of two wildly successful brands of iphone -- Oppo and Vivo, Yongping Duan, who won the charity lunch with Warren Buffett in 2003 and earned more than 100 times of his original investment in NetEast, espoused the view that one should invest in companies that have a long, thick, and sticky snow-covered path ahead of them. Snowballing is the key to compounding return. This is the key thesis to investing in JD.com, not because Walmart or Google invested at a higher cost basis, or because Tencent has about 20% ownership of the business. A couple words on Google's investment. I do believe this strategic partnership is important for JD's marketing analytics effort, intelligent supply chain management, and other areas involving deep learning, IoT (internet of things) technologies, and block-chain (e.g. JD financial), but I don't think it will be earth shattering in any sort, and my investment thesis, as you shall soon see, involves nothing about Google boosting JD's strategic capabilities in any spectacular fashion.
Earlier this year, the most successful Chinese financial writer, Xiaobo Wu, initiated a series of conversations titled "Ten Year Ten Men". This series of conversations was designed to accompany his widely acclaimed book "Thrilling Ten Years, Big Water Fat Fish: China from 2008 to 2018". Among the ten handpicked influential entrepreneurs he interviewed, Richard Liu ranked the second. He brought his new book to Richard as a gift, Richard lightly responded: "I have read it already, thank you. It is a great book." In this interview, Richard disclosed why Tencent invested in JD.com.
In 2013, Richard came to the US to study, telling his top lieutenants that "if I cannot be hands off after more than ten years at the helm, then I am an unsuccessful entrepreneur". During this period, he rarely responded emails, not to mention participating in conferences. In retrospect, he probably spent quite some time with the Bubble Tea Lady. [Just as a side, here is how Richard fell in love with the lady: Richard, his staff, and several students were having French cuisine, and the lady was late for almost an hour. When she showed up, the desert just came up. Insouciant as she was, she asked the waitress to bring all the previous courses for her good appetite. Richard laughed heartily at this scene. ]
Quickly sniffing opportunity, Pony Ma, the Chairman and CEO of Tencent, rallied all his right-hand men to his side, telling them that they should strike JD.comimmediately, and he would mobilize all resources they have at Tencent to make their campaign successful. Leveraging all their might, Tencent went all in to grab e-commerce shares from JD.com. Nevertheless, after half a year of struggle, they failed. Pony was furious initially, but quickly cooled off. He thought to himself – if leveraging all the resources we have and we cannot beat JD.com, perhaps we should get a slice of that pie just to make sure we secure our upside. Therefore, Tencent invested in JD.com pre-IPO.
Therefore, even if Richard was gone because of this sexual affair as many people fear (and this is perhaps the reason why many people dumped shares), which is highly likely to be an overblown fear, JD.com has a wide and deep economic moat around its castle, and has a long, thick, and sticky snow path ahead of it that simply utilizing its momentum for growth it should be able to grow rapidly in the ensuing years no matter who is at the helm.
In the second part of the article, I will discuss why even Tencent could not beat JD.com, and what constitutes the primary economic moat of JD.com. In the last part, I will provide a fair value for JD.com in 2022, and supply the reader with an approximate compounded annual return if one seized the current opportunity to be greedy when others are fearful.
For those who are not familiar with JD.com, a few words to explain its business model is fitting. JD.com is one of the largest B2C e-commerce companies in China, offering a wide selection of authentic products at competitive prices through its own direct sales and online market place. JD.com has spent 12 years on building its own national fulfillment infrastructure and last mile delivery network. Now it has more than 100,000 full time workers and 600,000 part time delivery guys. Most of its revenue is generated either by online direct sales (so called 1P), or services and others, namely commission fees charged to third party sellers (so called 3P), online marketing services to merchants and suppliers, and transaction fees from processing transactions for online payment. For the most part, there are four key players in the arena – the merchants, JD.com, its competitors such as Alibaba, Suning, and Gome, and the consumers.
Merchants, Rivals, and the Logistic System: The capital market has been critical of JD.com's capital expenditure predilection since its IPO just as it has been with Amazon around 2012. Richard made the clear distinction between burning cash and accumulating valuable strategic assets. Didi and Kuaidi's unbridled discount offers were apparently foolish cash-burning activities, as such investments acquire unsustainable market share that quickly evaporates when discounts were no longer offered. No customer activity was secured due to such activity. Now that they combined, Didi's fare is higher than a taxi, and each time I travel back to Shanghai I call a taxi, not a Didi driver. Oops, bad cash burning. JD.com, however, in some way transform cash into concrete strategic assets such as fulfillment centers, front distribution centers, mega warehouses, and warehouses. 22 out of the 27 front distribution centers were built after JD's 2014 IPO.
These assets constitute insurmountable barriers of entry, as few people in the whole wild world are willing to get their hands dirty with such enterprises that cannot turn profitable even after years of investment. In an interview in 2011, Richard very astutely pointed out that Dang Dang, another e-commerce giant in China which primarily sold books, would not be a tenable competitor to JD because the founders' unwillingness to give up equity share. Their unwillingness to give up equity share leads to a lack of capital infusion. As a result they could not built a logistic system that guaranteed fast delivery. They would have to rent other people's logistic system and warehouses, leaving their lifeline to the others, and their secondary delivery qualities would make them gradually lose competitive advantage. Richard's prophesy turned out to be correct.
By early 2018, most of Richard's peers have realized self-operated logistic system is crucial for achieving optimal customer satisfaction at an affordable cost. JD.com turned around and opened their warehouse and logistical service to 3P merchants (online marketable businesses). This has great potentials to boost merchant stickiness, and since only 10% of merchants use JD.com's warehouse and logistic service now, future merchant usage of JD.com will increase rapidly, along with their stickiness to the platform. This trend is clearly visible in the H1 results – logistics and other services has been growing at an unprecedented rate of 151%, compared to last year's H1 growth of 29%.
What is more, JD.com's platform is more economical than Tmall of Alibaba, because the overall cost of merchants (including both the take rate and the advertisement fee) is 6-10%, while JD.com normally takes 5% straight-fee on average. Therefore, overall, JD.com's platform is becoming more user-friendly both in terms of service qualities and costs compared with Alibaba. After talking with the head of Yuantong, one of the four major logistics companies in China, the most important information I got was that self-operated logistic systems will always be more efficient and economical than franchised ones such as the Cainiao network of Alibaba. As more merchants come to JD.com's platform because of faster delivery resulting in higher customer satisfaction and lower overall costs, SKUs will increase, and the number of customers attracted to the platform will also increase, leading to a virtuous network-based self-reinforcing loop – the flywheel will spin on its own momentum. Most importantly, the gross profit for JD as a whole will increase, as 1P gross margin is only 7% whereas 3P gross margin is >80%.
Customers, Brand, and the Secular Tailwind: Trust is the critical factor with online shopping, especially in China. JD.com has a pristine reputation for providing fast delivery and offering authentic products. Once that brand name is etched in consumers' heart, it's hard to eradicate. For electronics and home appliances (which is one of the most important group of JD.com offerings), it is even more critical to buy authentic products due to a higher demand for safety as well as after-sale service. The secular tailwind lies in the fact that the annual growth rate of Chinese online retail is projected to be 21%. JD.com's active customer base has been growing at 16%/year, whereas its GMV (gross merchandise volume) is likely to increase as a result of improving mix as more 3P merchants join the club. JD.com's strategic partnership with Vipshop, a company specializing in online discount sales with a focus on branded quality fashion and accessories is a further clear indication of JD.com's resolution of increasing the percentage of high value female users. Currently JD's female customer mix is 33%, whereas Taobao's is 54%. Apart from strategic partnerships, JD.com also took steps to make the whole company flatter and reorganized its business into three Business Groups: 3C and Home Appliance BG (focus on 1P), Fashion, Apparel and Related BG (focus on 3P), and General Consumer Products BG (with an emphasis on offline service). Worries about consumer behavior change among US investors after the scandal is absolutely facetious – feminism, which can transmute into quite ridiculous extremes in the United States, barely existed in China. The Bubble Tea Lady already voiced her opinion on Mid-autumn festival through WeChat that she preferred family unity to anything else. Audiences waiting for drama should and are leaving the theater. In addition, to assume Chinese consumers cannot distinguish between a company that provides them with superior purchasing experiences and a man who is perhaps occasionally too sexually driven is an insult too blatant to be articulated. We shall see if I know the culture of my country when the GMV numbers come out in the 3rd quarterly report. Also, in my view, investing in Vipshop is also a natural extension of JD.com's strong brand name as a high-quality goods provider. GDP/capita in China has been growing at 7.5% over the past five years, and is projected to be growing at 6% for the next five.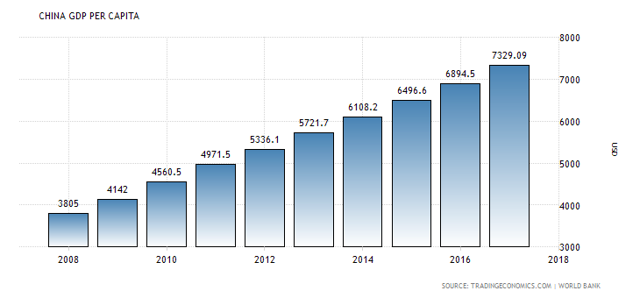 Sectorially, retail ecommerce sales in China will grow at about 20% for the foreseeable future.
With consumption upgrade on the way, online and mobile e-commerce penetration deepen, and per capita income increases further, quality brands from both JD.com and Vipshop are likely to see a boost in their number of orders per customer, which is substantiated by the growth in the last 10 years.
As more customers are attracted to the JD platform, this platform also becomes more attractive to merchants, improving gross profit margin. Consumption upgrades also serves to increase gross profit margin. When capital expenditure slows because of maturation of the logistic system, free cash-flow will gush out like a fountain. Now we turn to valuation.
Valuation -- And why I think JD is undervalued
JD is a fat pitch at the current price. I established my position in JD last week at around $25/share, and I have confidence that I will watch it fly in the next few years. It is better to be approximately right than precisely wrong, so I will spare the readers the pain of following my model. Instead I lay out a simple valuation method which come pretty close to my DCF analysis.
This year, adjusting for accounting changes and JD financial, JD will generate roughly $ 2.5-3 billion free cash flow. This is after JD spent nearly $ 3 billion in capital expenditure. As Richard said, he could turn his company immediately profitable once he decreased his capital expenditure efforts. Therefore, in my view the $2.5 – 3 billion free cash flow is an understatement of JD's true value generating capability. Let's take the lower end, $ 2.5 billion. With the certainty involved in JD's ability to sustainably grow at a rate of at least 15% in EBIT/share, I feel comfortable putting on a 25x multiple on this, assuming a free cash flow yield of 4%, which is conservative given the 3.65% ten-year treasury yield in China. This implies an enterprise value of $ 50 billion. JD has $ 5.3 billion of cash and equivalents by Q2 of 2018, and $ 3.3 billion of debt, therefore its equity value should be worth $ 52 billion. With 1.45 billion shares outstanding, this means JD's fair value, not counting its growth potential, should be $ 35.8/share, implying an upside of 37% compared to Friday Sept 28th closing price of $ 26.09/share.
JD's future EBIT growth is composed of several factors: GMV/customer growth, customer base growth, mix improvement and economy of scale induced expansion in EBIT. Let's assume, conservatively, discounting ecommerce's faster penetration than traditional retailers in China and the sustainable growth in mobile ecommerce, that GMV/customer grows along with GDP at 5%, and customer base grows at a 10%, way lower than what it has been for JD in the past decade which is north of 25%, and mix improvement and economy of scale induces about 2% of in EBIT growth. This leads to a CAGR of 17%. One can see how conservative I have been in making these assumptions, completely disregarding JD's investments abroad and other strategic initiatives in, say, cloud computing. We assume share dilution of 2% on an annualized basis because of new equity issuance. By the end of 2022, following my train of thought, JD will be worth at least $ 65.3/share, implying a CAGR of 23.7% at the current price. This is by no means an overly rosy picture given that how JD has grown in the past. Even though JD.com gives its 3rd quarter guidance at 25%-30% GMV growth, the improved mix and consumption upgrade are likely to lead to better margins.

We are always scared about something, and market climbs on a wall of worries. I remember investing in JP Morgan as the London Whale incidence got way overblown in the media – that's how the media earns a living – the media is annoying, but it creates buying opportunities. I bought JP Morgan in August of 2012 at one time book value with an entry point of $36/share, and more importantly, I bought Jamie Dimon. I never sold a share. Last Friday it stood at $112.8/share, and with dividend, I have earned a CAGR of 23.5%. I know I can do the same with JD. Of course, I hope with JD, my return will be even higher. I rest my case, and quietly wait JD to fly.
Last but not least -- Happy Birthday, China!
Disclosure: I am/we are long JD.
I wrote this article myself, and it expresses my own opinions. I am not receiving compensation for it. I have no business relationship with any company whose stock is mentioned in this article.