Sometime last year I first bought the stock TASR at $18.35 per share. I bought one-hundred shares of the stock, and since it has been as high as $30 and as of closing today it is at $25.86. What I am proposing to do today is buy a protective put option on TASR. This is because I have enjoyed a decent return on paper but I still believe it will go up in the future. The reason that I would buy a protective put at with a strike price at around 19 is because after I pay the premium, the worst case scenario is that I have to pay the premium. There are two good scenarios and those are, the stock goes way below and I have the right to sell at 19 or it goes up and I make the money from still owning one hundred shares and let the option expire with just the loss on the premium.
The question now is why would I be bullish on TASR? Well first off, TASR is in the business of selling both body cams and tasers to police forces. They are the leader in what they call conducted electrical weapon (NYSEARCA:CEW) on a worldwide level. Yahoo finance claims that, "nonlethal guns or tasers are used by 81% of police forces." With the ever increasing amount of police altercations and call for body cameras, the orders will keep pouring in. The gross profit margins have steadily grown from 47.089% in 2011 to most recently 64.086% which is a fairly good margin. It also has very steady growth from an earnings per share standpoint as it had ($0.12) in 2011 and is now at $0.36 per share. The TD Ameritrade app, Think or Swim, values the company at $60.369 when it bases its findings off of the P/E ratio and $33.643 based off the Price/ Cash Flow Ratio. With the more conservative off the two options, I would still be making over $15 per share from when I bought it.
The other good thing about having a put instead of a market order at $19 is because to I have trust that the stock will go up. Even if the stock goes to $14 and is "in the money," I still am not obligated to sell it. However, if the stock goes down to $10 and this is because something happened in the news and I am no longer bullish on the stock, I can activate the option and still sell the stock at $19.
Even as just a simple long on the stock TASR I would wait until it dips a little further and buy the stock at around $22. I think that it may dip a little more because it has been going down a little with the market but there is no stand out reason and they just had a 5-year $5.8 million dollar contract of 1,200 body camera units for Atlantic City. In more good news, Taser won an award for RISE which honors law enforcement officers and agencies who save lives. This is an incredible award for them to win because it goes along with the idea that tasers and body cameras will make law enforcement safer and this is something that the public has been calling for. So although BIG will not be able to buy the stock and then also buy a protective put, it is still a very good long buy in my opinion.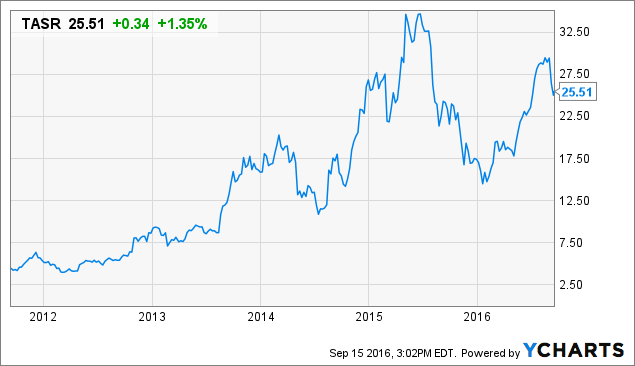 Disclosure: I am/we are long TASR.