Highlights
Despite operations in world-class reserves, Canadian producers face a persistently challenging natural gas environment
New markets present an opportunity but to access them, multiple obstacles including regulatory approval, environmental concerns, and economic viability must be overcome
Increasing global competition will be a long-term challenge as regional reserves and Liquefied Natural Gas capacity begin to come online
Canadian Overview
Being the fifth largest natural gas producer in the world, Canada accounts for approximately 5% of global natural gas production. The production of natural gas is predominantly in the Western Canadian Sedimentary Basin which encompasses British Columbia, Alberta and Saskatchewan. The Montney Formation comprises a third of current production, expected to grow to over half of Canada's production by 2040. Over the past decade, the production of unconventional natural gas has been increasing because of technological advances such as horizontal drilling and waterflooding.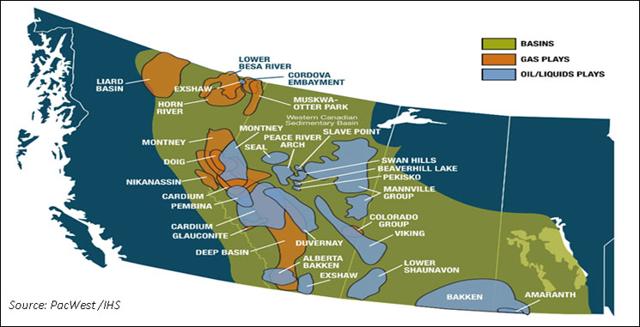 The current natural gas supply in Canada vastly exceeds domestic demand. Demand for natural gas is highly cyclical and highly dependent on weather in the short term, but over the mid-long term is driven by economic growth and structural shifts in power generation. Currently, producers in the Alberta/BC region have limited markets available, due to both existing infrastructure constraints and lack of adequate demand.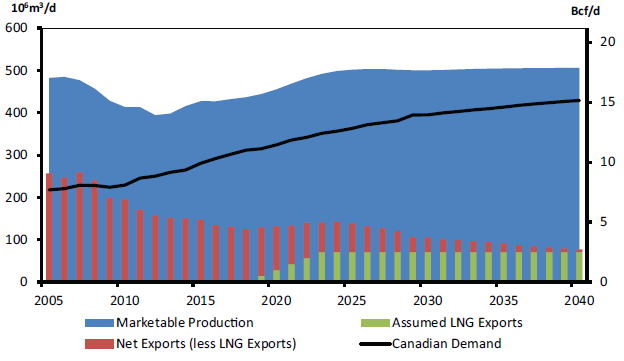 Source: National Energy Board
Canadian companies have been seeking alternative markets for natural gas (the current primary Canadian natural gas importer is the U.S.), especially the economies in East Asia. Major proposed pipelines include expansion towards the BC coast, Eastern Canada, and the US (West Coast and Northeastern).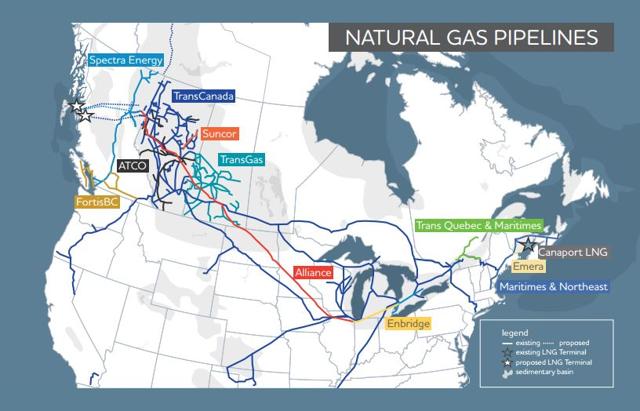 Source: Isometrix
The main obstacles in exporting Canadian natural gas across the Pacific include approval for major pipeline projects, and as it relates to exporting to Asian markets - approval for proposed export terminals on the BC coast. Even leaving economic concerns aside, proposed pipeline rights-of-way face headwinds in the form of land claims and environmental concerns.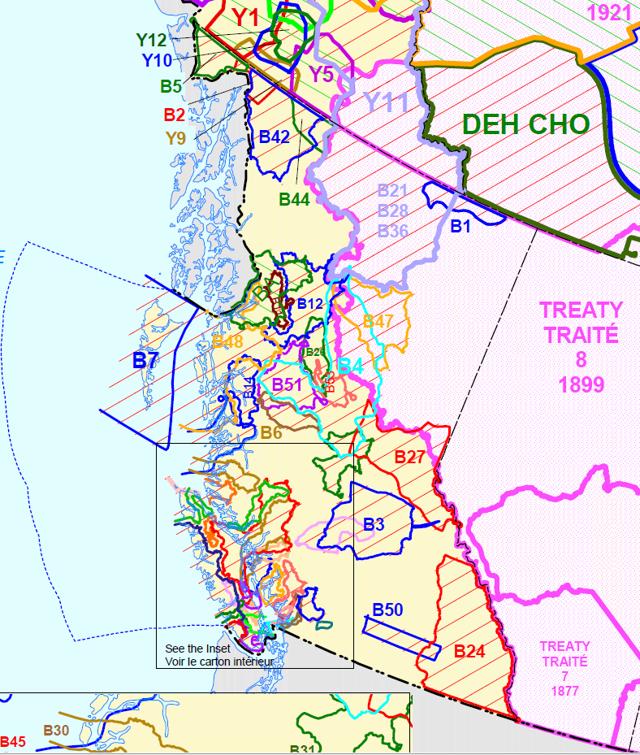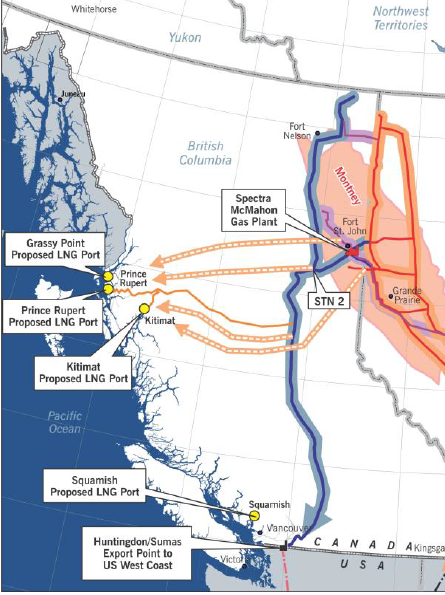 Source: RBC Energy Insights /Aboriginal Affairs & Northern Development Canada
As the images above show, there are considerable Aboriginal land claims which must be addressed, before natural gas from the Montney can be efficiently transported to the West Coast. Additionally, public concerns regarding pipeline safety and environmental hazards have become increasingly prevalent, and form another major obstacle for the industry.
For natural gas to be transported across the ocean to Asian markets, it must first be converted to a liquid form (liquefied natural gas or LNG), typically at export facilities. Proposed facilities have struggled to gain approval (facing some of the same obstacles as above, including heightened environmental concerns), but recently two major projects, the Pacific Northwest LNG facility and the Woodfibre LNG have received regulatory approval, representing a potential ~2.9 Bcf/d increase in capacity. Despite this success, there is a significant challenge in the form of economic viability, driven by increased global supply, and uncertain demand growth.
Global Overview
Regional pricing across the globe has plummeted as increased global supply of shale gas, decelerating demand in major markets, and expanding LNG facility capacity have closed previously lucrative price differentials between geographies. The economic opportunity that once existed for Canadian producers has been reduced as spreads have tightened, making mega-investments into LNG facilities to take advantage of differentials much more contentious.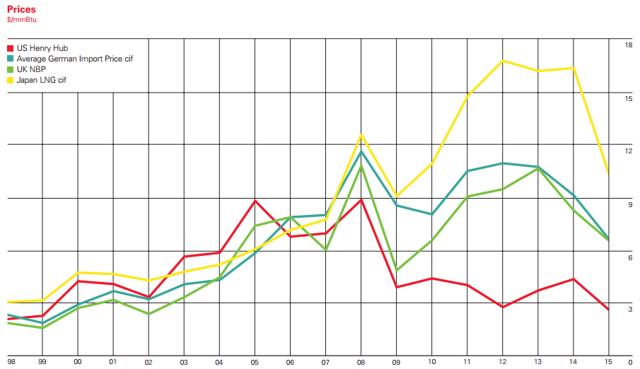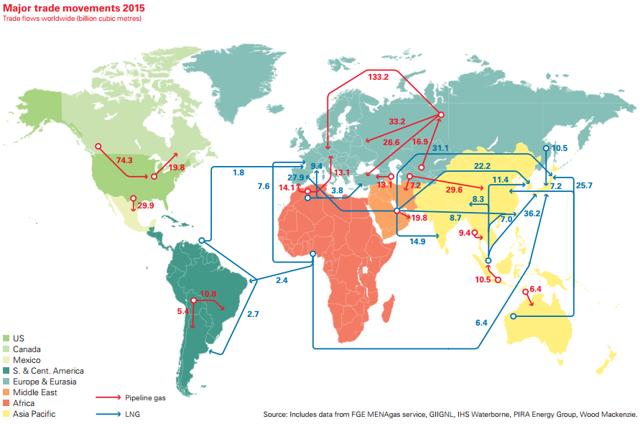 Source: BP Statistical Review
Key areas of demand growth in the future will include China and India over the mid-term, with increased growth coming from the African and South American continents in the long-term. Supply however, will increasingly come online in the same regions of the world, likely continuing to tighten pricing differentials. Proximity to growing markets will likely provide an important competitive advantage, putting pressure on relatively distant producers.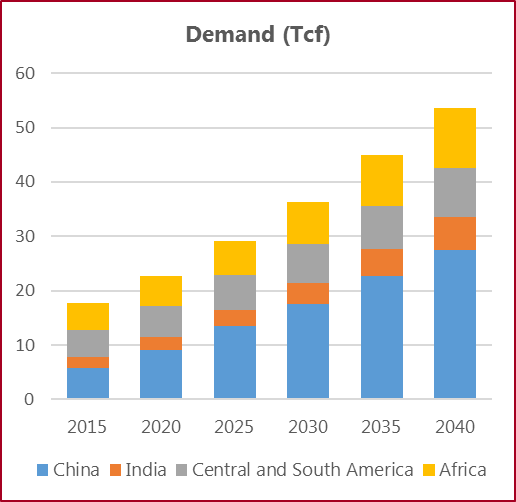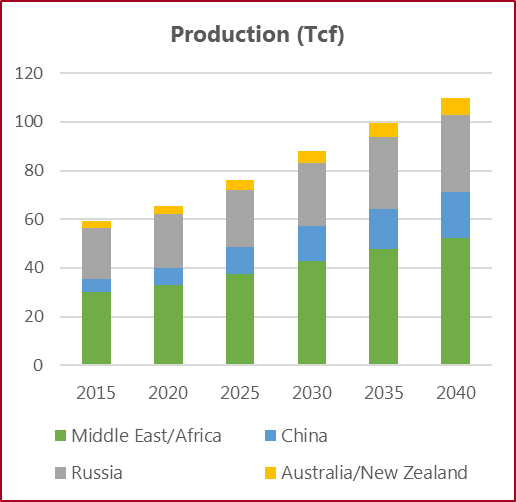 Source: EIA
Additionally, as US production continues to grow, supply is expected to exceed domestic demand, resulting in more competition for Canadian producers both locally and internationally.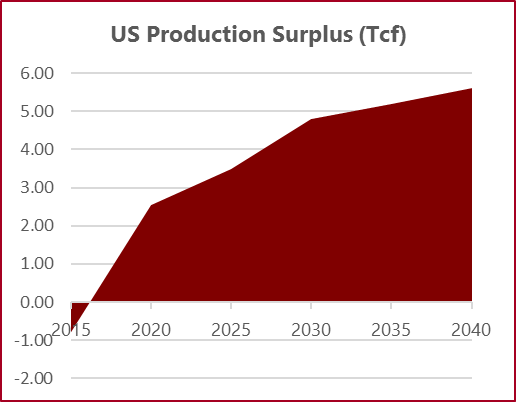 Source: EIA
Despite lower natural gas pricing, LNG capacity may be profitable for some companies (such as Petronas, undertaking the Pacific Northwest LNG project) if they are able to lock-in long-term contracts. By guaranteeing longer term supply to growing economies, they may be able to justify a premium cost. Unfortunately for Canadian LNG, capacity will increasingly come online in the coming years in competing geographies - forecasted to at least meet demand going into the next decade. If the LNG market becomes too saturated, it may be yet another obstacle for LNG facility development in Canada, and as a result Canadian producers.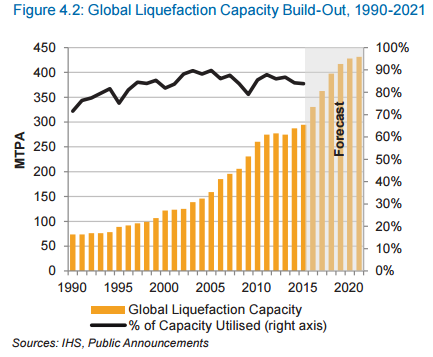 Economic viability, regulatory risk, and environmental concerns have all converged, spelling out an uncertain future for Canadian Natural Gas. The market is forecasted to remain over-supplied until the early 2020s, at which point global economic growth, regional reserve recovery, and LNG infrastructure will dictate the long-term players. For the near term, Canadian producers will likely have to continue navigating a challenging environment riddled with increasingly stiff competition.