A few weeks ago, tech news site The Information reported that Chinese internet company NetEase was in talks with Google to introduce the tech giant's Android application store Google Play to the Chinese market.
Though neither party has admitted any ongoing negotiations, this is regarded as the latest update in Google's long term effort to return to the consumer market in China. Eric Schmidt, the Chairman of Alphabet, Google's parent company, has addressed the necessity of finding local business partners to facilitate communication with regulators in China on various occasions.
NetEase, the other protagonist featured in the rumor, is one of the earliest existing internet companies in China, and a survivor of the dotcom bubble of 2000. At the same time, after Alibaba's acquisition of independent app store Wan Dou Jia in July, it's one of the very few top internet service providers in China that doesn't own a major app store. This situation has created an immense incentive for both parties to sit together at the negotiating table.
However, unlike the global market where Google Play takes an almost dominating position, in Google Play's years of absence, China's Android app store market has been divided up by local players. Third-party app stores backed by the BAT club and local smartphone manufacturers have become the go-to place for users.
Considering the situation, how much of a chance does Google Play have to change the status quo? And what will Google Play's entrance mean to developers inside and outside of China?
Tencent, Qihoo 360 and smartphone manufacturers lead the market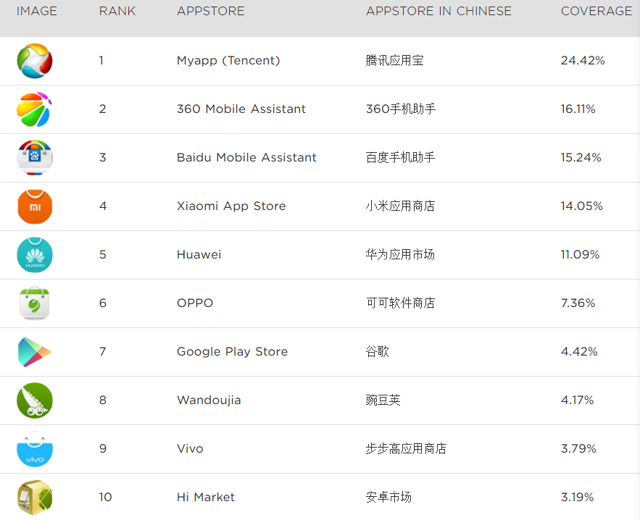 According to data monitoring platform Newzoo and TalkingData, on an install basis, Tencent's Myapp leads the current Android app market with 24.42% of the market, followed by 360 Mobile Assistant (affiliated with Qihoo 360) and Baidu Mobile Assistant. The next three app stores belong to Chinese smartphone manufacturers Xiaomi, Huawei and OPPO. Google Play comes in at 7th with 4.42% market share spread among niche users who manage to bypass existing restrictions, or with phones that have the store pre-installed. Wan Dou Jia - the app store acquired by Alibaba - and an app store owned by smartphone brand Vivo, are also in the top ten list, each with less than 5% market share.
Tencent Myapp's leading position largely follows from Tencent's massive user base. Its two killer social applications, WeChat and QQ, each have over 800 million monthly active users, according to Tencent's latest financial release. 360 and Baidu Mobile Assistant also benefit from their other signature products, 360's anti-virus software and Baidu's dominant search engine. Just like Google in the global market, the success of these app stores draws from the success of entire service suites for each of these publishers rather than the success of isolated cases.
App stores owned by smartphone makers have built up their presences in another way, primarily by pre-installs offered on their own phones and customized Android systems. The app distribution business is also pivotal for these hardware manufacturers. Based on our survey with over 4,000 Android users, recommendations and rankings in app stores are still the preferred method for users to get new apps.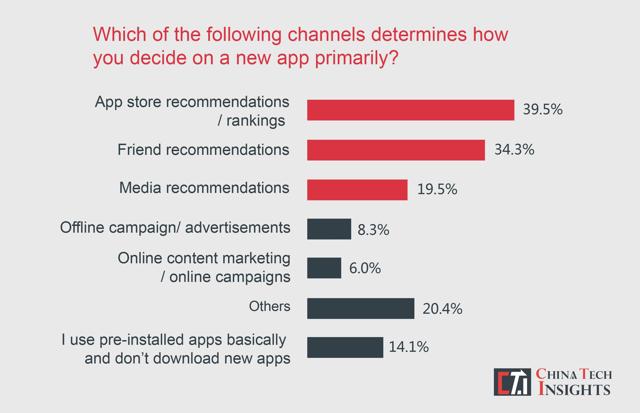 For mid to low-end smartphone lines with paper-thin profit margins, these native app stores are a primary source of revenue. Both shared revenue from app developers and advertising have lead to a lucrative business built on their mobile ecosystem.
Huawei, for example, has 220,000 registered developers and has logged 45 billion downloads in its app store with 200 million users of its consumer cloud business, according to an interview with SU Jie, the President of Huawei's Consumer Cloud Business Department. Xiaomi also indicated in a report in November that its app store achieved over 65 billion distribution instances (downloads and updates included) as of Q3 2016.
In the meantime, user motivation to switch to new channels for downloads is low. According to our survey, 56.2% of participants responded that they tend to use the app store operated by their smartphone maker, normally pre-installed. This shows Chinese users' tendency to rely on pre-installed app stores and explains the success of app stores by smartphone brands.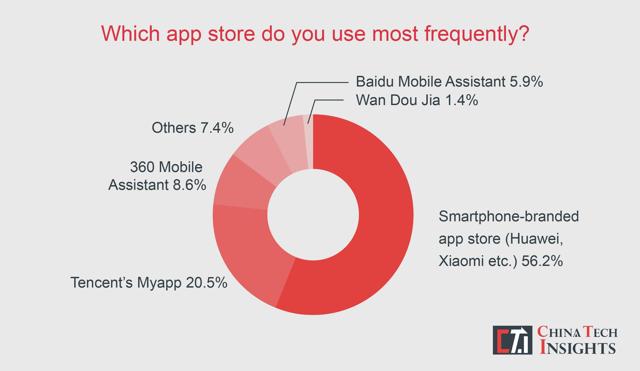 When asked about a potential preference for Google Play being pre-installed on all Android phones in the future, 49.4% chose to stick with the app store they're used to, while another 42.4% suggested they would use both at the same time; only 8.3% opted to replace the old app store with Google Play. This contrast indicates Chinese users' app acquisition preferences have become habit, and the willingness to switch away from established platforms is relatively low.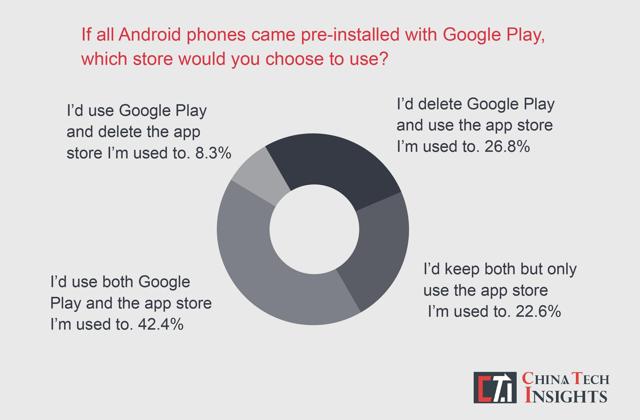 Google's efforts to reinforce its impact
Though this projection may not seem that promising for Google, the global tech giant hasn't decided to surrender the vast market to the competition just yet. In fact, Google has been making various efforts to pave its way back to China.
In 2015, Chinese media reported that Google was in negotiations with Chinese smartphone makers to pre-install Google Play, offering a one-dollar subsidy for every install. It was also in contact with Huawei for a joint release of Google Play in China but negotiations failed to reach consensus, reported QQ.com.
More significant changes have occurred in Google's attitudes toward third-party platforms. From Android 7.1, Google won't allow third-party platforms to customize their own notification centers. Chinese industry observers consider this move the first step in a strengthening of the Android brand with a standardized visual identity.
It was also reported that Google requested Chinese smartphone manufacturers pre-install Gcore - one of the key services of GMS - threatening devices wouldn't run GMS properly outside of China if manufacturers refused.
"Now Google is very strict with applications and demands smartphone makers sign contracts called Mobile Application Distribution Agreements (MADA)," said a source who's responsible for applications at a Chinese smartphone brand in an interview with QQ.com. A core part of the MADA is that Google requests smartphone makers install all Google applications or none, according to the source.
These actions show Google is capable of wresting control of the Android ecosystem. For third-party app stores in China, this will always present itself as a threat from the source, though a blunt suspension from Google won't be possible due to the open-source technology underpinning Android.
Who's on Team Google?
As Google always emphasizes, it never left China, especially in terms of its developer services. Last year, it launched a Chinese version of its developer service platform Google Developers (developers.google.cn).
In contrast with the lukewarm reception received from Chinese consumers, developers from China are more enthusiastic about a possible return of Google. Compared with the poorly regulated Chinese app store space, Google Play, with its standardized and strict operation protocols, is more favorable for developers. Even though Google Play's return may not make much difference to China's consumer market, developers expect its impact to help establish a more organized market order for China. Also, the presence of Google Play in China is expected to reduce the burden on foreign developers struggling to come to terms with the complicated app distribution market in China. Considering this, many developers both inside and outside of China are keen to see a return of the tech giant.
As for public affairs, though Google still has precarious relations with local regulators, Chinese observers point out a possible opportunity for a bargain. Last December, China's Ministry of Industry and Information Technology published a ruling on the pre-installment and distribution of mobile applications, an effort to counter malicious acts including breaches of user privacy and the unauthorized charging of fees. Chinese regulators will likely be pleased to see more organized app distribution in China. Contributing to the improvement of the market order may be deemed as a signal of good will under these circumstances.
According to market research company App Annie, global app downloads increased by 15% in 2016, with China being the No.1 market for Apple's iOS contributing over 50% to the growth of the iOS app market globally and the highest annual returns for 2016. For China, the return of Google Play may not make a great difference; but for Google, China continues to be a market not to miss.
With contribution from Chen Feng, Yalan Liu, and Xiaofeng Guo.
Editing by Rohan Malhotra.
Disclosure: I/we have no positions in any stocks mentioned, and no plans to initiate any positions within the next 72 hours.