Background
Yangzijiang (YZJ) operates through shipbuilding, investments and trading activities. It produces a range of commercial vessels, such as containerships, dry bulk carriers, oil tankers, and liquefied natural gas (NYSEMKT:LNG) carriers. The company also engages in the production and processing of steel structures. In addition, it facilitates the sale and export of ships for the ship builder; trades in ship related equipment and shipbuilding related materials and supplies marine equipment and materials.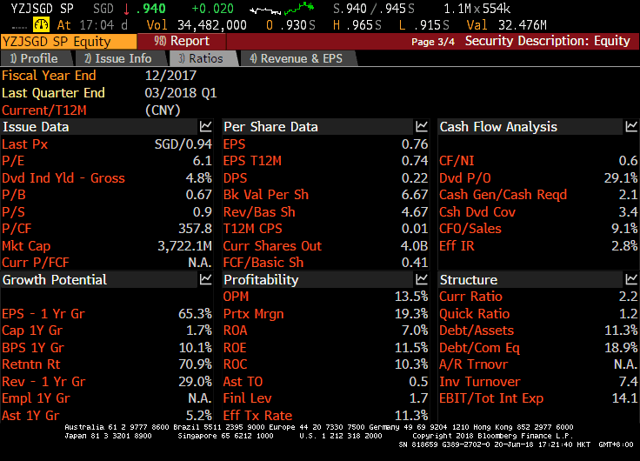 Strong Balance Sheet & Attractive Valuation.
In a net-cash position with cash and equivalents of SGD1.17 billion and positive FY operating cash flow for the past 4 years, YZJ should have sufficient reserves to compensate any shortfalls. Currently, its total liabilities of SGD3.2 billion represents 56.5% of total Equity while its Current Ratio at 2.2, its low-debt structure makes it favorable as interest rates continue to rise.
Currently trades at Price to Book of 0.69, a -1.5 standard deviation. of its 5-year mean, cheaper than the Singapore yards (above 1x P/BV). At Enterprise Value to EBITDA of 2.15 and 4.79% Dividend Yield, YZJ is still profitable despite headwinds in the maritime industry.
Strong Order Book
YZJ received 9 new orders in May, bringing year-to, -date new orders to USD 846 million, 2 X (82,000DWT dry bulkers), 2 X (208,000DWT dry bulkers) and 5 X (12,000TEUcontainerships) for USD578 million. The new orders further proved YZJ's strong market position in building large-size containerships and dry bulkers. In April and May 2018, Group delivered 18 vessels in total, primarily large containerships and dry bulkers.
YZJ's shipbuilding business is running stable, with yard utilization at around 90%. In April, the company delivered its first 400,000DWT VLOC . Up to 28 May 2018, the Group has successfully delivered all the 25 units of the 10,000TEU containership for Seaspan, one of the largest shipbuilding orders in the Chinese shipbuilding industry. As of 31 March, 2018, YZJ had an outstanding order book of USD4.5 billion, giving it a stable revenue stream for the next 2.5 years.
Share Buybacks
YZJ bought back 5,000,000 shares in open market on 30 May 2018, conducted 3 buybacks on separate occasions in June:
1,000,000 shares @ SDG 0.97-0.985
2,158,400 shares @ SGD 0.97-0.98
1,000,000 shares @ SGD 0.92
Maritime Industry Recovery & Shipping Rates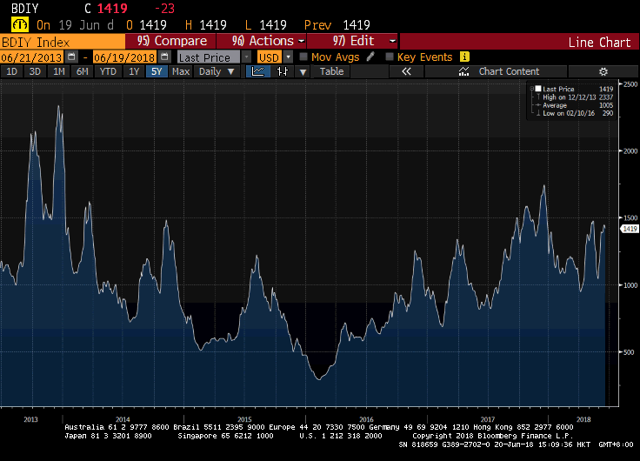 The Baltic Dry Index (BDI) is useful in determining the cost to move commodities and raw materials by sea and serves as benchmark for charter rates.The steady recovery of oil prices and BDI stabilizing, sentiment on the shipbuilding market remains healthy.
Shipbuilding index has risen 14% from the low in 2016. The narrowing price gap between new-builds and secondhand vessels also makes it more worthwhile for owners to order new ships vs. purchasing ships from the secondary market. For instance, a capsize (180k DWT) newbuild costs US$45m to build vs. US$35m for a 5-year old vessel (2016: less than US$30m).
Orderbook to Fleet Ratio
The orderbook to fleet ratio is an indicator used to gauge the future supply growth of shipbuilding orders. Since peaking in 2008, the orderbook has fallen significantly as a percentage of the total fleet, with the downward trend continuing in 2015 so far.
The global shipping industry's newbuild orderbook-to-fleet ratio has fallen to 10% — a low point not seen since 1999 — according to data from transport analysis firm Crucial Perspective. If China's manufacturing activity, exports and imports remains steady or continue to grow, demand for charterers will remain upbeat.
Key Risks
Margins continue to decline: Management are still cautious of a weak pricing trend and declining margins attributed to the appreciation of RMB and cost of its raw materials.
USD exposure: Most of its revenue is denominated mainly in USD, and only half is natural hedged. If its net exposure remains unchanged, every 1% depreciation in USD could result in 2% decline in earnings.
Cost of steel: With trump's tariffs on Steel, we cannot be sure how this will truly impact the demand of steel globally. The major producers of steel such as China and India are already preparing retaliatory tariffs, there is no certainty as to how much this impacts steel prices in the near term.
Trade war: The tariffs measures were poorly received by the vast majority of economists; almost 80% of 104 economists surveyed by Reuters believed that tariffs on steel and aluminum imports would be a net harm to the U.S. economy and globally. The threat of a full-blown trade war is a concern for growth in global trade and the maritime industry.
Note: Ruzaini is a stockbroker and investment blogger, and that means he is not always right with his predictions or recommendations. That also applies to his grammar. Please excuse any typos, and be assured that he will do his best to correct any errors, if they are overlooked.
Finally, this article is free, and the sole purpose for writing it is to assist with research, while also providing a forum for second-level thinking. The information or opinions provided do not constitute investment advice, a recommendation, an offer or solicitation to subscribe for, purchase or sell the investment product(s) mentioned herein.
Subscribe to theasiancontrarian for updates on his investing journey and insights.
Disclosure: I/we have no positions in any stocks mentioned, and no plans to initiate any positions within the next 72 hours.