The Medicines Company [$MDCO] is scheduled to release updated drug trial results for its developmental cardiovascular drug MDCO-216 in November. Anticipation for the data is beginning to rise, and the stock has already proven susceptible to notable swings in price as a result of past trial news.
The Medicines company is scheduled to report data at the American Heart Association Scientific Sessions, set to take place between November 12 and 16 in New Orleans. The study results involve MDCO-216, a drug meant to reduce plaque burden in patients with atherosclerotic disease.
This particular drug has a recent history of impacting the stock's performance. In general, investor hopes have been high for the future of MDCO, though a developmental hiccup in August prompted a notable move in the stock, suggesting that the future data release could prove another opportunity to capitalize on increased volatility.
Here's what happened in August:
On August 22, Implied Volatility for MDCO spiked. Over the next couple days, volatility climbed, eventually reaching a closing peak of 68.7 on August 30. This marked its highest level since February, when Implied Volatility touched 74.9.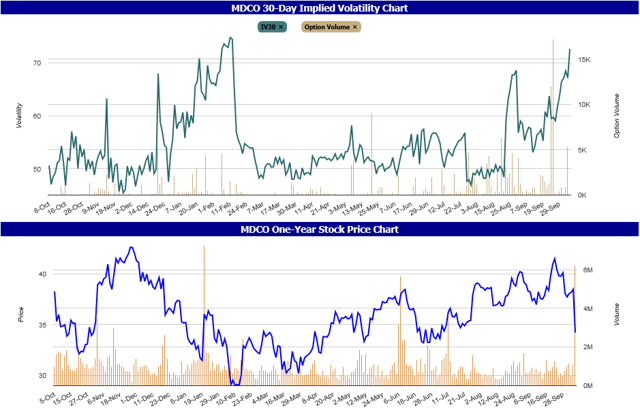 The stock rose over this time as well, climbing from a near-term closing low of $36.86 on August 16 to a close of $40.23 on August 29, its highest finish since December of 2015.
The move came in anticipation of results of a proof-of-concept study of MDCO-216.
On August 30, the company released interim analysis of the first 40 randomized patients completing treatment in its MDCO-216 study. The results were not good enough to warrant a quick end to the study.
If there had been enough evidence, the company could have terminated the trial and immediately moved on to the next stage in development. The results didn't support this move and instead, the study's Independent Data Monitoring Committee recommended that the study continue.
There was some profit taking in the next couple weeks prompted by the news. The stock reached a near-term bottom on September 9. This was followed by a renewed surge over the next couple weeks, culminating in a new 2016 high of $41.50 on September 22. The stock is off that high now, trading at $34.48 as of this writing.
Implied Volatility moderated after the release of the MDCO-216 results. However, the stat began a new upward trend in the middle of September. Earlier this week, on October 4, Implied Volatility came just short of the late August multi-month high, recording a level of 68.5.
The ATM Straddle Premium for the October 21 expiration is $3.29, or 9.6%. ForNovember 18, it is $8.42, or 24.5%. Looking further ahead, the January 20 expiration has a premium of $13.19, or 38.4%.

For more, visit MDCO's Option Summary page on MarketChameleon.com
Disclosure: I/we have no positions in any stocks mentioned, and no plans to initiate any positions within the next 72 hours.