Activity in the options market presented a bullish signal for Starbucks (SBUX). This comes as month-long rally in the stock has stalled in the last few days, with shares slipping from their 52-week high amid news of a CEO transition.
The 30-day implied volatility skew for Starbucks ticked further to the bullish side during Wednesday's trading. This is the most bullish the measure has been in over 5 weeks.
25-Delta Put options are trading at 21.7 vol, or +1.6 higher than the 25-Delta Call options. This spread over the past year has been an average of +3.7, suggesting that option traders are more confident of a move to the upside.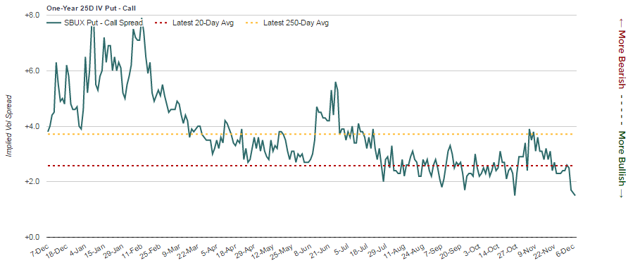 To see this chart, visit https://marketchameleon.com/Overview/SBUX/VolatilitySkew/OTMSpread/
The last time the IV skew reached these levels was on October 26, when the figure hit +1.5. The stock closed at $53.63 on that day, dipped modestly during the following week to hit a 52-week low on November 3 at $50.84. From there the stock gained steadily, reaching a multi-month closing high on December 1 of $58.51.
The rally through most of November was fueled by strong quarterly results released on November 3. The company's quarterly profit rose from last year and revenues topped expectations, driving the upward swing in the company's spot.
Shares of Starbucks have come off their highs in the last few days, with the stock now trading at $57.44. This came as the company announced a CEO transition plan, with Howard Schultz stepping down as chief executive and being replaced by Kevin Johnson.
Disclosure: I/we have no positions in any stocks mentioned, and no plans to initiate any positions within the next 72 hours.