Generally speaking, it was another tough week for volatility buyers in the options market for the weekly expiration 06-Jan-2017. Winners paid off well on the call side, though finding winners was a challenge. For puts, the week represented a disaster for those buying volatility, with just over 1 in 20 bets paying off.
Stocks drifted higher through the week, with the Nasdaq and S&P 500 setting new record highs and the Dow flirting with the 20,000 mark. Stocks gained on Friday, despite a disappointing employment report, and recorded gains for the first week of 2017.
For the week, unhedged At-the-Money (ATM) Straddles came back winners just 34.8% of the time, with only 7.2% of those making more than +100% return. The average return was negative for the week, at -14.3%. 25-Delta Calls only returned winners 30.1% of the time, but had a much better payout. With 25% of the winners scoring returns of more than +100%, the average payout for the strategy was +44.9%.
For 25-Delta Puts, the situation was bleak for buyers. The strategy returned a winner just 5.7% of the time and the average loss was 77.0%.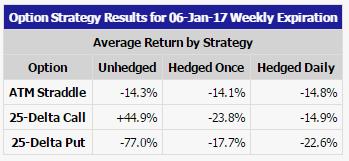 Standouts
Macy's (M)
Shares of department store chain Macy's dropped off a cliff on Thursday, hurt by lowered guidance and the news that the company would be closing stores and cutting 10,000 jobs. The stock closed Wednesday's session at $35.84 and then opened sharply lower the following session once the restructuring news was announced. The stock finished out the week at $30.82.
Unhedged 25-Delta Puts for M had an average profit of +726.2%. Meanwhile, unhedged ATM Straddles returned +126.3%.
Facebook (FB)
Facebook advanced throughout the week, finishing higher in every trading session so far in 2017. The stock closed 2016 at $115.05. After the string of gains, it finished off the first week of 2017 at $123.41. The advance was helped by some positive attention from analysts and the financial media. Aegis Capital gave the company a Buy rating and a price target of $150, while TheStreet.com published a story touting the stock's upside potential, called "Why Facebook's Stock Could Easily Pop 30%."
Unhedged 25-Delta Calls for FB had an average return of +1,357.4%. Unhedged ATM Straddles had an average return of +201.9%.
Hedging Comparison
Hedging was a helpful strategy for puts during the week, allowing traders to cut their average losses significantly. However, it hurt calls, turning an overall positive return into a negative one. For ATM Straddles, hedging almost literally made no difference.
For 25-Delta Puts, the average loss for an unhedged position was -77.0%. Hedging once cut this to a loss of -17.7%. Daily hedging was not as helpful, but still significantly softened the blow compared to a completely unhedged position. Daily hedged 25-Delta Puts had an average loss of -22.6%.
For 25-Delta Calls, a positive return of +44.9% for unhedged positions became a negative one of -23.8% with a single-hedged position. Daily hedging had an average loss of -14.9%.
For the ATM Straddle position, hedging had almost no effect. Unhedged, single-hedge and daily-hedge positions all had average losses between -14.1% and -14.8%.
--
posted from the original: https://marketchameleon.com/Blog/post/2017/01/09/option-trad...