ACCELERATING DIVIDENDS, BLUE CHIP STOCKS, CLOSED END FUNDS
Early this week, negative news about Facebook (Nasdaq: FB) helped to pull down its share price and many of the other tech stocks. The last six weeks have shown that the formerly high-flying, never-go-down tech stocks can actually go down. Continued stellar share price gains are no longer a foregone conclusion. On the other side, these stocks could continue to climb by 20% per year for an extended period of years. This may be the time to consider an alternative investment that will parallel the changes in the Nasdaq stock index and pay a 6% dividend at the same time.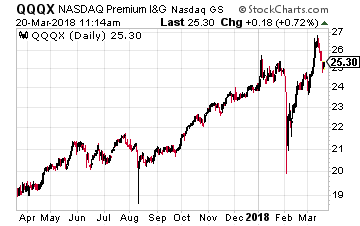 The Nuveen Nasdaq 100 Dynamic Overwrite Fund (Nasdaq: QQQX) is a closed-end fund that owns Nasdaq traded stocks to match the component weighting of the popular Nasdaq 100 stock index. The Dynamic Overwrite in the name describes the funds policy of selling call options on 35% to 75% of the value of the Fund's equity portfolio – with a 55% long-term target – to enhance the Fund's risk-adjusted returns.
To match the Nasdaq Stock 100 Index, the top five holdings in QQQX are Apple Inc. (Nasdaq: AAPL), Alphabet Inc. (Nasdaq: GOOG), Microsoft Corp. (Nasdaq: MSFT), Amazon.com Inc. (Nasdaq: AMZN), and Facebook Inc. (Nasdaq: FB). These five stocks make up 50.9% of the fund's portfolio value. This closed-end fund gives significant exposure to the popular technology sector stocks.