Immunomedics Inc (NASDAQ:IMMU) jumped over 15% in after hour trading on the news that the company initiated Phase III clinical trial of Clivatuzumab Tetraxetan in patients with pancreatic cancer. The sharp rise of the share price is not sustainable as the news is completely expected. In this article, I'll explain why this gap-up will quickly fade and wise investors/traders should take advantages of this nonsensical spike and lock in their profits.
IMMU is running low on cash
By the end of Q3 2013, Immunomedics has only $34MM in cash, cash equivalents and marketable securities. The company roughly burned 4-7MM per quarter last year. By the end of Q4 2013, the company will have over $20MM cash. Last time that the company reached this level cash in Feb. 2013, they raised $14MM at $2.3/share. With the start of another Phase 3 trial, which will cost over $100MM, the company will raise money very soon. The secondary offering last year was quite damaging, the share price dropped to $2.11, the 52 week low.
IMMU has no near term catalysts
The company's most advanced drug, Epratuzumab, is in two phase 3 trials, EMBODY1 and 2 for evaluating clinical efficacy and safety to treat Lupus. Per the company's presentation, the results won't be ready until Q1 2015.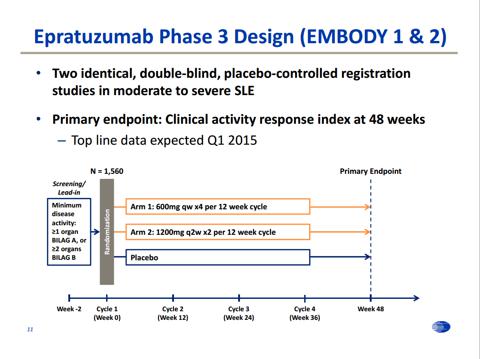 The company won't complete enrollment for the new phase 3 trial for clivatuzumab tetraxetan until late 2015 if everything goes smoothly.
The company has no significant catalysts for at least one year to excite investors/traders.
General market correction is imminent
Multiple factors will likely cause a market correction in early 2014.
First is Tax Gain Sell. S&P500 rose 26% in 2013. Many investors made huge gains and need to cash in on their stocks in the first quarter to pay hefty capital gain tax. This is called Tax Gain Sell, which is the reverse of Tax Loss Sell, that investors sell their losing stocks in December to reduce tax burden.
Second, the US government will reach debt ceiling again in early March. Tea Party-oriented conservatives, who failed in efforts to stop the budget deal, say they may have a better chance at attaching new fiscal restraints to legislation raising the U.S. debt ceiling. We fully expect some drama will happen soon in Washington, which will cause some market turmoil.
Third, QE tapering effects will be felt the market soon and will lead to less risk-taking.
If the general market pulls back, the red hot bio-techs will be among first stocks to get sold off. IMMU is no exception.
In summary, we believe the 15% jump just on phase 3 trial start will fade quickly. It won't be surprising if we see IMMU gives up all the gains on Friday, or even close red.
Disclosure: I am short IMMU, . I wrote this article myself, and it expresses my own opinions. I am not receiving compensation for it (other than from Seeking Alpha). I have no business relationship with any company whose stock is mentioned in this article.