Some are looking to the land down under for help with financial reform. In one example of a bright spot in the industry, Australia and New Zealand Banking Group (ANZ) is rated "A" on its corporate governance.
As regulators investigate the possible misuse of interbank lending rates at a number of global firms such as Charlotte, N.C.-based Bank of America Corp., European policymakers have been studying New Zealand's trade-based interbank rate, IFR Magazine reported this August. Australia's bank bill rates are considered more transparent than the U.K.'s Libor, media have reported in recent months.
ANZ is involved in the regulation of Australian financial markets and operates primarily in Australia, New Zealand and the Asia Pacific. The Melbourne-based firm publishes a plethora of information about its corporate governance practices, and not just lip service, but with detailed descriptions of its actions. For example, CEO Michael Smith is the only non-independent director on ANZ's board. The bank also discloses the extent of its supervisors' responsibilities, such as the audit committee's having unrestricted access to ANZ's global internal auditors and external auditors.
ANZ has also been taking steps toward improved corporate responsibility on other fronts. For example, ANZ cut back on the energy use in its Australian-based commercial buildings by 12% in 2011 by taking steps such as moving staff out of more energy intensive buildings. The bank has set itself a number of concrete goals for 2012, ranging from reaching at least 40% representation of women in management to resolving 90% of retail customer complaints within five business days in Australia.
Meanwhile, ANZ's managers have presented the bank's business results in a conservative manner that rarely raises questions. The company's financial statements reflected an AGR score of 98 as of June, indicating that its accounting and governance risk is higher than only 2% of comparable companies in the Asia-Pacific.
To be sure, ANZ remains far from perfect. For example, when Gun Capital Management Pty Limited, Exchange Minerals Pty Limited and Bejjal Pty Limited proposed in April 2008 that ANZ's subsidiary ANZ Nominees Limited had no basis for its earlier assertions about its stake holding in BioProspect Limited, the Australian Government Takeovers Panel said the same month that ANZ had undertaken corrective measures such as selling down its interest in the product development company to less than 5% of its issued capital within 12 months. Such run-ins have taken place at ANZ much less frequently than they have done at many other global banking firms, however.
In the meantime, the other regulators can watch and learn how the Australians get it done.

Region: Asia-Pacific
Sector: Financials
Industry: Banks
Market Cap: AUD 62,678.8mm (Large Cap)
ESG Rating: A
AGR: Conservative (98)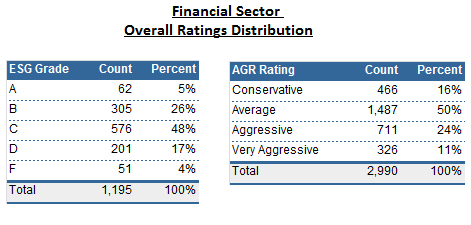 Disclosure: I have no positions in any stocks mentioned, and no plans to initiate any positions within the next 72 hours.
Additional disclosure: I am a corporate governance specialist.