Dollar Tree is a leading operator of discount variety store. As of February of 2018, Dollar Tree operated 14,835 discount variety retail stores under storefronts Dollar Tree and Family Dollar and has identified opportunities to expand its market share by opening 26,000 stores across North America, which will make it the largest discount variety store by store count, ahead of its main competitor Dollar General with 15,000 stores. Dollar Tree offers variety of merchandise for $1 while Family Dollar offers merchandise for $10 or less.
Recent Acquisitions
In 2015, Dollar Tree completed the purchase of Family Dollar and its 8,200+ stores. The acquisition was completed for $3.5 billion, and the cost of acquisition was financed by borrowing $3.95 billion. The $3.95 billion loan under the term B loan which includes term Loan tranche with $3.3 billion with floating rate term which represents term Loan B-1. Of total borrowed money, $650 million is financed with a fixed rate term loan B-2. As of February of 2018, Family Dollar paid $1 billion of the $3.3 billion loan.
Family Dollar acquired Dollar Giant in 2010. The acquisition deal included 85 stores for $52 million (CAD).
Overview of the Discount variety retailer industry
According to a 2017 add year study was conducted here) study conducted by IBIS World, over the past five years the dollar & variety stores in the U.S has grown by 2.8% to reach revenues of $77 billion in 2018. In 2018, Dollar Tree represented 29% of the total market share based on the revenue compared to Dollar General, which represented 30% of the market share.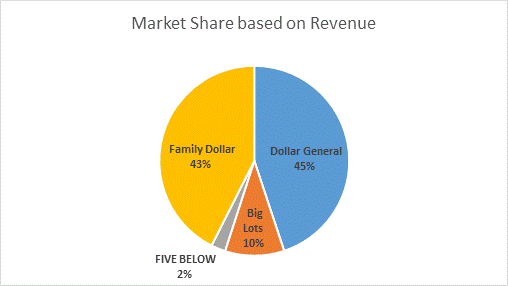 The bar chart below depicted that Dollar General revenue is growing slower than Five Below and Dollar Tree. Meanwhile, five below revenue is growing faster than both Dollar General and Dollar as well as faster than the industry.

Business Strategy and Outlook
Dollar Tree has struggled to differentiate itself from its competitors since it acquired Family Dollar in 2015. Dollar Tree and Family have different store concepts, customer bases, demographics, and product assortments. Starboard Value took an ownership interest of approximately 1.7% of the outstanding common stock of Dollar Tree which making one of the company's largest shareholders. Jeffery Smith, CEO of Starboard, sent out a letter to Bob Sasser CEO of Dollar Tree, to inform him about ways that Dollar Tree can increase its return on capital.
To outline the purpose of the letter:
Dollar Tree is the only retailer left at the single $1 price point, and Starboard is suggesting keeping the majority of product priced at $1.00, with a few price points added to stores (e.g., $1.25, $.150, $2.00)
Since the acquisition of Family Dollar, Dollar Tree has underperformed Dollar General by more than 20%, and it struggled to build organizational synergies between Family Dollar and Dollar Tree. Therefore, Starboard urges the company to explore a sale of the Family Dollar Business.
Historical Performance
The revenue growth is an imperative factor to assess the company financial health. The company has increased its sales since 2008 by 18% CAGR. Moreover, the company has shown to be recession proof by shown an increase in revenue and net income during recessionary periods. To elaborate more, the company revenue increased by 18 percent during 2001 recession, and 13 percent 2009 recession. On other hand, the net income increased by 40 percent during 2009 recession, and 1.2 percent during 2001 recession. It is not surprising to notice that Discount variety stores thrive during recessionary periods because Dollar tree draws a broad range of low-middle-income customer who tend to live on paycheck-to paycheck and their disposal income will be affected by the magnitude of recession.
To highlight Income Statement Key Performance Factors:
The gross Margin: Dollar Tree does not maintain favorable gross margin compared to its competitors in the discount variety due to high competition in the industry. However, the gross margin improved by 0.70 percent from 2016 to 2017. Gross Margin for Dollar Tree increased to 35.8% In 2017 compared 35.4% in 2016 due to lower merchandise cost driven primary by improved mark-on. On the other hand, Gross Margin for Family dollar increased to 27.3% in 2017 compared to 26.6% in 2016 due to lower merchandise and lower markdown.

Operating Profit Margin: Dollar Tree increased its operating profit margin by 0.76% from 2016 to 2017. The following expenses attribute to lower operating profit margin

Dollar Tree incurred higher payroll costs resulting primarily from higher store hourly wages.
Family Dollar incurred higher advertising costs, store supply costs, and $18.5 million receivable impairment because of the required divestiture of 325 stores.

Net Profit Margin: Dollar Tree increased its net profit margin 3.4% due to benefit of lower effective tax rate. The benefit estimated from Tax Cuts and Jobs Act to be approximately $250 million in fiscal which the company plans to reinvest $100 million into the following

Increased store hours, including training for associates;
Higher Average hourly rates;
Adding Family Dollar eligible associates to the Dollar Tree Retirement Savings Plan starting in fiscal 2017 and increasing contributions in fiscal 2018;
Instituting paid maternity leave for eligible associates.

To highlight Balance Sheet Key Factors:
Interest Coverage is 6.77 as of the latest fiscal year 2017, which means that the operating income is more than 6 times the interest payment in the debt.
Current ratio as of the latest fiscal year 2017 indicates that Dollar Tree has 1.6 times its current assets as its current liabilities.
Inventory turnover is one main factors that should be assessed carefully because some companies pile up inventory higher than revenue growth. On one hand, revenue increased by 7 percent from 2016 to 2017. On the other hand, the inventory increased by 11 percent which is slightly above revenue year over year growth rate. This is considered as a warning sign because company's inventory may be obsolete and may require a write off.
Account receivable should be assessed carefully and thoroughly in order to detect if the growth rate in account receivable exceeds the growth rate in sales to determine whether the firm is having difficulty in this area. Dollar Tree does not have a large account receivable. As of the latest fiscal year, outstanding account receivable is $90 million, which includes certain receivable from Dollar Express relating to the divestiture.
Total Debt ratio: 56% of assets are financed through debt. However, total debt has decreased by 10% from 2016 to 2017. The total debt is high due to leverage cost associated with acquiring Family Dollar. As of the latest fiscal year 2017, 31 percent of debt represents short term and 69 percent represents long term.
Measure Historical Performance
Return on Capital Employed: Accounts payable, income taxes payable, and income taxes payable long-term were excluded from the calculation of ROCE because they are non-interest-bearing liabilities. The company leases its retail locations under operating. An adjustment is made to include all operating leases in the calculation of capital employed adding the present of lease to liabilities as an equivalent asset. The CAGR with cash at end of period from 2012 to 2017 is 12% with 3% standard deviation. The return on capital employed has been steady and consistent over the past 5 years.

Free Cash Flow: Bruce Greenwald's method is used to calculate maintenance capital expenditure in order to exclude maintenance capital expenditure from the calculation of free cash flow. The maintenance capex is simply calculated as a percentage of sales multiplied by increase/decrease in sales to arrive to growth capex. The chart below depicted that the growth rate for Free cash flow for last 9 years is 9%, and clearly seeing an upward trend in the free cash flow.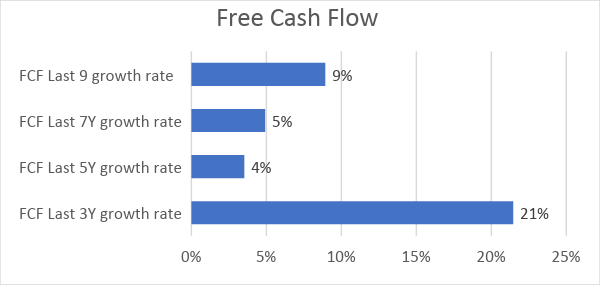 Sales to Capital Employed: sales to capital employed ratio has been shrinking over the past 3 year since the company is spending more money to renovate the stores. In 2017, the company completed approximately 375 Family Dollar Store renovation.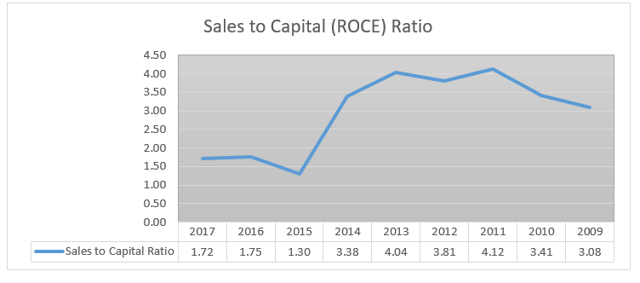 Breadth Analysis:
Customer Base:

No vendor accounted for more than 10% of total merchandise purchased in any of the past five years.

Supplier Base: Dollar Tree buys approximately 58% to 60% of merchandise domestically and import the remaining 40% to 42%. The company domestic purchases include basic, seasonal, home, closeouts and promotional merchandise. Supplier base is considered to be a red flag because the failure to reach a trade agreement between U.S and China will cause disruption in the flow of imported merchandise as well as an increase in the cost of those goods may significantly decrease the profit.
Comparable Companies Analysis

Forward P/E of 16.82, EV/EBITDA of 11.72, and EV/EBIT of 15.20 suggest undervaluation relative to market even assuming slow future growth
CAGR of 17% from last 10 years is higher than industry average CAGR of 13%.
Discounted Cash Flow Analysis (Base Case) – See the attached spreadsheet for more details.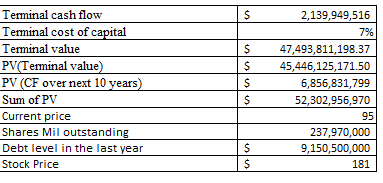 Price Target
Base Case: $181(91% upside)

Revenue estimates-based year over year growth rate from 2016-2017, 7% growth rate.

Bull Case $226 (138% upside)

Revenue estimates-based on CAGR from 2015 to 2015, 13% CAGR
Disclosure: I am/we are long DLTR.