PetMed
PetMed Express is a leading nationwide pet pharmacy. The company markets prescription and non-prescription pet medication for dogs and cats directly to retail consumers through internet, telephone, and direct mail. As of the 2018 annual shareholder report, online sales represented 84% of total sales, and contact center represented 16% of total sales.
Cautious on future of the business
PetMed faces fierce competition from veterinarians whom have resisted providing their customers with a copy of their pets' prescriptions. The chart below exhibits that PetMed's market share decreased by 50 basis points from 2016 to 2017.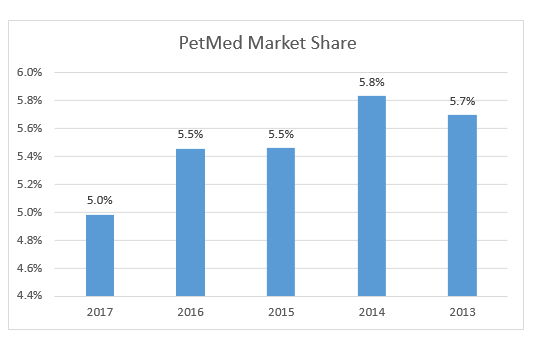 Declining customer base due to downside risk in an evolving competitive landscape. The chart below demonstrates two main key facts about PetMed customer base:
Customers who made purchase past 2 years decreased from 2017 to 2018 by 22 percent.
New Customers base grew by 1 percent.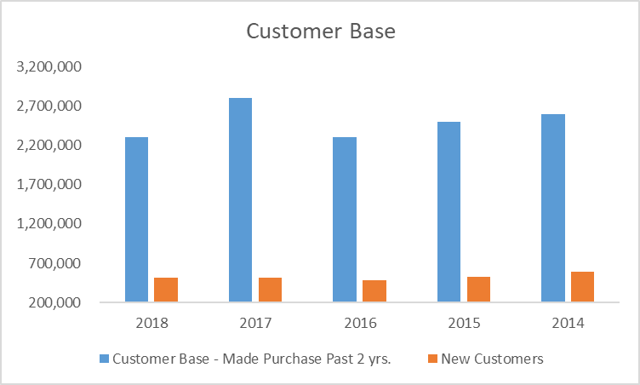 Business Concentrations
Customer Base: Approximately 50% of total sales in the fiscal year ending 31, 2018 were made to customers located in 8 states. However, the company ships pet medication to customers in all 50 states. For any reason, if PetMed's license to operate in one of those states should be suspended or revoked, PetMed will suffer a huge revenue loss.
Supplier Base: Approximately 50% of all products in fiscal 2018 were purchased from four vendors. The downside risk if one of the vendors does not continue to provide PetMed with products, any interruption in deliveries will cause a problem on revenue streams.
Customer Base and Customer Acquisition Cost

Average Purchase value has increased by 3% CAGR from 2013 to 2018. Average Purchased value by 5 percent from 2017 to 2018.
There is a direct correlation explained by 79% R² between purchase value and revenue.

The new customers base grew by 1 percent from 2017-2018 while the acquisition cost grew by 9 percent. That is an indication of competitive pressures from veterinarians, online, and other retailers. Furthermore, there is a direct relationship explained by 71% R² between advertising percent of total revenue and total revenue. Overall, a continuation of declining revenue amid a tougher competitive environment and persistent promotional spending should weigh on EPS growth in the long term.
Fundamental Analysis
Income statement:
Revenue: The company revenue increased by 9.9% YOY while its gross margin increased by 3.9% which showed a sign of the company's intension to control cost of goods sold. In the past 3 years, the gross margin has reduced due to the competitive environment of the business dynamic.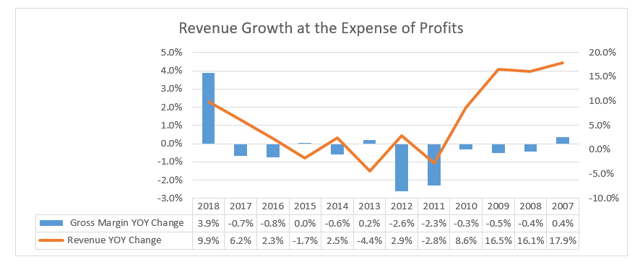 Revenue Seasonality: 54% of revenue generated in the first and fourth quarters. The seasonal timeframe highly correlates with weather. For instance, the sales in warmer weather, such as fourth and first quarters, increased due to the proportion of flea, tick, and heartworm medications in product mix. Thus, spring and summer are considered peak seasons with fall and winter being the off seasons.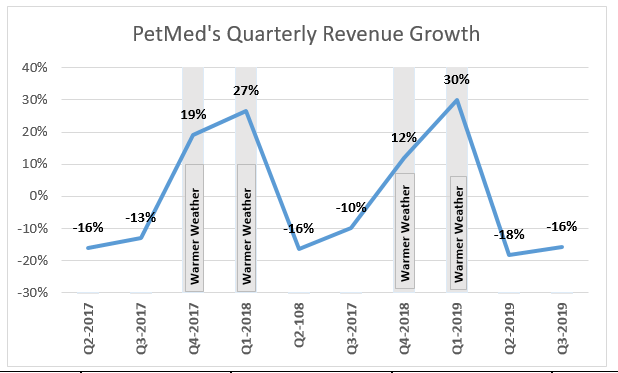 Revenue Growth compared to the comparable companies: the chart below depicted that PetMed is growing at steady rate and upward trending. Furthermore, the past 3 years revenue growth rate is higher than average industry by 100 basis points.

Gross Margin compared to comparable companies: PetMed maintains favorable gross margin to companies in the distributor, services, and retail industry. In fact, the gross margin in 2018 is above the industry by 700 basis points. PedMed's gross margin increased by 4 percent from 2017 to 2018 due to the shift to higher margin items and offset by additional discounts given to customers to increase sales during the fiscal year.

Operating profit Margin: PetMed Express maintains a favorable operating profit margin compared to both services & retail and products industries. For instance, the operation profit margin in 2018 is higher than the industry by 400 basis points.

Net Profit Margin: PetMed Express maintains favorable net operating income compared to companies in the services & retail industry. In fact, PetMed expands its operation without any leverage, and does not pay any interest expenses since all the liabilities are classified as non-interest-bearing liabilities. Net Income increased by $13.5 million or 57% for the fiscal year ending March 2018 from March 2017. The increase was primarily due to:

An increase in gross profit due to increased sales and a product mix shift to higher margin item during fiscal 2018.
The increase was also attributed to a reduction of the company's income tax provision due Tax Cuts and Jobs Act 2017.

Leverage ratio: Debt to equity is 0.17 as of the latest fiscal year, 2018, which indicates the company is not using a lot of leverage to expand its growth.
Current ratio as of the latest fiscal year 2018 indicates that PetMed has 5.80 times its current assets as its current liabilities. That is an indication that the company can meet its current obligations without raising external capital.
Cash has increased by 33 percent from 2017 to 2018. Balance sheet cash continues to build up to $75 million. The company is using cash to pay dividends, buyback shares as a plan of $10 million remaining stock buyback program and look at acquisition opportunities during the normal course of business.
Inventory increased by 15 percent from 2017 to 2018, while the revenue grew only by 10 percent. This might be considered a warning sign in the short term because the company's inventory may be obsolete and may require a write off. Furthermore, the inventory reserve increased by 14 percent from 2017 to 2018 by approximately $7,000. The inventory turnover as of the latest fiscal year is 7.4 times, which means that PetMed replaced its inventories about 7.4 times during the year.
Account receivable as of the latest fiscal year in 2018 is only $2.3 million because of credit card sales which minimize account receivable balances relative to sales.
Balance Sheet Summary:

Key Takeaways
Book Value per share and tangible assets per share does not deviate from each other by a large percent, which shows the company is not built on intangible assets and is overpaying for acquisitions.
Cash per share increased by 27 percent the last 3 years.
Measure Historical Performance
Return on Capital Employed: The CAGR with cash at the end of the period from 2010 to 2018 is 64% with 9% standard deviation. The return on capital employed has been steady and consistent over the 8 years.

Free Cash Flow: The chart below depicts the growth rate for FCF for last 9 years is 13%, and clearly seeing an upward trend in the free cash flow.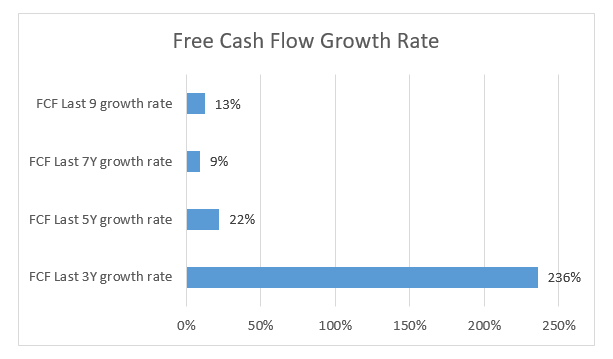 Sales to Capital Employed: Sales to capital employed ratio has been shrinking over the past 3 year since the company is spending more money to retain and acquire customers.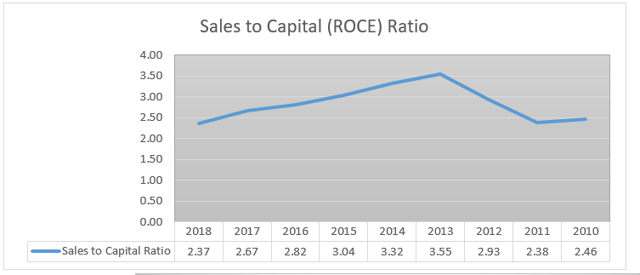 Comparable Companies Analysis

Key Takeaways:
Current P/E of 10.41, Forward P/E of 10.56, EV/EBITDA of 6, EV/EBIT of 6.81, P/S of 1.56, and P/B of 3.3 suggest undervaluation relative to market.
CAGR of 5% for the past 3 years is higher than the industry average of CAGR of 4%.
Discounted Cash Flow Analysis (Base Case) as of 3/13/2019
The Assumption are made
Revenue in the base year is the average revenue in the past 3 years.
EBIT in base year is the average EBIT in the past 3 years.
Revenue grows by 2 percent from 2019 to 2023. The assumption is made based on the CAGR of revenue for the last 6 years, which is approximately 2 percent.
The perpetuity growth rate is 1%, which is assuming the company's revenue is not expected to outpace the economy's growth.
Price Target
Base Case: $28 (38% upside)

Revenue estimate – based on CAGR for the past 6 years – 2% CAGR

Bull Case: $31 (54% upside)

Revenue estimate – based on CAGR for the past 3 years – 5% CAGR

Worst Case: $18 (8% downside)

Revenue estimate assumed to decrease by 10 percent from 2019 to 2023.
Management Team Overview:
Ownership: CEO and executive officers own 6 percent of outstanding shares.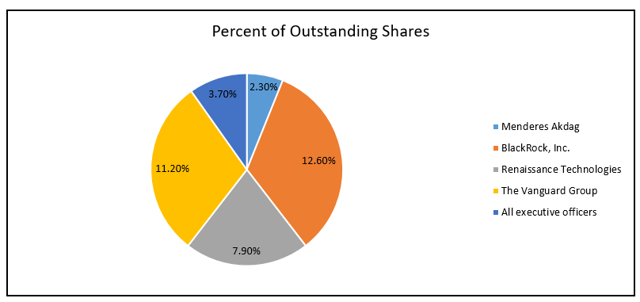 Buyback Shares Program: As of March 31, 2018, the Company had approximately $10.2 million remaining under the Company's share repurchase plan. Since the inception of the share repurchase plan through September 2012, approximately 5.6 million shares have been repurchased under the plan for approximately $69.8 million, averaging approximately $12.54 per share.
Dividends: PetMed pays 4% dividend yield and the CAGR of the dividend is 7% for the past 10 years.
Management Team Salary: The salary of the CEO is determined preliminarily by the company's CEO. The CEO together with the CFO determines performance-based goals for the CFO at the beginning of the fiscal year. The CFO's goals include net revenue, operating profit, reducing general expenses as a percentage of sales, inventory average cost reduction, and net promoter score. The total salaries of both CEO and CFO is 5.98 percent of net income and 6 percent of free cash flow as of the fiscal that ended in March of 2018.
Summary
An increasingly competitive market with multiple structural challenges limit PetMed's revenue and EPS growth over the near-and long-term. While its dividend 4% yield may be attractive to investors in search of yield-bearing securities, acquisition may represent a more viable strategy in light of a declining new customer base.
Disclosure: I am/we are long PETS.
I wrote this article myself, and it expresses my own opinions. I am not receiving compensation for it (other than from Seeking Alpha). I have no business relationship with any company whose stock is mentioned in this article.