Despite Signet Jewelers' (SIG) share price falling more than 65% since the beginning of the year as the company's sales continue to decline due to low foot traffic in malls, issues with in-house credit card services, and allegations of paying male workers more than their female counterparts, Signet Jewelers is still cheap enough with more than a 30% margin of safety.
Signet Jewelers (SIG) is the world's largest retailer of diamond jewelry with recognizable banners such as Kay Jewelers, Zales Jewelers, Jared, and operates mall-based kiosks under the "Piercing Pagoda" banner. As of fiscal 2019 reporting, the company had in operation 2,729 locations in the U.S., 128 locations in Canada under the "People" and "MappinsJewellers" banner and 477 locations in the United Kingdom and the Republic of Ireland, under the "H. Samuel and Ernest Jones" banner.
Cautious on the future of the business
Signet Jewelers is losing market share to online competitors and the industry is growing at a slower pace. According to the US Bureau of Economic Analysis, the total jewelry and watch market was worth approximately $83 billion at the end of 2018. Since 2008, the industry growth rate has remained at 2.5%. Signet Jewelers has approximately 7% of the market share. On the other hand, one of its main competitors, Tiffany (TIF)  has approximately 5% of the market share in 2018.
One of the company's largest risks was associated with their credit portfolio. Signet Jewelers performing account receivables reached 63% of the book value and 90% of the tangible book value in 2017. This risk could significantly impact the balance sheet of the company in the event of rising consumer default rates. In addition, the net bad debt expense represented 27% of account receivables in 2018 vs. 10% in 2017. However, the company mitigated this risk by entering into a partnership with third-party providers who directly extend credit to its customers. The partnership is structured as follows:

Comenity Bank provides credit and services to the Zales division, which includes Zales and Piercing Pagoda.
Comenity Bank provides credit and services to prime-only credit quality customers for Kay and Jared banners.
Signet originates non-prime receivables and sells them subject to a contractually agreed-upon discount rate to funds managed by CarVal investors along with the majority investor and Castlelake.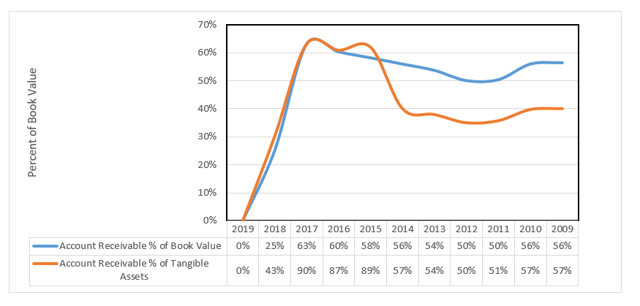 Signet Jewelers generates cash flow even in the midst of problems associated with private credit labels and gains market share in the e-commerce market. However, Signet's compounded cash flow growth rate for the past three years is -4% compared to the 39% growth rate for the last five years. This decline in cash flow is due to competition that Signet is facing and the spending associated with the transformation plan. Future free cash flow is expected to increase as the company works toward the transformation plan by reducing operating costs from closing underperforming stores and increasing revenue from OmniChannel.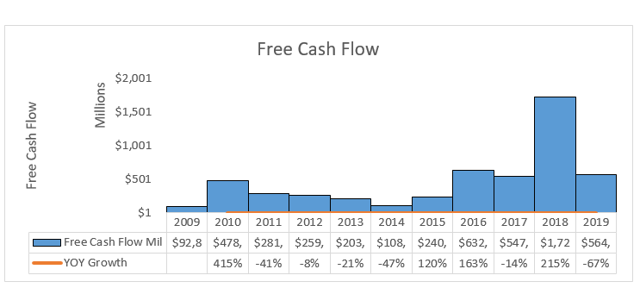 Optimizing real estate footprint: The chart below shows that during the 2018 fiscal year approximately 74% of the total stores in North America were located in malls, which were considered to be a real threat to their core business plan as a result of low foot traffic in malls. One of the company's transformation plans to reduce mall-based exposure and provide a positive customer experience by delivering a fully connected OmniChannel journey. Signet closed 262 stores, the majority of which were in malls. Signet expects to close 150 stores in fiscal 2020.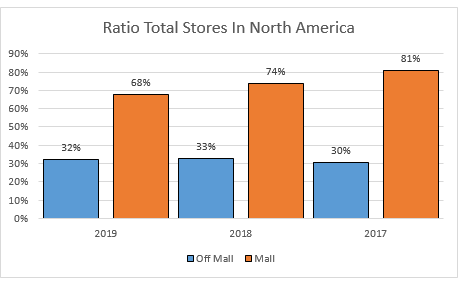 Account Receivables: As of the end of the fiscal year 2019, the company recognized a $167.4 million loss related to marking the non-prime receivables to fair value that were sold in the second quarter. The main risk related to non-prime credit is that Signet will remain the issuer of non-prime credit for a five-year term contract ending in 2023 with investment managed CarVal and Castlelake (collectively, the "Investors") purchasing forward receivables at a discount rate determined in accordance with their respective agreements. Signet will hold the newly issued non-prime credit receivables on its balance sheet for two business days prior to selling the receivables to the respective counter-party in accordance with the agreements.
Recent Acquisition
The company recognized the problem with losing the competition to online retailers, so they decided to acquire James Allen on September 2017 as a part of a plan to accelerate its OmniChannel strategy and enhance the company's digital capabilities. During fiscal 2019, the first James Allen concept store and showroom was launched in Washington D.C. featuring the advancements in digital technology and the millennial-inspired shopping experience. James Allen accounts for 4% of total sales in 2019 compared to 1% of total sales. Moreover, the overall online sales account for 10.9% of the total sales in 2019. The company paid $331.7 million, net of the acquired cash of $47.3 million, for R2Net. The total consideration paid was funded with a $350 million bridge loan
Income Statement highlights:
Revenue
Revenue Seasonality: 36% of annual sales were generated in the fourth quarter, which includes the holiday season (Average from 2017-2019). In the fiscal year 2019, fourth-quarter sales represented 34% versus 37% of sales in 2018. In addition, fourth-quarter sales are down by 300 basis points from 2018 due to decreased sales activity in the holiday season and incurred higher incremental expenses prior to and during peak selling seasons.

Note: Bi-chart shows the last 3-Year Average
Gross Margin:Signet Jewelers has the lowest gross margin compared to the average industry. Signet has vertical integration in terms of production and distribution. However, it does not lead to a substantial cost advantage as Diamonds account for about 52% and gold about 14 of Signet's cost of goods sold in 2019.

Net Profit Margin: Signet does not maintain a favorable net profit margin compared to the industry due to loss associated with credit cards, private labels, and restructuring fees.

Balance Sheet Highlights:
As of June 3, 2019, Signet Jewelers is traded 30% less than book value and 4% above the tangible assets book value.

Debt and Interest Coverage
Exhibit Debt and Interest Coverage:
Signet Jewelers' financial health shows signs of deteriorating. For instance, the free cash flow interest coverage ratio went from 41.6 in 2018 to 7.6 in 2019. Moreover, the debt can be paid off in 4.9 years leveraging the free cash flow.

Exhibit Debt and Interest Coverage: Calculation does not include any adjustments beside EBIT.
In fiscal 2019, net interest expenses went from $52.7 million in 2018 to $39.7 million due to the repayment of the 600 million assets back securitization facility. The total debt went down by 5% from 2018 to 2019 as the company focuses on paying back the debt.

Company Performance:
Return on Capital Employed: The average return on capital employed went down from 13% in 2018 to 7% due to a decline in revenue associated with restructuring costs. The compound growth rate for ROCE from 2013 to 2019 is 10%.

FCF to ROCE: The average free cash flow on capital employed went down from 44 in 2018 to 23 in 2019. ROCE average is lower than FCFROCE, which indicates that a business's revenue is declining.

Inexpensive:
Time Free Cash Flow: The stock price is traded less than free cash flow.
Enterprise Value to Operating Income: The enterprise value is 19 times higher than the operating income and historical average (16 times)
Price Book Value: The stock price is traded 50% less than book value and 74% less than the tangible book value.


Earning Power Value (EPV)
Case 1 – Worst Case (351% downside) based on 8% EBIT margin and 28% Operating Expense Margin
Case 2 – Base Case (5% upside) based on 11% EBIT margin and 29% operating expense margin
Case 3 – Bull Case (54% upside) based on 14% EBIT margin and 32% operating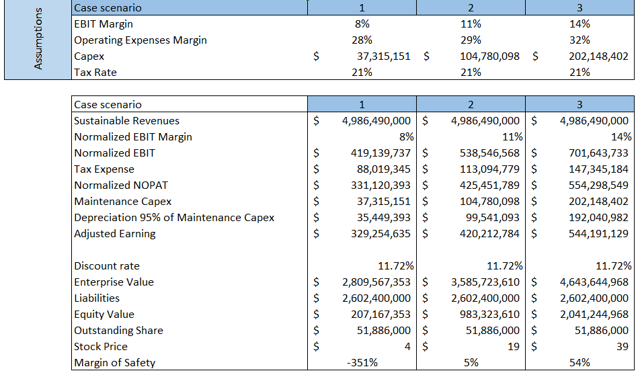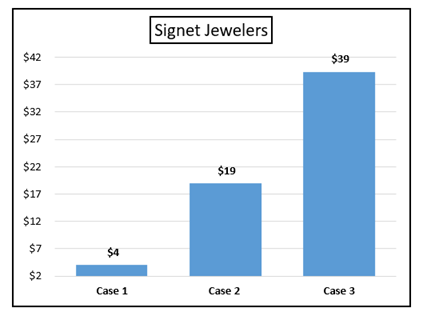 Management
Executive Salary:
Exhibit 1.1 demonstrated that 85% of the CEO's salary is based on performance factors and 15% is base salary. On the other hand, 66% of NEOs are based on performance and 34% is base salary. Bonuses are based on two factors: adjusted operating and same-store sales. Exhibit 1.2 shows that the total salary in fiscal 2019 is $4 million, which represents 1.15% of the total free cash flow. That's an indication that management is not overcompensated and their salaries align with their competitors.
1.1 Exhibit Compensation Target

Source: 2019 Proxy
Exhibit Total Salary In 2019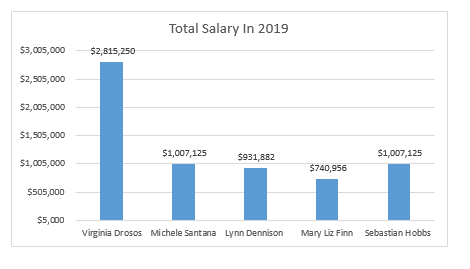 Repurchase Shares
In fiscal 2019, Signet used $485 million cash from the sale of the non-prime receivables to repurchase 8.8 million shares (approximately 13% of outstanding shares) at an average cost of $55.05 above its current stock price. This shows that the management team is doing a very poor job in capital allocations which is truly reflected in lower returns on capital employed and market value to retained earnings. In fiscal 2019, for every $1 of retained earnings, the amount kept from shareholders and reinvested, $0.60 of market value was created. This is not at all what investors want from management.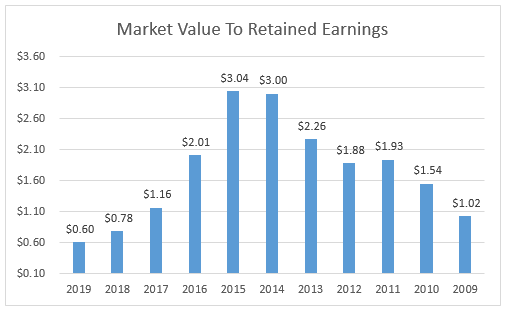 Insider Trades:
According to Nasdaq, the total insider buy trades represented 75% of trades in the past 12 months compared to 25% sell trades.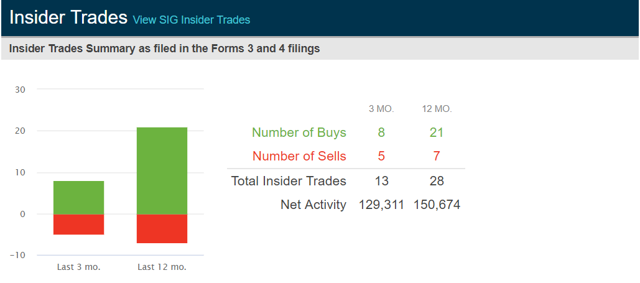 Dividend Payout: Signet Jewelers is a safe haven for investors chasing dividends, as Signet's dividend growth rate in the last three years is 19%. Dividend payout was 39% of earning and 20% of free cash flow. This is evidence that they are able to pay dividends even in the midst of the problems associated with private credit card outsourcing and restructuring.

Signet Jewelers  (SIG) seems to be on the path toward turnaround even though the turnaround might take awhile. However, it is considered to be your cigar butt stock with trading 30% less than book value, 4% less than tangible book value, and a safe 7% dividend yield.
Disclosure: I am/we are long SIG.
I wrote this article myself, and it expresses my own opinions. I am not receiving compensation for it (other than from Seeking Alpha). I have no business relationship with any company whose stock is mentioned in this article.