Business Overview
Sprouts Farmers Markets operates as a healthy grocery store that specializes in fresh, natural, and other organic products. Sprouts offers a welcoming grocery shopping experience that includes an array of fresh produce, a deli with prepared entrees, the Butcher shop, the Fish Market, expansive vitamins, and supplement department. As of fiscal 2019, Sprouts categorizes 57.5 percent of its products perishables and 42.5 percent as non-perishables. As of October 30, 2019, Sprouts has grown to 335 with a plan to open 5 stores in the fourth quarter to reach its goal of opening 28 stores in the fiscal year 2019. Also, it plans to open 20 stores in 2020.
Sprout's stock price plummeted by 66% since February of 2019 as the company faces stiff competition from conventional grocers, mass merchandisers, and hard discounters increasingly target the same theme. The competition in the industry led the organic grocery chain, Earth Fare, to file for bankruptcy in Feb of 2020. In addition, Lucky's Market, which has been backed by Kroger Co., filed for bankruptcy in Jan of 2020. Sprouts has an opportunity to buy the stores from Lucky's Market and Earth Fare to expand and execute its growth plan.
Sprouts has been positioned to have a moat by targeting only health-conscious customers, which is clearly shown in the high return of capital and has enough margin of safety to hedge against a downturn. Moreover, Sprouts has an opportunity to capitalize on private-label expansion, which has accounted for 13 percent of revenue in fiscal 2019 from 12% in fiscal 2018 in order to differentiate stable private labels to provide a larger margin of safety.
Moat
Sprouts targets customers who tend to be more health-oriented, which is consistent with consumer trends. While Sprouts faces the challenge of competing with conventional grocers, mass merchandisers, Sprouts has a competitive advantage over its main competitors. The competitive advantage breakdown into two segments, return on invested capital and operation metrics.
Return on Invested capital
Sprouts has a higher return on invested capital compared to its competitor. In addition, the return on invested capital exceeds the estimated cost of capital by 7%, which indicates the company is creating value in the short term. However, the return on invested capital might start to deteriorate due to new lease accounting standards as well as the cost of opening new stores is increasing, which could have an adverse impact on the financial condition and operating results, and cause a decrease in economic profit.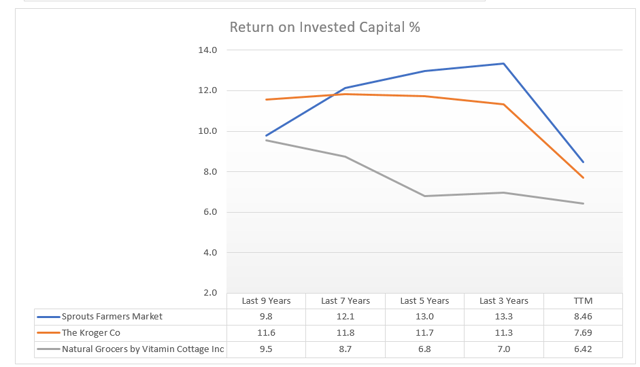 Figure 1: Data Source: Morningstar
Sprouts' gross margin has been on an average of 31% in the last three years, which is better than its competitors. As anticipated, the gross margin will start to compress as the competitive landscape change as a result of competitor's reactions by lowering their retail pricing and expanding their promotional activities. Moreover, the gross margin might be impacted by higher freight costs as management further expands from the five distribution centers, which are in Arizona, Texas, two in California, and Georgia. Gross Margin started to deteriorate in late the fourth quarter of 2018 and into the first half of the first quarter of 2019 as the freight costs passed by the supplier increased, and the management did not offset the hike in freight costs by moving to the consumers.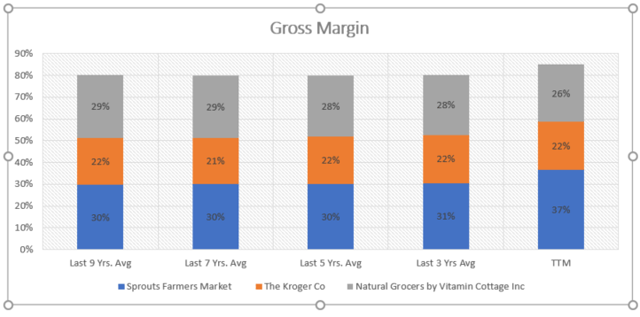 Data Source: Moringstare
Sprouts has a favorable operating profit margin compared to its competitors. In the short term, Sprouts is going to experience a lower profit margin as the company has actively pursued a new store growth plan, which could negatively impact the financial results due to the effect of the costs of opening stores and lower sales. For instance, Sprouts' operating expenses represented 29 percent of revenue in 2018, which is higher than its main competitors (Kroger's operating expenses comprised 20 percent of revenue in 2018 and Natural Grocers' operating expenses comprised 25 percent of revenue in 2018) due to the cost associated with opening new stores.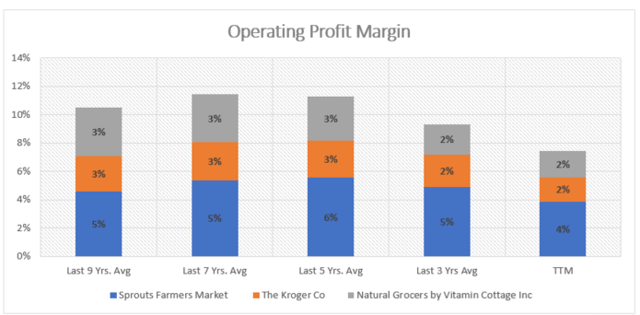 Data Source: Morningstar
Sprouts' net income margin is favorable than its competitors. However, there is a risk to anticipate compression in net income margin driven by a higher average balance of outstanding debt, which has increased by 77 percent in 2018 from 2017.
Risk and Uncertainty
Operating expenses are growing at a faster rate than revenue. The chart below exhibited that revenue grew by 12 percent from 2017 to 2018, while the operating expenses increased by 35 percent over the same period. The management has an imperative task to reduce the overall operation expenses by negotiating acceptable terms associated with the opening of new stores and the optimization of their promotion strategy.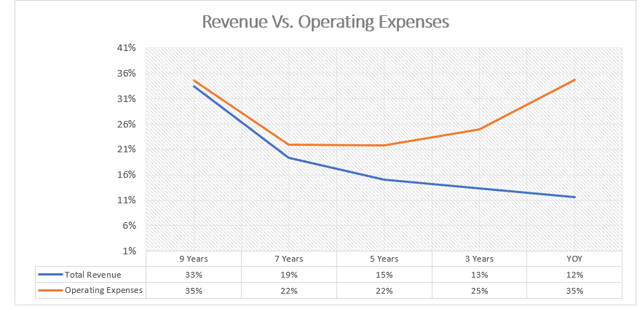 Data Source: Morningstar
Supplier base concentration: KeHe distributors, LLC is the primary supplier of dry grocery and frozen food products, which accounted for approximately 34 percent of total purchases in the fiscal year 2018 and 2017, respectively. United Natural Food Inc accounted for 4 percent of total purchases in fiscal 2018 and 2017, respectively. Disruption of significant supplier relationships could negatively affect sales.
Additionally, the company source for a large portion of produce from California, ranging from approximately 40 percent to nearly 70 depending on the time of year. As a result of geographic concentration, weather conditions in California in the first quarter of 2019 caused significant spikes in the cost of certain produced items. That being said, weather conditions such as rain in California and cold weather out of Mexico could have a negative impact on the availability in some product items.
Multiples Valuations
The table showed that Sprout's stock trades for 4.74 times trailing 12-month free cash flow, which is 197 percent lower than the Moringstar Index that targeted 97% of market capitalization coverage. In addition, Sprouts trades for 13.17 price/earnings compared to 22 Morningstar index and 24.82 S&P 500. Therefore, Sprouts trades at a discounted price compared to the market. Nevertheless, some of the uncertainties are priced in as the long term debt on the balance sheet grew by 24 percent from 2017 to 2018.

Earnings Model
The following assumptions were made to estimate EPS for the fourth quarter;
In the 4th quarter, comps is estimated to be approximately 0.5 percent.
Net Sales increased by 7 percent in the 4th quarter, while management expects net sales to grow from 6.5 percent to 7.5 percent.
Gross Margin of 33.16 percent, which is based on management guidance.
SG&A should be approximately 27.5 percent based on trend analysis for the past 10 quarters.
The tax rate should be 39 percent in order to normalize the tax rate of approximately 26 percent in 2019, which is based on management guidance.
The outcome of the Earnings Model
Net Income for the 4th quarter is $20M and $138M respectively for fiscal 2019
EPS for the 4th quarter is $0.17 and $1.15 for the fiscal year 2019.
Based on the Implied P/E 18 target value, the estimate stock price is $21, with a 40 percent margin of safety.

Operation metrics based on the Earnings model assumptions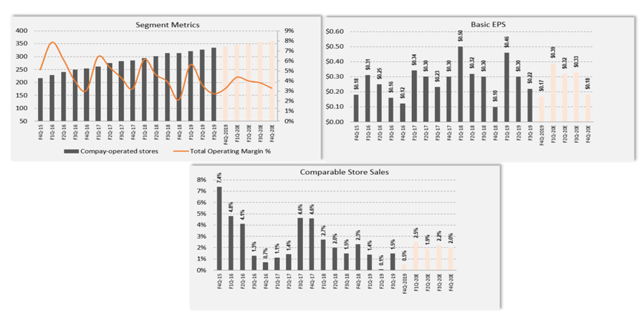 Conclusion
Jack Sinclair was named as a CEO in June 2019 with a lot of experience in the retail industry as he served as the CEO of 99 Cents Only stores and the Executive Vice President of Walmart's U.S Grocery. He has a huge responsibility to open approximately 30 new stores annually while managing long term debts and operating expenses.
Sprouts has the commitment to increase shareholder value through an authorized $350 million share repurchased program, as well as commit to social responsibility such as food for hunger, which has donated 27 million pounds of food in fiscal 2018. Finally, Sprouts stock trades at a discount price relative to multiples as well as the earnings model.