Crude inventories fell 4.727 million barrels to 490.623 million barrels for the week ending July 14th, 2017.  Crude Inventories have fallen 55.08 million barrels since reaching it peak of 535.543 million barrels since March 31st.  The trend is clearly showing that we are on our way to re-balancing.  In fact, when looking at total inventories (crude oil and products) the picture looks event better for the bulls.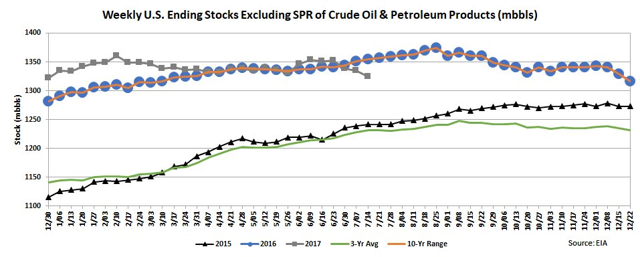 Source: @EnergyBasis
Total products have now fallen below last years levels (while still well above the 3 and 10 year average) showing that re-balancing is occurring in the product market as well.  In fact this week Bloomberg ran an article stating that East Coast gasoline market was no in backwardation.  What make this all very interesting is that historically gasoline inventories don't start to decline until the Fall, once refineries began slowing throughput for maintenance.  The fact that we are seeing a trend of both crude and product draws since May is a positive sign for the bulls.  
Now to OPEC.  With all the talk around OPEC production numbers, with a recent June report showing them breaking their self-implemented production cap, the real focus for WTI is exports to the US.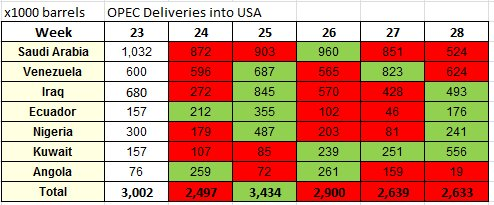 Source: Tanker Trackers
Tanker Trackers, a website that tracks oil tanker movement, data shows that Saudi's have drastically cut exports to the USA.  The export cuts are clearly working even as US production rises.  Nigerian exports were a concern as their production began to return to normal following a hiatus in pipeline attacks by the local terror group, Niger Delta Avengers.  However, recently Shell was forced to declare a Force Majeure on one of its two light crude export pipeline.  This as well as the deteriorating situation in Venezuela (where the US has threatened further sanctions if President Maduro goes through with his July 30th constitutional referendum) should keep imports into the US low. This may be short live however, as Tanker Trackers is also reporting that recently Saudi exports have returned to over 800K bpd.  Since exports usually take 30-45 days to reach the US from the Middle East, this could flood the market just as refineries lower run rates following the summer driving season.  
Overall, there have been very impressive crude and product draws since the peak on March 31st, especially considered the Department of Energy released over 16 million barrels from the SPR (Strategic Petroleum Reserve).  The question now is will it continue.  Oil majors such as Chevron (CVX) and ExxonMobil (XOM) have not rallied this past week alongside oil futures.  This is often a sign of weak price action to come.  Futures settled today at $47.12 above the 50-day moving average as well as a key retracement level.  For now, bulls win the day.
Disclosure: I am/we are long CVX.