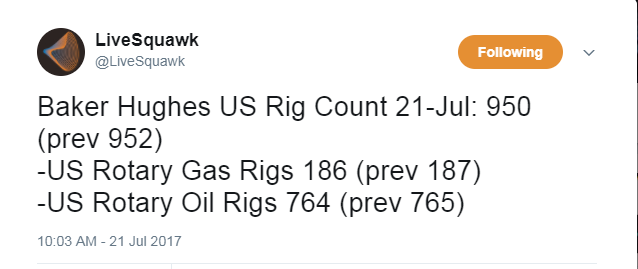 Source: LiveSqawk
The rig count has begun to flatten now that WTI prices have been below $50/ barrel since the end of May.  As John Kemp, Reuters Energy Analyst, has pointed out plenty of times there is usually a lag between changes in oil prices and change in the rig count.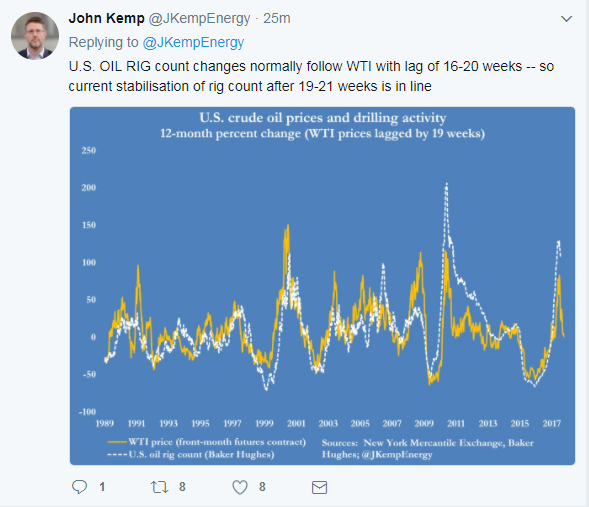 Taking a closer look at the rig count data we see the following changes by shale region:
Permian +1, Eagle Ford -2, Williston +1, Niobrara +1
Sources: Baker Hughes
It is beginning to look like the pop in Eagle Ford his year will not last.  Despite what shale companies might say, drilling outside the Permian is not sustainable below $50/barrel for WTI.  It is interesting to note that Williston (North Dakota shale region) has been consistently adding rigs, adding 9 rigs in the past two months.  Analyst usually discuss North Dakota as one of the higher break-even shale regions.  One has to wonder if the newly operating Dakota Access Pipeline is helping lower distribution cost making ND shale more competitive.
So now what does this mean for oil prices?
The price action looks miserable right now, and barring some saving headline from OPEC or a major geopolitical event, it looks like oil will continue heading lower.  Genscape reported yesterday that since July 18th (the last day EIA's weekly inventory report would have incorporated) Cushing inventories fell 200K barrels.  This could signal that there is strong crude oil demand in PADD III.  As long as Mexico's Salina Cruz refinery remains offline (industry sources are expecting it to return in early August) we should also see strong gasoline demand and exports in PADD III  which will be unequivocally bullish oil.
In summary, while I expect oil to fall (probably to a 43 handle) in the short term I believe any weakness should be used to buy strong balance sheet upstream companies.  US production will not reach the heights of 10 million bpd like forecast suggest, and inventories will continue to wind down, albeit slowly.
Disclosure: I am/we are long OIL, CVX.