Today, I have for you an exploration company that I believe is poised to bring their shareholders tremendous value in the years ahead. This company is Auryn Resources. Why do I believe in Auryn's upside potential? Firstly, management is proven and has assembled a top notch technical team made up of veterans from the industry. Secondly, they possess 2 properties in Canada and 4 in Peru, all in highly prospective mineral regions. And, finally, they just completed a strategic investment deal with an industry giant, Goldcorp.
Here's a closer look at the Auryn value proposition:
Proven Management Team
Auryn's property portfolio is massive, with locations in Nunavut and British Columbia, Canada and Peru. Mineral exploration in these diverse regions requires a lot of geological horse power, but Auryn appears to have assembled a very experienced team. Let's take a look, starting at the top.
Shawn Wallace was appointed President and CEO of Georgetown Capital Corporation on May 29, 2013. By October of 2013, Georgetown Capital had become Auryn Resources.
Wallace is a 25-year veteran in the mining business with experience in exploration, project management, financing, mergers and acquisitions and corporate development. His success with fellow Auryn Director, Ivan Bebek, in the sale of Cayden Resource to Agnico Eagle for $205 million is a great accomplishment, as the deal took place in the midst of the gold bear market. Presently, Wallace is a Director on the board of Asanko Gold, a company which he helped form when he was a part of Keegan Resources. Keegan merged with PMI Gold to form what is now Asanko, a producing gold company in Ghana, West Africa.
Ivan Bebek, Executive Chairman and Director of Auryn, was directly involved in Keegan as a Co-Founder, and was President, CEO and Co-Founder of Cayden Resources, as well. Bebek and Wallace have shared success in two companies, one moving to production and the other bought out by a major. This is exactly the type of serial success that one looks for in a management team. Bebek has an understanding of what is needed for a junior company to be successful, and having made money on both of his prior two companies, Auryn is where I am putting my money.
It seems Wallace and Bebek recognize that people are the backbone of an exploration company, especially one with the diverse project package that they possess, and, therefore, they have assembled a strong technical team. The technical team is led by Michael Henrichsen, who is a structural geologist. Previously , he was with Newmont, where he worked in gold camps around the globe, from South America and Ghana to North America (Nevada and Canada).
Auryn's technical team is a game changer, as I have never seen such a large and experienced team in a junior company before. Henrichsen and David Smothson, VP Exploration, are the only salaried members of the team, the rest consult on a project by project basis. The other members, most of whom worked formerly for Newmont or Goldfield, include: Antonio Arribas, PhD, MSc - Director; Dan McCoy, PhD - Director; Rael Lipson, PhD - Technical Advisor; Miles McAlister - Technical Advisor; Kim Cook - Geophysicist; Mike McMillian - Geophysicist; Nigel Radford - Geochemist; and last but not least, Ralph Stea - Quaternary Geologist.
Finally, a very important piece of the team was added to the board of Directors on November 30, 2016, Michael Kosowan. Kosowan is an engineer by trade, having worked in the mining industry as a project engineer and exploration manager before making the move to the financial side of the business. Kosowan was a highly respected Investment Advisor for Sprott, one who had a keen eye for value and applied his experience and knowledge very well. I, personally, have a ton of respect for Kosowan; it was a tremendous loss for Sprott, but a huge gain for Auryn.
Jurisdictional Success and Issues
Comparing mining exploration companies isn't easy, as there aren't any quantitative metrics that can be used to make an apples to apples comparison. Successful explorers are built primarily around their best asset, their people. However, coming in at a close second is the exploration property, which, no matter how good your exploration team is, you won't find anything if it isn't there!
In the previous section of the report, we covered the tremendous team that Bebek and Wallace have assembled to find economic mineralization on their properties. To begin the discussion on properties and jurisdictions, I'll start with Auryn's Nunavut property, Committee Bay.
Auryn's Committee Bay property is located in Nunavut, Canada. The territory of Nunavut is in northern Canada, bordering the Northwest Territories on its west side and Manitoba to its south. Nunavut is quickly becoming a go-to jurisdiction for mineral exploration in North America, as projects that include Agnico Eagle's Meadowbank gold mine, TMAC Resource's Hope Bay project, and Sabina Gold and Silver Corporation's Back River Gold project prove that there is economic mineralization to be discovered in the territory.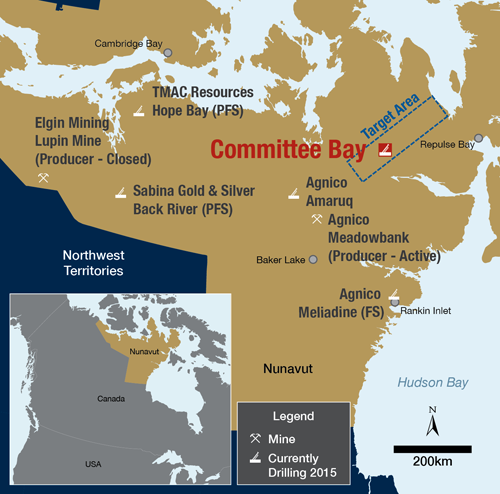 Source: Auryn Resources
The Meadowbank gold mine is located in the Kivalliq region of Nunavut, which is approximately 180 kilometers southwest of Auryn's Committee Bay property. The development of this gold mine has brought infrastructure to this remote region and, thus, provides proof that not only can you find gold here, but you can mine it economically. Meadowbank achieved commercial production in March 2010 and hasn't looked back. Here are some Meadowbank analytics taken from the Agnico Eagle website:
2015 gold production - 381,804 oz at $613/Au oz
2016 expected gold production - 305,000 oz
Proven and Probable Gold Reserves - 943,000 oz
TMAC Resources' Hope Bay 3.5 Moz gold project sits approximately 450 km to the west of Committee Bay. Hope Bay is near production and is another example of how rich the mineralization can be in Nunavut, and how a mineral discovery can be successfully moved towards production in an area north of the Arctic Circle.
Permitting in Nunavut
New and modified mineral projects in Nunavut are subject to an Environmental Assessment (NASDAQ:EA). Indian and Northern Affairs Canada describes the EA process as,
"Environmental Assessment…in Nunavut is a very public process that relies on input from elders and other community members. The process in Nunavut is overseen by two groups, the NIRB, and Canadian Environmental Assessment Agency or CEAA." ~ Indian and Northern Affairs Canada
The company that is proposing the development of a project must:
Complete a description of the impacts their project could have on the environment
Provide a plan for protection of these impacts on the environment
The proposal is then reviewed by NIRB and CEAA to ensure that they have used the proper methods in containing these impacts and haven't missed anything in their project's environmental scope.
Issues with Permitting
On December 9, 2015 Sabina Gold and Silver Corporation announced that the NIRB had deemed their Environmental Impact Statement for the Back River Gold Project conformant, and that it would now enter the final technical review period.
This past summer, the NIRB finished their review of the Back River Gold Project, and on June 16 2016, Sabina released news that the NIRB recommended to the Minister of Indigenous and Northern Affairs Canada that Sabina's Back River project not proceed to the licensing and permitting regulatory phase at this time.
From the Sabina news release, the NIRB indicated,
"[T]hat the proposal could be reconsidered once more information is provided to address uncertainties regarding effects predictions and mitigation measures, particularly with respect to caribou and climate change." ~Sabina News Release
The permitting issue that Sabina has encountered is expected by most to be resolved in the future, however, it is proof that no matter how great a jurisdiction's history is there are issues that can arise and that must be dealt with in order to move towards the goal of a producing mine.
I exchanged emails with Jay Adelaar, Manager of Investor Relations, and asked him whether Auryn is likely to face similar issues with wildlife. To summarize, he said that caribou do not present an issue for the Committee Bay project.
Committee Bay Gold Belt
Auryn acquired 100% interest in the Committee Bay project through their purchase of North Gold Corporation on September 25, 2015. Auryn now owns and controls a massive 300 km high-grade gold belt with an existing resource. The total gold resource is around 1.5 Moz and breaks down further into the following categories:
Gold Indicated ounces - 683,000 at 4.91 g/t
Gold Inferred ounces - 965,000 at 5.43 g/t
This resource is contained in the Three Bluffs deposit portion of the Committee Bay Gold Belt and remains open along strike and at depth.
Auryn has benefitted from the infrastructure that they inherited with the purchase of North Gold, because around $25 million had already been invested in the property in the form of a camp, air strip, and heavy equipment, allowing the company to concentrate their efforts on the exploration of this massive gold belt.
PUSH: Committe Bay will see a planned 25,000m drill program starting in mid June. Results of this program could expand the existing resource and, thus, provide some push for the stock price as news is released.
Summarized from my email with Adelaar, targets for the 25,000m drill program were chosen using their priority till sampling methodology, along with high resolution (10cm) drone aerial photography. These methods should ensure that they are exploring the areas of the belt with the highest probability of mineralization.
The drill program will be conducted with the use of 4 Rotary Air Blast (RAB) drill rigs. What is a RAB drill rig?
"[A] vertical drill which uses a pneumatic reciprocating piston-driven hammer action to energetically drive a heavy drill bit into the rock." ~ Youth 20 Australia
RAB rigs are typically more mobile than other designs, good for shallow depths (around 100m) and drill through terrain quickly. RAB rigs do not produce a core, like you see in the core shacks at conferences, instead shards of debris are produced and can be used for low-level mineral analysis, allowing the explorer to cover a lot of ground quickly and cheaply.
Summarized from my email with Adelaar, the RAB rigs were indeed chosen for their speed and monetary efficiency, as this is critical in exploring the belt in a single (remember, the belt is 300 km long) year. The idea is to discover a deposit's footprint and then bring in diamond rigs once they know they're on to a discovery.
The Golden Triangle
The Golden Triangle in northwestern British Columbia (NYSE:BC), Canada is widely regarded as one of the premier mining jurisdictions in the world. Discoveries such as Pretium Resources' multi-million ounce Brucejack epithermal vein style gold deposit, and Seabridge Gold's multi-million ounce KSM copper/gold deposit are just a couple examples of recent, major discoveries.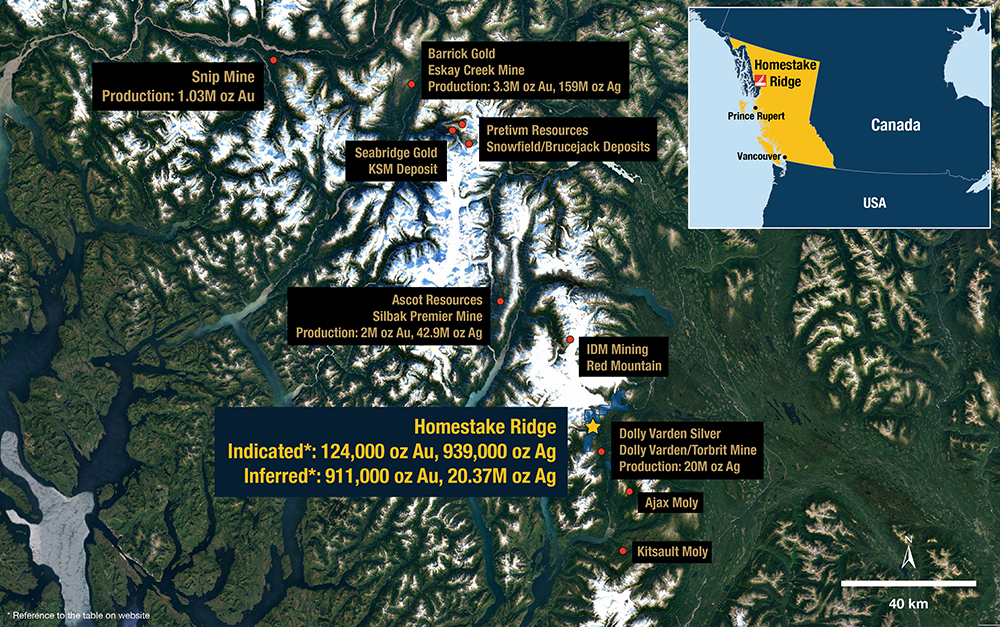 Source: Auryn Resources
Arguably the most famous mine, as measured by yield, was Barrick Gold's, Eskay Creek mine. Eskay Creek, which completed production in March 2008, had a prolific production record, producing approximately 150 Moz of silver, and 3.5 Moz of gold over the course of its mine life. Also, it should be noted that Eskay Creek was, at one time, the highest grade gold mine in the world at 48 g/t, and the fifth largest silver mine by volume.
Politically, how does BC stake up against Canada's other provinces? Current BC premier, Christy Clark, represents the Liberal party and, from my research, is supportive of promoting mining within BC. In 2015, Clark outlined her support in a letter to the Minister of Energy and Mines, the honourable Bill Bennett,
"Work with the Ministry of Finance and Geoscience BC to establish long-term, predictable funding to foster oil, gas and mineral exploration and development in BC" ~Minister Letter
Further, BC Hydro completed the $716 million Northwest Transmission Line Project (NTLP), which was provided by the province to supply power to potential industrial developments in northern BC. The new line runs from Skeena Substation north to a new substation near Bob Quinn Lake, a stretch of nearly 344 kilometres (BC Hydro) (Power Line Geography ).
Typically, energy and accessibility are major sticking points for companies that explore in some of the more remote parts of the world. In BC's case, they are trying to remedy this sticking point by providing the infrastructure needed for junior companies to become producers, or more importantly, for the provincial government to become large employers.
Homestake Ridge Property
Auryn's Homestake Ridge property purchase (from Homestake Resource Corporation) was effective September 7, 2016. From the press release, Wallace said the following,
"the primary factors that compelled us to make the Homestake acquisition was the high-grade gold mineralization and more importantly the potential to expand it in the immediate and surrounding areas." ~ News Release
PUSH: Auyrn plans to start a 15,000m drill program at the Homestake Ridge property in mid July of this year. Results of this program could expand the existing resource and, thus, provide some push for the stock price as news is released.
Summarized from my email with Adelaar, the targets for the summer drill program are still being developed, however, they are considering the following:
Currently, they are undertaking a re-log of the entire deposit to understand the controls on the mineralization so that they can target at depth and along strike.
They plan on investigating the slide zone that was discovered by Agnico Eagle in 2013, as they feel there is a lot of potential mineralization there.
The South Reef deposit has some high grade analogues which are +10 g/t on the surface, there are several kilometres of strike that have strong geochemical support in rock chips and soil data.
Finally, they will be targeting the VMS potential of the Eskay Creek trend, at the North Dome prospect.
There is a ton of potential on the Homestake property, which really shows how under-drilled the project is.
The Homestake Ridge property does have an existing NI 43-101 Resource Estimate (at USD $85 NSR/t, this is equivalent to a 2.2 g/t Au equivalent cut off at $1200 Au)
Indicated resource - 124,000 Au, 939,000 Ag
Inferred resource - 911,000 oz Au, 20.37 Moz Ag
The project is located within the Iskut-Stewart-Kitsault Belt and comprises 28 mineral claims and 7 crown grants, encompassing a total area of 6,617 ha in the Skeena Mining Division (The entire property is subject to a 2% Net Smelter Royalty, with some claims requiring annual royalty payments and some buyable for $1 million).
The Main Homestake, Homestake Silver and South Reef deposits, are hosted in lower Hazelton volcanic and sedimentary stratigraphy. Here are the specific deposit mineralization descriptions from the NI 43-101 report:
"At the main Homestake deposit, gold and silver mineralization occurs with pyrite, chalcopyrite, and lesser galena and sphalerite in area of ailica alteration or hydrothermal brecciation with zones of sericite-pyrite altered feldspar-hornblende phyric volcanic." ~NI 43-101 Report - Homestake

"The Homestake Silver deposit is comprised of a series of northwest trending, vertically to subvertically dipping hydrothermal breccias. Mineralization occurs as galenasphalerite+silver in contrast to the gold enriched chalcopyrite seen the Main Homestake deposit." ~ NI 43-101 Report - Homestake

"Gold mineralization at the South Reef deposit is variably associated with strong quartzchlorite alteration, pyrite and minor base metal sulphides interspersed with intervals of sericite + pyrite alteration in two en-echelon, northwest-trending sub-vertical mineral zones that can be traced with drilling for over 250 metre strike-length and 250 metres dip." ~ NI 43-101 Report - Homestake
Exploring in Peru
Summarized from my email with Adelaar, Auryn management is very comfortable exploring in Peru for a few reasons. Firstly, because Miguel Cardozo is running the Peruvian business unit. Cardozo is a highly respected geologist in Peru and is in part credited with the discovery of the Yanacocha deposit/district. Also, he is able to assist in the navigation of potential issues that may arise for a foreign company exploring in Peru. Along with Cardozo's experience and presence in Peru, the rest of the technical team has a vast amount of experience in the country and believes that significant discoveries can be made there.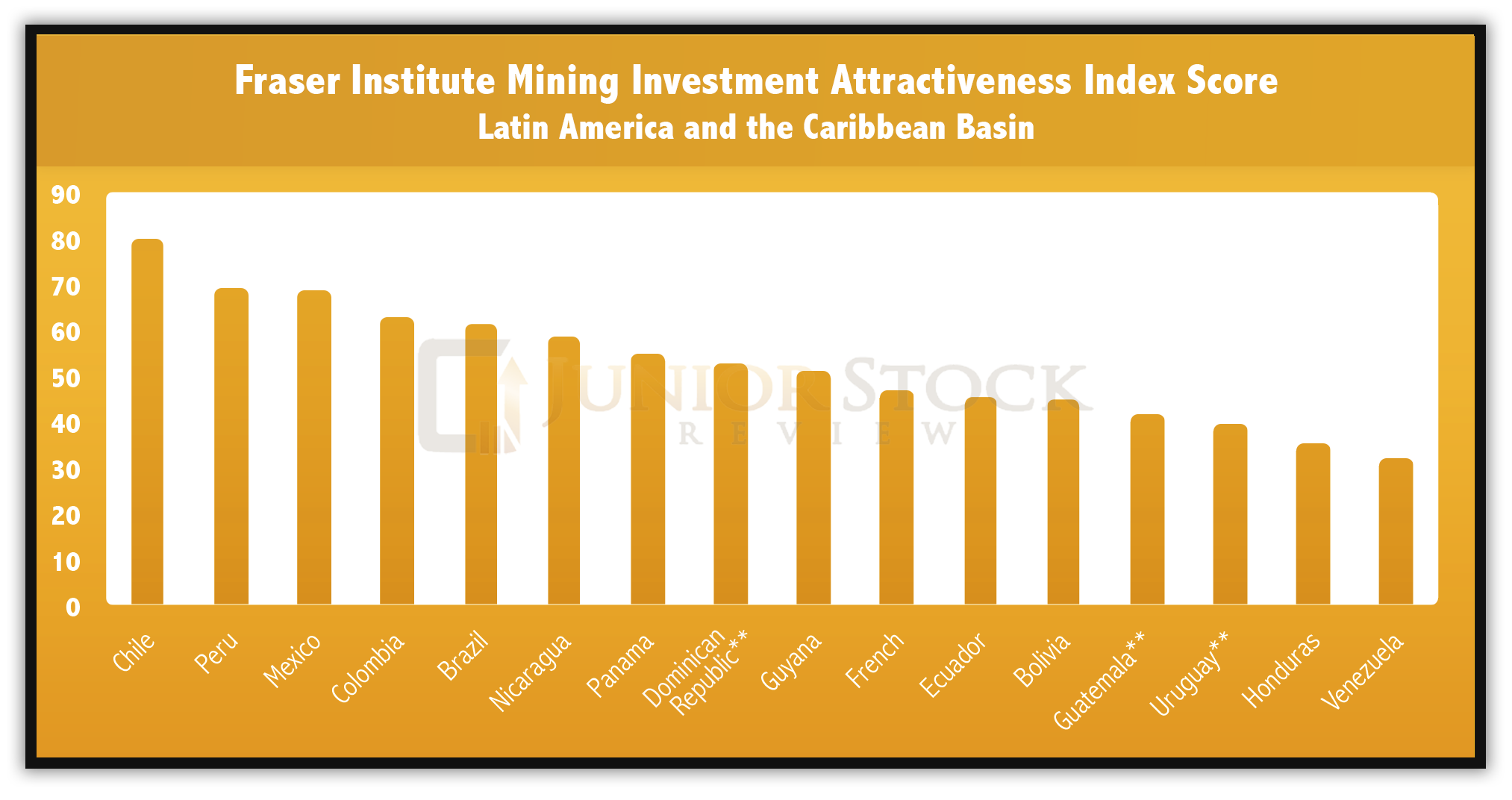 Source: Fraser Institute
Peru is ranked by Forbes.com as the 57th best place in the world to do business, while the Fraser Institute gave it an Index score of 69.3, ranking it second only to Chile for the Latin American countries. Here are a few key country statistics courtesy of the World Bank:
GDP: $189 billion
GDP per Capita: $6100
Population: 31.3 million
Unemployment: 5.2%
Peruvian Leadership
The Prime Minister of Peru is determined in a two round election system. A two round system works in the following manner; A single vote is cast for their chosen candidate. If no candidate receives the majority of the votes, usually 40 to 45% of the vote and a margin of 5 to 15%, all but the two candidates with the largest percentages are eliminated and then placed into a second election.
2016 was an election year in Peru. The Congressional election saw the Party, Popular Force, win in a landslide, taking 36.34% of the vote (~Peruvian Election Results). However, the Prime Minister election, which took two rounds to decide, went to the Party, Peruvians for Change, which is led by candidate, Pedro Pablo Kuczynski.
Kuczynski has held positions in the United States with the World Bank and the International Monetary Fund. He later became Peru's designated general manger of its Central Reserve Bank. From the standpoint of an investor, I believe that Kuczynski's western influenced work experience should prove to be an asset.
Will he be good for the Peruvian people? Hard to say, as developing a country's economy is a costly business (Debt) these days. But, if done properly, it could be the dawn of a new age for the Peruvian people and bring what is currently a third of the population, out of poverty.
My guess is that Kuczynski will be good for mining and, as a western investor, I'm comfortable with the risk that Peru's leadership presents.
Peru as a Mining Destination
Where does Peru rank as a mining country? Great question. Among the best in the world, as it is the lead producer of gold, zinc, tin and lead in Latin America. The following table gives a sense of where Peru ranks amongst its peers.

~ Source: Mining Peru
"[T]he mining industry believes that Peru's favourable geology has been under-exploited…to date only about 12 per cent of Peru's mineral resources have been worked…In all, Peru holds about 16 per cent of the word's known mineral reserves, including 15 per cent copper and 7 per cent zinc reserves."~ Mining Peru
Peru is a country on the rise, as it has grown its economy at a rate of 6.4% annually, on average, for the last 10 years, which is 2nd among Latin American countries. (~ Peru) The service industry represents the largest chunk of the country's GDP, with agriculture following a close second. Mining follows these top two industries and looks to grow in the coming years, with further development of its prospective mining properties.
On the Auryn website, there's a cautionary note at the bottom of the Peru Projects page, which says the following:
"Certain licenses with respect to Auryn's projects in Peru are located within a special economic zone situated within 50km of the Peruvian boarder. As a non-resident company, Auryn's right to ultimately exploit these licenses or register its interests require approval from the Peruvian government in the form of a Supreme Decree. Auryn is in the process of submitting its applications with respect the approval and anticipates receiving the approval prior to excising it rights under the option agreements."
As Peru looks to further its economic growth, in my mind, mining will have to constitute a major part of their future. Therefore, while not without risk, Peru does present great value from a jurisdictional standpoint, today and into the future.
Auryn's Peruvian Assets
Auryn has 4 prospective properties in Peru, all of which are very early stage, yet possess a lot of exploration potential. Let's take a look:
Source: Auryn Resources
Huilacollo Epithermal Property - the property is located in the Epithermal gold belt in southern Peru. It has seen some historic drilling from the previous owner, which outlined zones that represent the potential for oxide gold mineralization within silica bodies, and is open for expansion. The property has access to existing infrastructure: roads, high voltage power and water. Auryn has the option to retain 100% ownership in the property if payments and work expenditures meet certain goals as outlined; check out the link for the details. The Huilacollo project does have a buyable NSR on precious metals for $2.5 million, and base metals for $7 million. Huilacollo will see 5,000m of drilling with an RC rig beginning in April. If a discovery is made, there is a green light to continue drilling.
NOTE- January 31, 2017 Auryn provides an update on the Huilacollo project,
"Two new gold anomalies were defined in the southern half of the project area that are 1300 meters by 250 meters and 550 meters by 150 meters, respectively."
NOTE: What is an RC Rig?
Reverse Circulation (NYSE:RC) drilling is,
"RC drilling uses rods with inner and outer tubes, the drill cuttings are returned to surface inside the rods. The drilling mechanism is a pneumatic reciprocating piston known as a hammer driving a tungsten-steel drill bit." ~ RCdrilling.com
RC drilling is primarily chosen for deeper drill programs, with an upper range in depth levels of 500m. RC drills do not produce core samples, but instead, produce chips that can be analysed. RC drilling is slower and costlier than RAB, but is cheaper than core diamond drilling.
Sombrero Copper-Gold Property - the property is located along the Cu/Au porphyry Skarn Belt. The property is early stage, with some historic surface soil sampling, no drilling to date. Currently waiting for some pre-drilling surface results and a 5,000m drill program to commence in April, with an RC rig.
Curibaya Property- the property is located along the border of the Porphyry belt and Epithermal gold belt in southern Peru. Auryn has done some initial work on the property, using a cyanide leach stream sediment survey to identify a cluster of gold and copper anomalies in contiguous drainage basins. The property will see further surface exploration starting in March of this year.
Banos del Indio Epithermal Property- the property is located along the epithermal gold belt in southern Peru, just north of the Huilacollo property. The property is thought to share many similarities with the La Coipa mine complex in Northern Chile, as its economic mineralization is located beneath a similar high-level steam heated epithermal alteration. Banos del Indio will see 5,000m of drilling by an RC rig in November and December of this year.
PUSH: Altogether, Auryn has 15,000m of drilling planned for its Peruvian properties, along with some surface work. The results of these drill programs should provide some guidance as to what Auryn's properties may hold, giving us a lot of upside discovery potential.
People, Property and Jurisdiction
Great people, great properties and great jurisdictions; the Auryn investment proposition seems quite compelling and easy to understand, in my mind, at least. I'm obviously not the only one, because an MCAP above $200 million CAD seems fairly high for an exploration company. Although, remember, this is a proven management team and they possess 6 top flight exploration sites. Buying Auryn can be equated to purchasing 3 junior exploration companies, and from that perspective, the MCAP doesn't seem as ostentatious.
Another sign that Auryn's MCAP hasn't been blown out of proportion is the investment by an industry leader, Goldcorp . On January 24, 2017, the deal was finalized, with Goldcorp's total investment amounting to $35 million and representing 12.5% of Auryn. An interesting caveat to the deal is that Goldcorp has the ability to maintain the 12.5% stake, by participating in future equity financings, as long as they maintain at least a 5% position (See news releases for further details).
Goldcorp's involvement solidifies my confidence in Auryn and their potential for future success. Further, management and directors own a collective 18.5% of the company, aligning the retail shareholders' interest with their own. Also to note, at 74, 008,694 shares fully diluted, this is a good share structure for a company in Auryn's current position. There are warrants that expire in August and September of this year and further warrants and options that expire from 2018 to 2022. Warrants and options are a necessary evil for junior companies to be financed; check out Sedar for the exact expiration dates, as these may present opportunity for the patient investor.
In all, I believe in the Auryn Resource story and am investing my money alongside that of Goldcorp and Auryn's management team, who, as of late, have been buying a lot of shares in the open market. Invest like an insider and follow Auryn's insider buying and selling, here: Canadian Insider.
Don't want to miss out on my latest investment idea, interview or financial product review, become a Junior Stock Review VIP now, for FREE!
Until next time,
Brian Leni P.Eng
Founder - Junior Stock Review
Disclaimer: This is not an investment recommendation, it is an investment idea. I am not an investment professional, nor do I know you and your specific investment criteria. Please due your own due diligence. I have NOT been compensated to write this article and do not have a business relationship with Auryn Resources. However, I do own shares in Auryn Resources.
Disclosure: I am/we are long GGTCF.
Additional disclosure: I do own Auryn Resources stock